I'm always on the lookout for good ideas for coloring Easter eggs. My girls are now young adults so our family has years of experience coming up with Easter egg designs and different color combinations.
Having a dozen eggs that are each a different color is fun! I love seeing a carton full of colors!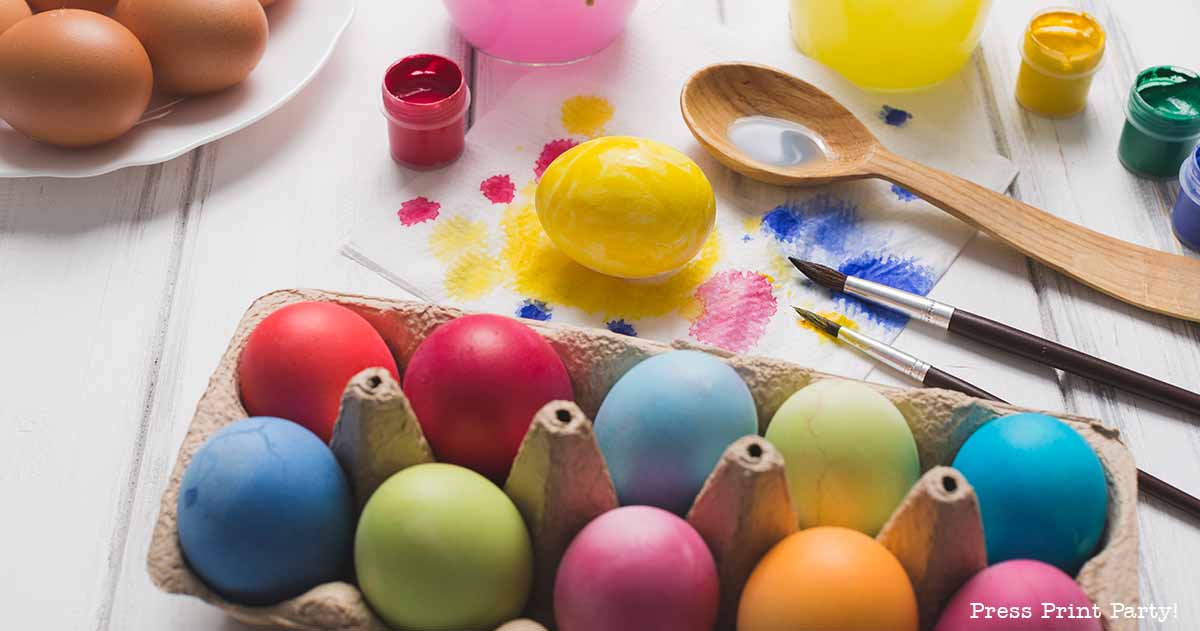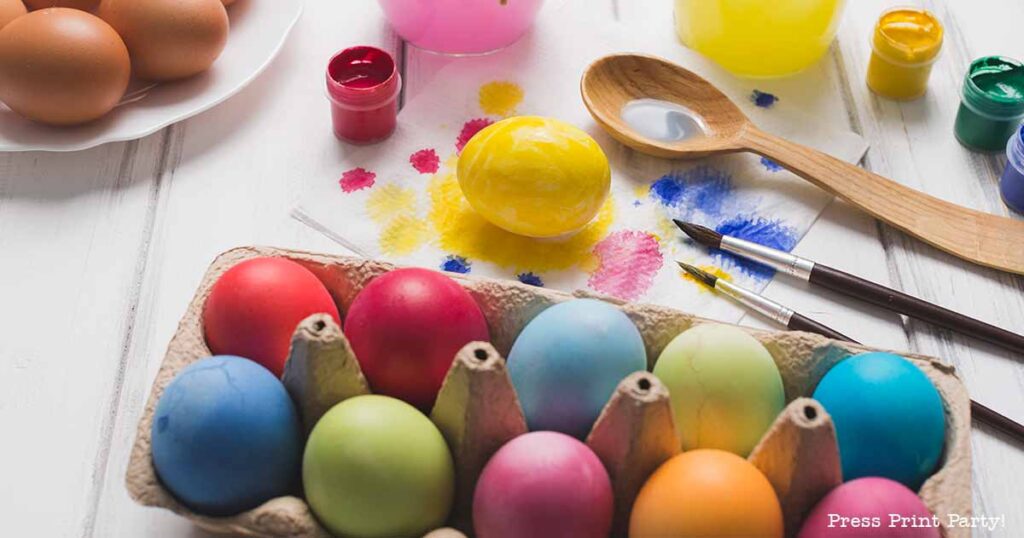 This post may contain affiliate links.
In this post, I'll talk about the classic, easy way to dye eggs, which is especially great for small kids. I'll also explore some more creative ways to go about Easter egg coloring. Many of these will require items like a spray bottle or shaving cream.
You know your kids and your tolerance for spills and messes best so I'll let you determine what will work for younger children.
If your kids are too little to color the real thing or someone doesn't want to dye eggs, you can offer my free Easter egg coloring page book. These pages are adorable and free!
For those looking to get creative with their Easter eggs, here are 13 creative ideas for coloring Easter eggs with the kids.
---
Why do we Dye Easter Eggs?
Easter eggs are one of the oldest traditions associated with the festival of Easter. But why?
That's the big question! The exact origins of dying Easter eggs seem to have been a bit lost to time, although there are many theories.
They have been linked to the pagan celebration of spring, symbolizing the rebirth and renewal of nature that comes with the change of season.
But it is believed that the modern tradition of dyeing Easter eggs began in Germany in the 13th century, with the legend of the egg-laying hare.
In Christianity, the egg is a symbol of the resurrection of Jesus Christ, as when an egg is cracked open, a new life emerges from it, as Jesus emerged from his tomb after the resurrection.
Over time the tradition of dyeing eggs became popular throughout Europe and eventually made its way to America.
---
Which Eggs to Choose for Colorful Easter Eggs
First, and I say this out of the kindness of my heart, don't forget to boil your eggs. We've all had at least one Easter where we sat down to make beautiful eggs as a family and realized we forgot that we need hard-boiled eggs to begin.
Yes, hard-boiled eggs are the recommended method. Don't skip this.
White eggs are the quintessential Easter egg starter. But that leads me to a question I see a lot online:
Can you dye brown eggs?
The answer is, yes! While white eggs tend to produce more vibrant colors, brown eggs will produce earth tones. How fun is that?!
But what if you want to keep your creation?
Well, did you know that you can dye plastic eggs? Yes, they make those!
You can also use paintable plastic eggs or wooden eggs.
And we haven't even talked about Cascarónes or Pysanky, the beautiful Mexican and Ukrainian styles of decorating eggs. They're so unique and fun that I have to at least mention them here, but they probably deserve their own blog post.
---
Different Ways to Dye your Easter Eggs
Before I explore the many different ways you can dye your Easter eggs, I want to talk for a second about food safety.
If you intend to eat your eggs after dying them, you'll want to use ingredients that are safe to ingest. Paint, markers, shaving cream, tissue paper & craft glue are not meant for consumption and may leech into the eggs.
If you hope to make deviled eggs or egg salad sandwiches after decorating your eggs, I recommend choosing food-safe substitutes. I'll talk more about that with each of the different methods below.
---
1- Dye Kits from the Store
I'd consider this method the classic one for Easter egg decoration.
Using a dye kit from a store is usually pretty easy. Just follow the instructions. The worst that can happen with store-bought kits is the cups or bowls overflow and stain clothing or countertops.
Considering that, I'd recommend laying down a washable, waterproof tablecloth on your work surface like this egg design or this cute springtime design.
And there are a ton of different kits available with stickers, glitter, and all the supplies you need to create all kinds of fun designs like swirls, ombre effects or egg figurines.
While the ingredients that go into store-bought kits are considered food-safe, they shouldn't be eaten on their own. If you're looking for options that use more natural ingredients keep reading!
Safety of Kits from the Store:
Store-bought kits are considered safe for creating Easter eggs that you will later eat, but it's recommended that you let the colors dry completely before eating them. And you should not eat the dye alone (I'm looking at you little kids).
---
2- Natural dyes
Natural dyes are a great option for a bunch of reasons.
First, you know exactly what's going on your kids' eggs. You don't have to worry about artificial food dyes which some people are very sensitive to.
Second, if you don't have food dye on hand, you can still dye eggs with other ingredients you probably already have.
Three, it often feels like we're losing our ability to get inventive and to use what we have on hand. Let's teach our kids how to get creative with what's in front of them instead of making another trip to the store (or Amazon).
Anyway, I'll get off my soapbox now.
Making natural food dye will take more time as the ingredients often have to be boiled for a while to bring out the deepest colors.
Some great bloggers have shared how they use different ingredients to naturally dye their Easter eggs. So I'm sharing their wisdom with you. Enjoy!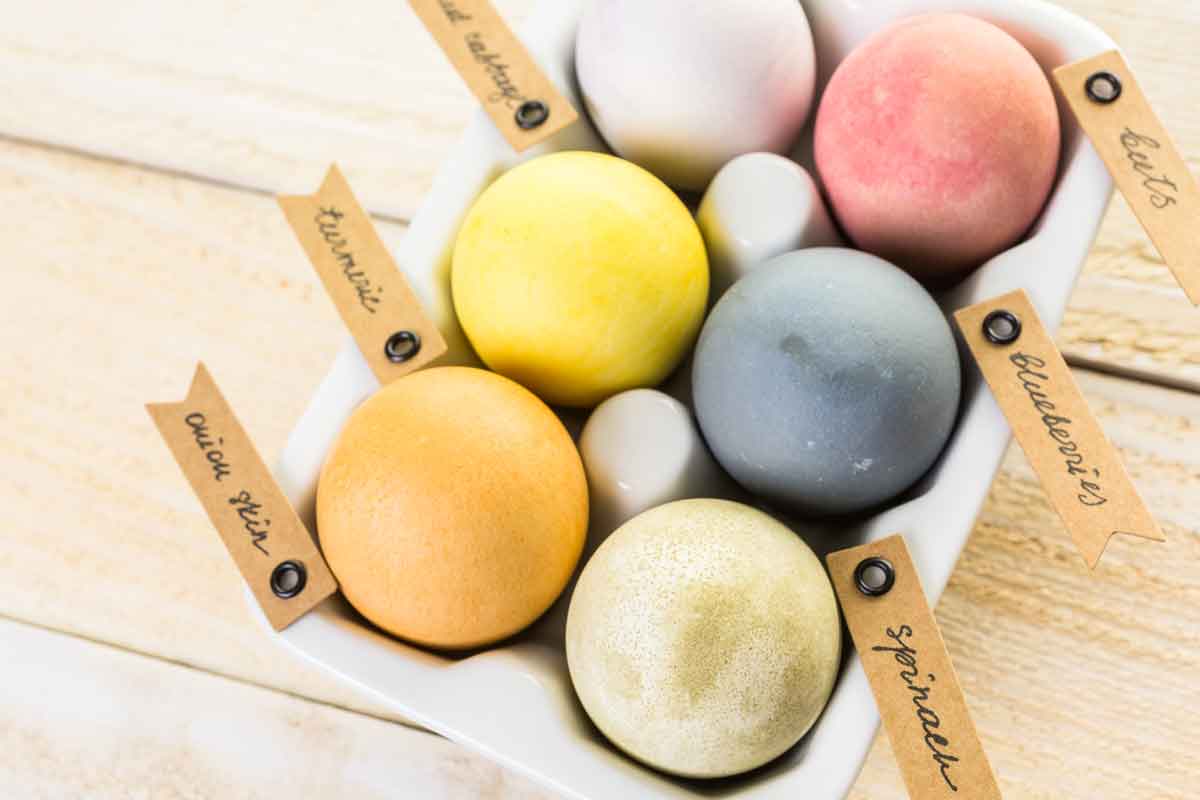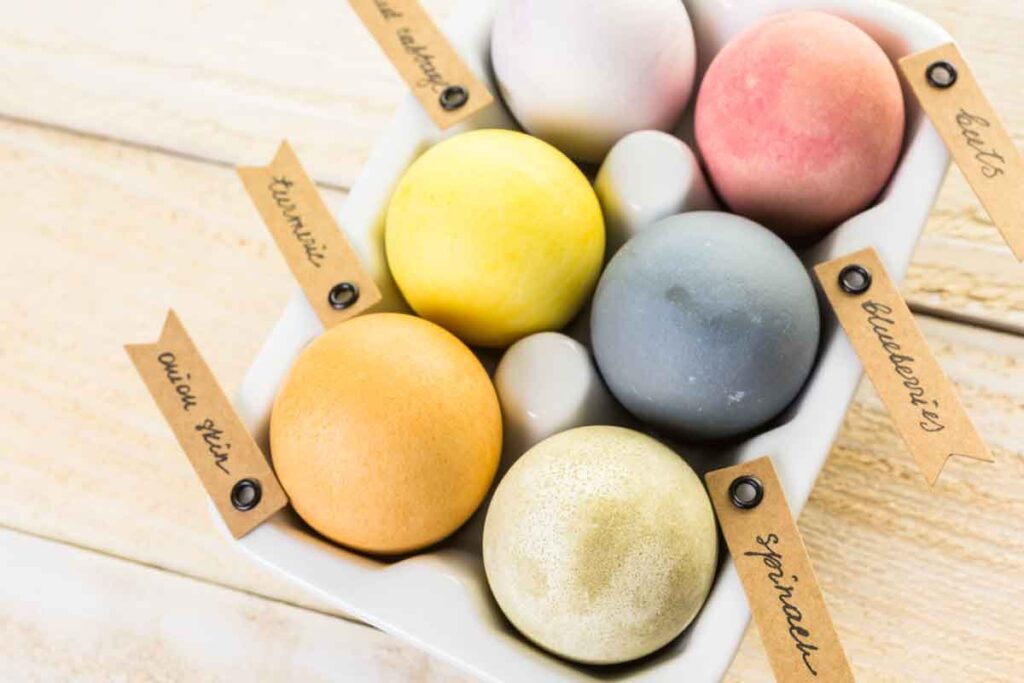 Lara at Family Spice shares her family's recipes and strategies for natural dyes.
Christina at Little Sprouts Learning also shares some great tips.
Elia with ConservaMom offers ideas that really highlight blueberries
Peter with Peter's Food Adventures focuses on red cabbage, which, strangely enough, makes blue dye.
Elena from Happy Kitchen shares her grandma's recipes for dying eggs with onion skins. She also uses twine, rice, and leaves to make amazing patterns!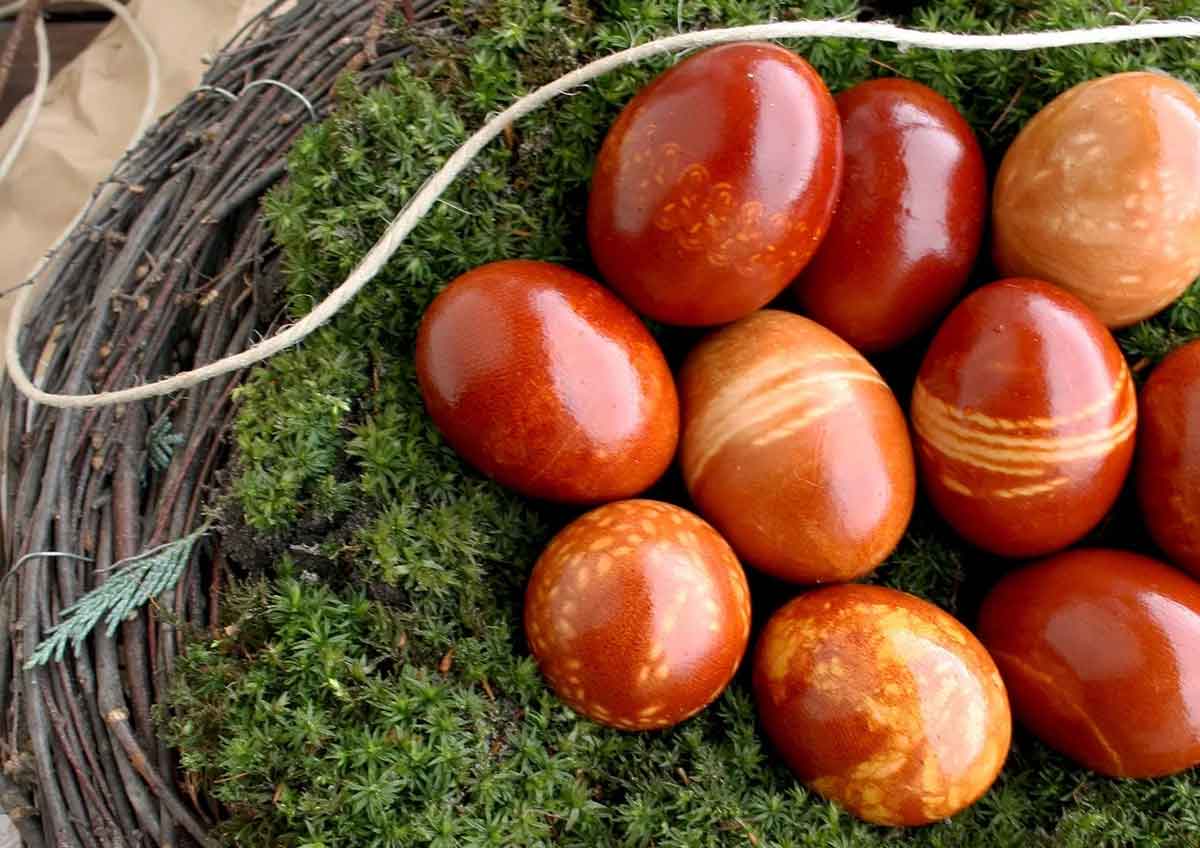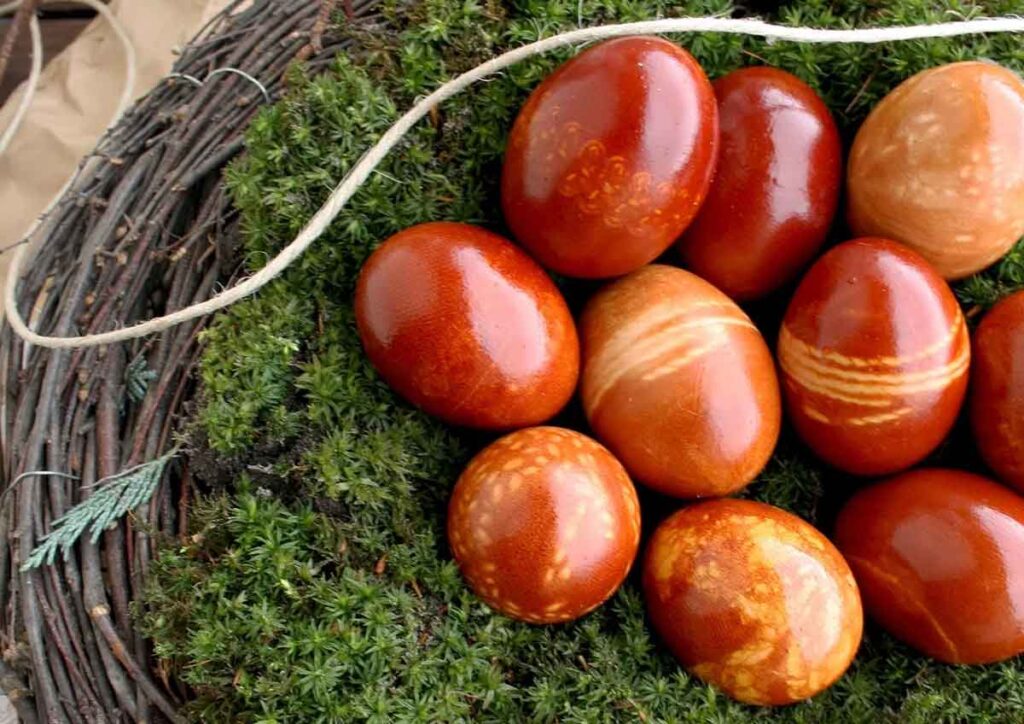 Tamara from Thriving in Parenting also uses onion skins to create unique designs.
Alli at An Alli Event uses turmeric for her Easter eggs.
Here are a few of the natural bases you can use to create some great colors:
Turmeric
Beets
Blueberries
Raspberries
Chili Powder
Grape juice
Cabbage
Red Cabbage
Red Wine
Coffee
Black Tea
Onion Skins
Spinach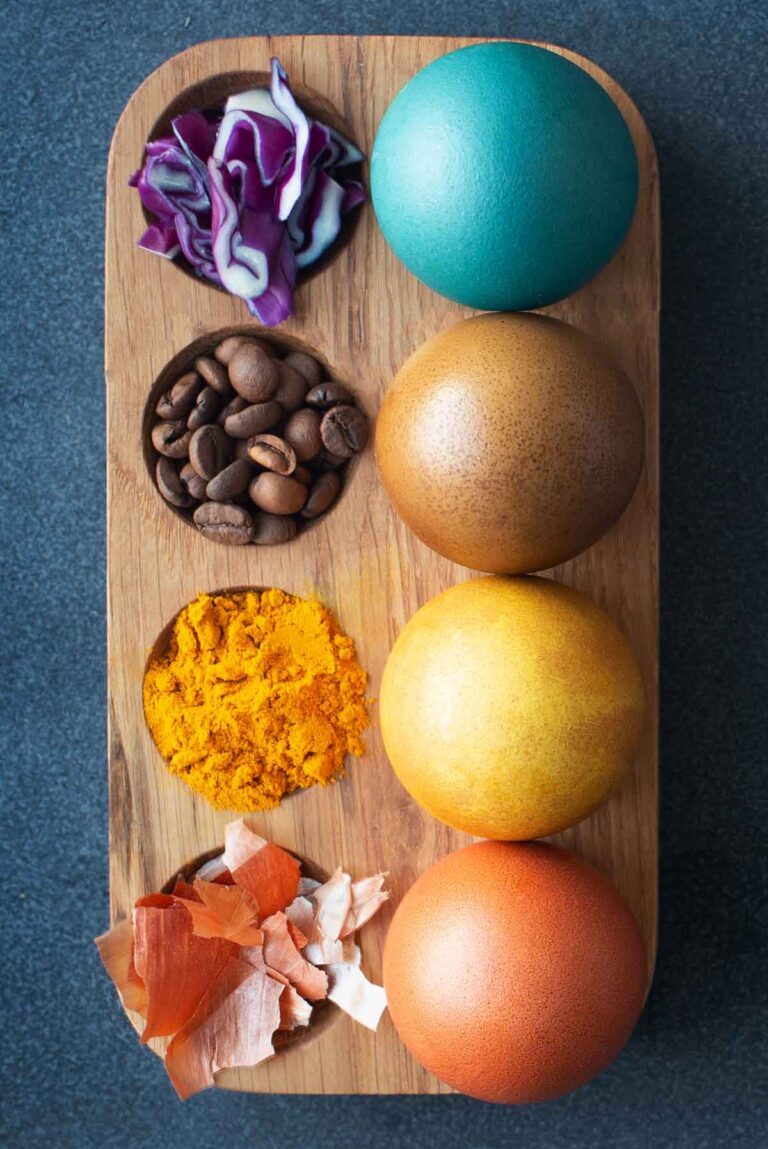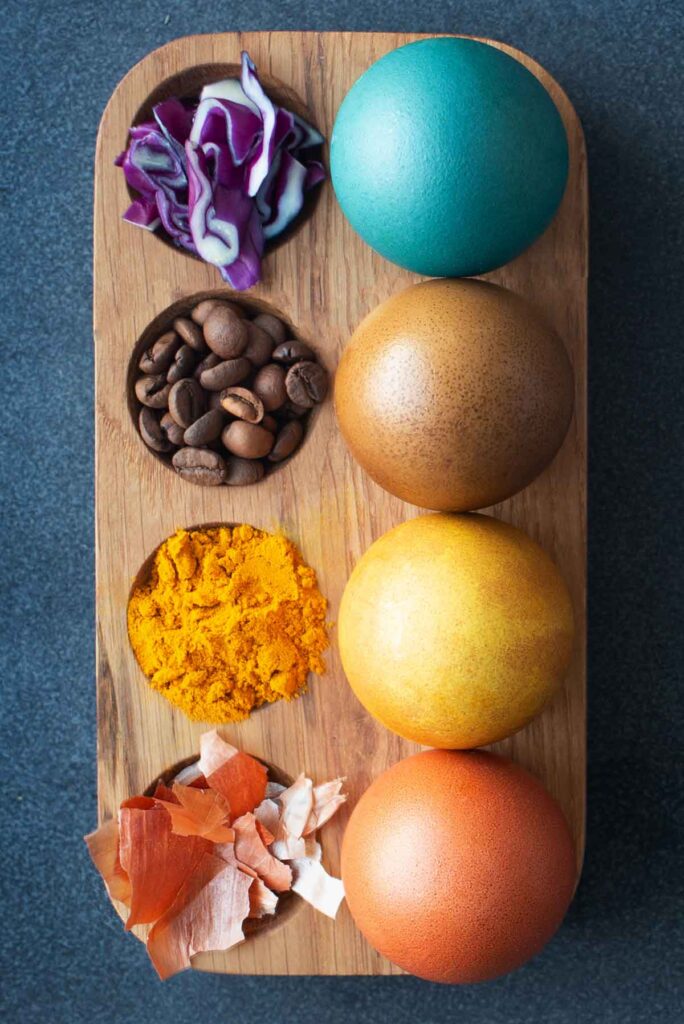 Safety of Natural Dyes:
With natural dyes, you get the awesome benefit of avoiding artificial colors and sticking to ingredients you know are safe to consume. Of course, you still don't want your kids to drink any of these concoctions. They probably won't taste good, the vinegar base will upset their stomach and some recipes will contain caffeine or alcohol.
---
3- Dying Eggs with Kool-Aid
I've mentioned a few times now that vinegar-based dyes should not be tasted on their own, and to be honest, they can be stinky. If you'd like to avoid vinegar without compromising color, you should consider Kool-Aid Easter egg dye.


There are so many great colors to choose from. Melissa at Persnickety Plates walks you through the process in her Kool-Aid Easter Eggs post. She also mentions that instead of that powerful vinegar smell, her eggs smell wonderful.
Liz at Eat Make Move also offers a neat idea using Kool-Aid dyes: dinosaur eggs! By gently cracking the shell of the eggs and letting them soak for 1 to 2 days, you can make super cool designs that look like ancient dinosaur eggs.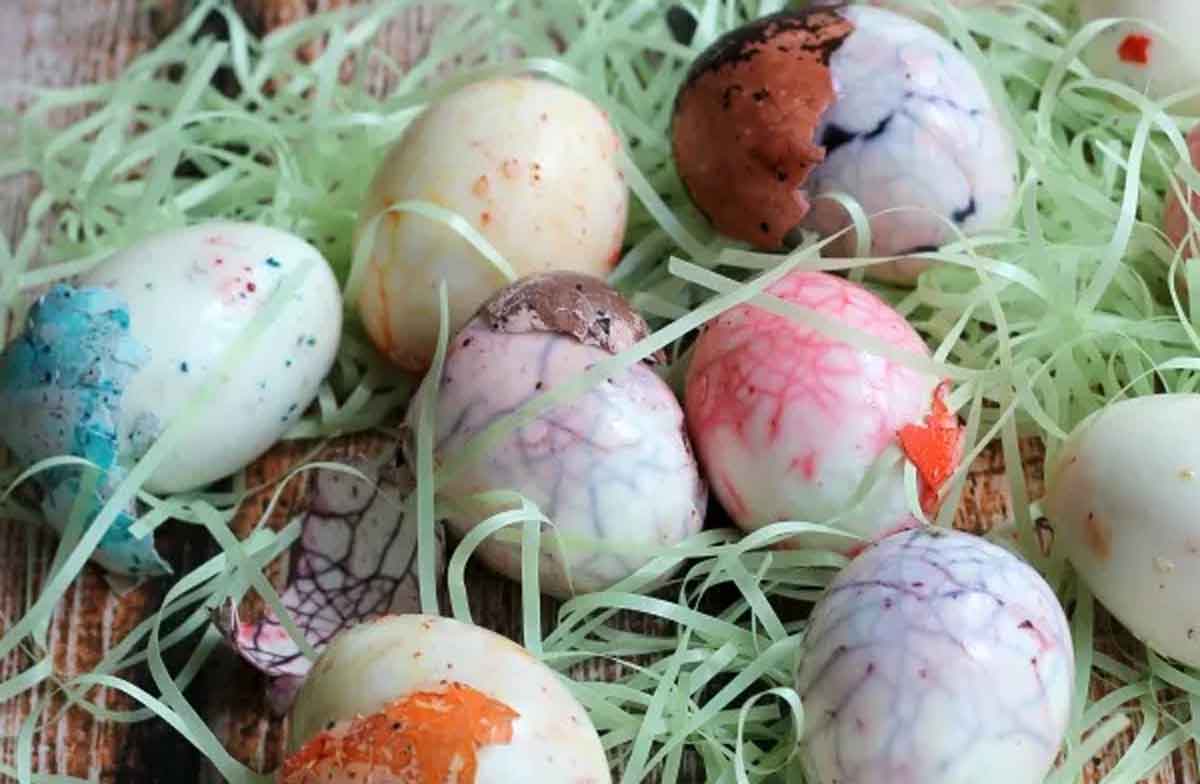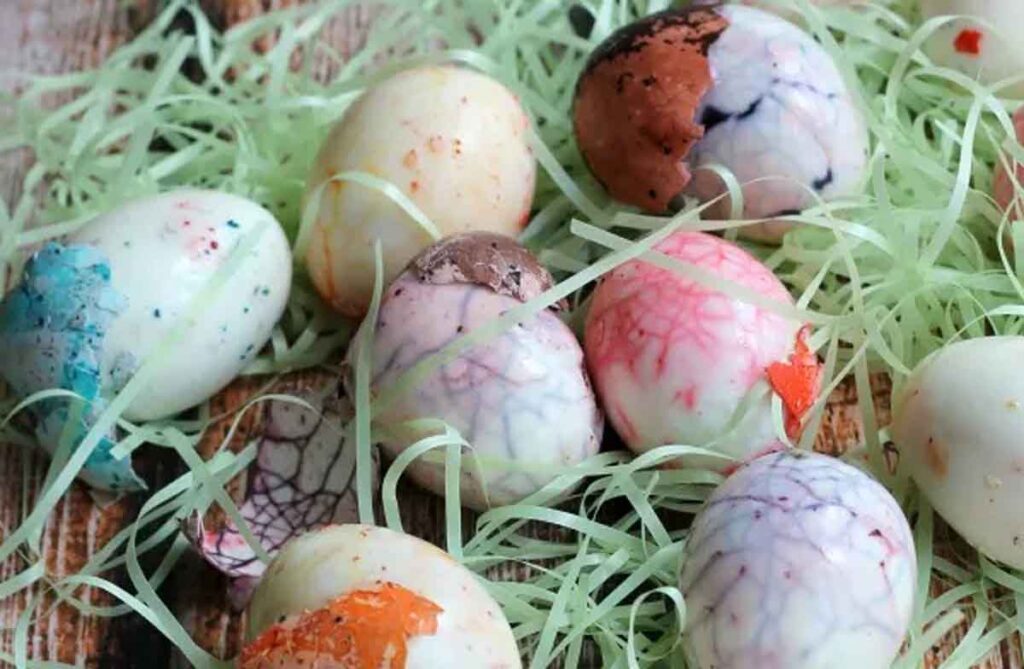 Safety of Kool-Aid Dyes:
All these Kool-Aid packets are FDA approved, just like store bought kits. But if you are trying to get away from artificial dyes or flavors for edible Easter eggs, this option may not be best for you.
---
4- Dying with Food Coloring
After store-bought kits, regular food coloring may be the next thing that comes to mind when it comes to dyeing eggs. Loving Living Lancaster shares their strategy for getting a marbled egg look with a few drops of food coloring, vegetable oil and vinegar.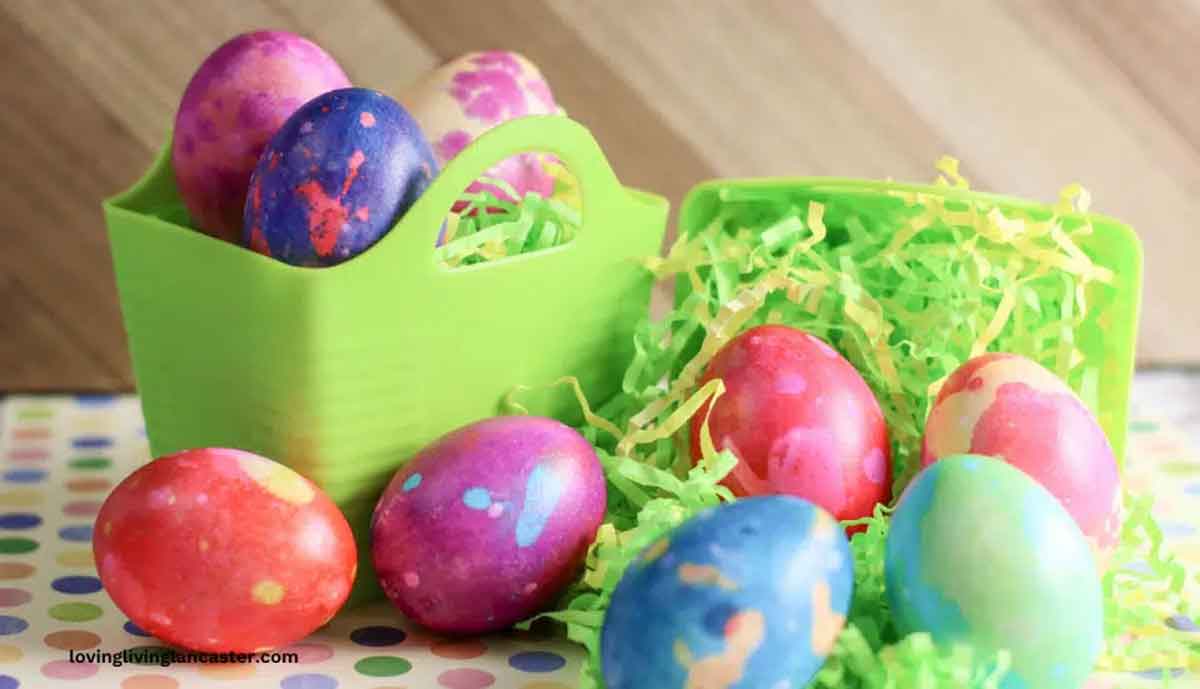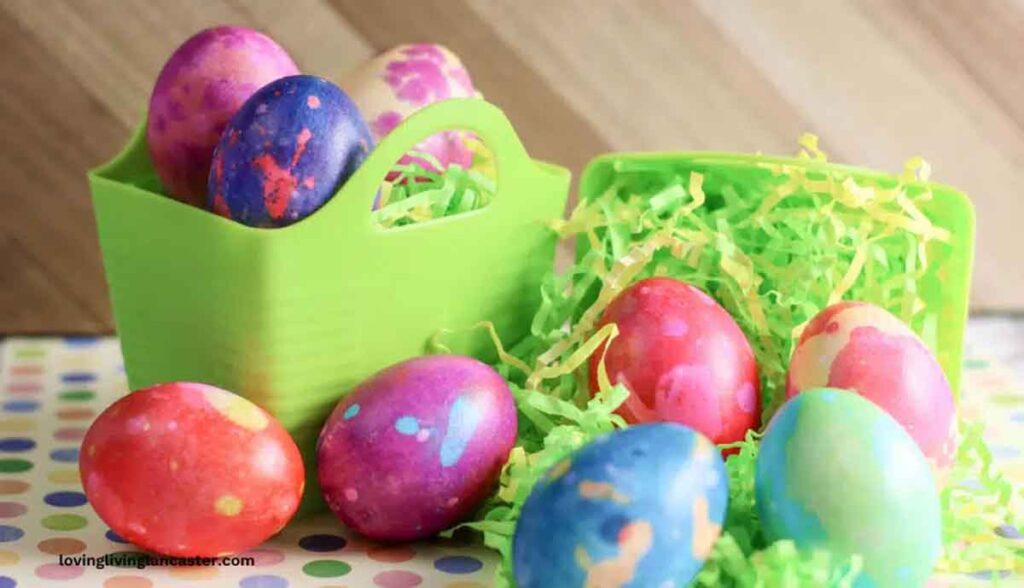 Safety of Food Coloring:
It is safe to eat eggs that have been dyed with food coloring. The bigger concern here would be leaving the eggs out for too long!
---
5- Dyeing with Tissue Paper
Colorful tissue paper has enough dye in them that it can be used for coloring Easter eggs.
Sacha from The Craft-at-Home Family provides a great step-by-step post to demonstrate her strategy for dyeing eggs with just tissue paper and vinegar. Be sure to read all of the instructions because she hollows out her eggs and recommends a specific kind of tissue paper.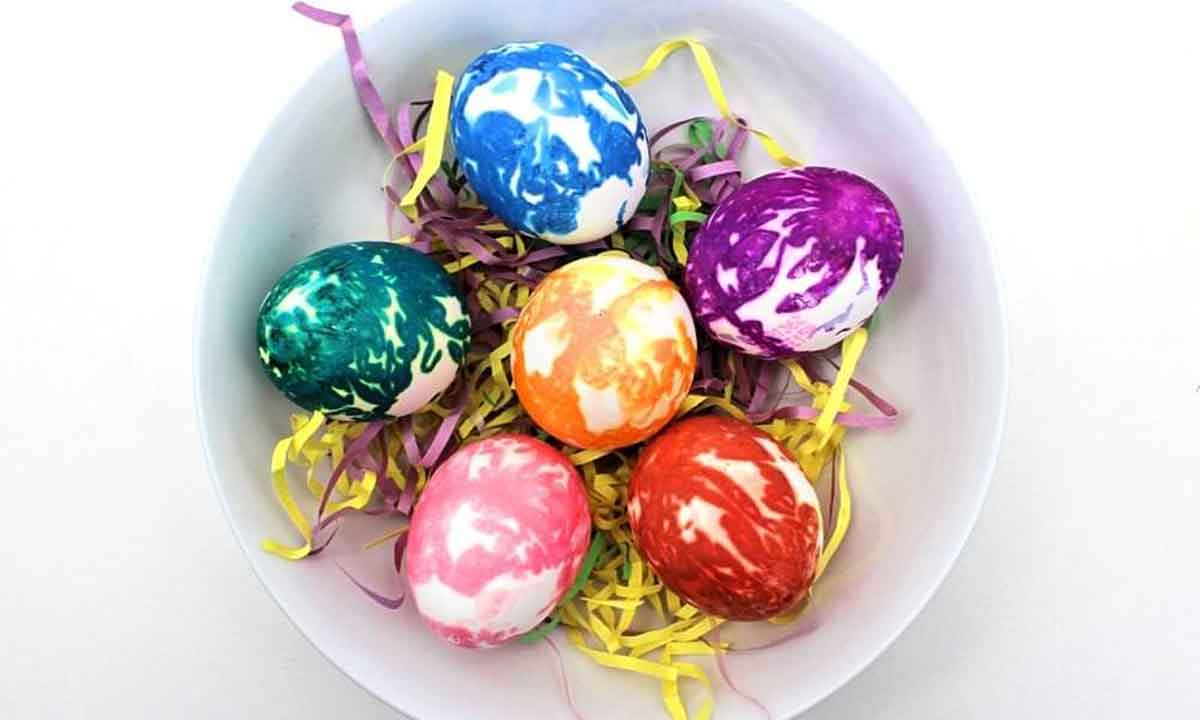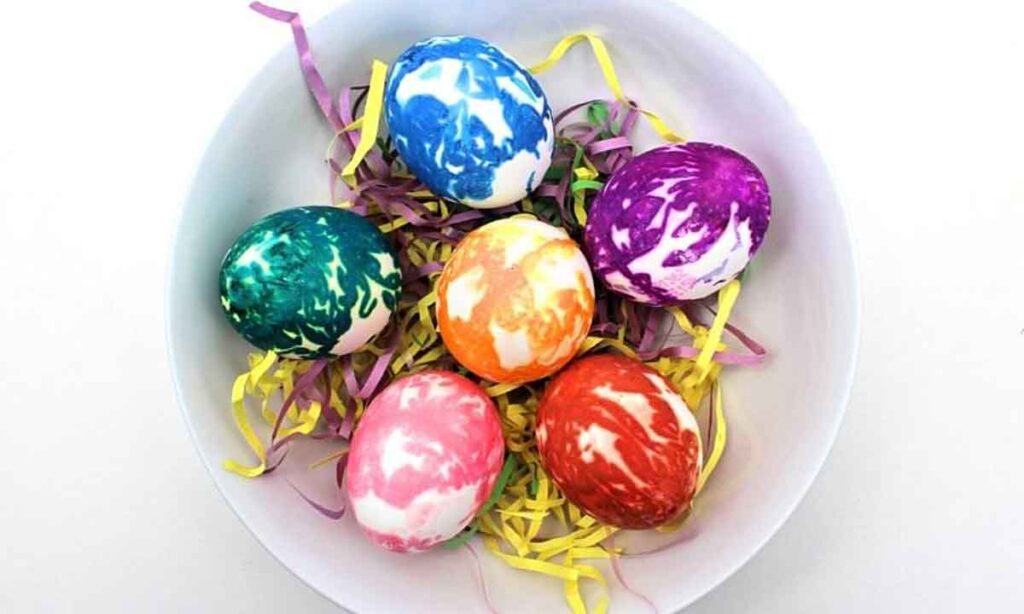 Safety of Tissue Paper Dye:
Tissue paper dye is not food safe. Consider using fake eggs or hollowing out your eggs first if you want to try this method.
---
6- Painting Easter Eggs
You can create some beautiful designs on eggs using paint and a brush. So whether you have a steady hand and eye for detail or you consider yourself more of an artistic simpleton, I'm sure you can find something wonderful to create.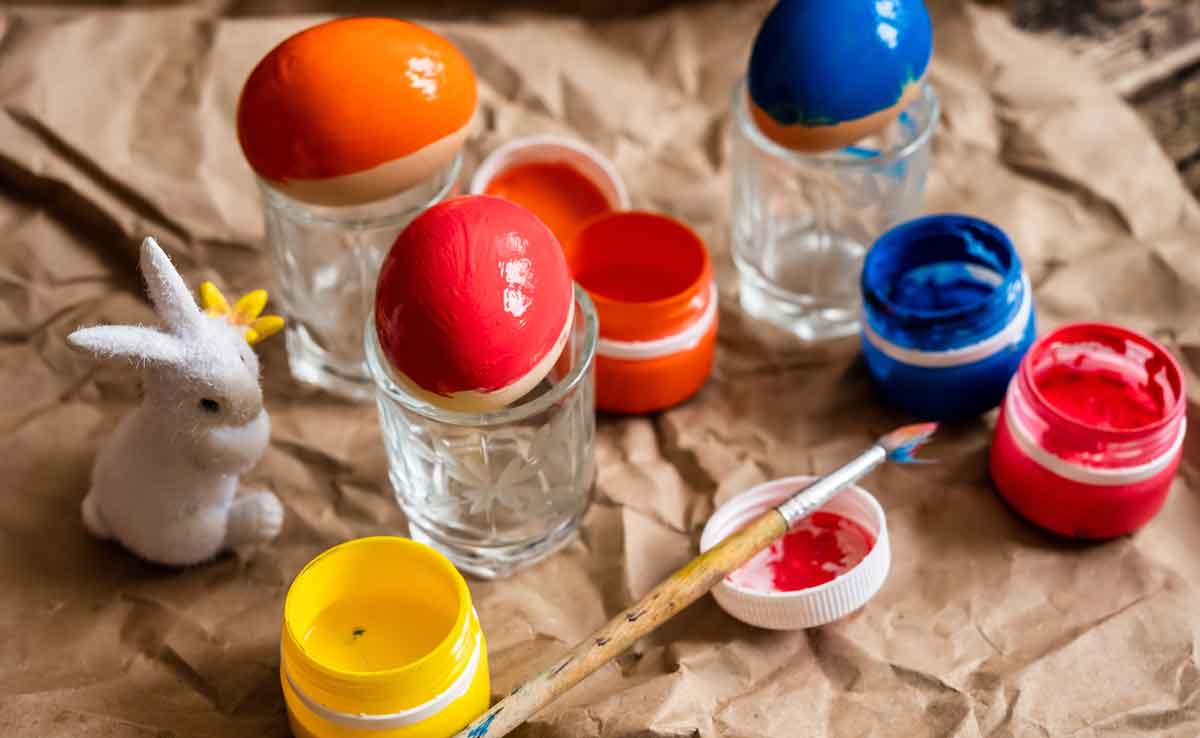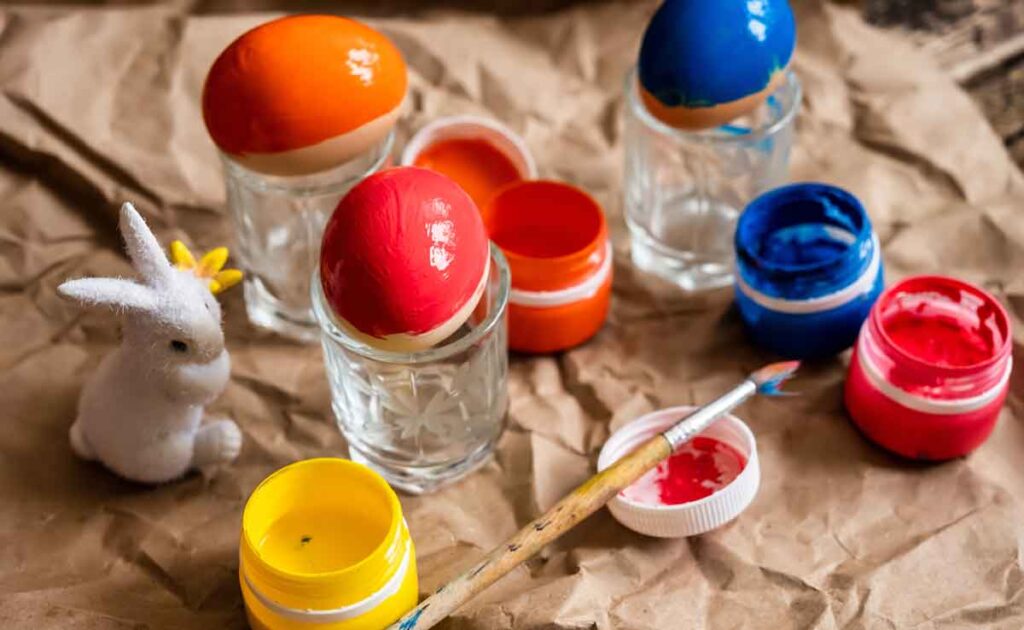 Michelle with Our Crafty Mom chronicles her experience of paint pouring on Easter eggs. The result was gorgeous!
If you're interested in creating Easter eggs that you can pull out year after year for pretty Easter decor, you may consider using fake eggs.
Chelsea at Lovely Indeed chose wooden eggs to make some stunning Moroccan rug-inspired designs. She also chose acrylic paint for her fun craft.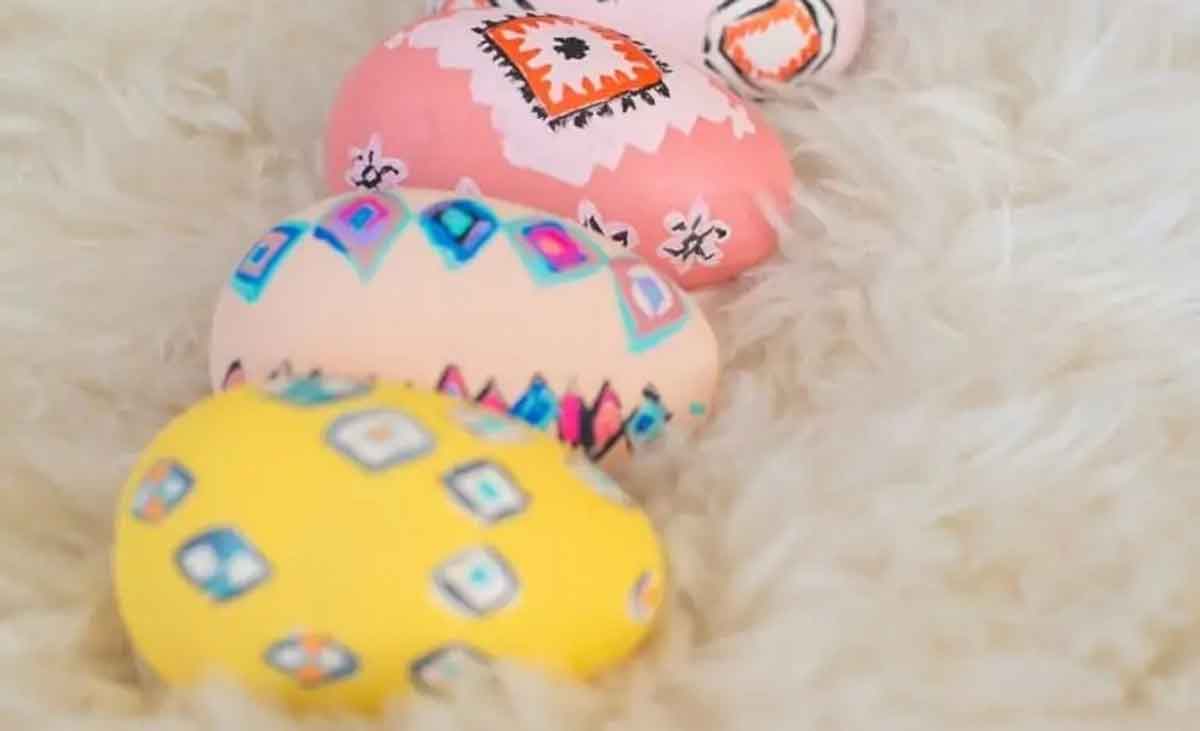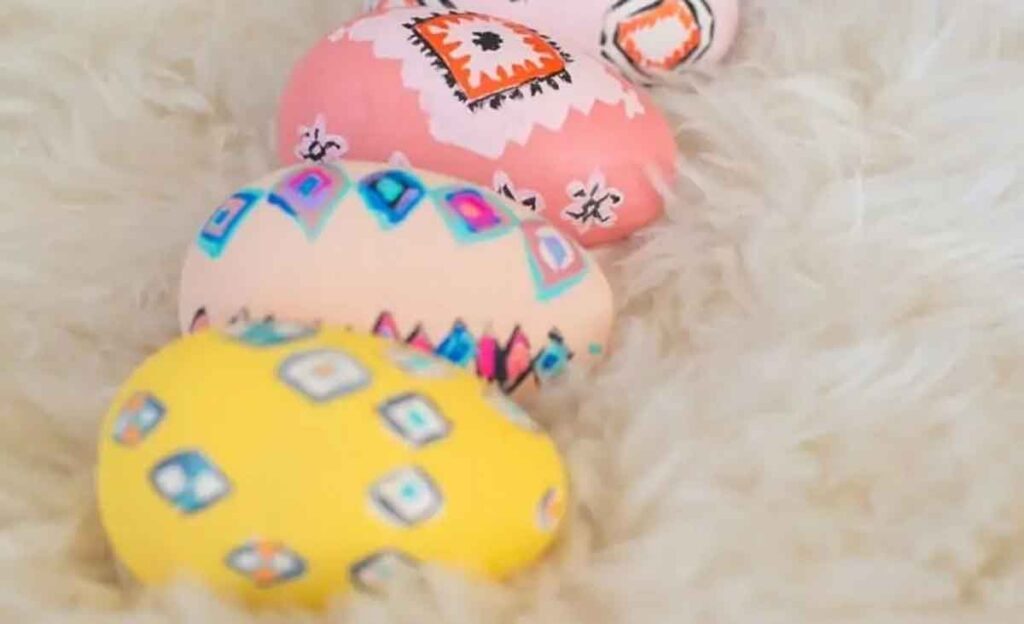 HezziD from Hezzi-D's Books and Cooks chose fake, dyable, paintable eggs for her galaxy design.
Safety of Paint for Easter Eggs:
Eating painted eggs is not recommended. These options are best for eggs that will strictly be used for decoration.
---
Fun Things to Use when Coloring Easter eggs
7- Bubble Wrap
Have you seen the neat texture bubble wrap can leave on Easter eggs? This fun strategy uses paint, brushes and that leftover bubble wrap you weren't sure what to do with.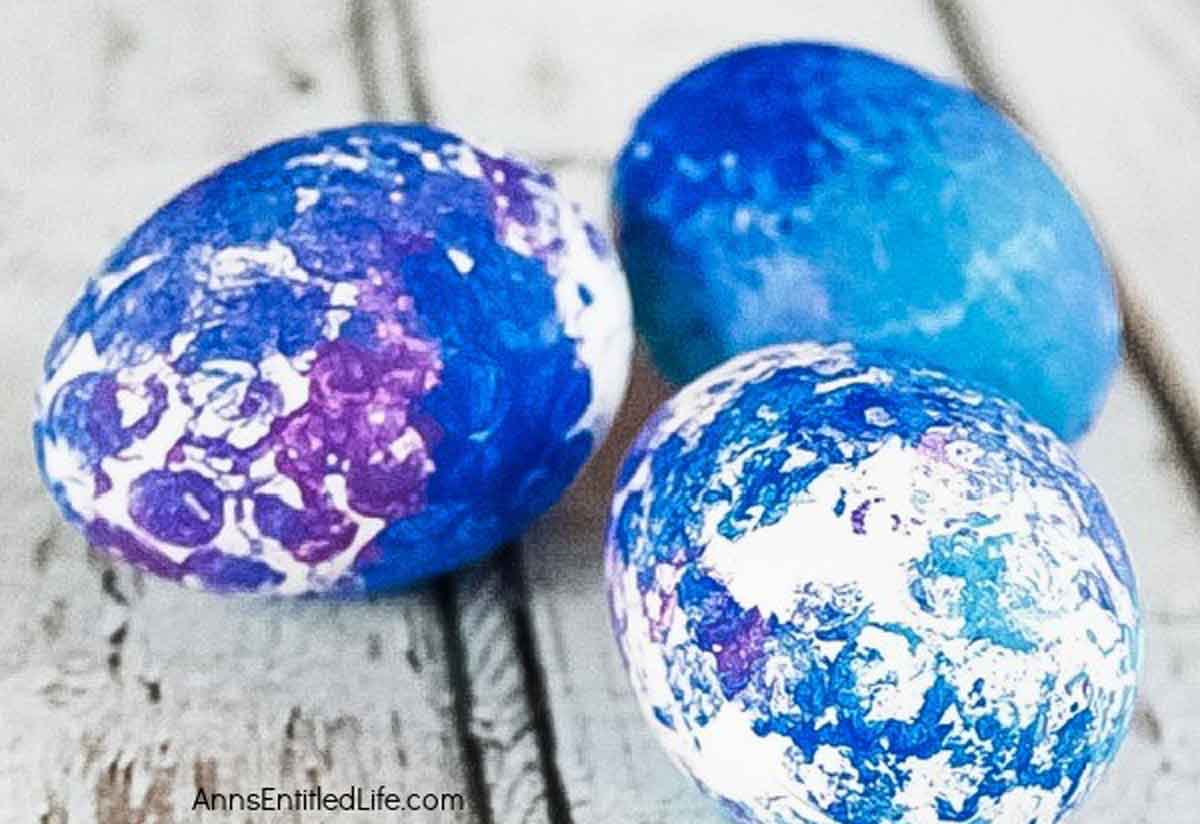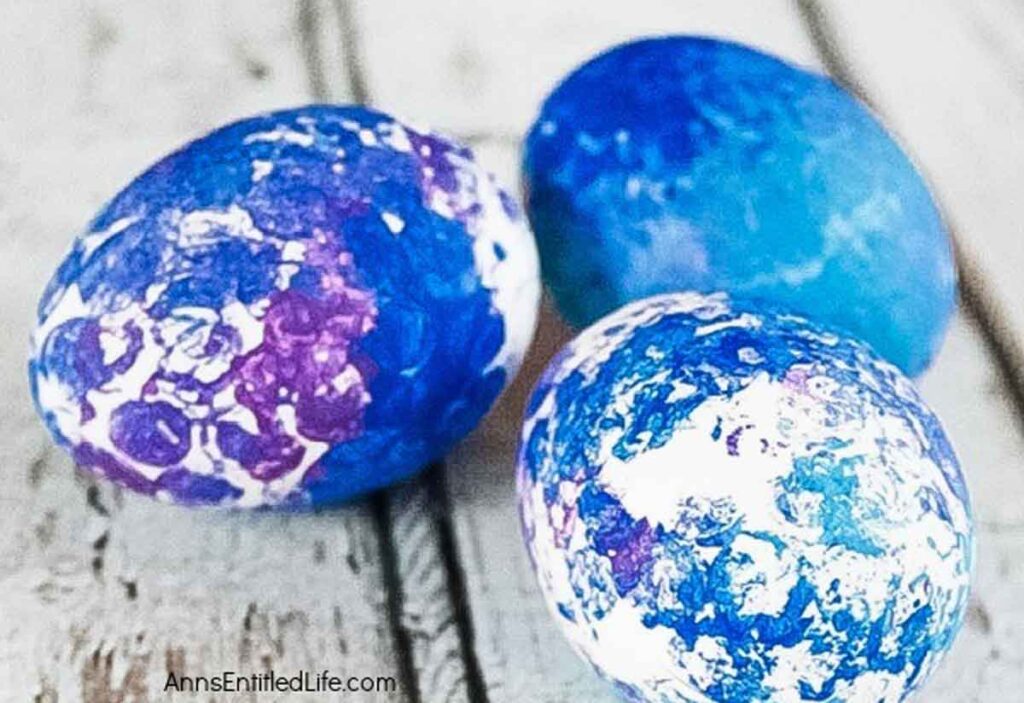 Ann from Ann's Entitled Life provides a method for making wonderfully unique colored eggs. She even suggests some edible paints.
---
8- Washi Tape
Looking for an Easter egg craft that doesn't involve paint or dye and can still be eaten? Check out Chelsea's washi tape ideas at Lovely Indeed. They are works of art!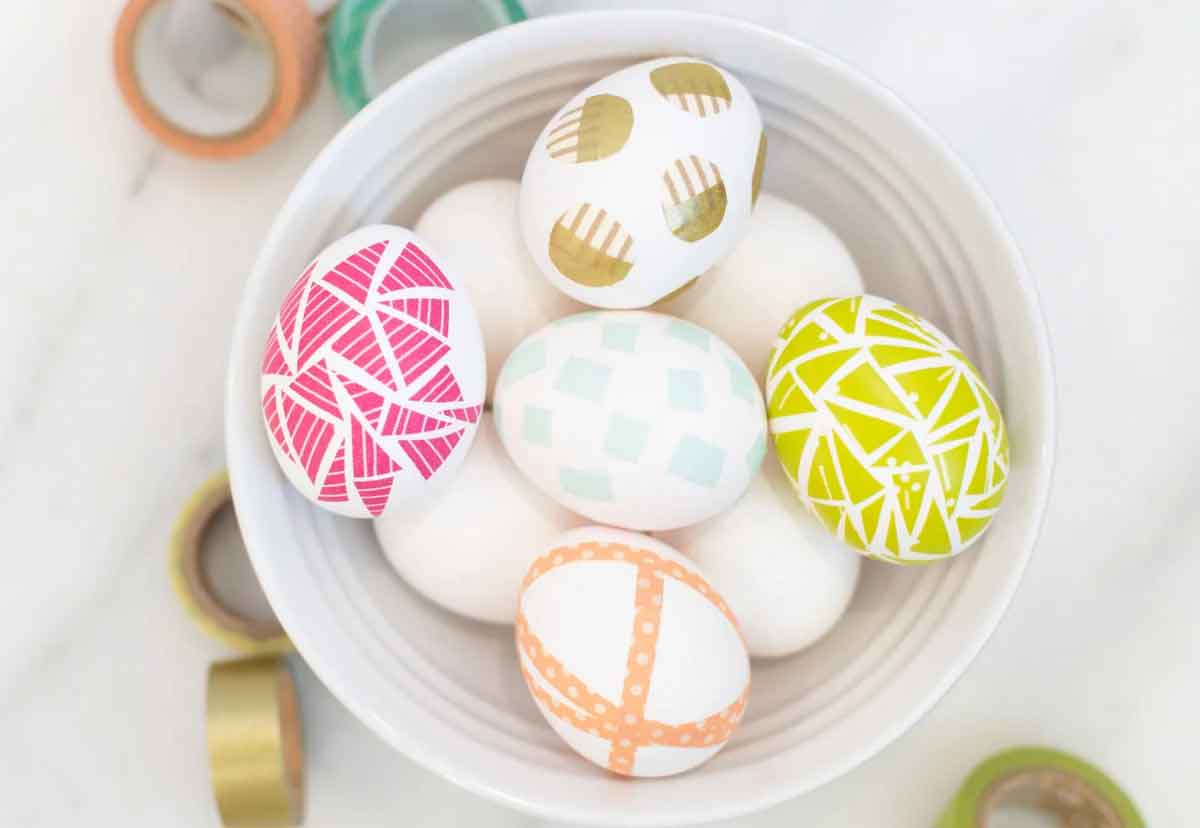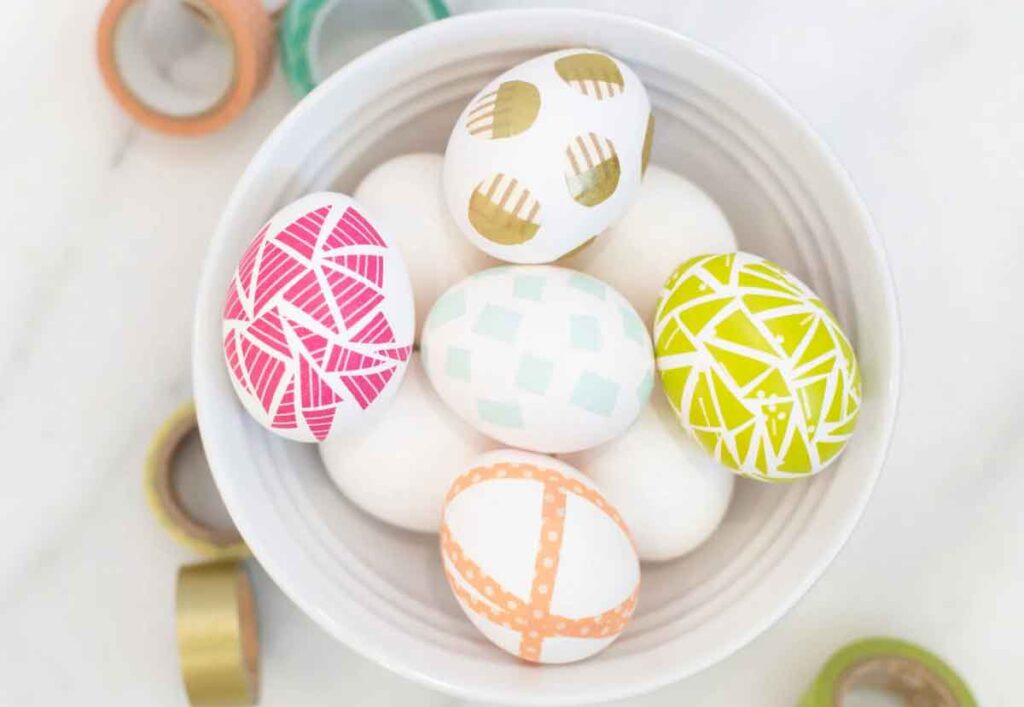 ---
9- Shaving Cream
Decorating eggs with shaving cream creates a watercolor paint look that's also reminiscent of tie-dye. Loving Living Lancaster shares pro tips for decorating and making the eggs last longer.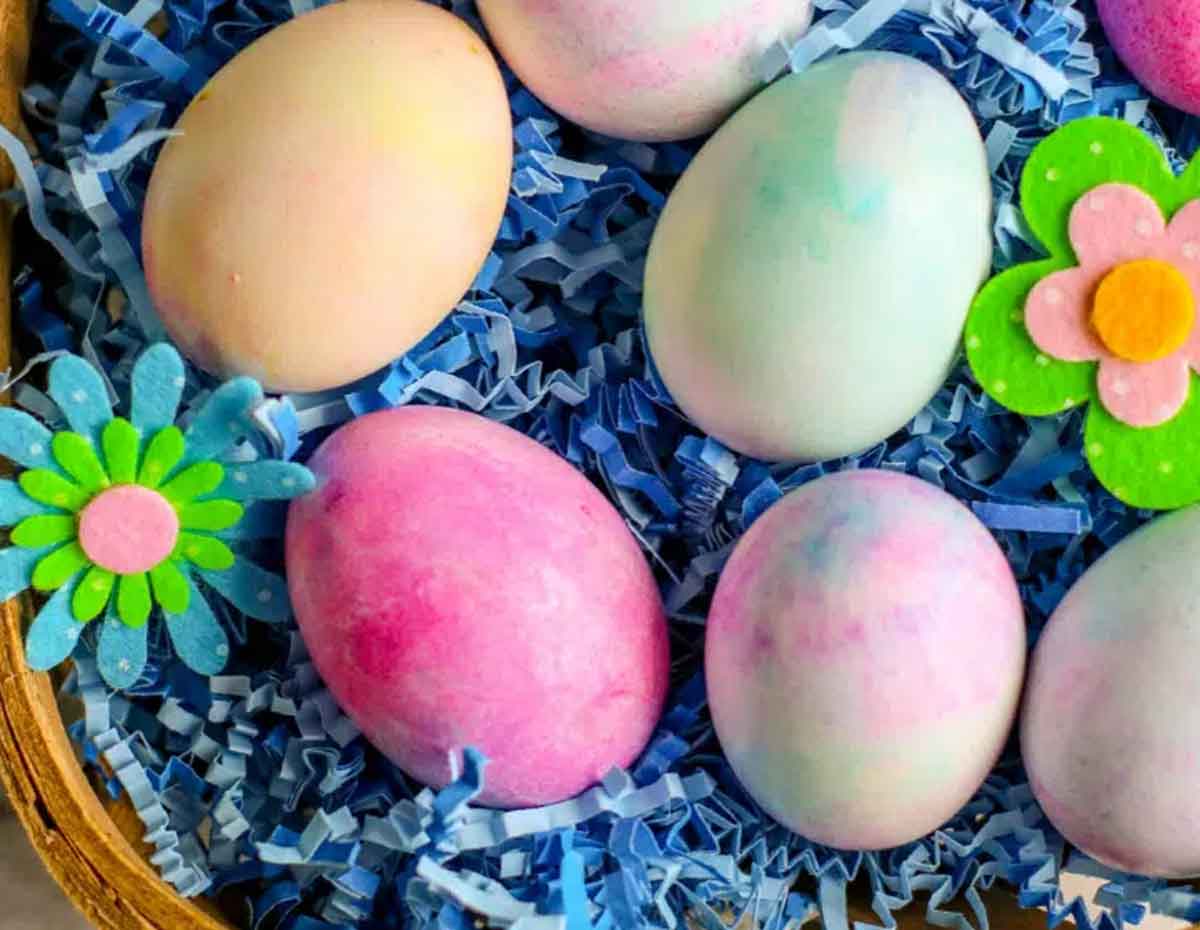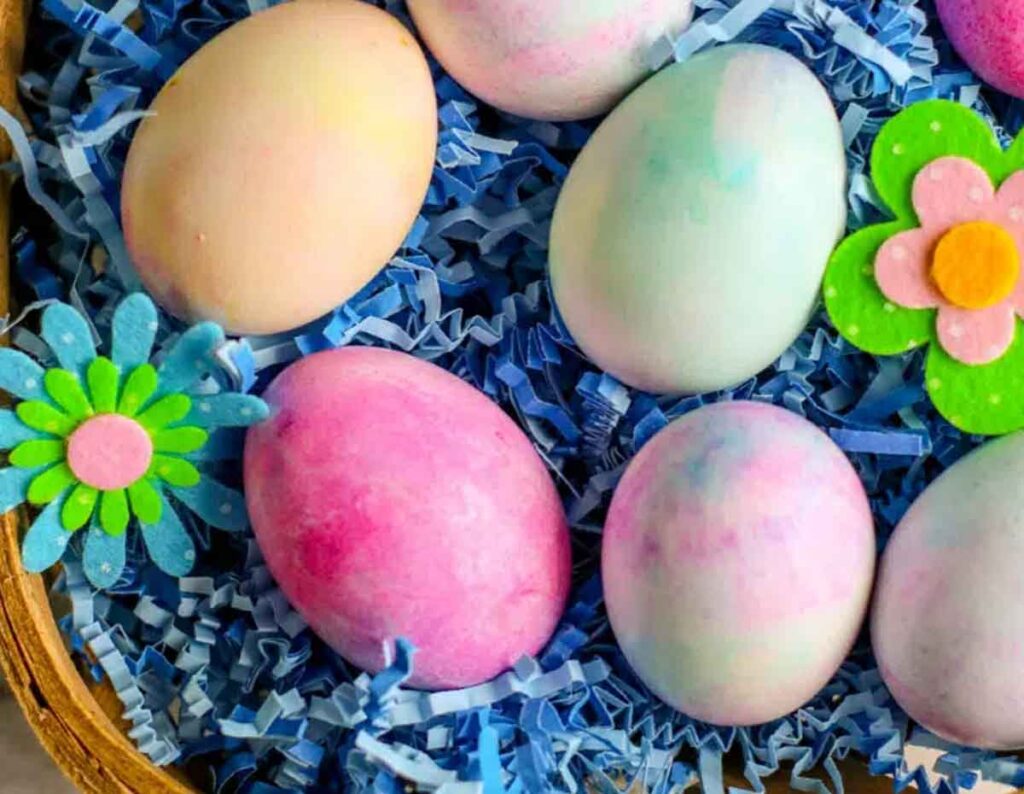 Safety of Decorating with Shaving Cream:
Decorating with shaving cream is not safe to eat. If you make Easter eggs with shaving cream, they are best for decorations only.
---
10- Cool Whip & Whipped Cream
Using Cool Whip or whipped cream is a good alternative to shaving cream if you'd like to eat the eggs after decorating them. Kellie from The Suburban Soapbox shared how she made her awesome swirling designs.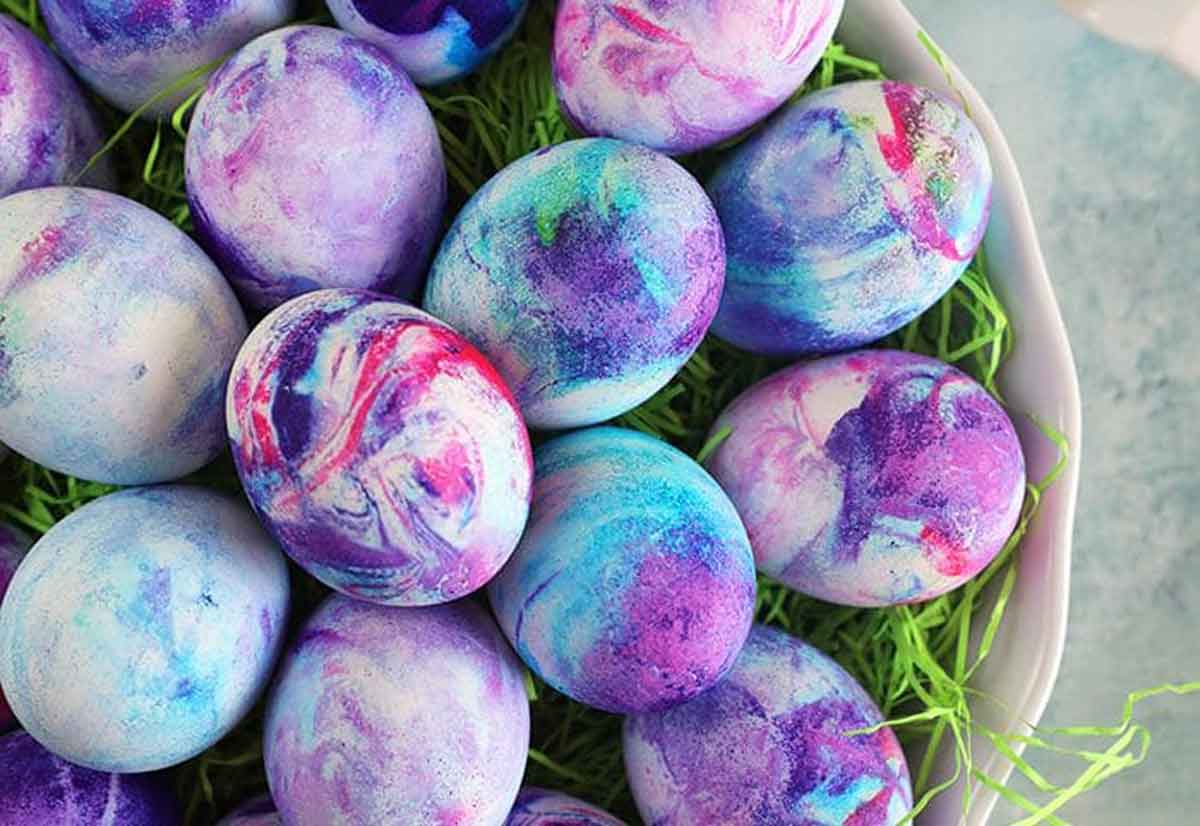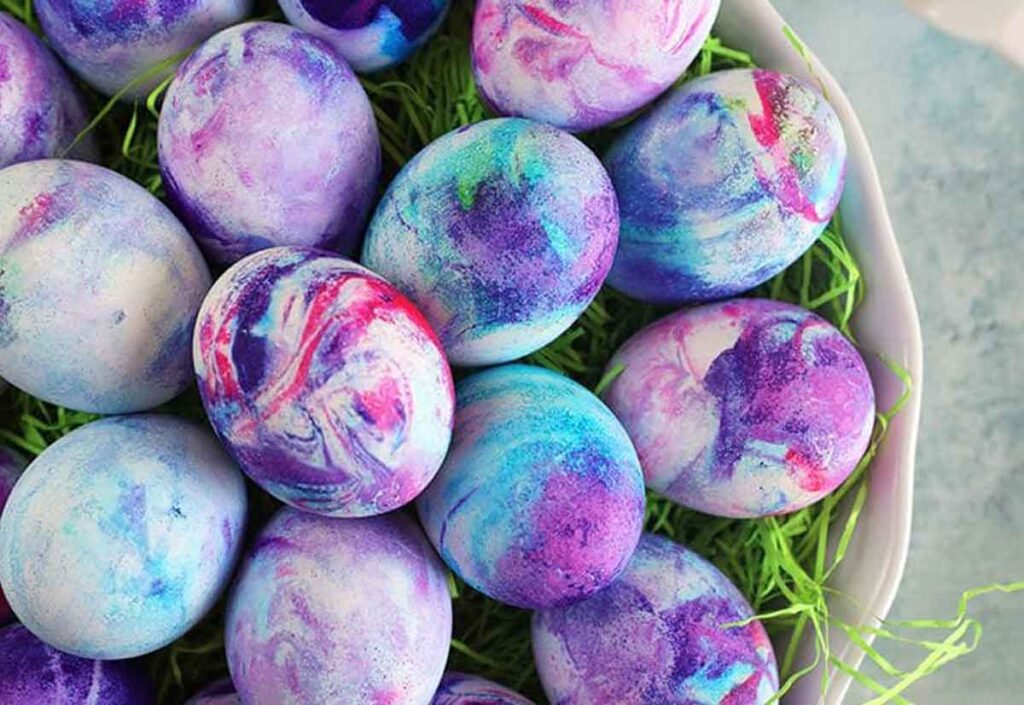 ---
11- Wax Crayons
If you haven't tried decorating eggs with a white wax crayon, you're missing out! Cerys from Rainy Day Mum shares an easy, fun way to add little designs to your eggs that will appear when you dip them in dye.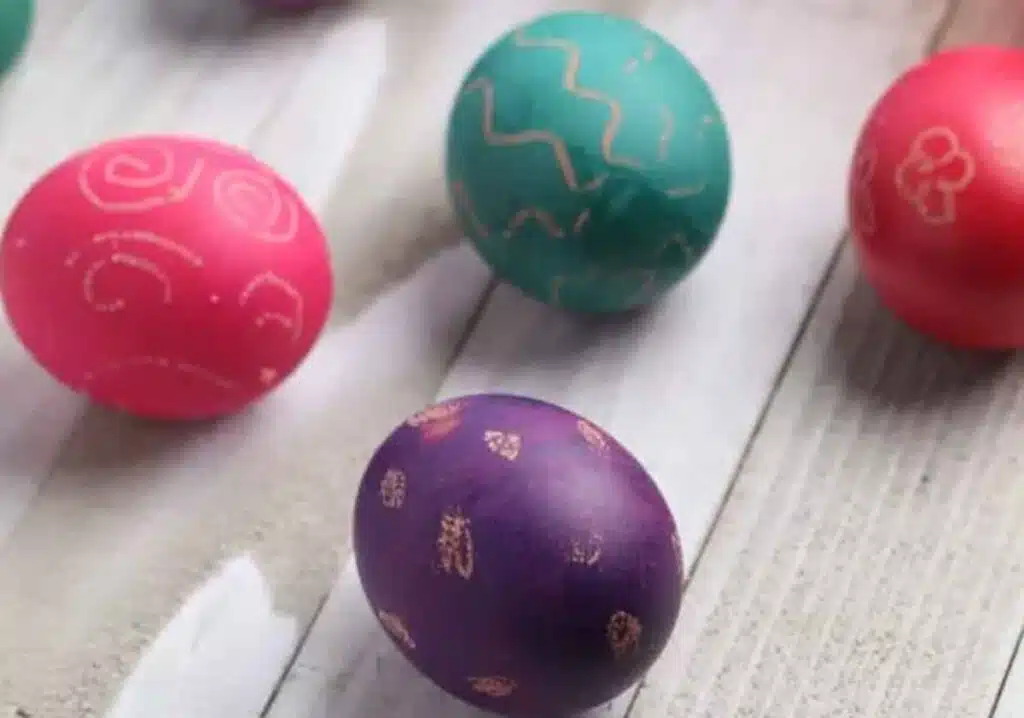 Safety of Decorating with a Crayon:
While wax shouldn't be eaten, eggs should be good to eat if you are using this method.
---
12- Rubber Bands
I have two pieces of amazing news: first, this eye-pooping tie-dye design uses ingredients that are safe to eat, and second, if you don't have something on hand there are lots of things you can use as substitutes.
Allison from Dream a Little Bigger shares how to make these technicolor eggs and a hilarious interaction with the door-to-door salesman she interacted with in the middle of making her eggs. She also talks about a paper towel alternative she discovered thanks to shortages. Don't miss it!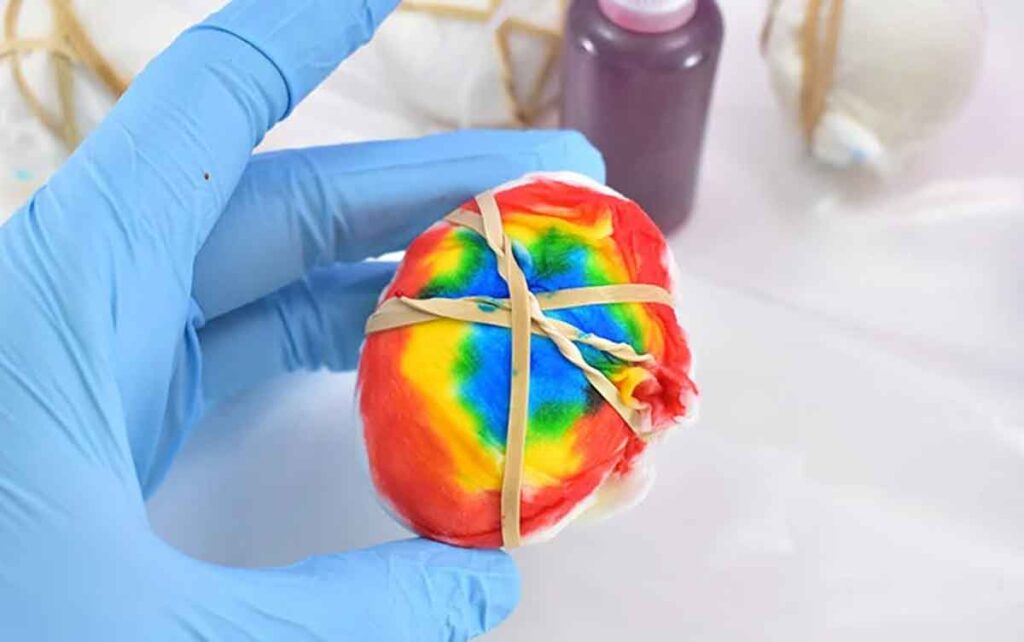 Of course, rubber bands can also be used around the eggs before dying them to create lines. Wherever the rubber band meets the egg, the dye will not penetrate,
---
13- Mod Podge
Mod Podge glue is definitely on the "do not eat" list, but you can make so many neat and fun designs if you do use it!
HezziD from Hezzi-D's Books and Cooks uses Mod Podge and cute floral paper napkins to create adorable designs that her classroom couldn't wait to take home.
The best part: no dye stains!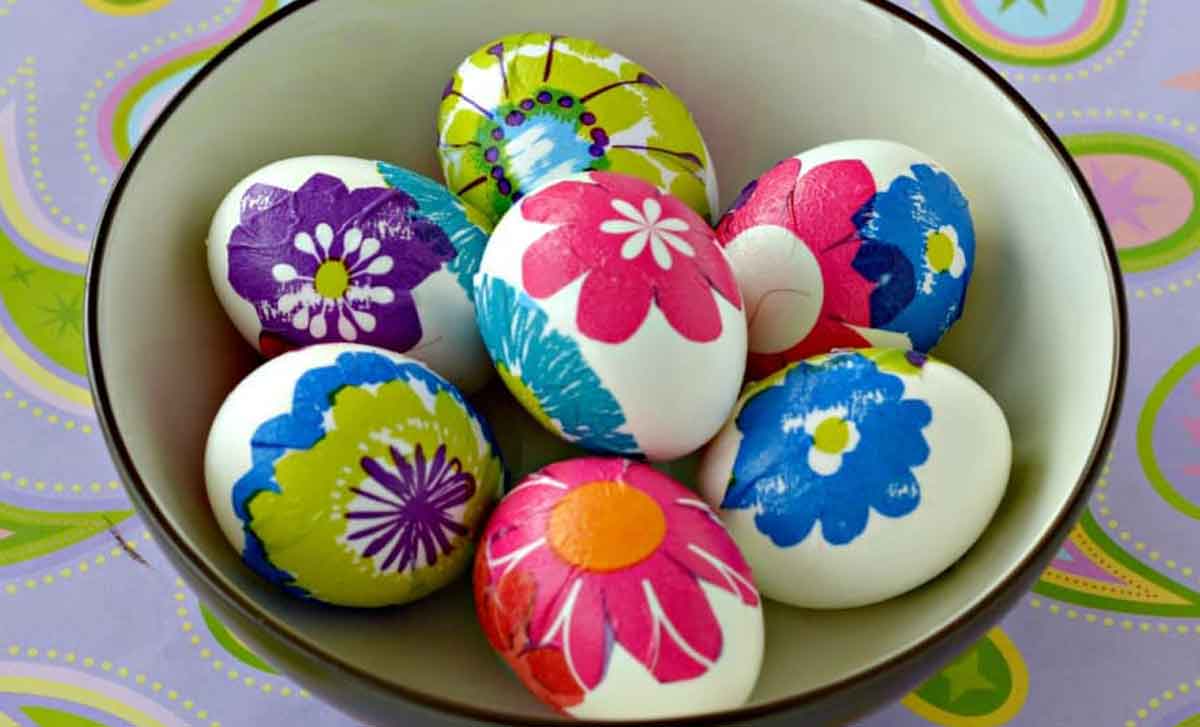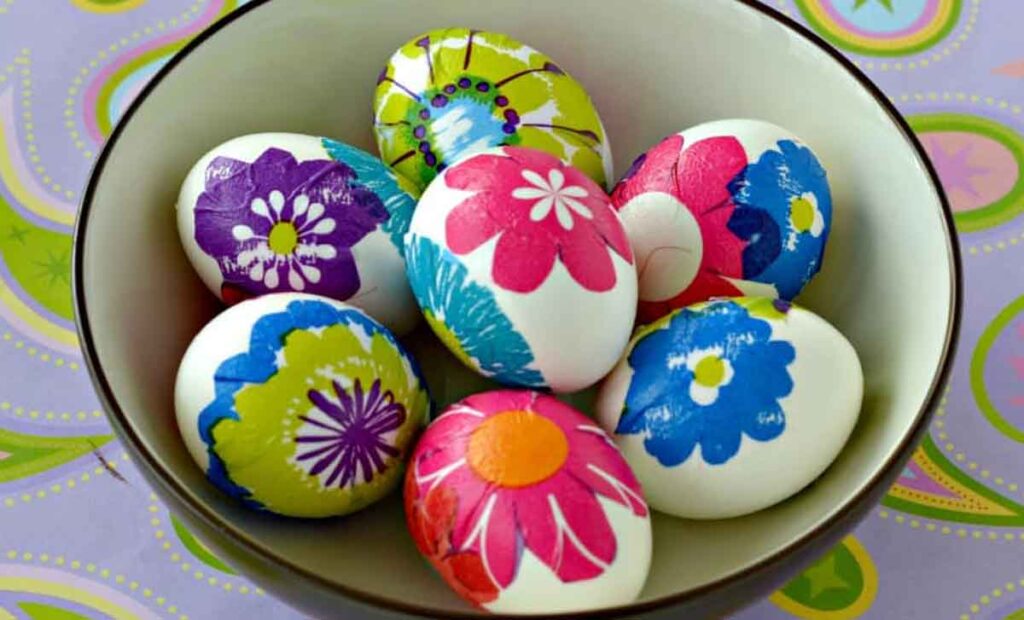 Safety of Decorating with Mod Podge:
Decorations using Mod Podge should not be eaten.
---
There you have it folks, 13 creative ideas for coloring Easter Eggs. I hope you found something you want to try with your family. I'd love to hear if you created a totally different technique or how it went if you used one of these ideas!
Before you go, be sure to check out my other Easter-themed printables, activity ideas, recipes, and more.
Easter is honestly one of my favorite holidays. It's so cheery, and it is such a beautiful celebration. It inspires me to make lots of fun things like these free printable Easter bunny footprints for Easter morning and an Easter story snack mix printable. And don't get me started on my Easter charcuterie board round-up and Easter treats round-up.
Happy Easter, everyone!
---
Don't forget to pin these Ideas for Coloring Easter Eggs: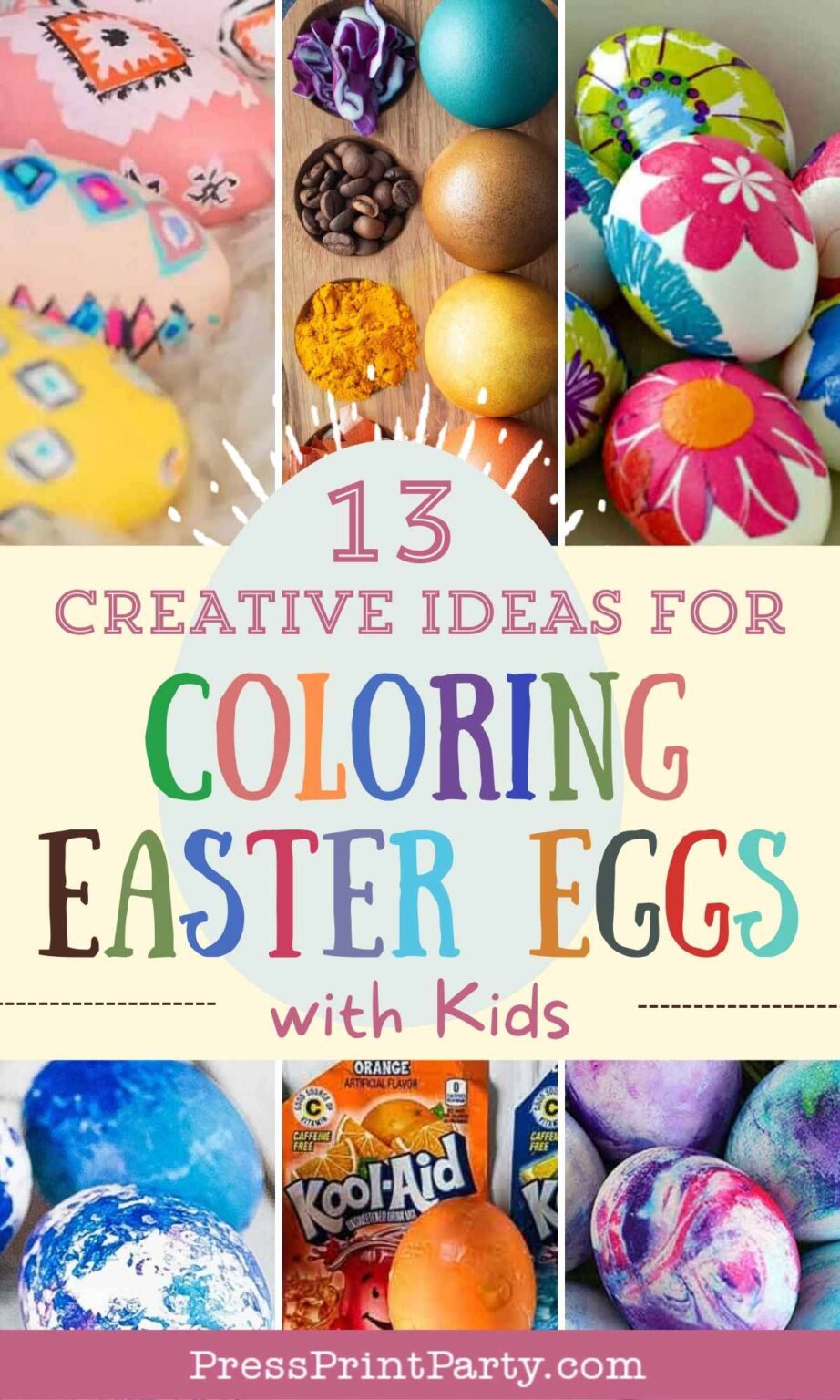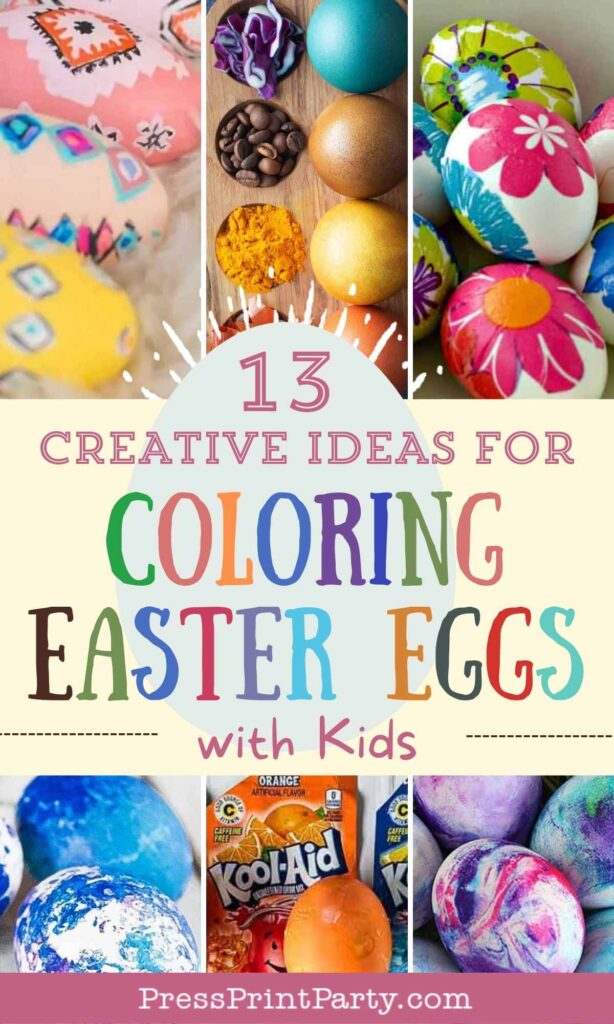 Check out our Easter printables