Easter Bunny letter are a great way to make your child's Easter holiday extra special and help them make memories that will last a lifetime!
Our free printable Easter Bunny letters and poems are written by us and copyrighted. Each is a unique letter so please only use them for personal use. Don't copy them or add them to your own blog. (Stuff like that makes us less eager to share fun stuff like this with you. Don't do it!)
The Easter bunny letter templates are easy to edit totally free on Canva.com and can be printed at home. All instructions are included.
It's also easy to add your child's name for a personalized letter.
You'll be able to edit the text to write your own letter from the Easter Bunny or print the blank template to have your kids write a letter to the Easter Bunny for a fun activity. It doesn't have to be fancy. A simple letter will do.
Although we've never done it, I know people who leave a carrot out for the Bunny the night before. A bit like leaving cookies for Santa Claus on Christmas Eve.
If that's your tradition you'll find one of our letters that specifically thanks the kids for the carrot.
Just like getting a letter from Santa, or the tooth fairy, your kid's face will light up when they see a cute Easter bunny note.
So whichever free printable Easter bunny letter you choose, or if you write one yourself, it's a fun way to start Easter day. You could put the note in your child's Easter basket, on the table, or taped to the door leading to the back yard.
And while you're at it, why not also make some bunny footprints to add some extra fun.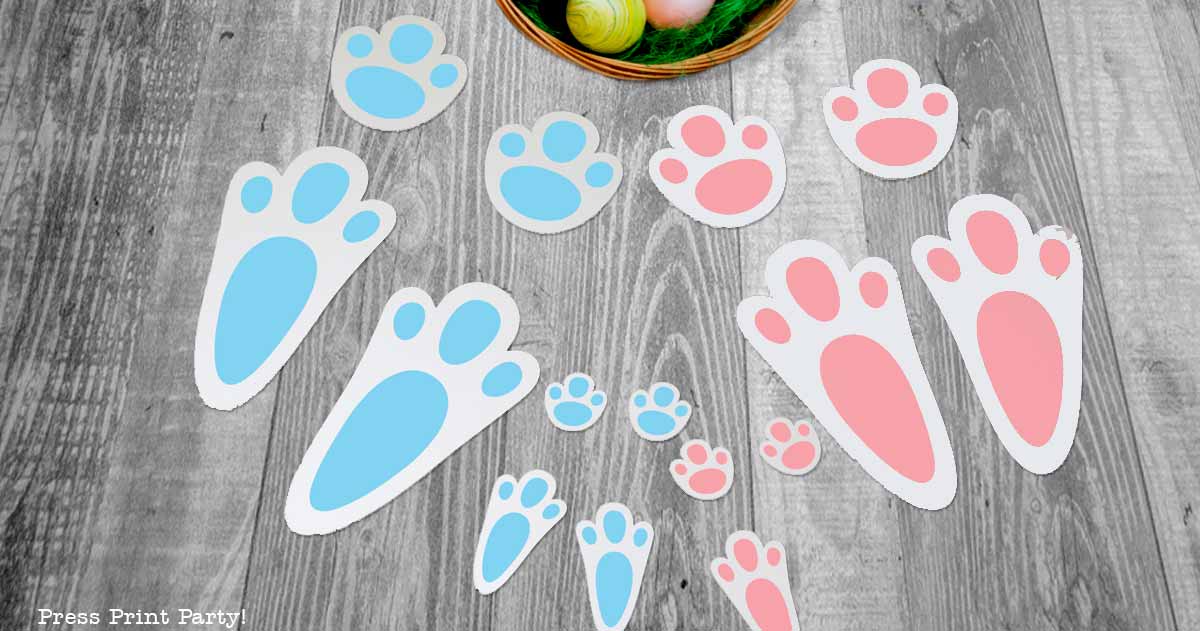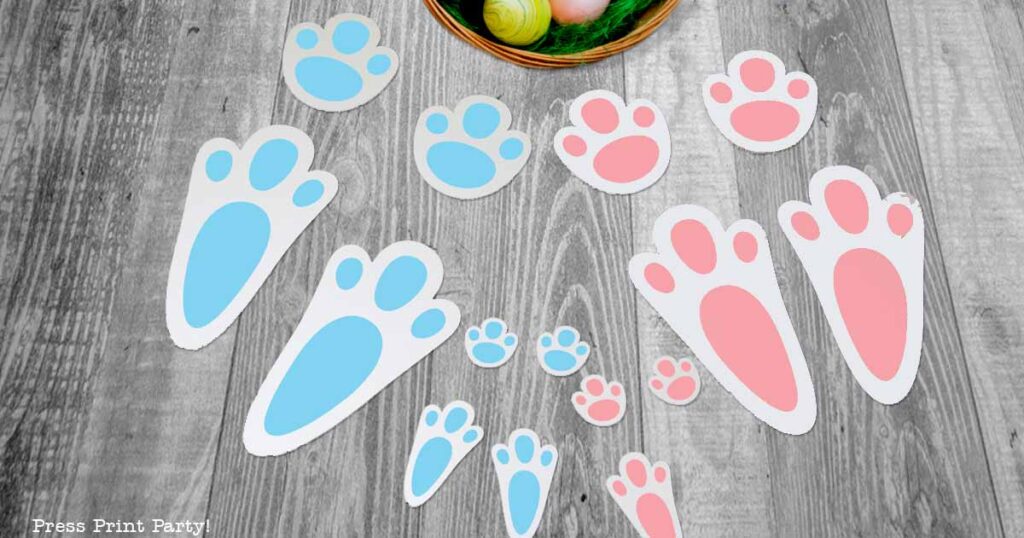 ---
Where does the Easter Bunny come from?
No, the Easter Bunny does not come from Easter Island. Although Easter is a religious holiday, like many Easter themes and tradition the Easter bunny is not found anywhere in the bible.
The Easter symbols we know today have evolved and been re-appropriated over time.
The Easter Bunny, or hare is a character that originated in Germany during the 1500s.
It's believed to represent spring, when the days become longer and warmer, flowers begin to bloom, and animals give birth to their young.
According to folklore, the Easter Bunny, or "Osterhase," laid brightly colored eggs and candy in nests made of grass on Easter morning and those were given to children as gifts.
Over time, the Easter eggs came to symbolize new life in celebration of Jesus' resurrection and the new life available through Christ.
This tradition spread to other parts of Europe and is said to have been brought to America by German immigrants in the 1700s, where it continues today.
As for the chocolate eggs and the plethora of Easter candies, you probably can thank the U.S. for that.
---
Free Printable Easter Bunny Letters
To get these free Easter Bunny printable letters with the cute bunny border, go to the bottom of this post to sign up to my newsletter. My newsletter subscribers have access to my free printable library with these templates and lots more free printables.
These templates work in Canva and are very easy to edit.
You'll be able to add your child's name after "Hi", and change any text you wish.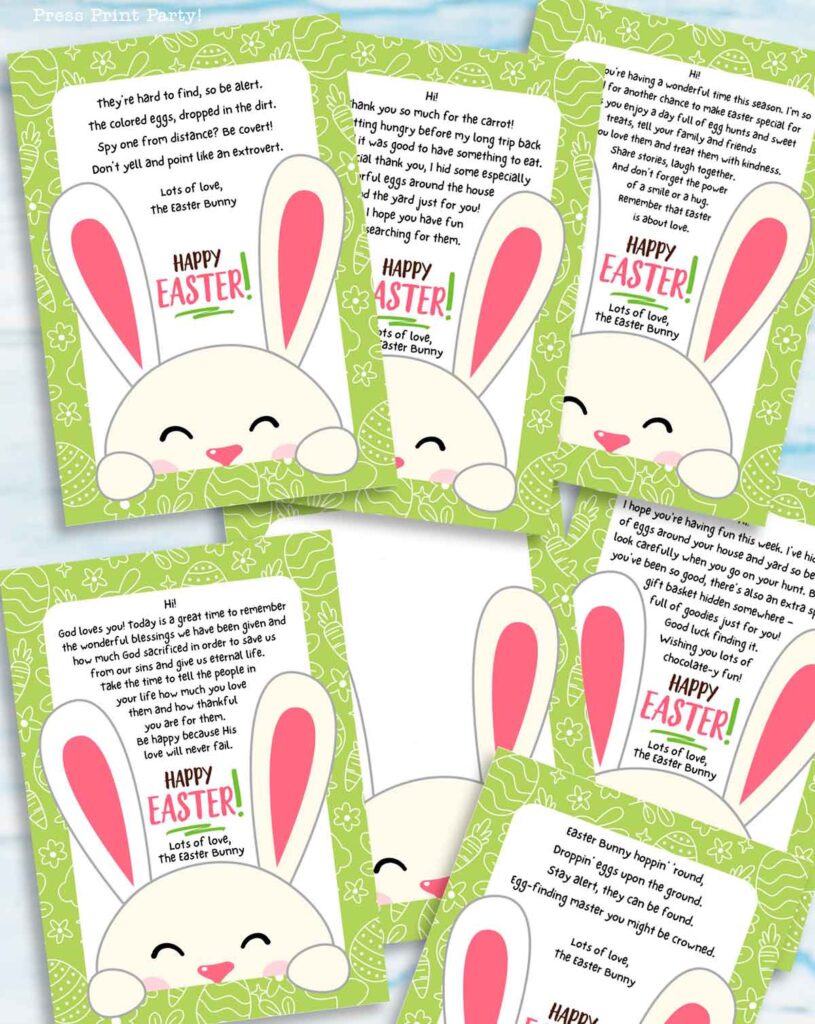 Letter #1 A short note thanking the kids for the carrot.
Hi!
Thank you so much for the carrot! I was getting hungry before my long trip back home and it was good to have something to eat. As a special thank you, I hid some especially colorful eggs around the house and the yard just for you! I hope you have fun searching for them.
Happy Easter,
Lots of love,
The Easter Bunny
Letter #2 A note about the importance of kindness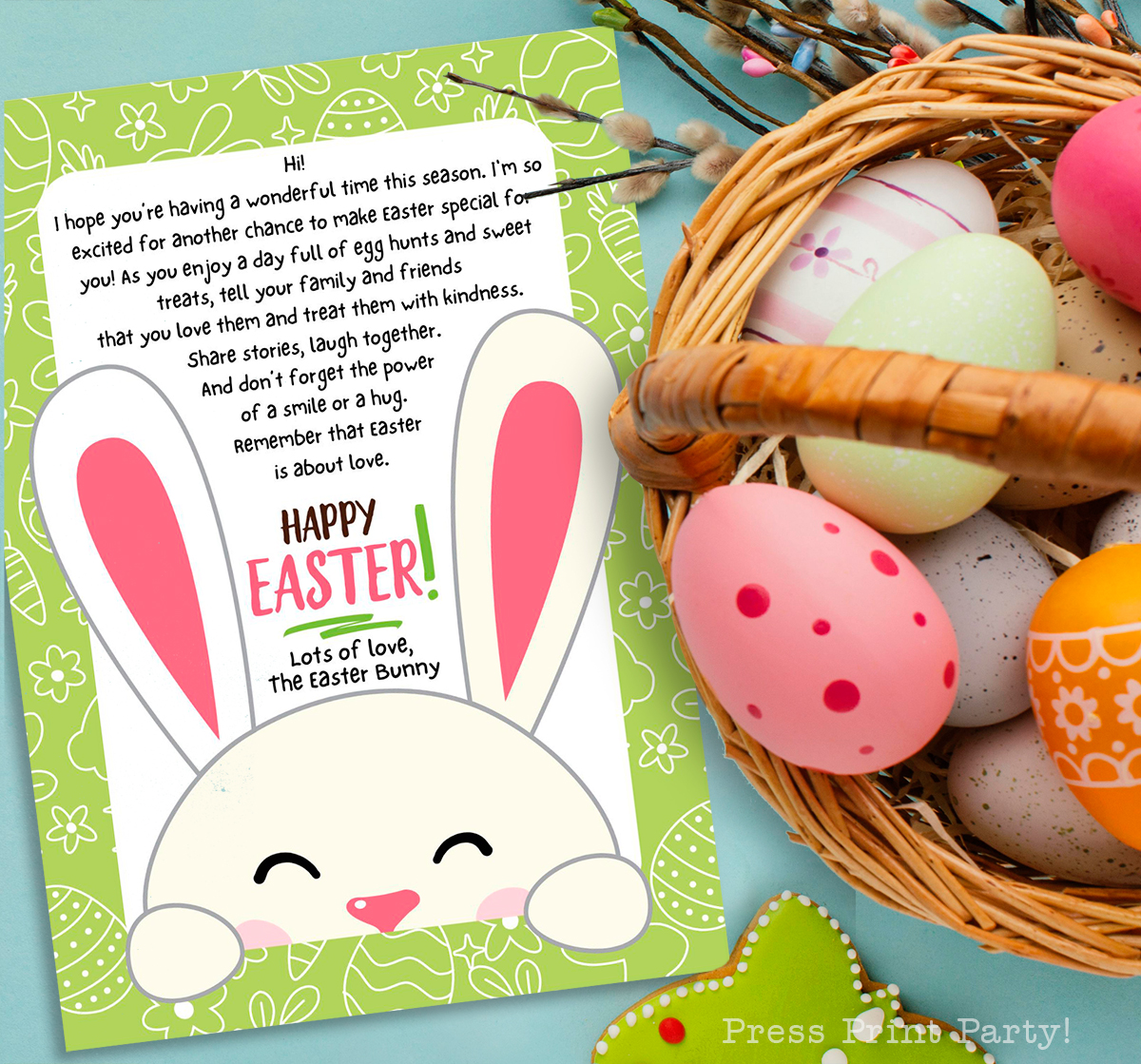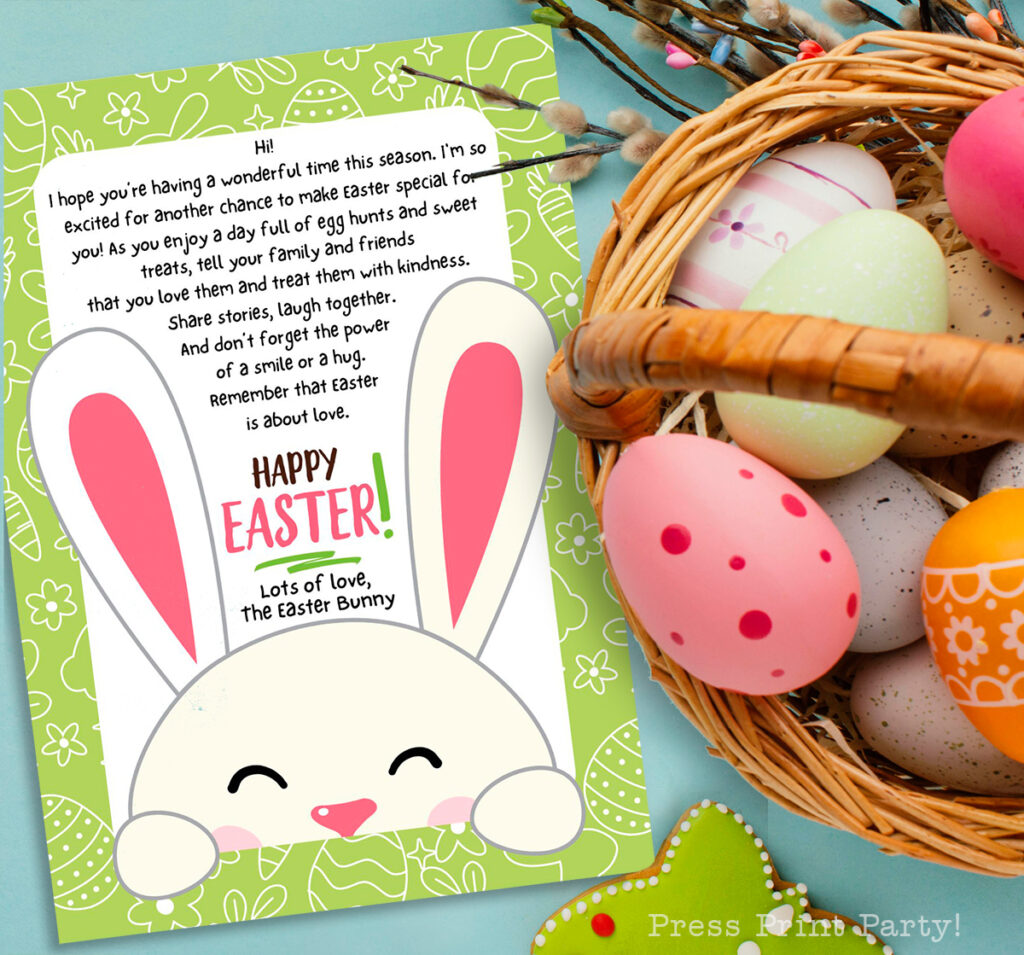 Hi!
I hope you're having a wonderful time this season. I'm so excited for another chance to make Easter special for you!
As you enjoy a day full of egg hunts and sweet treats, tell your family and friends that you love them and treat them with kindness. Share stories, laugh together. And don't forget the power of a smile or a hug.
It's important to help each other out. Remember that Easter is about love.
Happy Easter!
Lots of love,
The Easter Bunny
Letter #3 A note about God's Love for us at Easter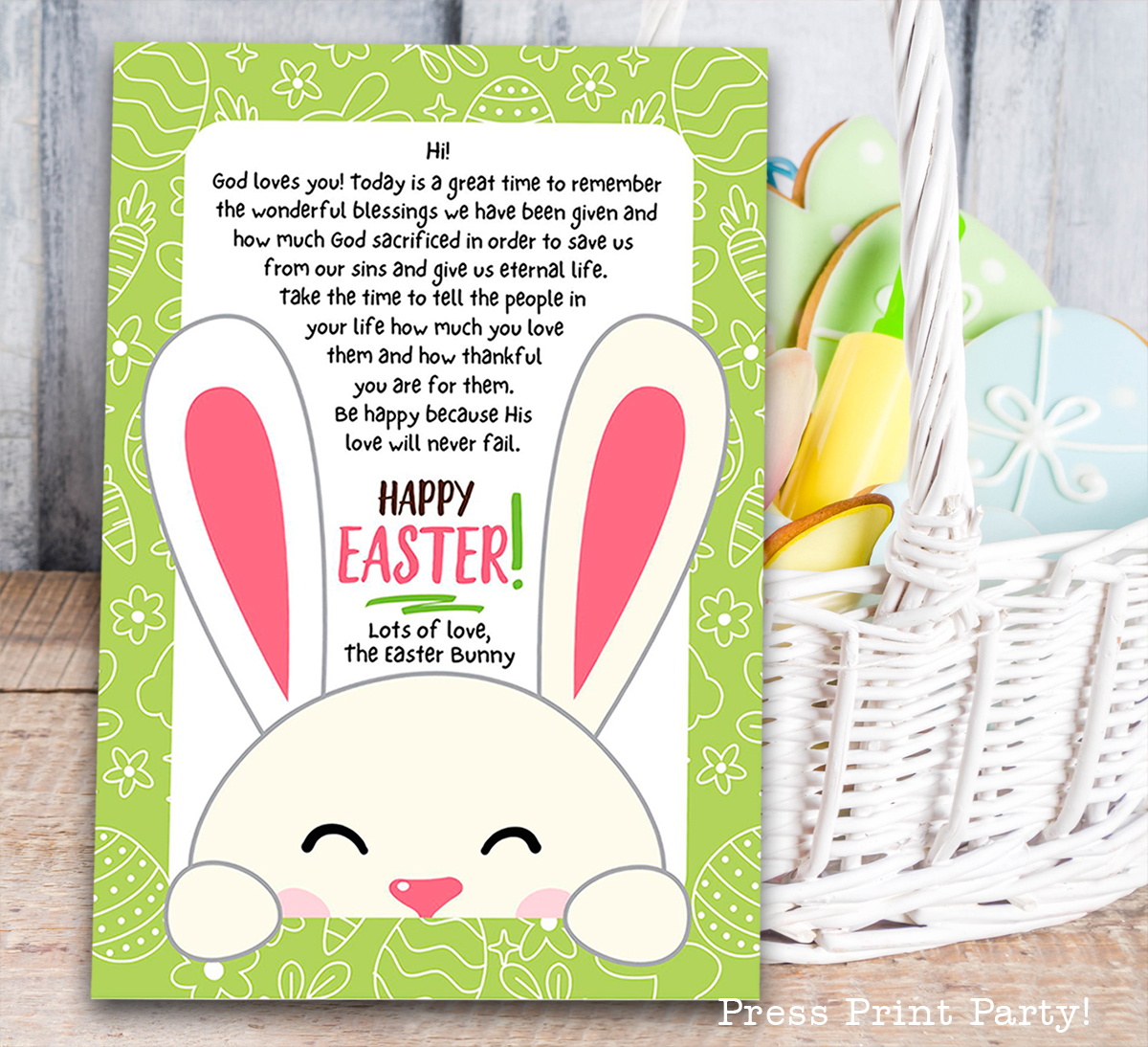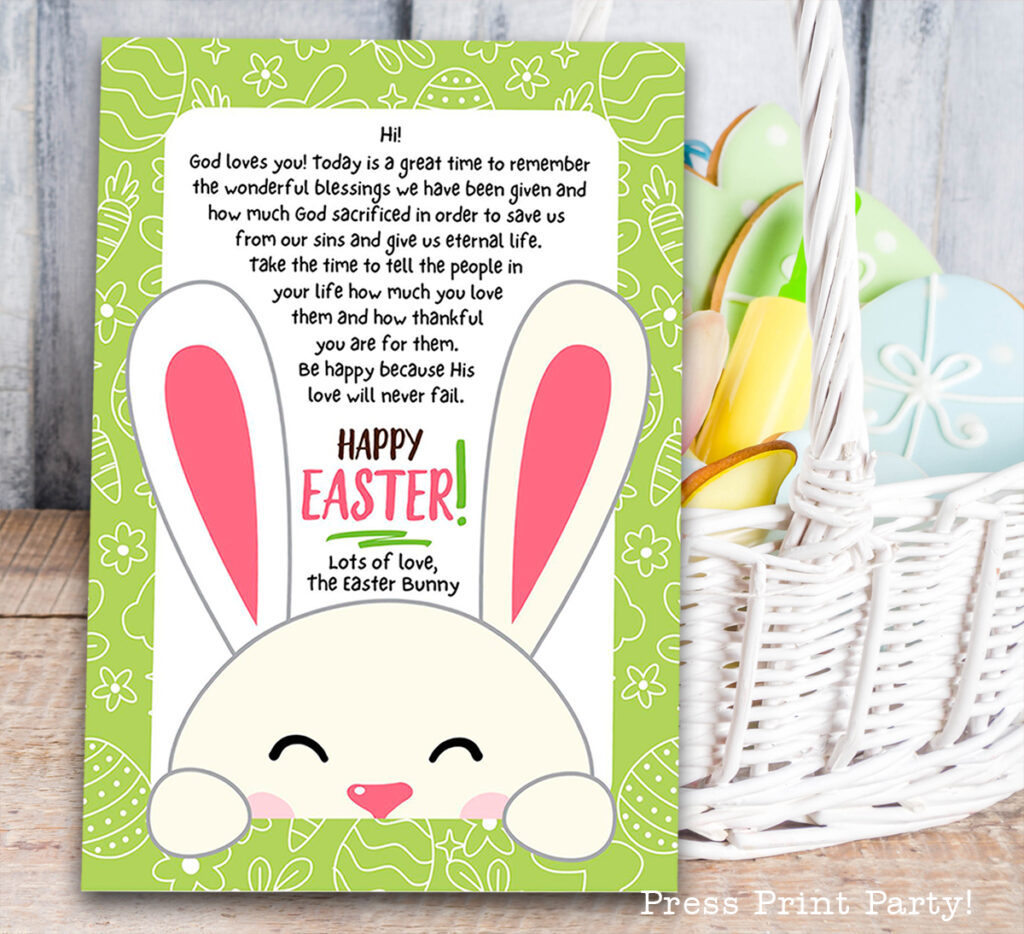 Hi!
God loves you! Today is a great time to remember the wonderful blessings we have been given and how much He sacrificed in order to save us from our sins and give us eternal life.
Take the time to tell the people in your life how much you love them and how thankful you are for them.
Be happy because His love will never fail.
Happy Easter!
Lots of love,
The Easter Bunny
Letter #4 About the hunt and a special basket
Hi!
I hope you're having fun this week. I've hidden lots of eggs around your house and yard so be sure to look carefully when you go on your hunt.
Because you've been so good, there's also an extra special gift basket hidden somewhere—full of goodies just for you! Good luck finding it.
Wishing you lots of chocolate-y fun!
Happy Easter!
Lots of love,
The Easter Bunny
Letter #5 A silly poem
Easter Bunny hoppin' 'round,
Droppin' eggs upon the ground.
Stay alert, they can be found.
Egg-finding master you might be crowned.
Happy Easter!
Lots of love,
The Easter Bunny
Letter #6 Another silly poem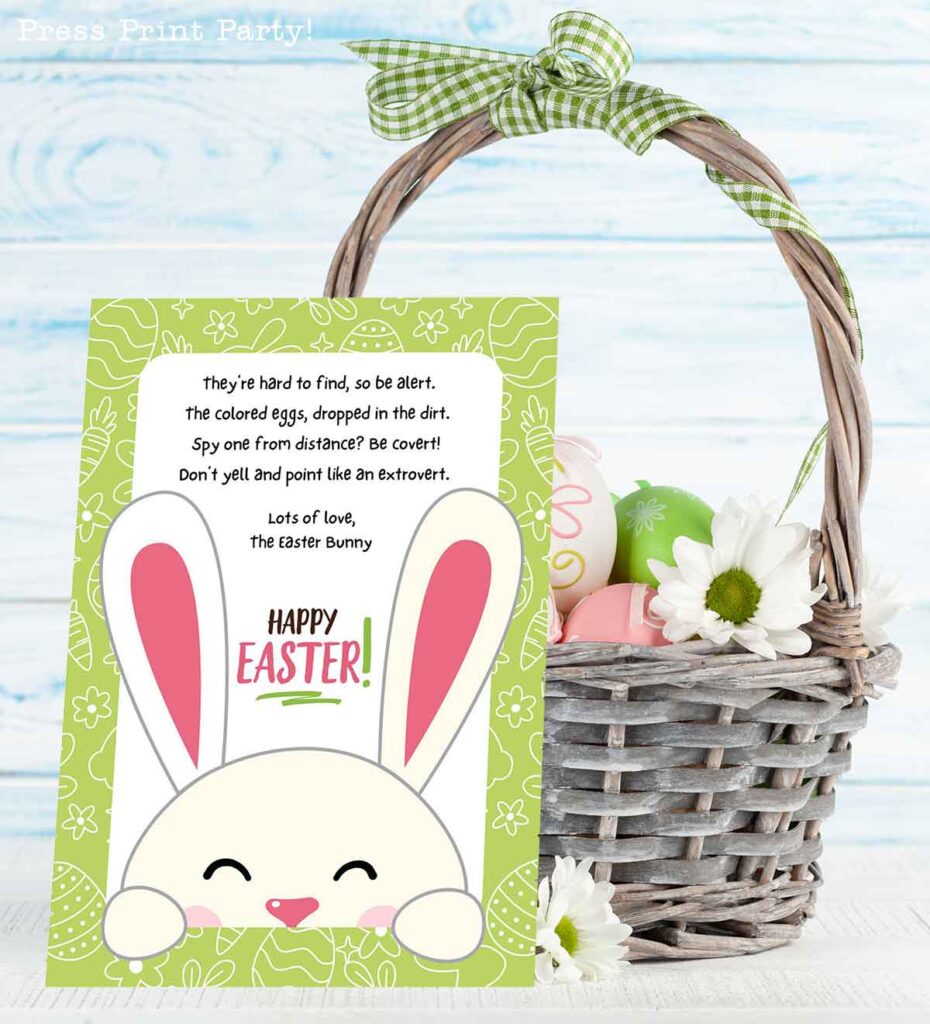 They're hard to find, so be alert.
The colored eggs, dropped in the dirt.
Spy one from distance? Be covert!
Don't yell and point like an extrovert.
Happy Easter!
Lots of love,
The Easter Bunny
---
Happy Easter! I hope you're having a wonderful spring and enjoying all the beauty that comes with this flower-filled, pastel-swathed season.
I hope you enjoyed these free printable Easter Bunny letters and poems. Please share a description or photos of your own Easter tradition with me in the comments. I'd love to hear about them!
There are lot's more fun Easter season activities to be had. Like coloring some free Easter egg coloring pages or bunnies, making Easter story snack mix, or baking some fun Easter treats.
Also my shop is full of Easter gift tags and other printables.
---