By this age, the birthday boy or girl and their similarly-aged party guests have hit, or have nearly hit several major milestones. That allows for fun activities and an all-around good time.
Of course, all that independence and toddler energy can also pose new challenges to planning a party. If you find yourself overwhelmed or struggling to get organized or you just want an efficient, central location for your birthday party plans, check out my Birthday Party Planner. It's a great resource for party planning in every season and stage of life!
When it comes to picking a theme, I recommend considering your guest list. Whether you are limiting your guest list to immediate family and a best friend or two, or you're inviting everyone in town, I'm sure there are a few great 2nd birthday party ideas that will be just right for you.
At this stage, it's likely that the birthday kiddo has an opinion or two about their birthday party theme. The good news is they are still fairly distractable, and with the help of this 2-year-old birthday party theme round-up, you can help steer your little one to agreeing to the perfect theme for the special day.
All of the themes below cleverly play with the word "two". Choosing your theme is your first step, after that things fall into place.
83 themes is a lot to go through so I broke them down into categories by themes:
---
General Themes for Toddler Girls or Boys
Many of these punny sayings are broad enough that you don't really need any particular themed decorations. Any generic birthday decorations will do, but you'll still look super clever.
1 – Little Goody Two-Shoes
2 – I'm TWO Fancy
This theme would be too cute as a dress-up party! And these adorable "I'm too fancy" decorations could help set the tone and color scheme.
3 – It's Time TWO Party!
4 – Little Miss TWO Much
These gold and pink Two Much Fun decorations would be adorable for a little girl.
5 – Second TWO None
6 – TWO big for ONE's britches
7 – TWO Fabulous
8 – TWO Good to be True
9 – TWO Handsome
This one lends itself well to some fun mustache-themed decorations for your little handsome boy. Or maybe some cupcake toppers with the birthday boy's face? Or get this perfect Two Handsome shirt for the birthday boy.
10 – TWO hot to handle
I think a fire truck theme would work terrific here especially if you get some of these flame balloons.
11 – TWO Legit 2 Quit
This is a fun way to celebrate your little one with your friends. This Vivacious Life offers a great example of the "Two Legit 2 Quit" theme. With some black balloons and gold accents, you're themed decor is practically complete.
12 – TWO sassy
13 – TWO steps ahead
14 – TWO's the Boss?
15 – TWO-tally Awesome
---
Food Themes 2nd Birthday Party Ideas
Want to know what's great about food themes? You don't need any extra creativity to decide what food you will serve at the party. You're welcome!
17 – Table for TWO
Hostess with the Mostess shares how the Table for Two party she threw for her little one came together. Their use of retro 50s diner motifs is amazing!
18 – Donut Grow Up TWO fast
With my printable party set, your guests will love the fun colors, sweet treats, and fun party designs.
19 – Have Your Cake and Eat it TWO
By the way, I have an amazing chocolate cake recipe you need to try!
20 – Tea for TWO
Tea party anyone? This theme offers some fun options like having the entire toddler party dress up fancy. I have a printable tea party set in my shop. All you're missing are the finger sandwiches and tea!
21 – TWO Cool (Popsicle Party)
Two Cool Popsicle Party looks like a ton of fun! Just look at the amazing cake Kara's Party Ideas incorporated into their Two Cool party. They also filled several kiddie pools with bubbles, water, and water beads.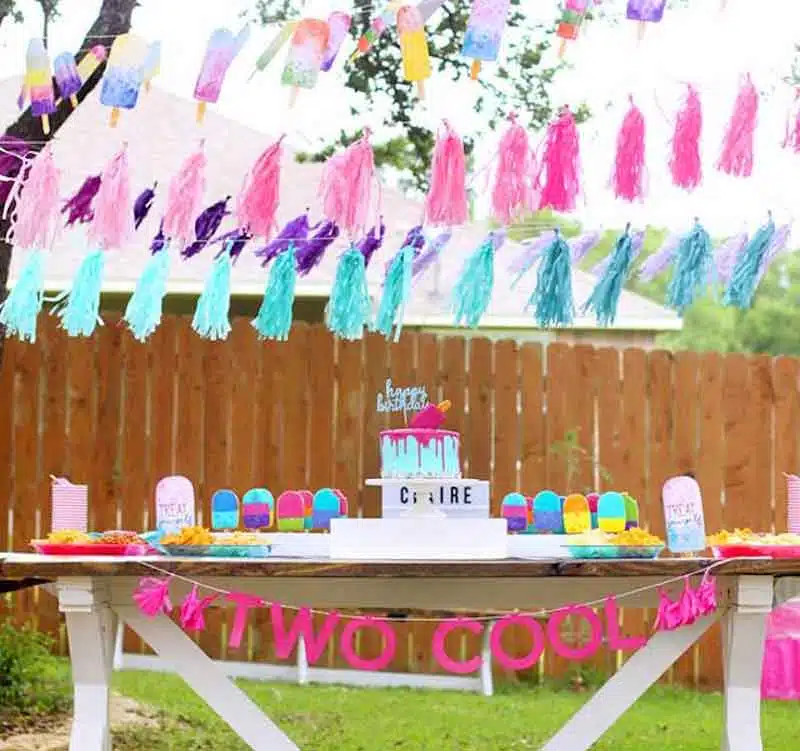 22 – TWO Scoops (Ice cream)
Transform your own home into an ice cream parlor. Check out how RB Italia pulled off this theme for their child's birthday.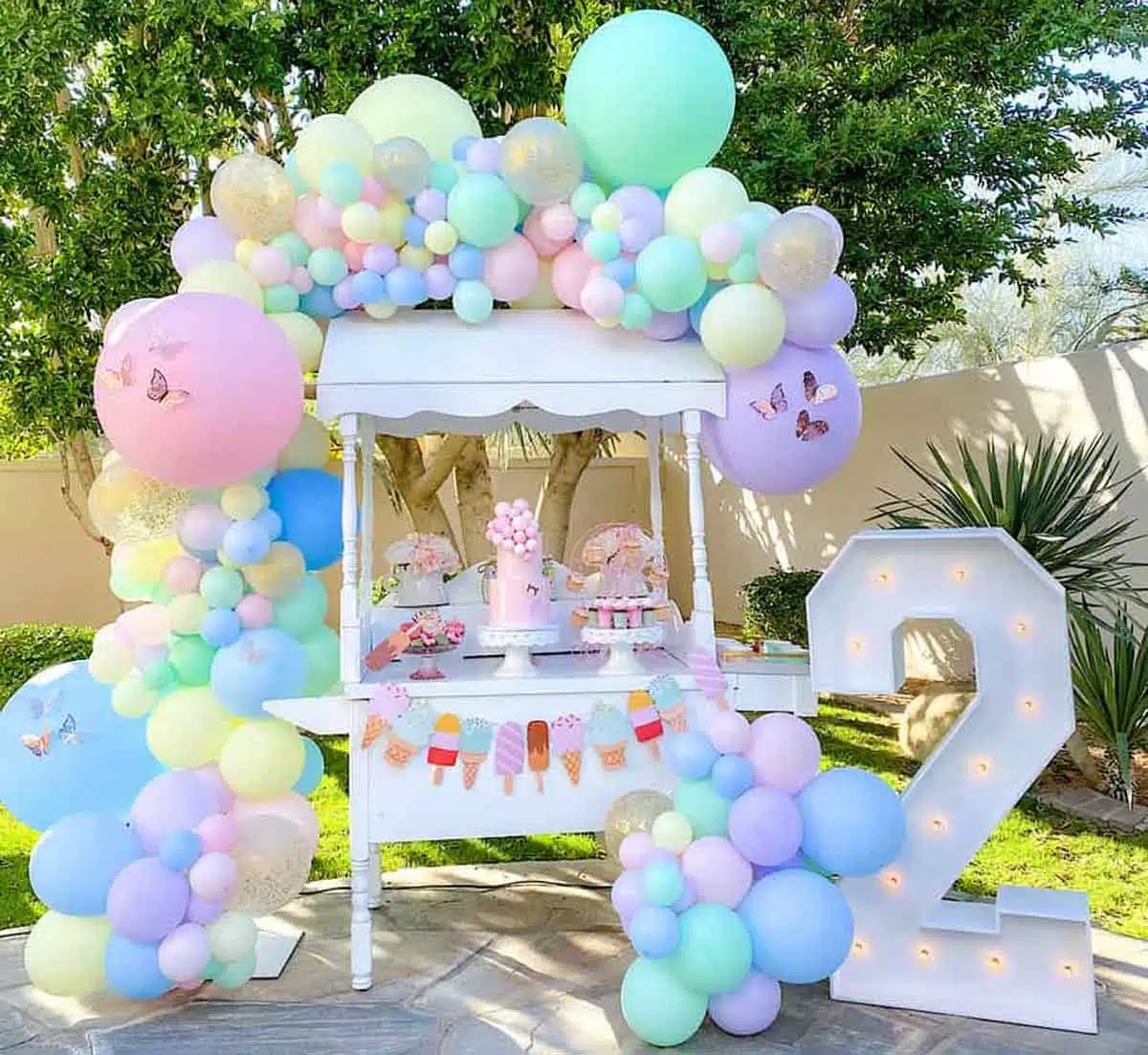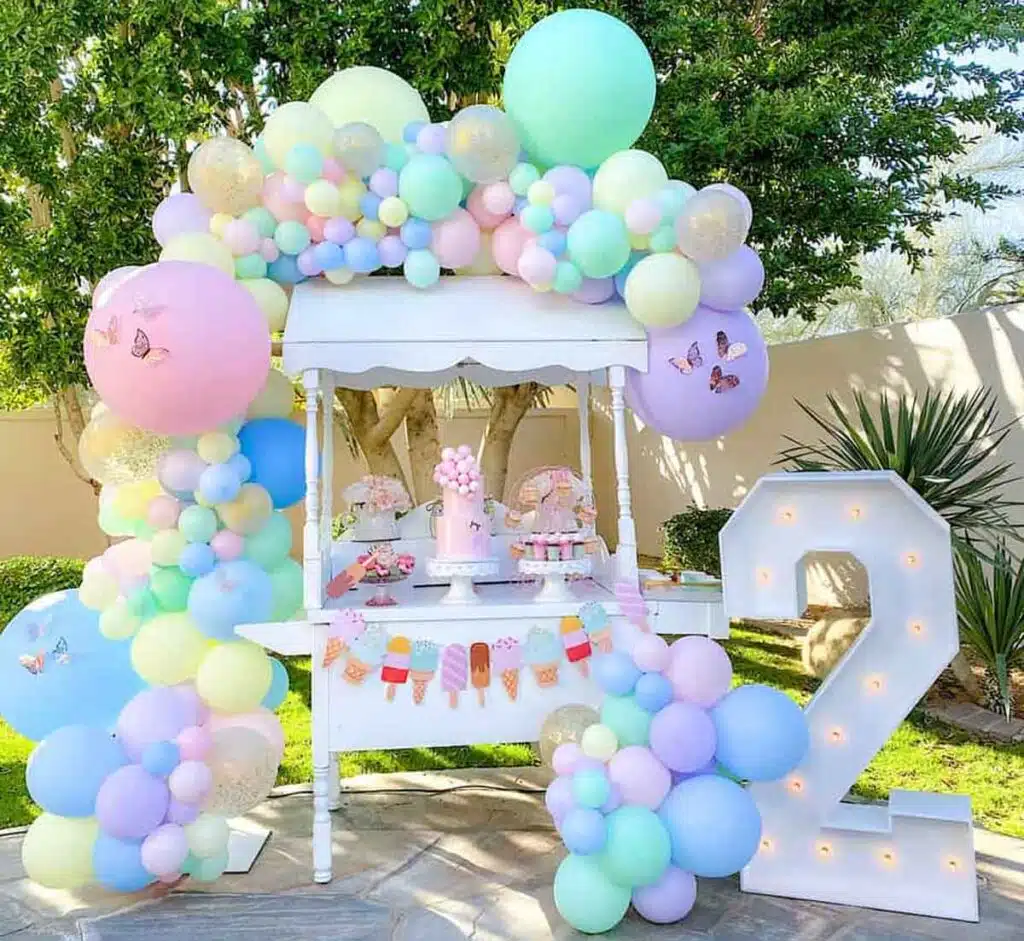 By the way, you can learn how to make this giant foam number from my tutorial and free template.
23 – Two Sweet (Donuts)
Indulge your sweet tooth with a Two Sweet donut party! You can find plenty of ready-made decorations or print a custom donut banner from my donut party printable set.
24 – TWO-tti Fruity
This makes for such a fun 2nd birthday idea! The color and party treat options that match the Two-tti Fruity theme are great! Plus two-year-olds love fruit!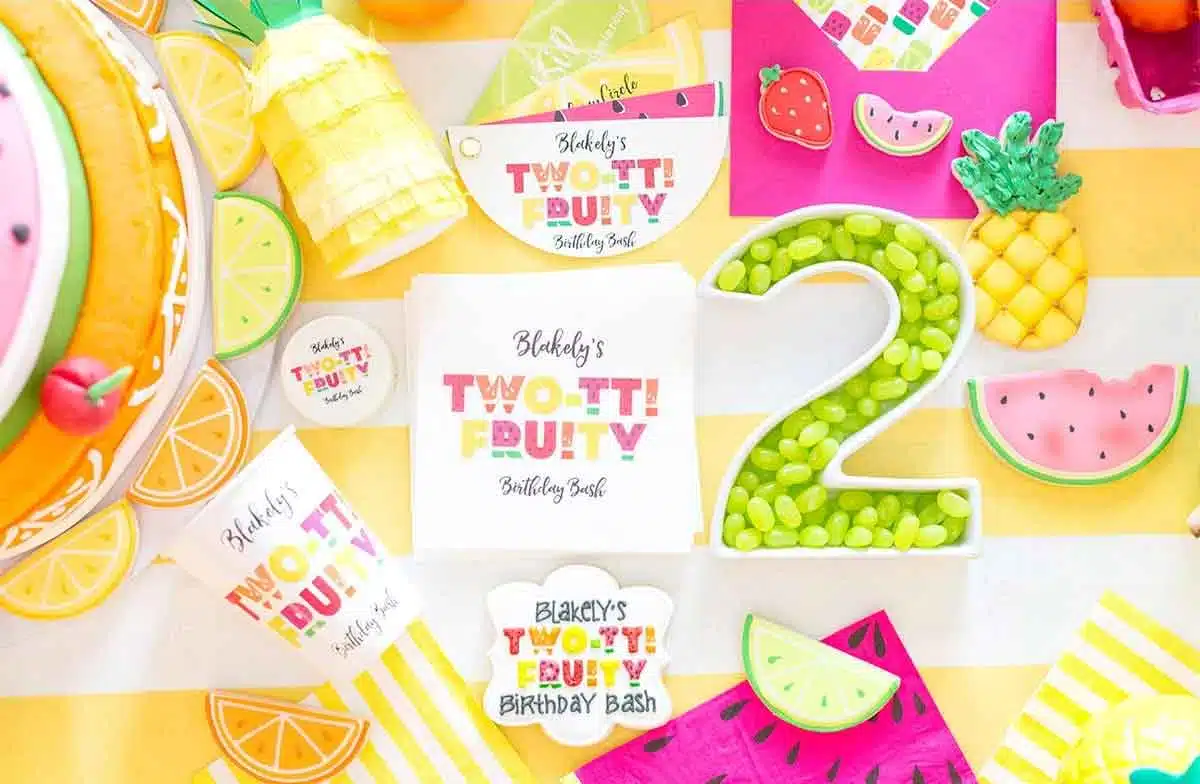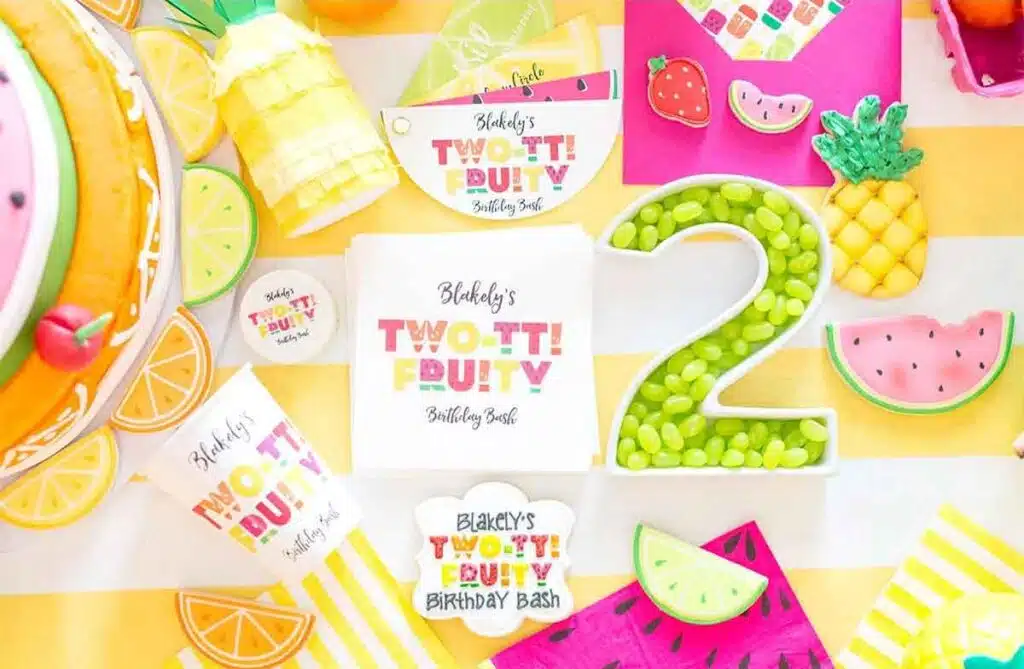 25 – Taco TWOsday
Your little one and guests will love this Taco Twosday fiesta. Who's ready for a taco bar? Don't miss using an adorable Taco Twosday party set like this one from Amazon! It includes festive foil balloons, a garland, pompoms and more.
---
Animal Themes for Two Year Olds
The driving factor for choosing an animal theme for a 2-year-old's birthday party is generally because the birthday girl or boy has an adorable fascination with a specific animal.
And, of course, when your child is 13, you want to be able to pull out the photo album and say, "And here's when you went through your giraffe phase!"
26 – Cock-a-Doodle TWO!
Nothing like a birthday on the farm! Check out these adorable farm decorations that are perfect for the Cock-a-Doodle Two theme. There are lots of fun ways to include farm animals too (petting zoo, anyone?).
27 – Guess Whooo's TWO? (Owl)
There so many cute owl designs! Designate or hire someone for face painting at your Guess Whooo's Two party so you can have lots of little faces covered in owl eyes, feathers, and beaks running around. These invitations make for great inspiration.
28 – Hippo Birdie TWO Ewe (Happy birthday to you)
29 – In TWO the Wild
Your little one is turning two! How wild is that? The In Two the Wild theme is appropriate in many ways. For some wild inspiration, check out my blog article "Wild Jungle Party Ideas." The blog features how one of my customers threw her little man an awesome safari party with the printable party set in my shop.
30 – Monkey See, Monkey TWO
This also works for a Curious George theme.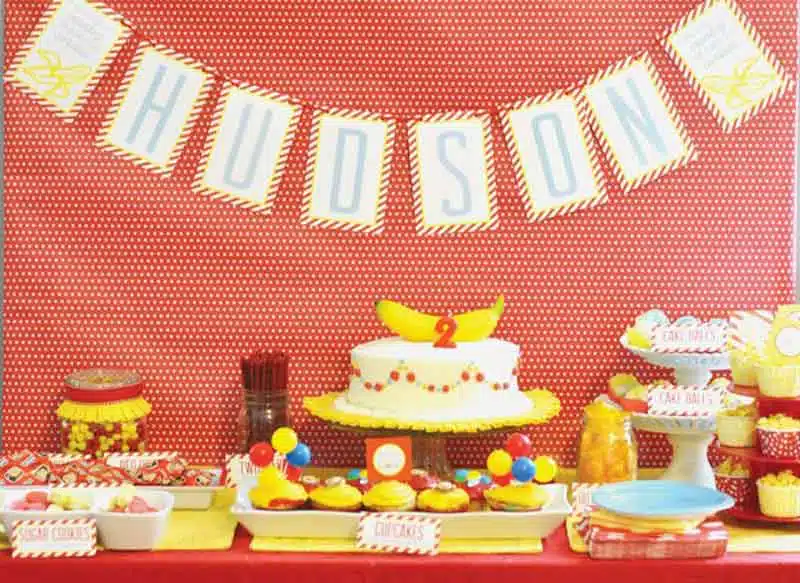 31 – TWO at the Zoo / TWO is a Zoo
32 – TWO Bee or Not TWO Bee
Can he or she BEE two already? And adorable bee themed decorations are very easy to find.
33 – TWO Buzzy
34 – TWO by TWO (Noah)
Your little one doesn't have to be called Noah to have an awesome Two by Two birthday party! This fun party idea leaves lots of room for creativity with motifs like wild animals and water. Check out these awesome Two by Two theme invitations for inspiration..
35 – TWO Let the Dogs Out?
Your little dog-lover is sure to adore a Two Let the Dogs Out theme. Allison Carter Celebrates shows you how you can throw your own epic puppy paw-ty.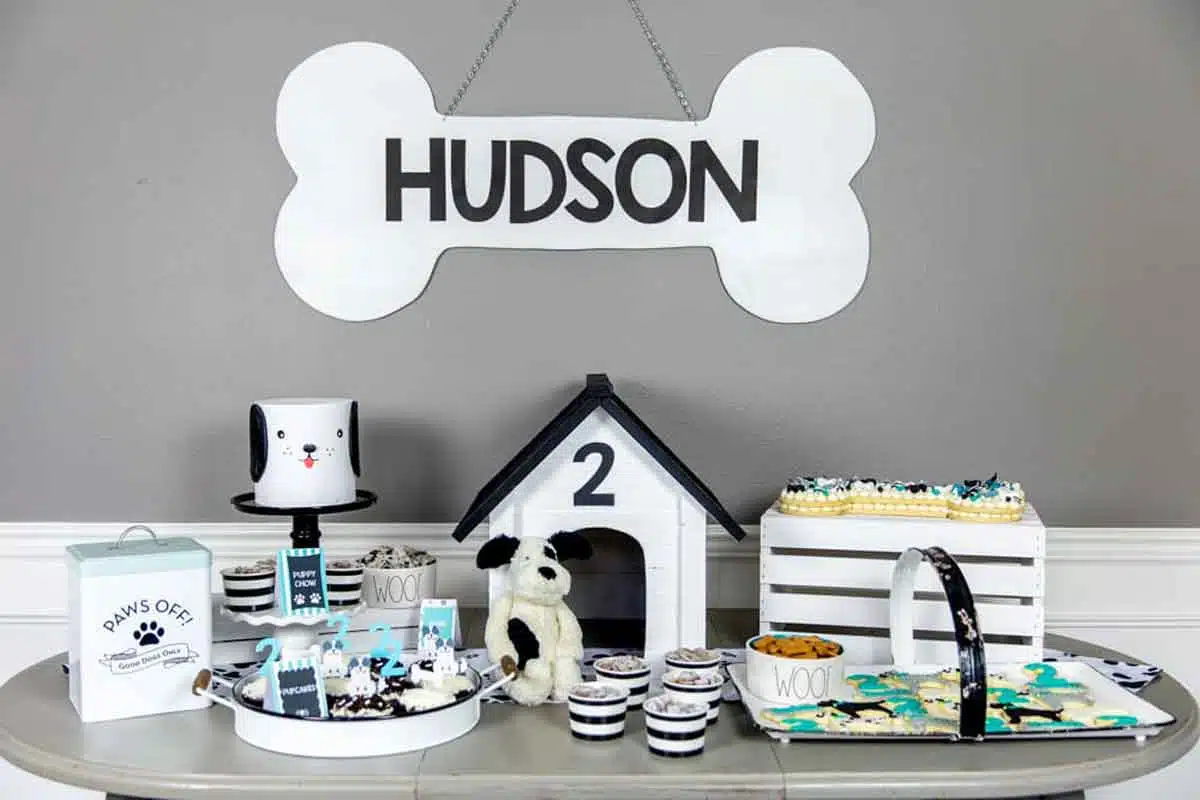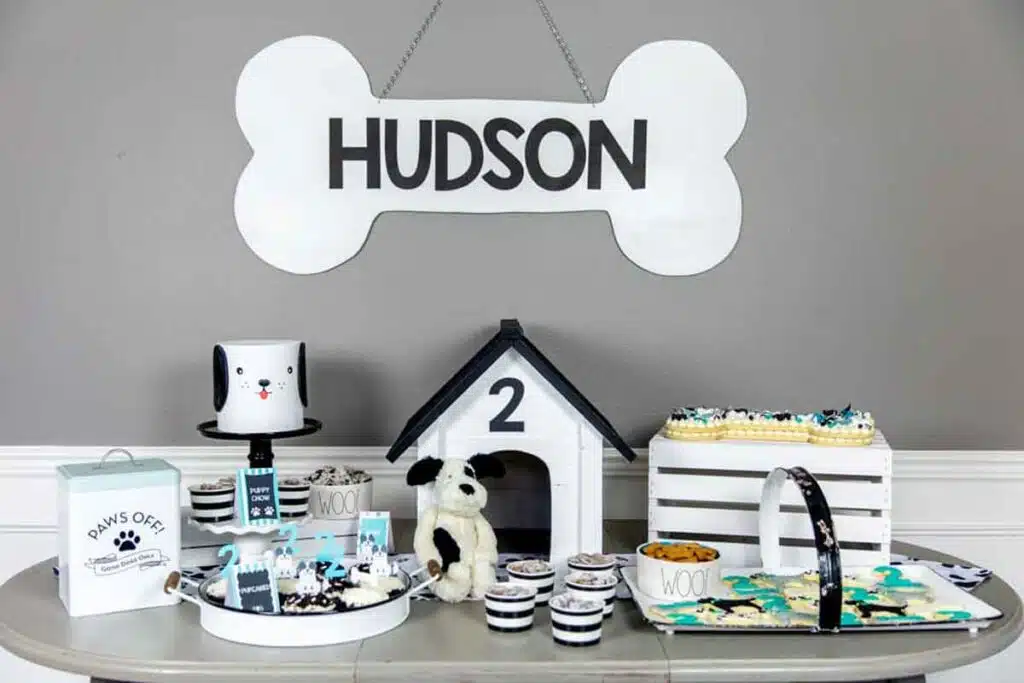 36 – TWO Wild
37 – Born TWO be Wild
38 – Welcome TWO the Jungle
39 – TWO-nicorn
If your little one gets pretty excited about unicorns, the Two-nicorn Party theme might be perfect. This is another one from my shop. Just like a good mother loves her children, I love all of my party designs. I don't love this design as much as my children, but I do think it's pretty awesome. I offer even more unicorn theme ideas on my blog for Truly Magical DIY Unicorn Birthday Decorations.
40 – TWO ring Circus
Have you seen those epic balloon garlands that really dazzle at parties? This is your chance to pull off a Two Ring Circus balloon garland of your own. Your little ringmaster and little guests will go nuts for this theme.
---
Vehicles Themes
I often hear moms say they struggle to find fun, original themes for boys' birthday parties. Well, any of these themes would be a great idea for 2-year-old boys or girls.
41 – Don't grow up TWO fast (car racing)
Make your little one's need for speed the theme of your party with lots of racing decorations and activities.
42 – Born TWO ride
But ride what? Motorcycles or horses, you choose!
43 – Off TWO The Races
This one could be thought of as a race car theme or a horse race theme. Your choice.
44 – TWO Fast & Furious (car)
This popular movie series lends itself well to a fun 2nd birthday party theme.
45 – I'm Digging Being TWO
What little boy doesn't like trucks and construction sites? Here's some demolition decoration inspiration. Phew, that was a shovel full!
46 – All Aboard the 2-Choo Train!
47 – Chugga, Chugga, TWO! TWO!
I love the subtle red, white, and blue decorations Inspired By This used for their train-themed party.
---
Space/ Weather Themes
With some paint and butcher paper, you're ready to make an awesome backdrop for an outer space or weather theme! You can even get your little ones involved in the craft.
48 – TWO-inkle TWO-inkle Little Star
49 – Two the Moon
50 – Love You TWO the Moon & Back
I love this idea for a themed 2nd birthday party. This blog from Fun365, a branch of Oriental Trading Company, offers great inspiration for a watercolor Love You Two the Moon & Back party.
51- Two-nado
This is almost too perfect for a 2nd birthday theme. Invite your guests to celebrate your little two-nado with these awesome printable invitations.
---
---
Sports Themes for 2nd Birthdays
This is a theme that caters not just to your younger guests, but also to older children and adults. Finger foods and fun sports-related goody bags are the way to go.
52 – Double Header / TWO's On First? (Baseball)
Are you and your little guy baseball fanatics? This theme is sure to be a home run! Find some winning inspiration from Bower Power's baseball themed birthday party. And check out these fun baseball plates.
53 – Second Down (football)
If you missed the opportunity to throw a First Down birthday party, you've still got another shot with Second Down! Make your party a touchdown with these football birthday party ideas from One Stylish Party.
54 – Tee Time for TWO (golf)
Set up some Tee Time for Two for your two-year-old's birthday. Don't miss the opportunity to dress them up in an adorable golf outfit, hat, and all!
---
Fairytale Themes perfect for girls
The perfect fairytale theme awaits your little princess or prince! I can picture the crowns and tiaras now.
55 – Bibbidi Bobbidi TWO!
Here's a fun idea for your princess in training to do with her toddler friends. A Bibbidi Bobbidi Two party complete with a makeover and dress-up stations.
56 – Dreams Come TWO
57 – It's a Ball to be TWO
58 – TWO TWO (TuTu) Cute
This theme lends itself well to a ballerina themed party (especially if you include this Two Two Cute party banner and decorations).
---
Favorite Characters Birthday Themes
Does your little one love a specific character? Include them in the theme. Here are a few ideas for inspiration.
59 – Oh TWOdles (from Mickey Mouse clubhouse)
You'll find plenty of easy party decoration packs great for boys or girls for an Oh Twodles theme party.
60 – TWO Infinity and Beyond
I love how this Two Infinity and Beyond birthday party came together! Your little one will enjoy finding familiar characters from the movie throughout the party.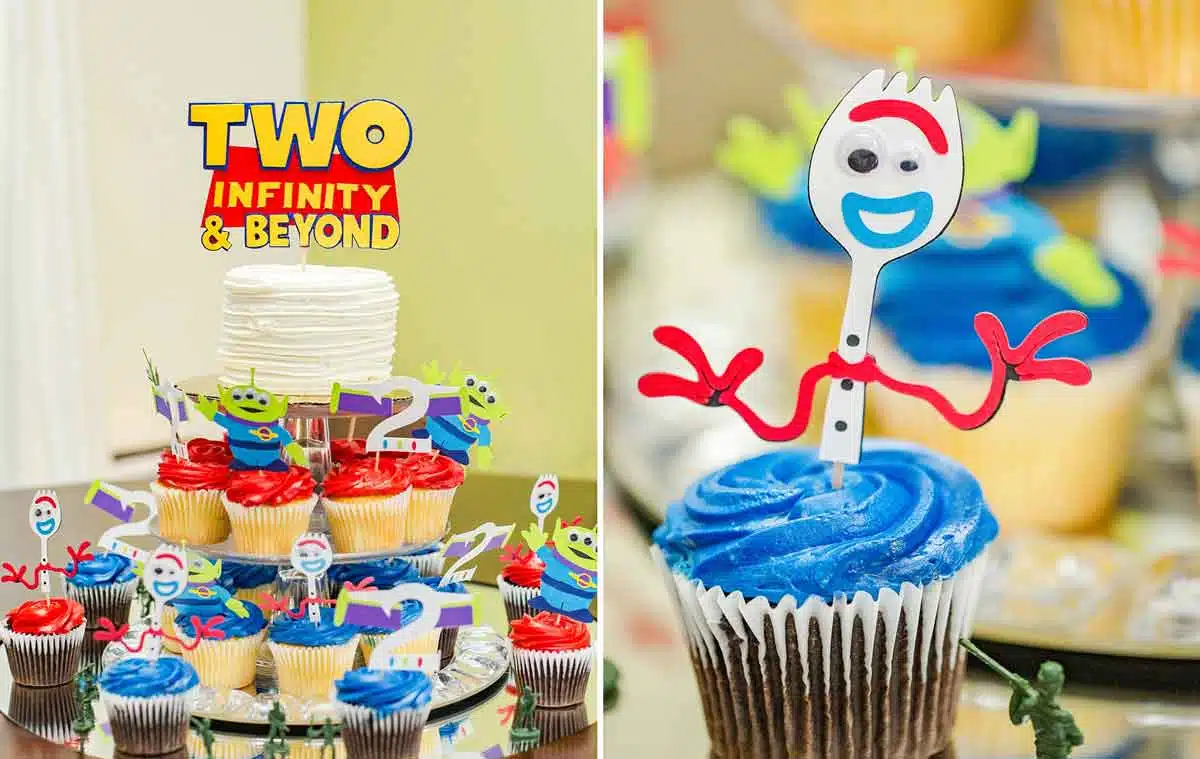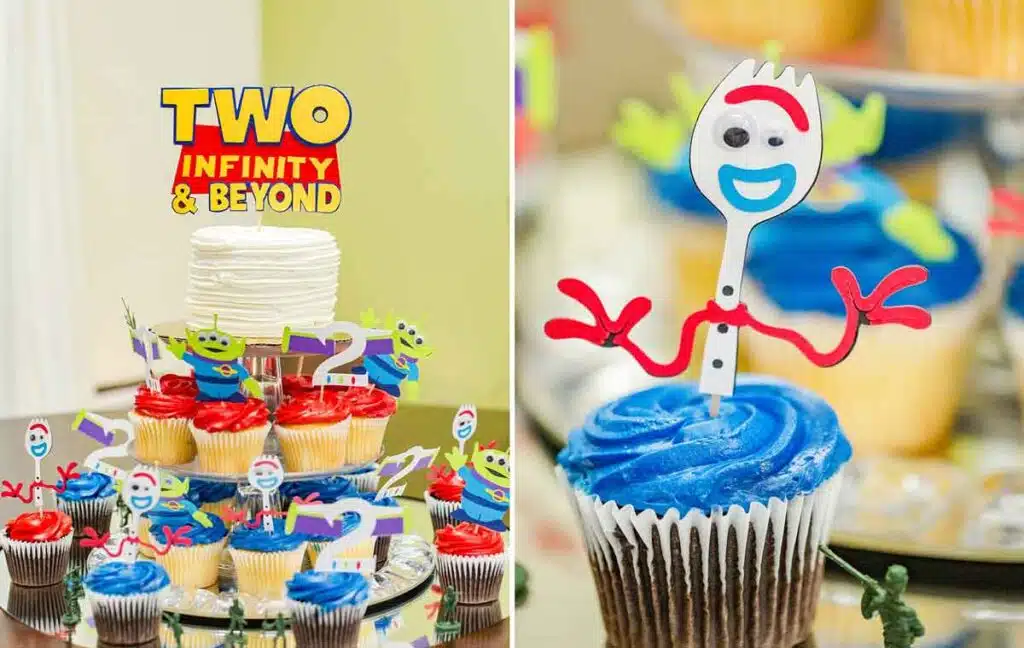 61 – TWO Curious (Curious George)
As infuriating as George can be sometimes, he does share some endearing qualities with two-year-olds. Especially their penchant for being "two curious."
62 – Baby Shark TWO TWO TWO TWO…
If your little one is a fan of Baby Shark, then they will love this theme. For your adult guests, I highly suggest a great dessert bar to apologize for getting the song stuck in their heads. Here's a Baby Shark Two Two Two balloon package to get your decor inspiration rolling.
And this theme transitions well into the next section:
---
Ocean/beach Theme Ideas
If the beach and ocean themes are calling your name, I have loads of under-the-sea decoration ideas, even how to make your own coral reef decorations.
63 – In TWO the Deep –
If you are looking for adorable designs for an In Two the Deep theme, check out my Mermaid party set. In one set you get everything you need to throw an adorable In Two the Deep party!
64 – Totally TWO-bular (Surfing) –
With some creativity, you could take this righteous theme into several directions. For inspiration, check out these very aesthetically pleasing invitations by LoboDesign and how the theme came together on Kara's Party Ideas.
---
Western Themes for 2nd Birthdays
Western themes are super fun. We've done one in the past complete with a photobooth and a horse cake.
65 – My Little Buckaroo is TWO
Check out how JennyCollier.com transformed their space into an awesome western backdrop for their My Little Buckaroo is Two birthday party.
66 – One TWO Buckle My Shoe
67 – The Terrible TWO (western party)
If you don't have "Wanted" posters with your toddler's face on them, you've missed a real opportunity with this western theme.
---
Retro Themes
We already looked at a '50s and a '90s themed party. Here are a couple more options.
68 – Totally TWO-bular (80's)
A themed party like this invites all party guests to dress up in 80s fashion and makes for amazing photos.
This is a fun theme with plenty of party decorations, party favors, and dessert designs online! Scrunchies and neon and leg warmers, oh my!
69 – TWO Groovy (70's)
This theme lends itself well to lots of bright colors. Don't miss this radical Two Groovy invitations by PoppyJackShop
---
Movie Night Themes
I love movie-themed parties! Our outdoor movie party was a guest favorite for sure with its fun popcorn box piñata and decorations.
70 – TWO thumbs up
71 – Double Feature
This theme could not be easier to execute. Pick two movies, pick and print one of my printable movie night party sets, and get some snacks. Done!
---
Theme Ideas for 2nd Birthdays around a Holiday
Birthdays on or near major holidays can be a ton of fun. Each of these themes leaves plenty of room for costumes and festive food and decor.
72 – Boo! I'm TWO!
There are so many adorable Halloween designs on the internet that are perfect for two-year-old party guests. I especially love this ghost cake topper.
73 – Lil Boo is TWO
Celebrate your lil' boo turning two with this foil balloon garland and friendly ghost and pumpkin balloons.
74 – TWO Spooky
75 – Bubble Bubble NAME's Age is Double
Think witches and brews. I go this fun sign picture from Facebook marketplace.
76 – Red, White & TWO!
Perfect for a July birthday! Get these red, white, and two decorations and celebrate independence day and your little one too!
77 – Joy TWO the World
I've seen this as a travel-themed party but I think it lends itself more to a Christmas party perfect for those December babies.
---
Just for Twins Themes
To add to the Double Feature and Double Header themes, here are some more clever themes to celebrate your twins!
77 – TWO of a Kind
78 – Two Scoops
Throw your twins an epic ice cream party for their second birthdays. This adorable backdrop would be a great starting point for your plans.
79 – TWO Peas in a Pod
Your two little peas will love this twin party idea, complete with Two Peas in a Pod birthday lawn sign.
80 – Lightning Strikes Twice
Here you could choose to decorate with clouds and lightning or go full bore with a Lightning McQueen theme from the Cars movie.
81 – Twinfinity and beyond
82 – Double Dipping
This theme would be fun in the summer with a couple of small inflatable pools or water slides.
83 – Dynamic Duo
---
Two-tally Fun Games for Two-Year-Olds & Young Children
This being a second birthday, most of the kids will probably have the motor skills needed for basic games but they will also have short attention spans. That means you need easy game options that are short, easy to understand, and loaded with movement.
Don't just rely on a bouncy castle, here are some great ideas for simple games that you can cheaply find supplies for at the Dollar Store or on Amazon.
Piñatas
Piñatas are a classic party game. Two-year-olds may need a little assistance but they will certainly have fun trying. Be sure to have your party guests line up from youngest to oldest so that the little kids have a chance to take a swing before the older kids (or adults) demolish the piñata.
I have instructions in my blog for how to make piñatas. Be sure to check it out if you're looking for a way to customize your party!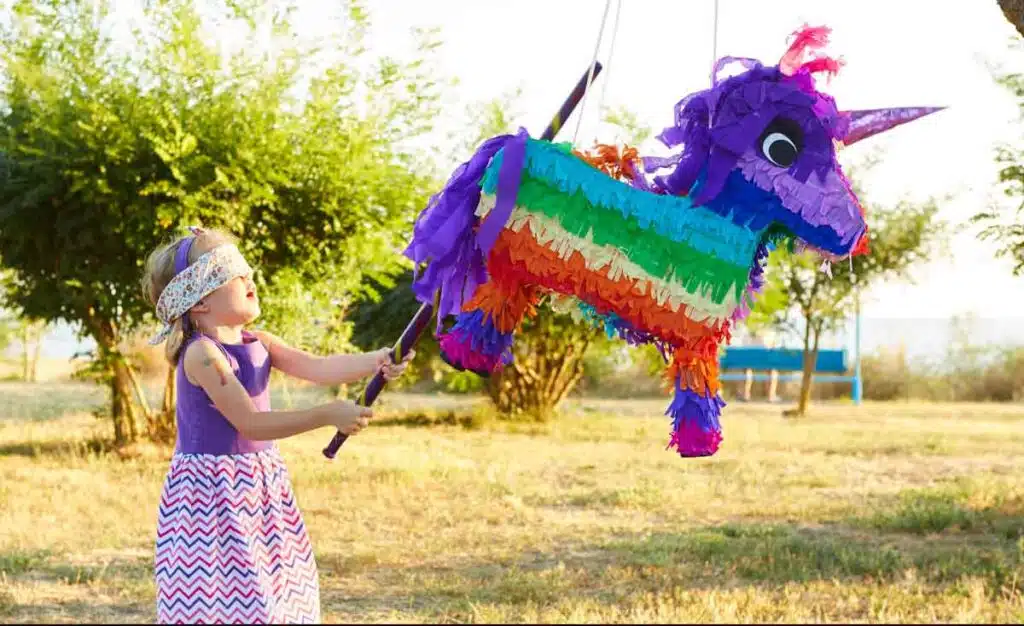 Dance Party or Freeze Dance
Kids at this stage love to wiggle and dance. With both of these games, kids have to freeze when the music stops.
Finding songs that are appropriate for this age group can be challenging, so KidsActivities.net made a list of 55 Fun Toddler Songs. It's full of nursery rhymes: some classics and some lesser-known ones. One of my friend's favorite kid's album at the moment, though, is "Don't Forget to Remember" by Ellie Holcomb. There are only six songs in the album, but it's one I could listen to again and again which can be a godsend with small children.
My kids LOVED this Ralph's World album when they were young! So many songs they still know as teenagers.
Bubble Mania
Hand out bubble wands, turn on a bubble machine and encourage guests to fill the air with bubbles. Two-year-olds may not have the hand-eye coordination for making the bubbles themselves without spilling all the bubbly juice, but they will love chasing after them.
You can make a contest to see who can pop the most bubbles. If you're looking for another DIY project, Living Well Mom offers instructions for making colorful bubbles.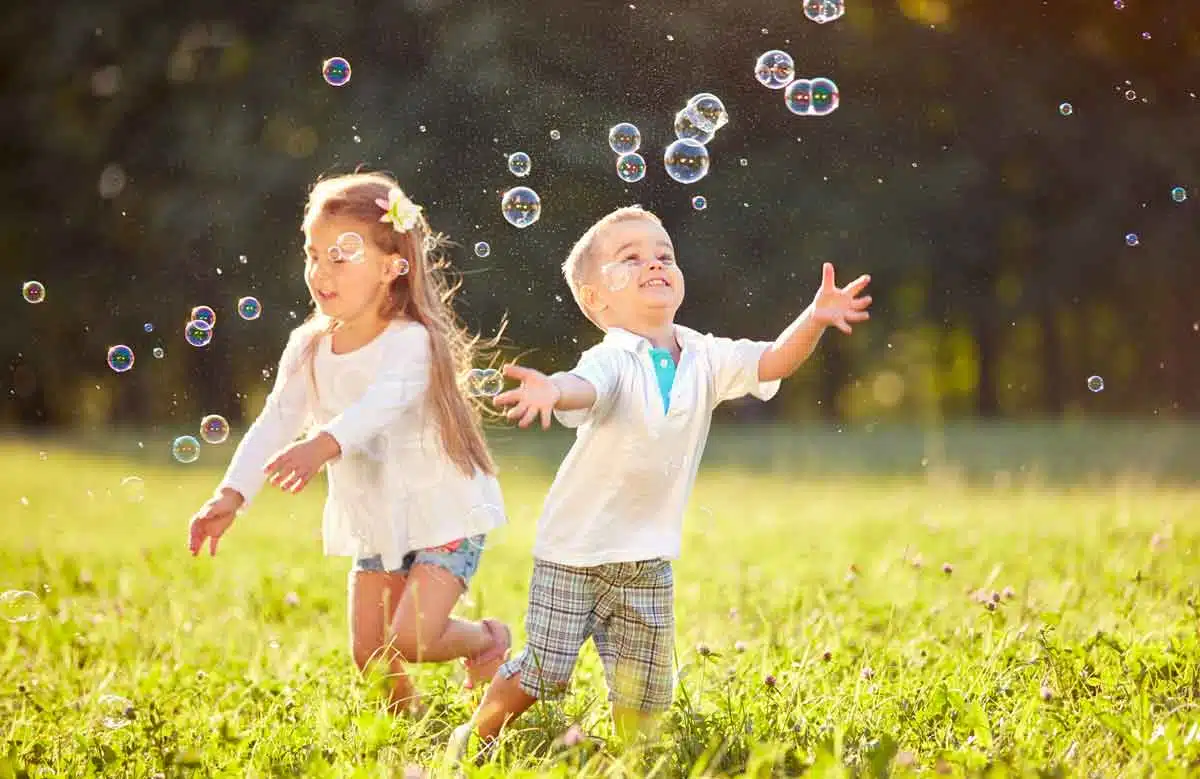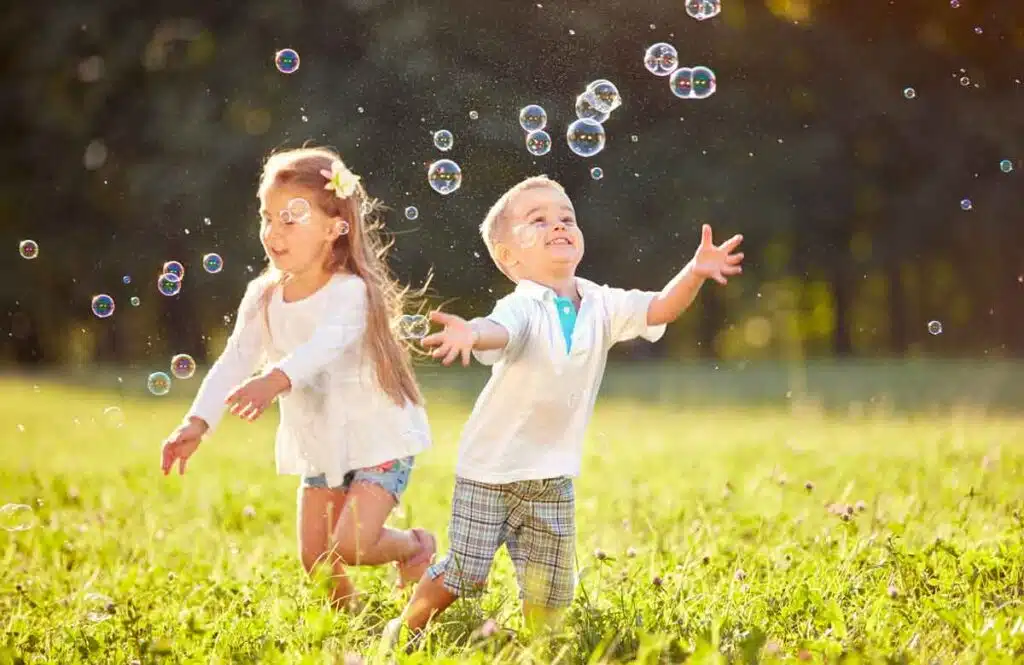 Play Parachute
These parachutes, which are covered in different colors that will engage young minds, provide so much fun while also teaching great lessons. Kids have to practice listening, color recognition, and fine motor skills all while having so much fun. The other great news is that play parachutes are pretty affordable! This is one of the best toys for a young child's party.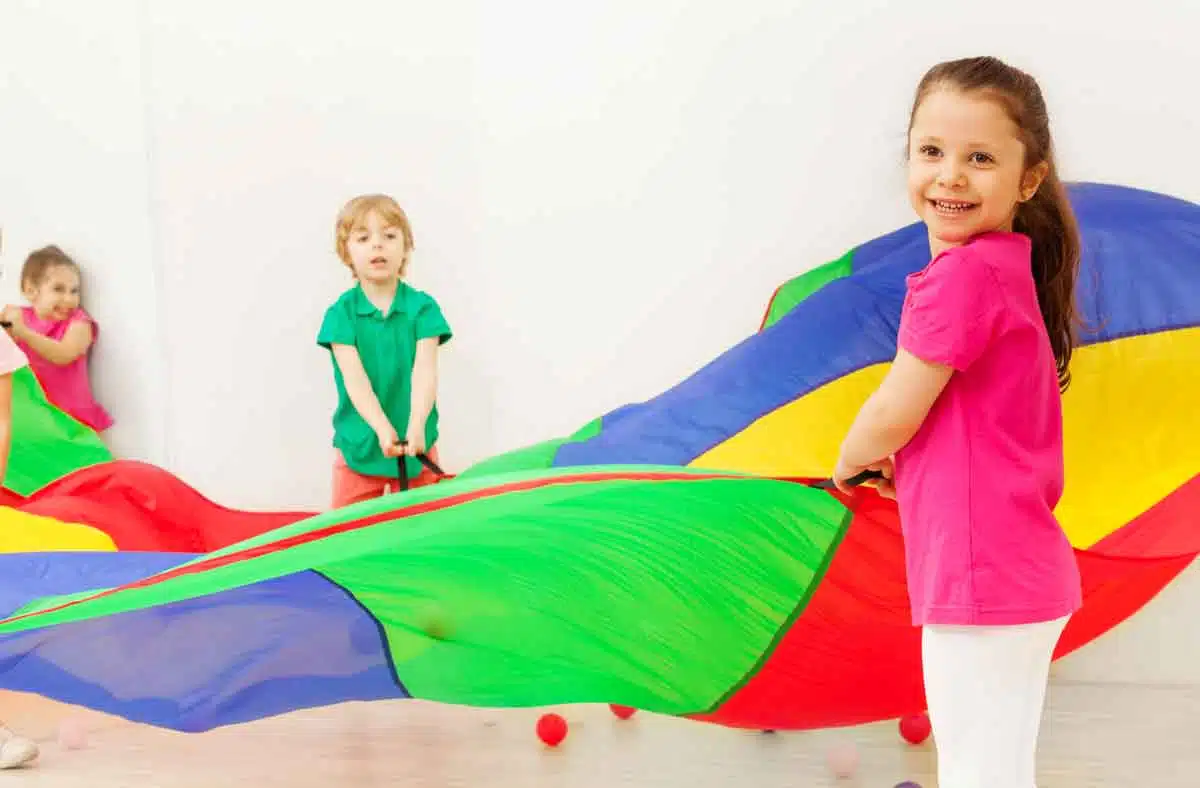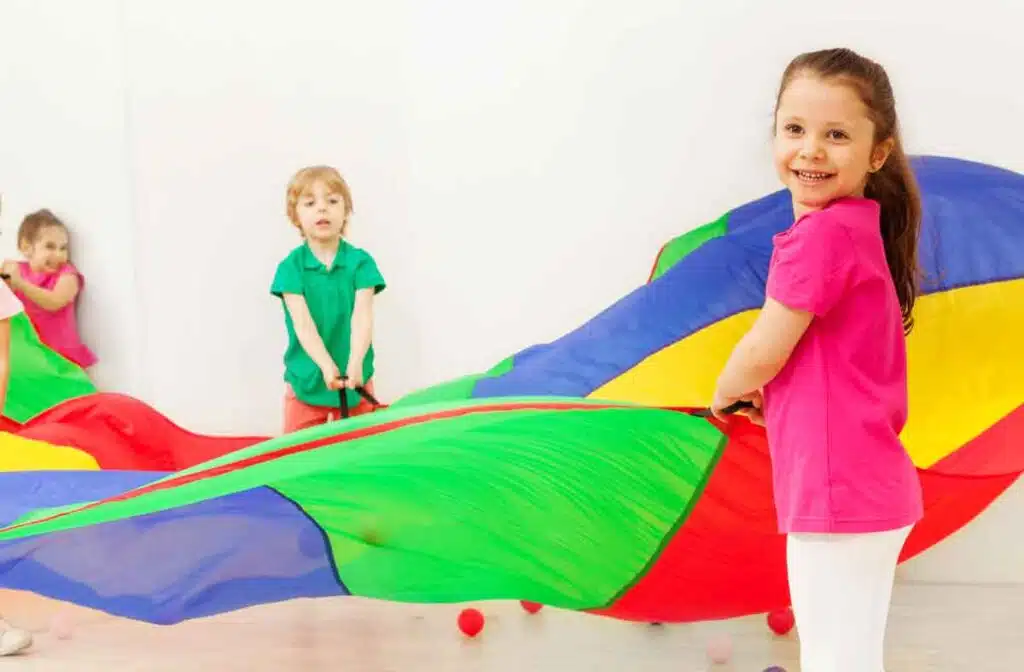 Additional Game Ideas
Simon Says, Obstacle Course, Hot and Cold Scavenger Hunt, Crafts. I also have a whole list of more fun party games for kids.
---
And there you have it, 83 clever themes for your 2 year old's birthday and some bonus game ideas.
I hope this article helped inspire a terrific birthday celebration for your toddler! Please leave any thoughts, comments, or questions!
Be sure to check out my other helpful party planning blogs, like The Secret to Getting RSVPs to Your Kids' Birthday Parties and How to Throw an Unforgettable Party – The Secret 3 Steps Formula. Each one of my blog posts is full of tips and tricks I've learned from my own party planning experiences.
Happy party planning!