I'm always on the lookout for great punch recipes for parties.
And with all the baby showers, bridal showers, birthday parties, and backyard barbecues happening in the summer months, I wanted this list to be about non-alcoholic summer drinks.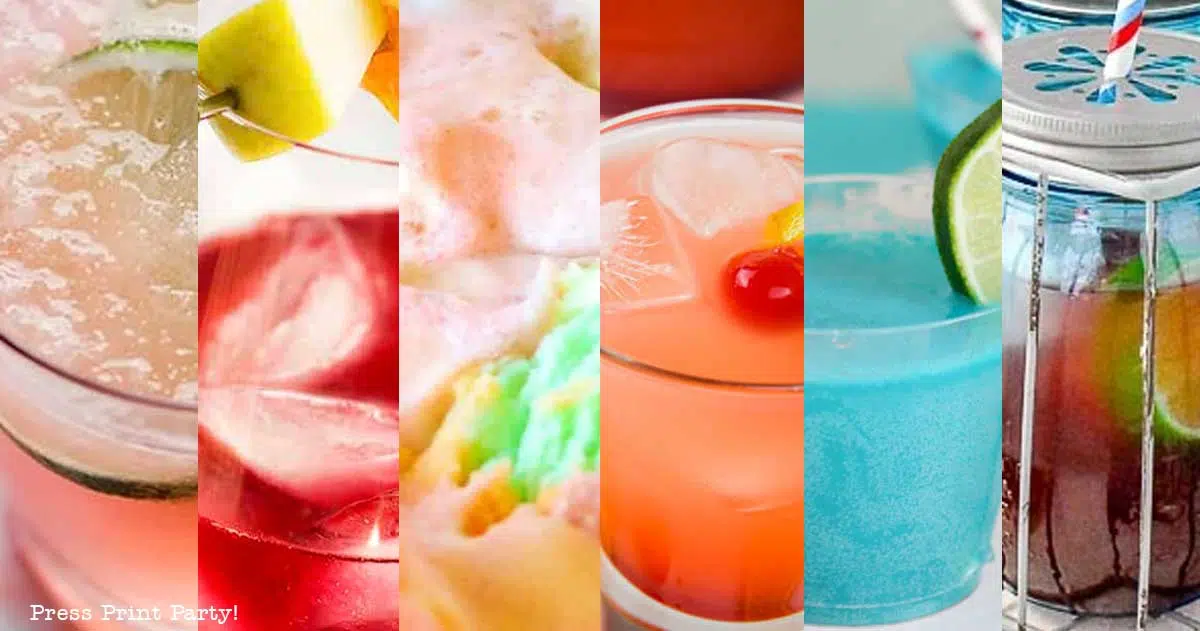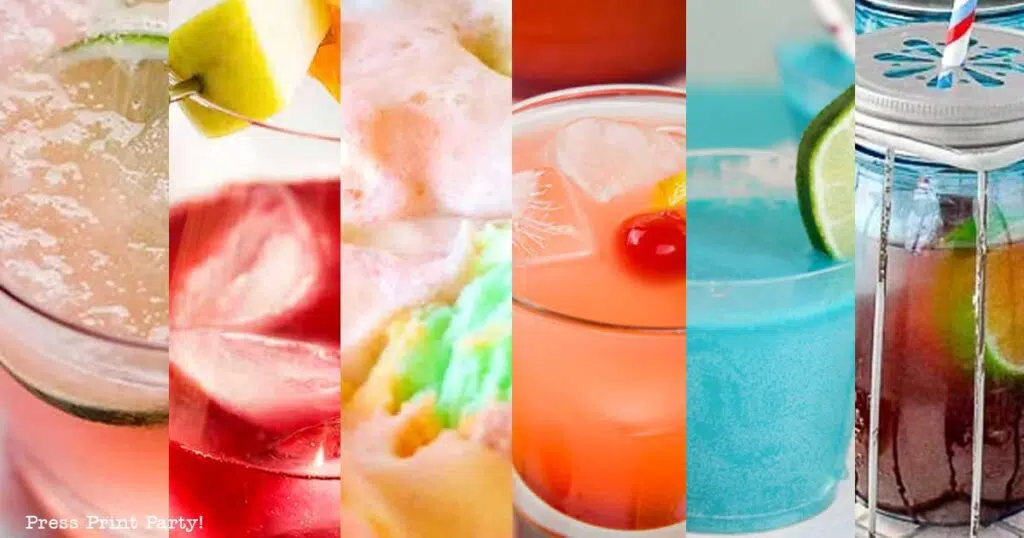 This post may contain affiliate links.
All these fun beverages are non-alcoholic punch recipes.
And most have simple ingredients and can be made at the last minute before your guests arrive.
PRO TIP: If your punch will need to stay at room temperature for a while, I'd suggest making ice rings to put in the punch bowl. They won't melt as fast as ice cubes and won't water down your perfect punch.
I've tried to cover the best punch recipes for parties with kids as well as more sophisticated non-alcoholic punches for parties with adults.
It's party time!
---
10 Easy Punch Recipes for Parties
1- Tropical Party Punch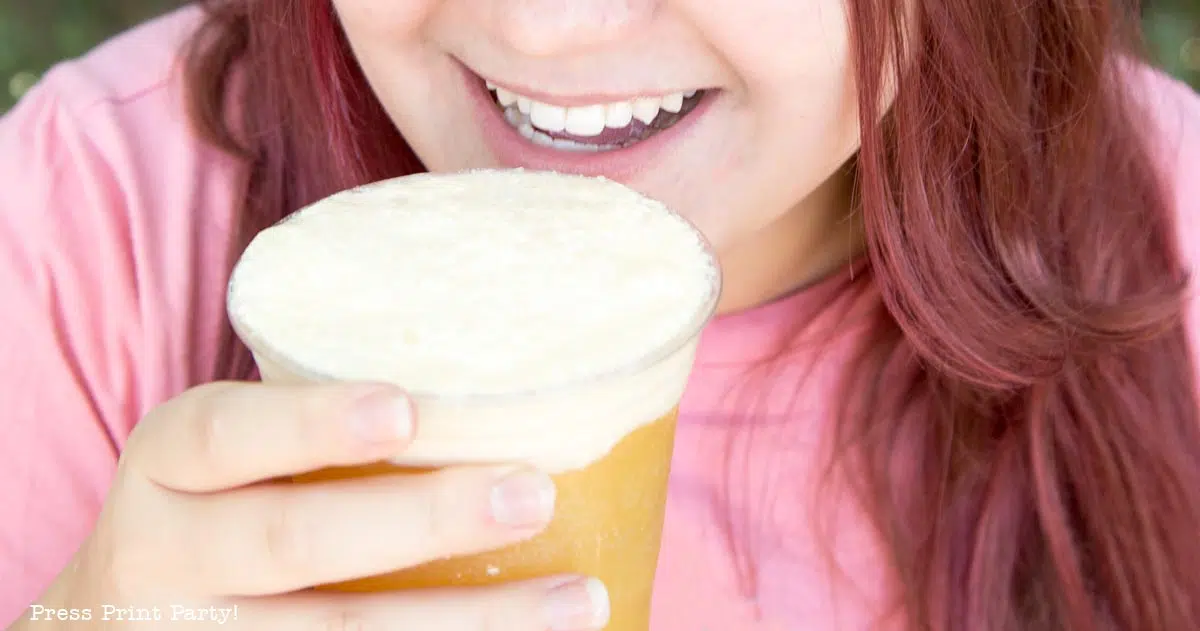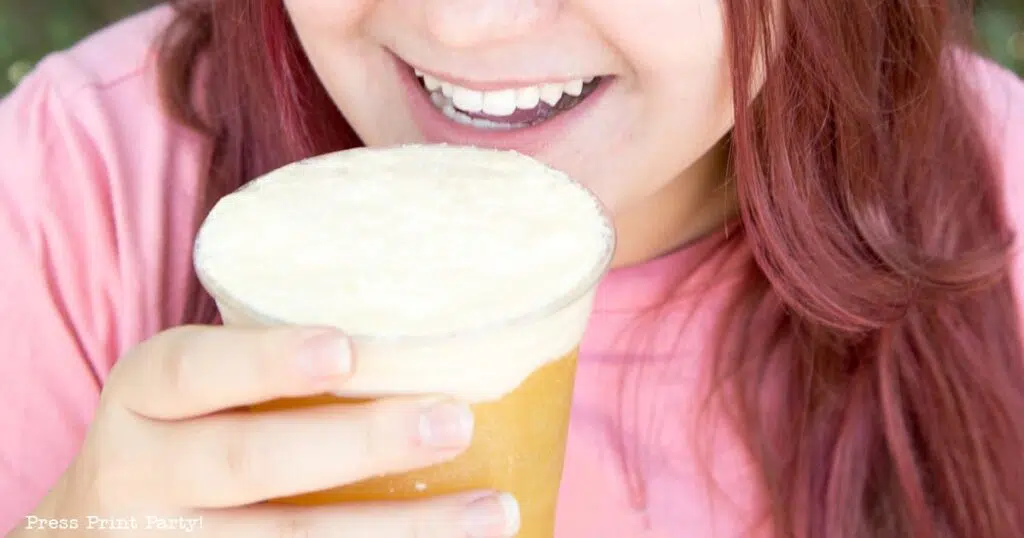 Our summer punch recipe is a huge hit at our birthday parties. The kids know about it now and converge on it like vultures as soon as I make it.
With a tropical feel, this punch is super easy with only 3 ingredients and not as sugary sweet as most kids punch recipes out there with ice cream.
This delicious punch recipe makes a large batch.
Ingredients: ginger ale, tropical juices, vanilla ice cream
---
2- Baby Shower Punch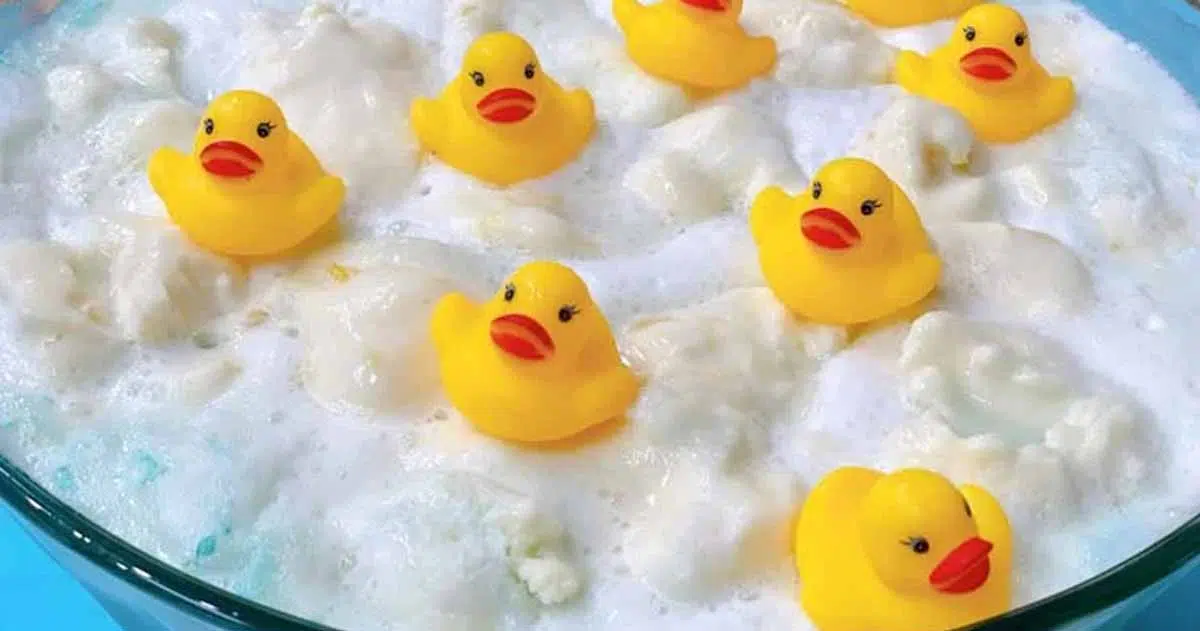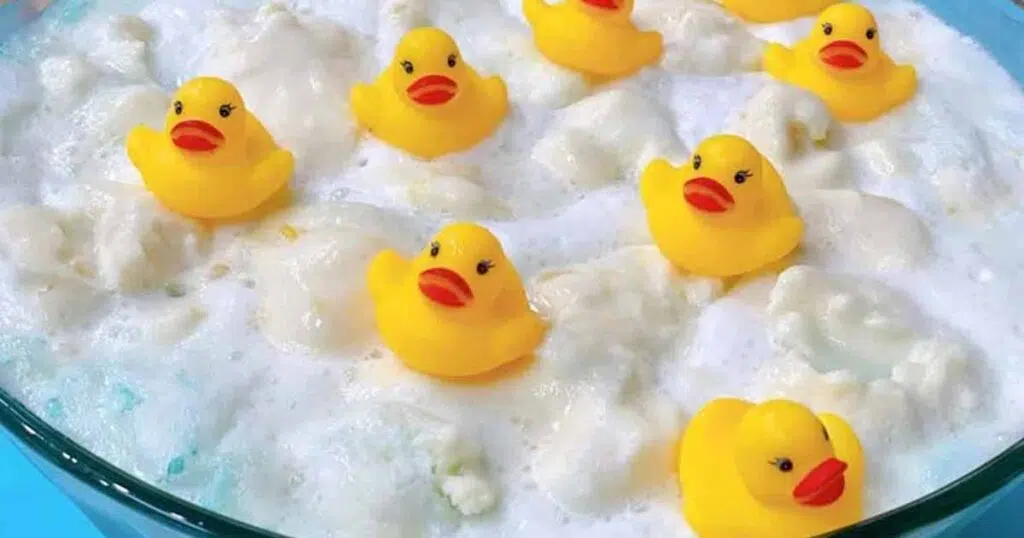 This punch from The Consumer Queen is a good idea for baby showers because it can be made in blue or pink!
Don't you love the little rubber duckies floating on the top? One might just make to your plastic cup.
Ingredients: ginger ale, white grape juice, colored Kool-aid, pineapple sherbet.
---
3- Shirley Temple Punch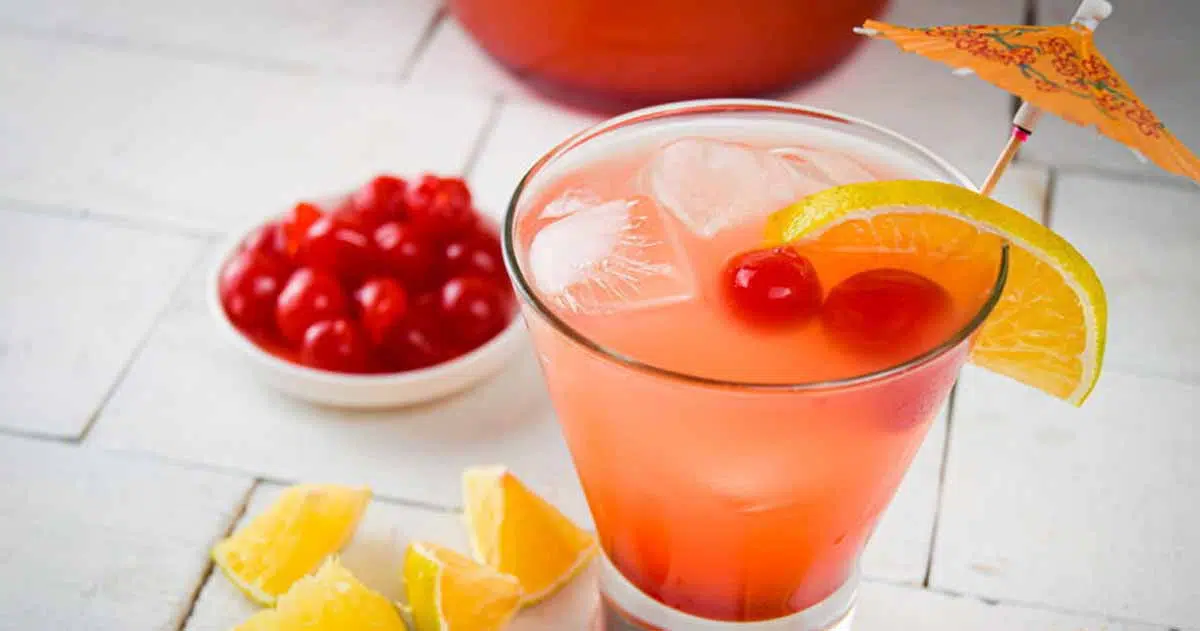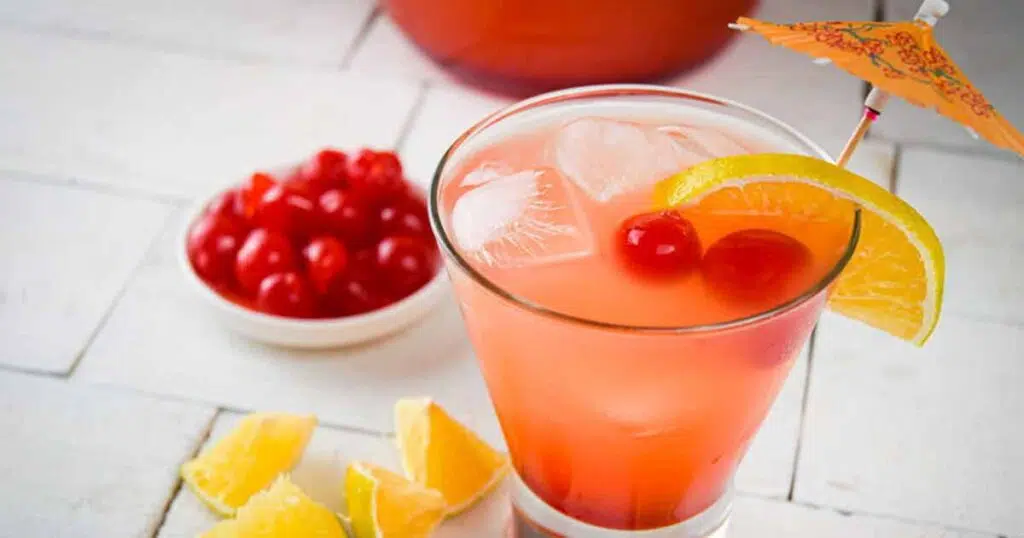 A Shirley Temple is one of those essential non-alcoholic beverages with a fancy name.
Kids might not know who Shirley Temple is anymore but her name will always be linked to this refreshing beverage popular all over the U.S.
This punch version from In the Kitch is a bit more fruity than the original and will serve a crowd for your next party. Don't forget the maraschino cherries, they're a kid's favorite.
Ingredients: Orange Juice, lemon-lime soda, grenadine.
---
4- Classic Rainbow Sherbet Punch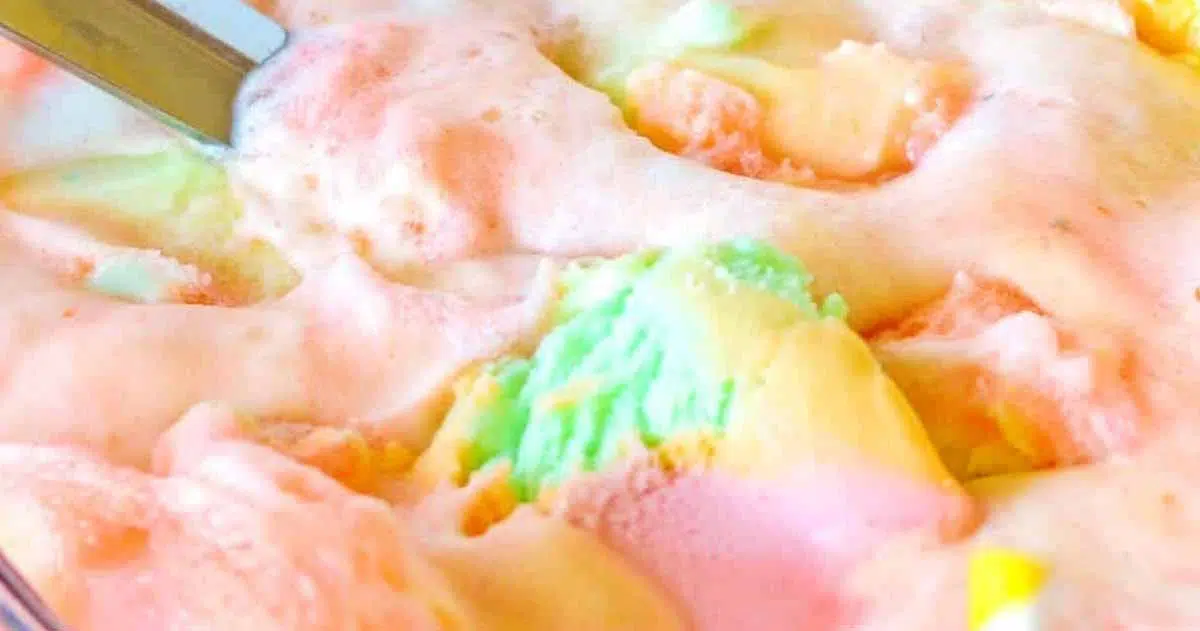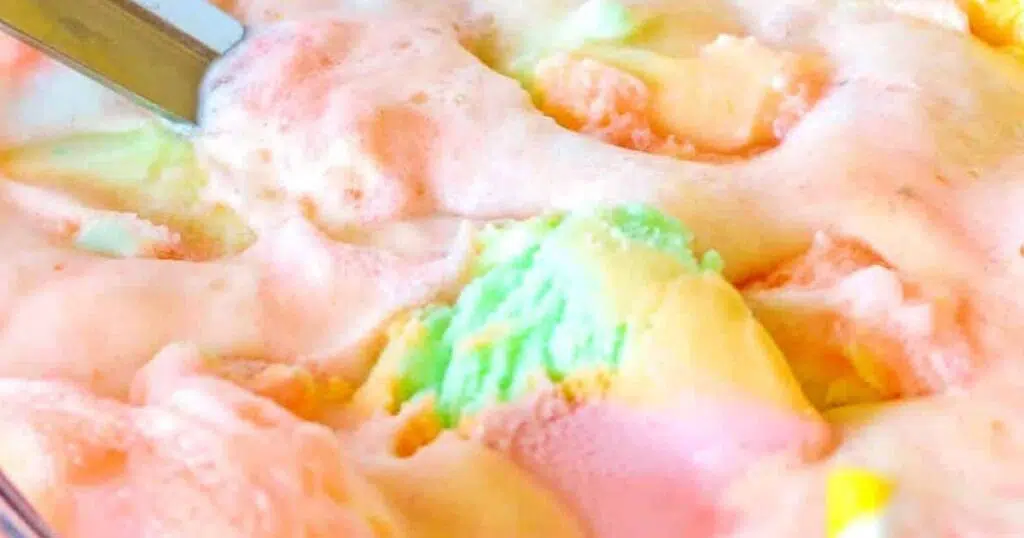 This punch is a classic in American households and no party punch list would be complete without it.
I do find Hawaiian punch and rainbow sherbet way too sweet for my French palette but I understand the appeal of such a colorful punch for any kids' party.
Playdates to Parties captures this classic very well.
Ingredients: Sprite, Hawaiian punch, rainbow sherbet.
---
5- Tropical Mermaid Punch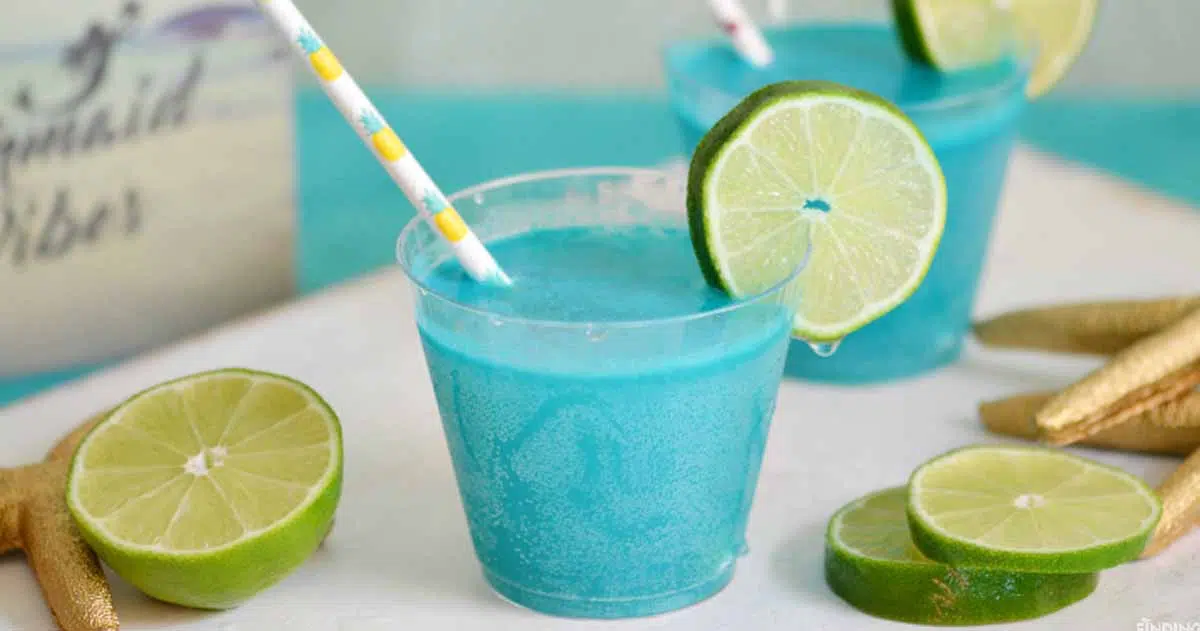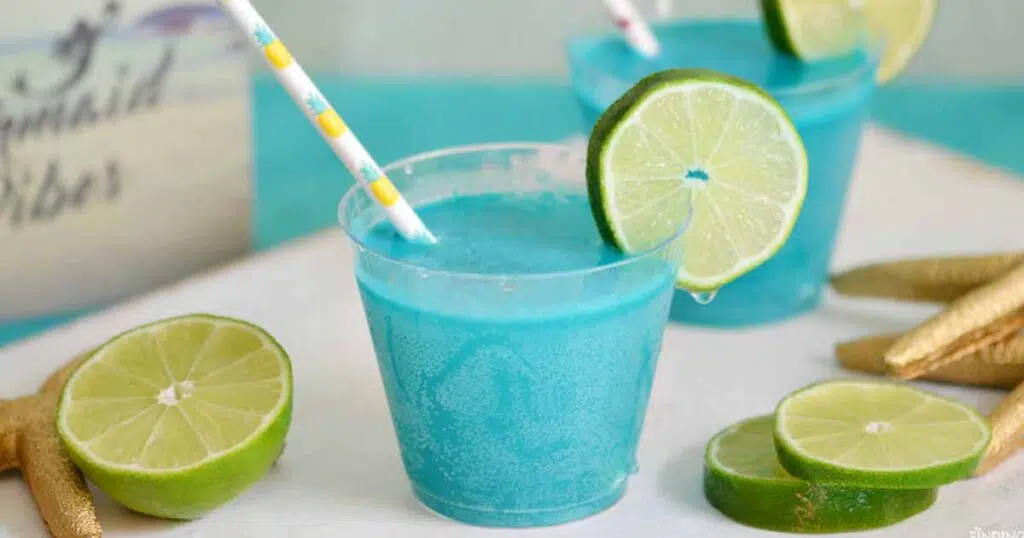 This foamy blue punch recipe is the perfect punch for any mermaid, pool, or under-the-sea party.
Finding Zest takes you through the steps for making a large batch of this easy party punch recipe.
Ingredients: lemonade frozen concentrate, Pina Colada mix frozen concentrate, pineapple juice, sparkling water, water, blue dye.
---
6- Firecracker Punch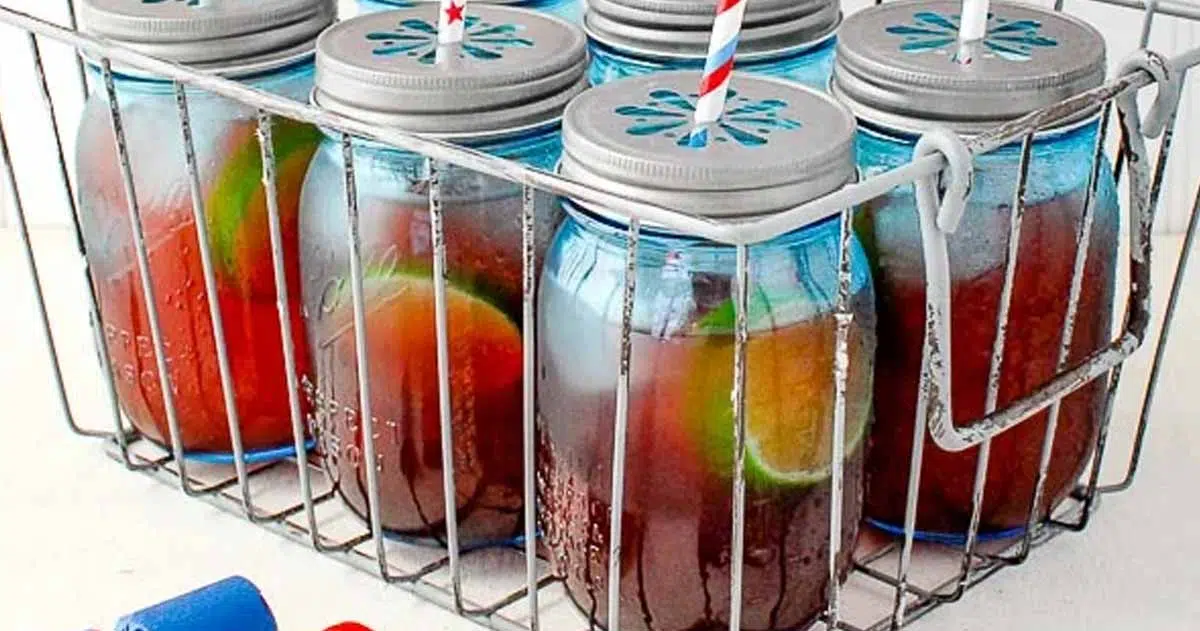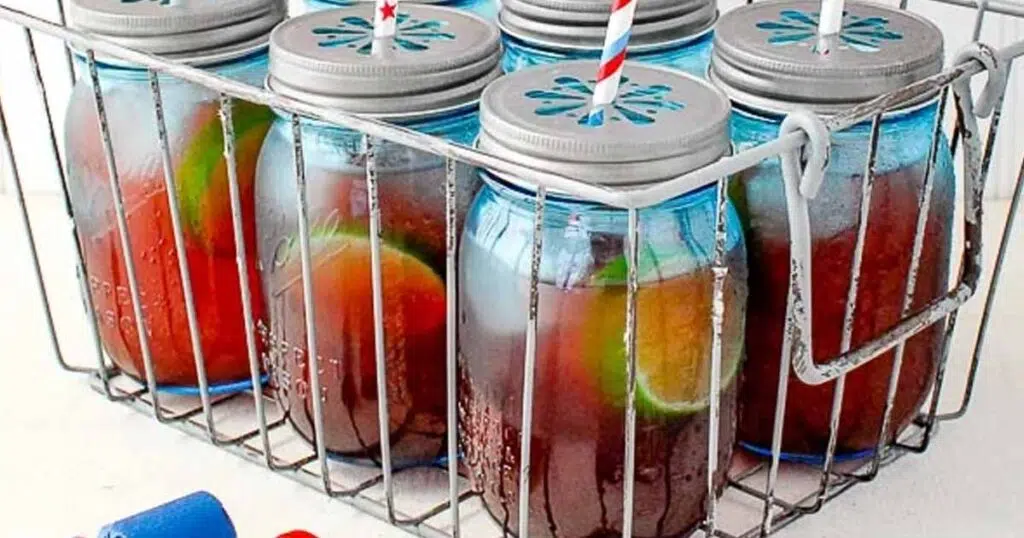 This unusual punch recipe from Boulder Locavore has plenty of fizz and a spicy twist and is perfect for a 4th of July party.
She melts in either Red Hots or Cinnamon Imperial candies to kick up the punch a notch.
Ingredients: cherry cider, peach nectar, fresh lime juice, ginger ale, baking cinnamon Imperials.
---
7- Limeade Slush Punch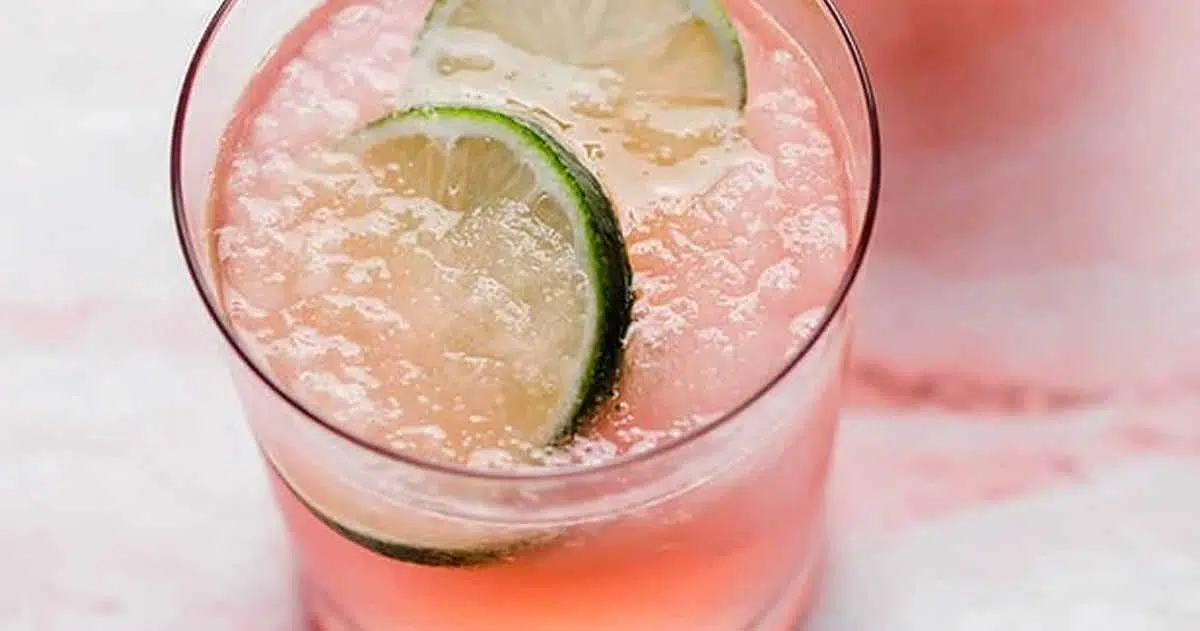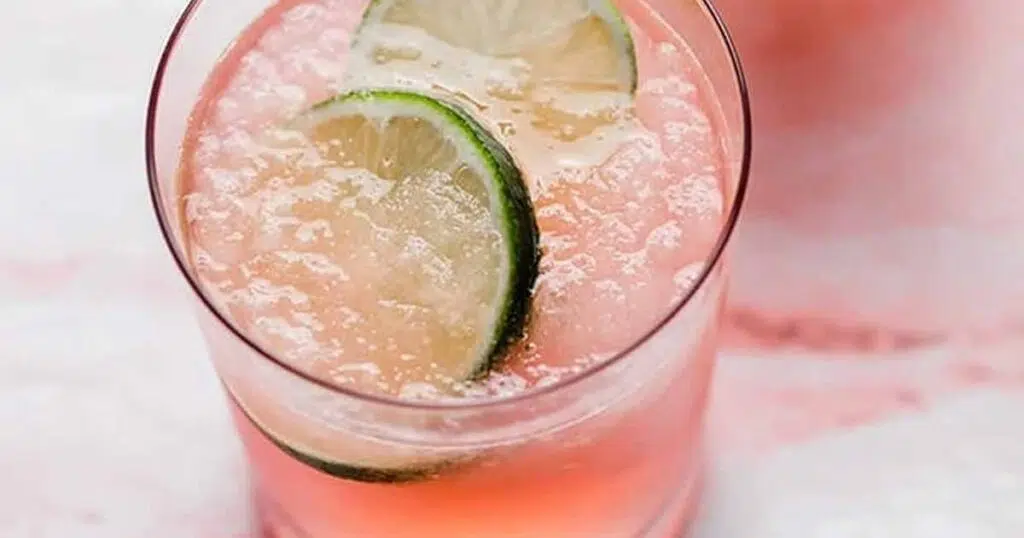 This limeade recipe from Salt and Baker makes a nice pitcher of a refreshing summer drink for your party. It's also somewhat elegant and would work great for a tea party.
Ingredients: frozen limeade concentrate, water, sugar, Cherry 7-UP.
---
8- Texas Tea Punch Recipe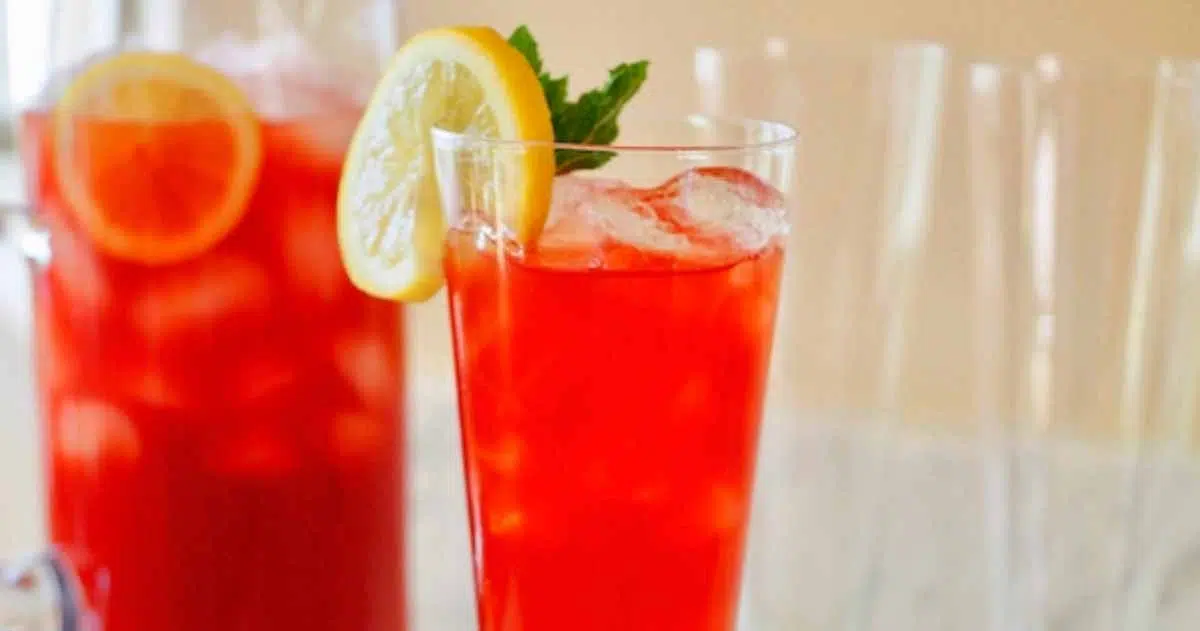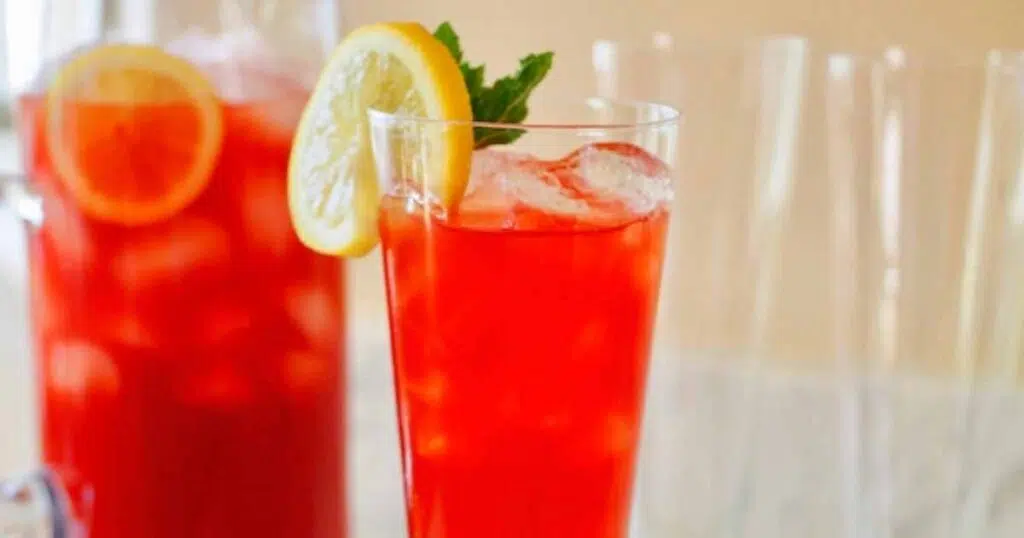 Iced tea is the perfect drink for the whole family on those hot summer days.
The Fresh Cooky shows you how to make this sweet Texas tea step by step.
She actually tones down the sugar and it's not as sweet as a southern sweet tea. Making it much tastier for my Californian friends. Add some lemon slices for a great party drink.
Ingredients: sugar, water, herbal fruity teas, black tea bags, sprigs of mint, pineapple juice, frozen lemonade.
---
9- Slushy Peach Punch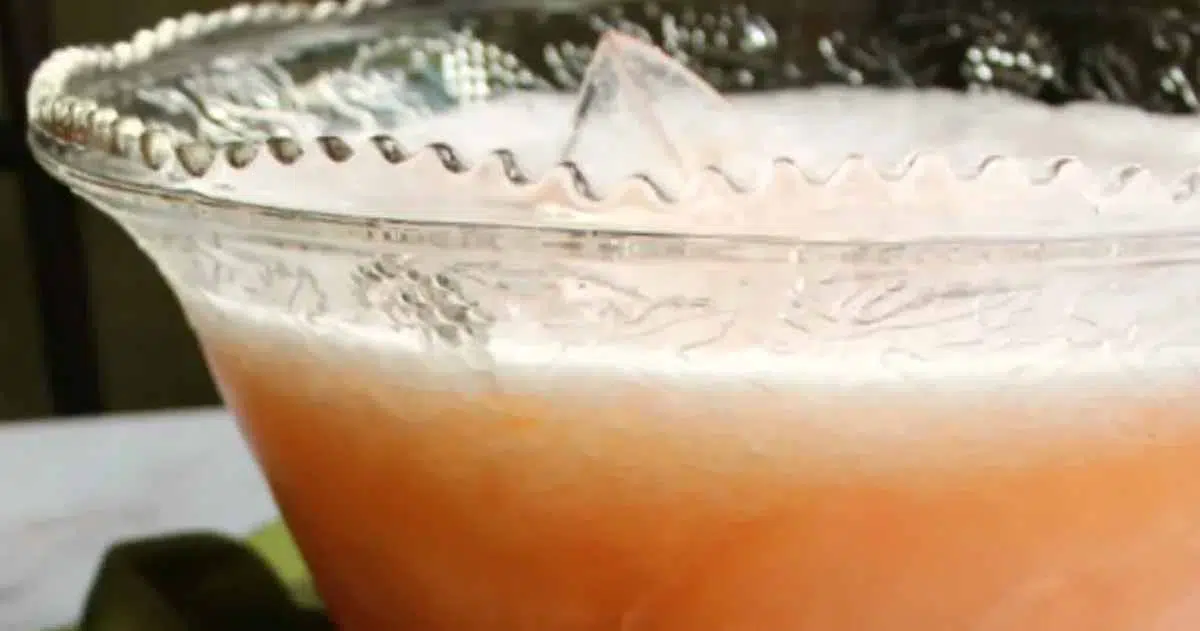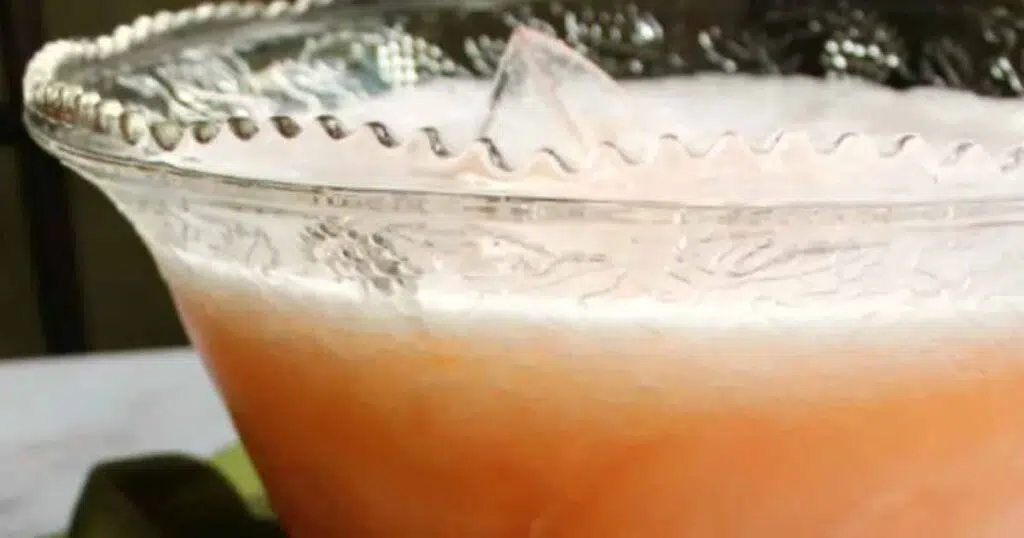 Get a big punch bowl and make this sweet peach punch recipe from Cooking with Carlee to beat the summer heat.
This is a fun make-ahead punch that gets its slush from being frozen. You won't need an ice ring for this one.
Ingredients: peach gelatin, sugar, water, frozen lemonade, pineapple juice, lemon-lime soda.
---
10- Non-alcoholic Sangria Punch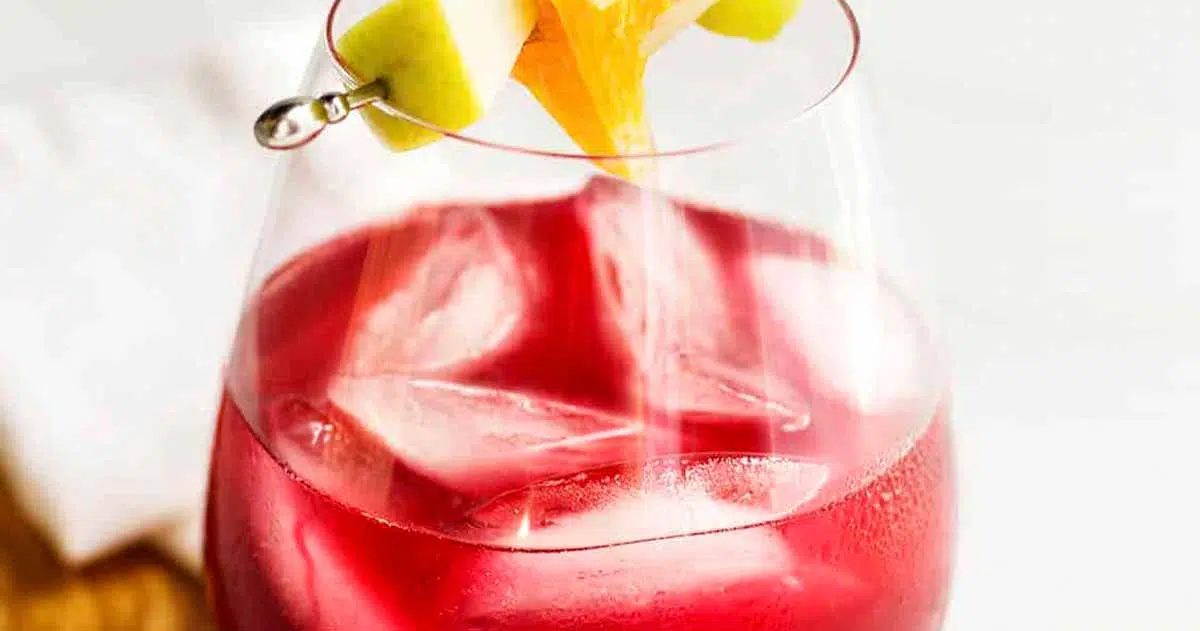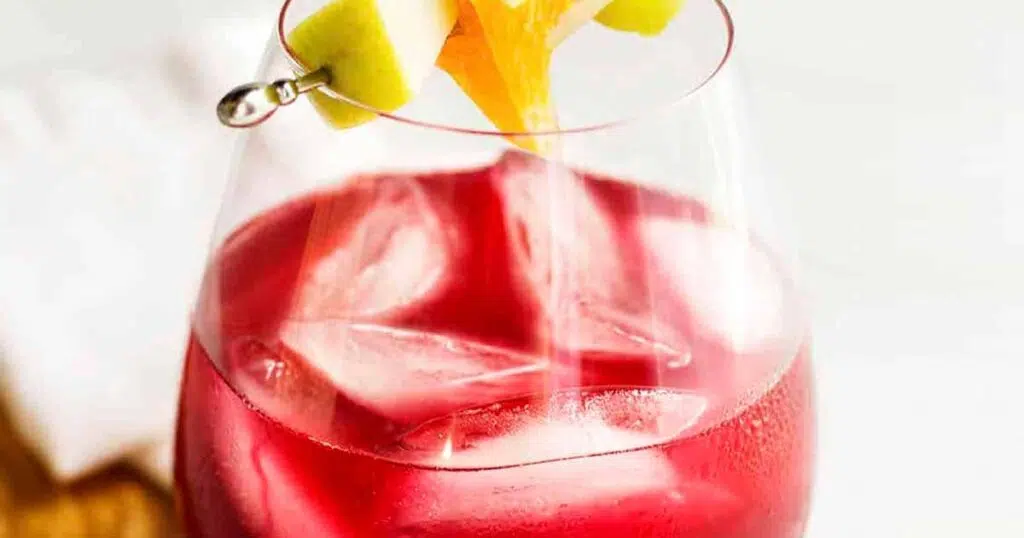 I do love Sangrias but sometimes you want the taste but not the alcohol.
Pinch and Swirl has some interesting ingredients, as well as fresh fruit, that makes this virgin version feel like a boozy punch without the buzz.
Ingredients: hibiscus tea, water, honey, lemon juice, orange juice, orange bitters, orange slices, apple slices, grapes.
---
The best party punch recipe for your summer parties will depend on what you're looking for so I tried to give you a wide variety of flavors.
I can't wait to try them all.
When planning your party, don't miss my exclusive party planner crafted just for birthday parties to make the scheduling oh so much easier. And if you'd like a free party mini course sign up for my fun newsletter below.
After planning the drinks for your party, plan your food!
Go check out my clever post on party on a budget food ideas that don't look cheap, my 15 appetizers you can make in 5 minutes, and my step-by-step charcuterie board instructions.
And I have plenty more original recipes too.
Don't forget to pin these easy punch recipes for parties: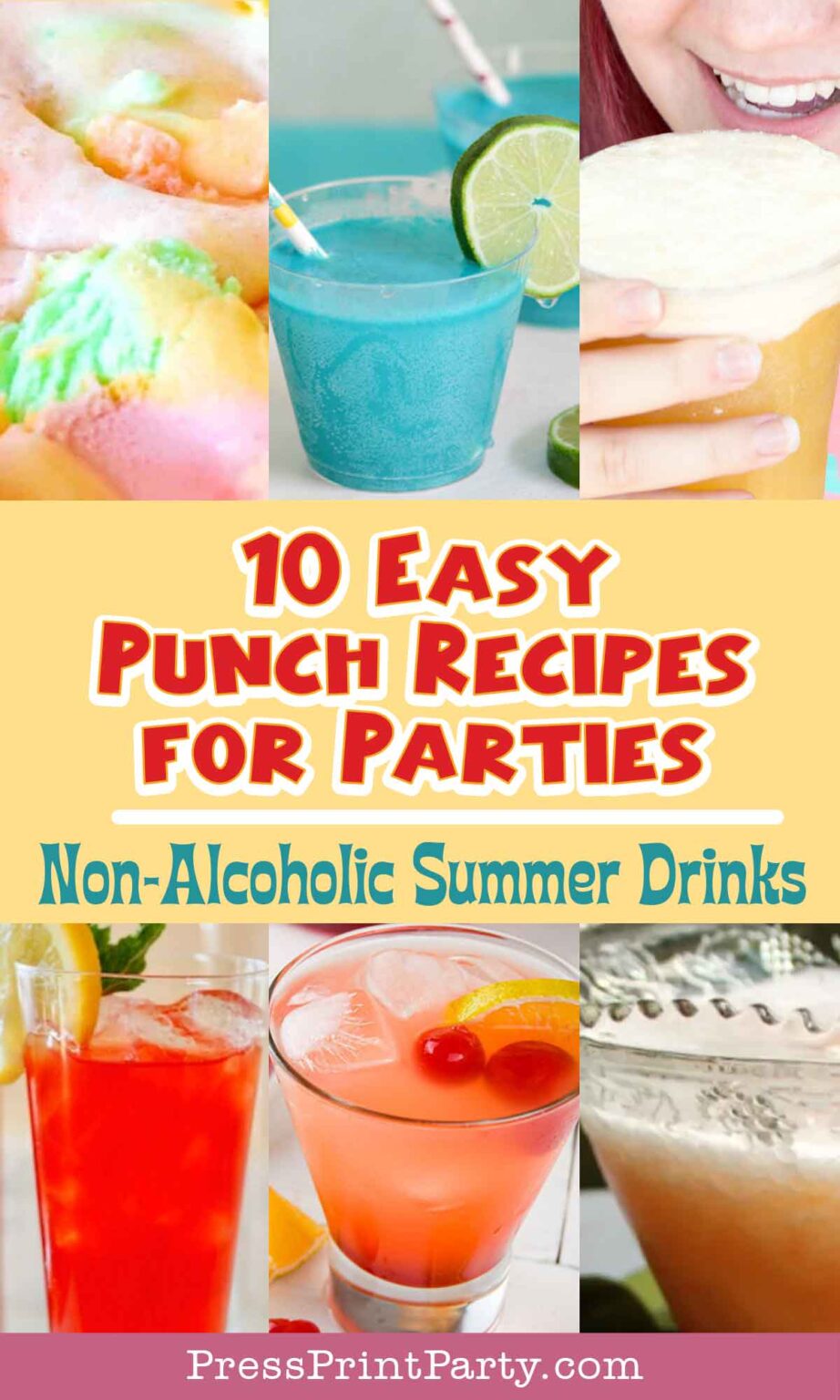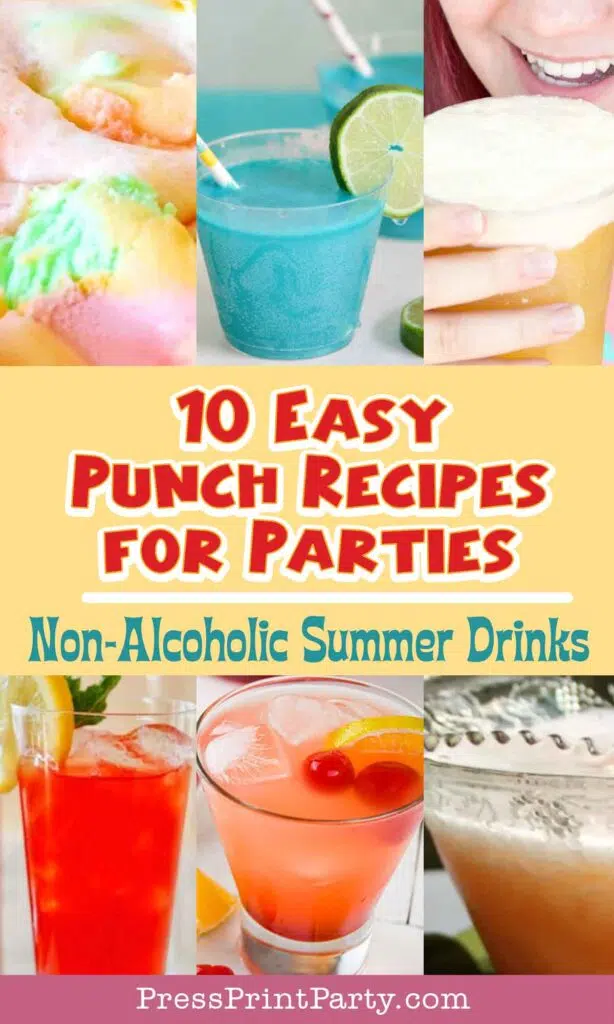 punch recipes for parties
Check out our Birthday printables