This French leek tart is a great surprise menu item for a spring dinner, Easter celebration, or any special occasion.
The French name for this leek tart is "Flamiche" and it's a specialty from the Picardy region in the North of France.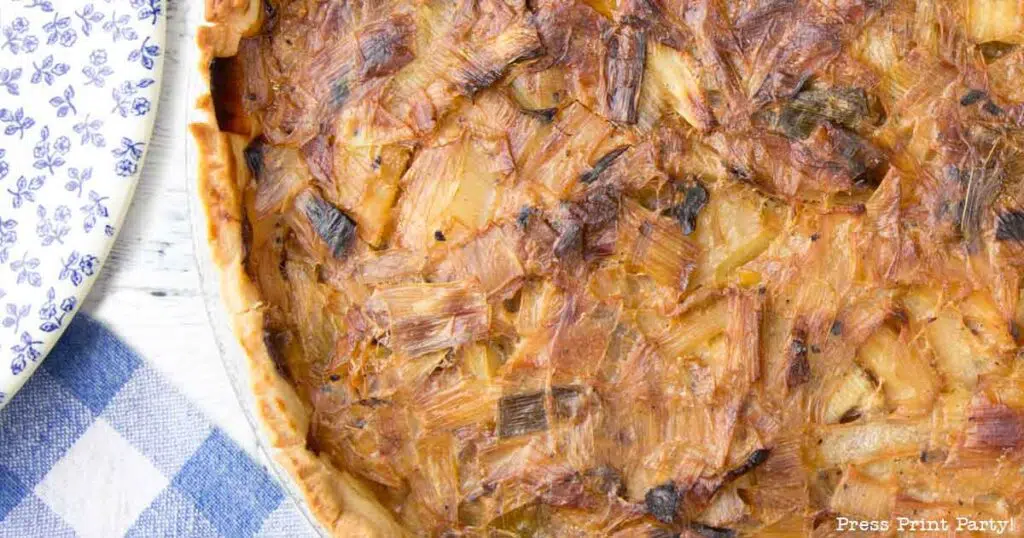 This post may contain affiliate links.
Jump to Recipe
The word Flamiche means Leek tart. It may have meant something else (I've seen maybe "cake") in Flemish but in France, the name refers to this specific tart. You'll often see it referenced (as in my title) as a "Flamiche aux poireaux" but that actually means "Leek tart with leeks. "Tarte aux poireaux" would be more accurate.
If you start cooking authentic French recipes, you'll quickly figure out that recipes from the North of France contain a lot of butter and cream, and recipes from the South use a lot of olive oil.
These savory tarts come from the Northern region where they rely heavily on butter.
My tart recipe comes from an old French cookbook and is a very simple tart relying on the leeks for most of the flavor.
I've consulted my 3 tattered French cookbooks and all the recipes were pretty similar.
You can add many things to your leek tart, like herbs, bacon, Gruyere, or goat cheese.
But the true original recipe is simple and honestly, when you add so many other ingredients you lose the subtlety of the leek flavor.
A Flamiche doesn't have enough eggs to be called a leek quiche. The egg yolks are there to barely hold the filling together.
But what is a leek and how do you use it?
Since my audience is mostly American and leeks are not your typical American vegetable, I thought I'd define what leeks are and how to prepare them.
What does a leek look like?
A leek is a mild onion. It looks like an enormous green onion with tough skin.
You may have to go to a fancier grocery store in the U.S. to find leeks. Typically a Whole Foods or a Krogers Fresh Faire will carry them. They're also available at some ethnic grocery stores.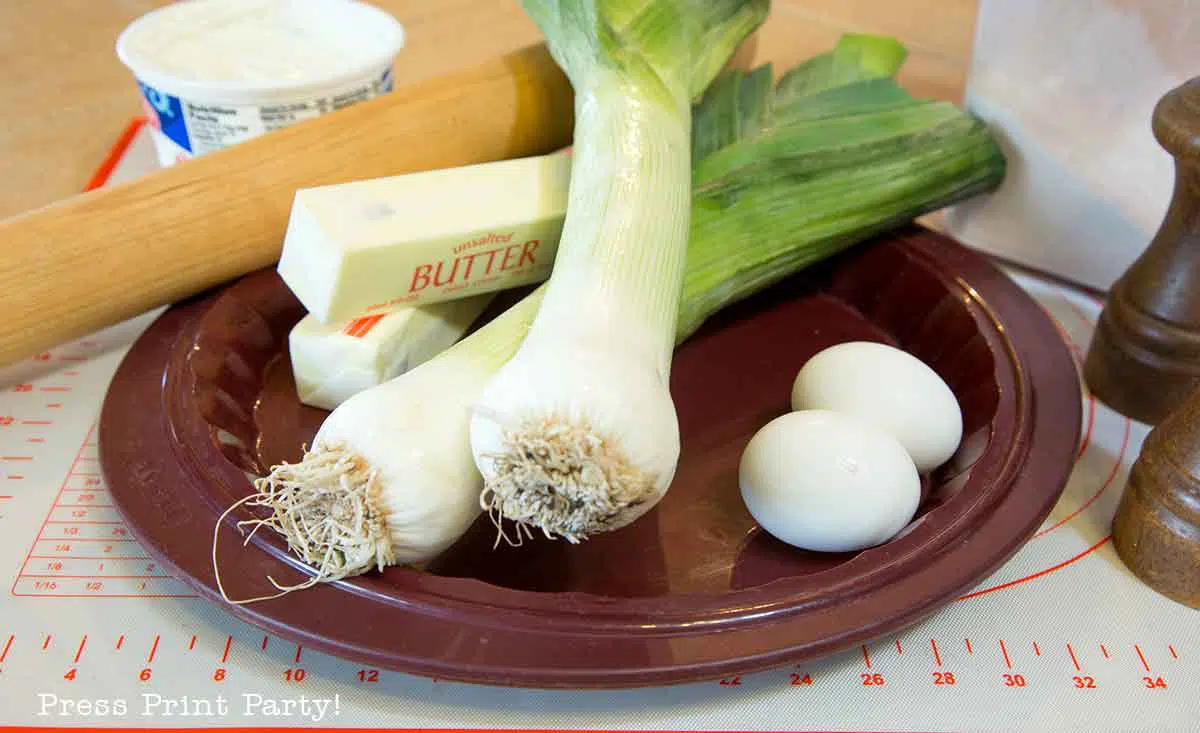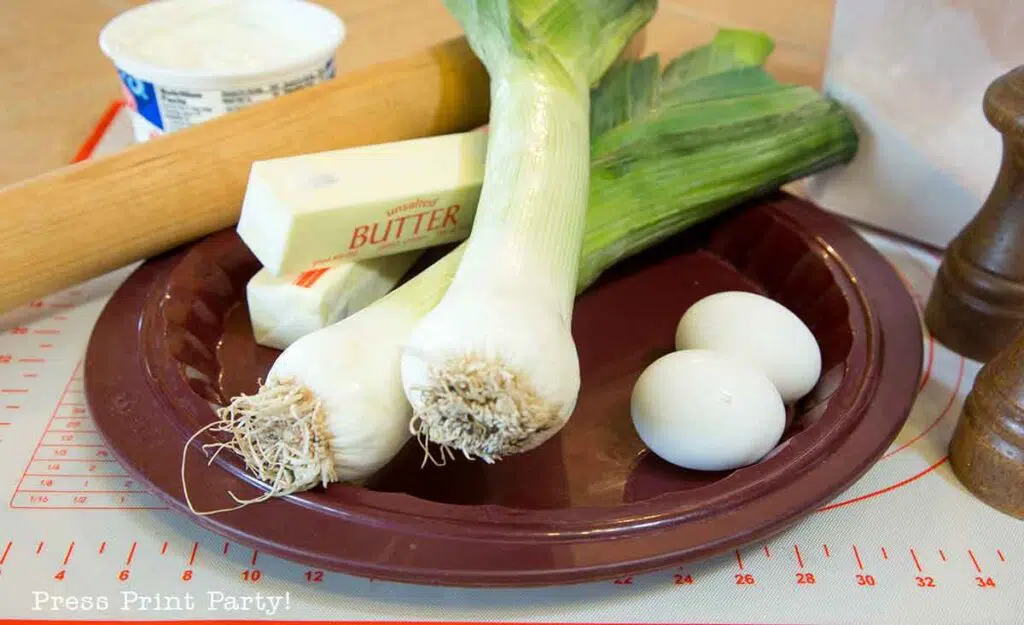 What does a leek taste like?
The best description I can think of is a mild, earthy onion. They have a very unique taste that makes the dish. They're usually eaten cooked as part of a dish ( Potato Leek soup is very common) but many French also like leeks raw with a little vinaigrette.
How to prepare your leeks
You must thoroughly wash leeks as they're almost always grown in sandy soil and dirt has a way of getting deep into the crevices.
First, remove the dark leaf part of the leek as they're too tough to use in the tart. (You can keep them to use in chicken stock though).
Keep the light green and white part.
Then remove the outer leaf and cut the leek through longways keeping the end with the roots intact.
Now wash them under the kitchen faucet making sure to open up every leaf.
Cut off the root at the end and chop your leek into half moons.
I watched a ton of how-to-wash leeks videos and all of them are waaayyy too involved. But eventually, I found one that shows how to do it right. This lady shows the long and the short method to wash leeks. You can watch the whole thing and see the long way to wash your leek but I'd suggest you just go to the 2:20 minutes mark and watch her do it the easy way.
Leek tart process
You can jump down to the recipe but I will add some pictures here of the process.
Prepare your pie dough according to the recipe and place it in a 10-inch quiche or tart pan if you have it. If not, you can use a regular 9-inch pie dish.
It's best to make the crust from scratch (honestly it's very quick with a food processor), but yes, you could use a purchased pie crust as long as there's no sugar in the crust.
Wash and cut your leeks into half moons.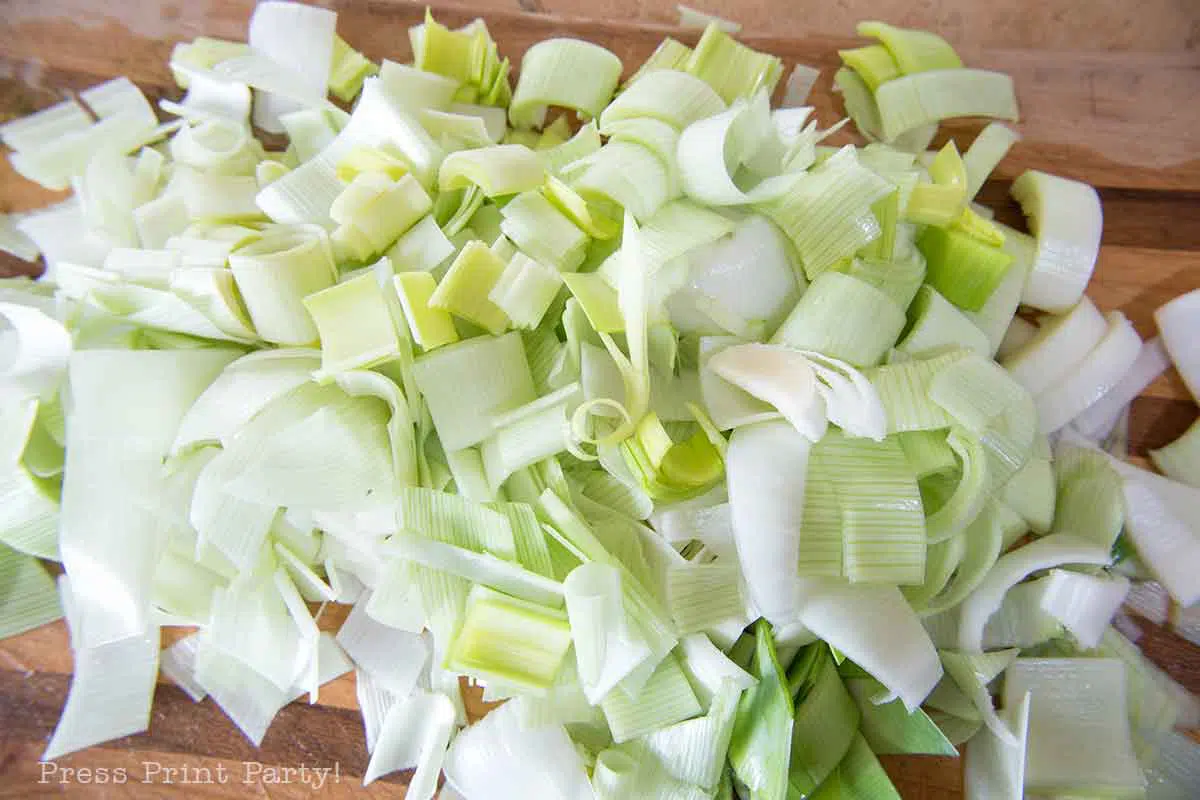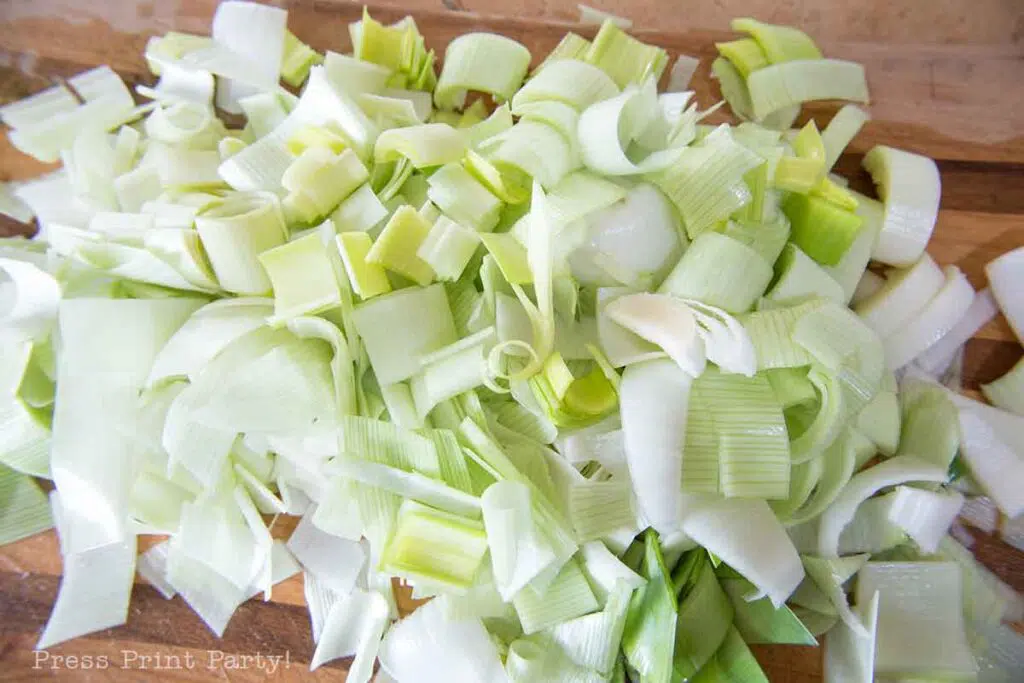 Melt butter in a large skillet and add the sliced leeks, salt, and black pepper. Cook slowly on medium-low heat for about 40 minutes. The leek mixture will become brown and soft.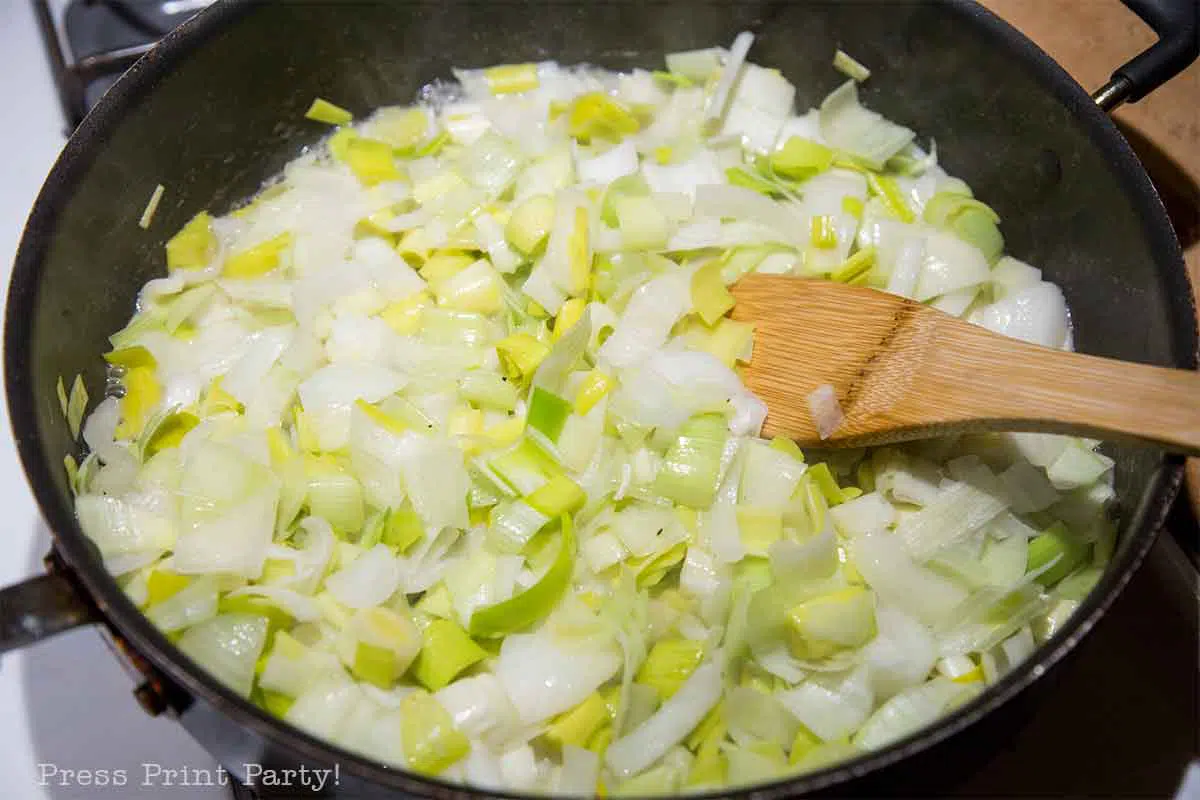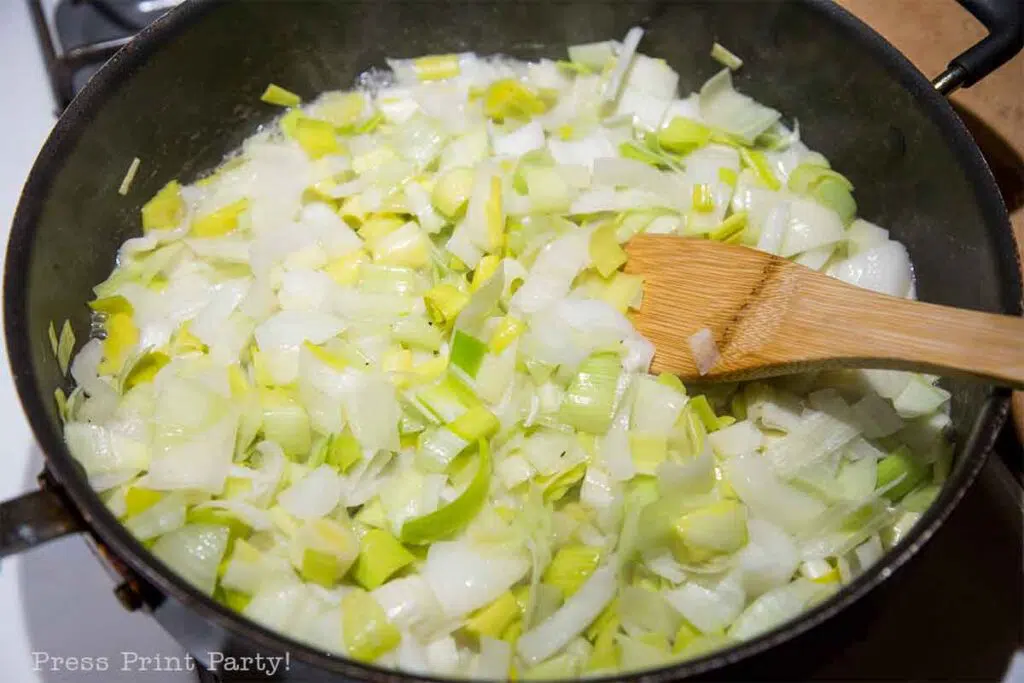 Mix the cream, salt, pepper, and eggs in a medium bowl and add the cooked leeks to the egg mixture.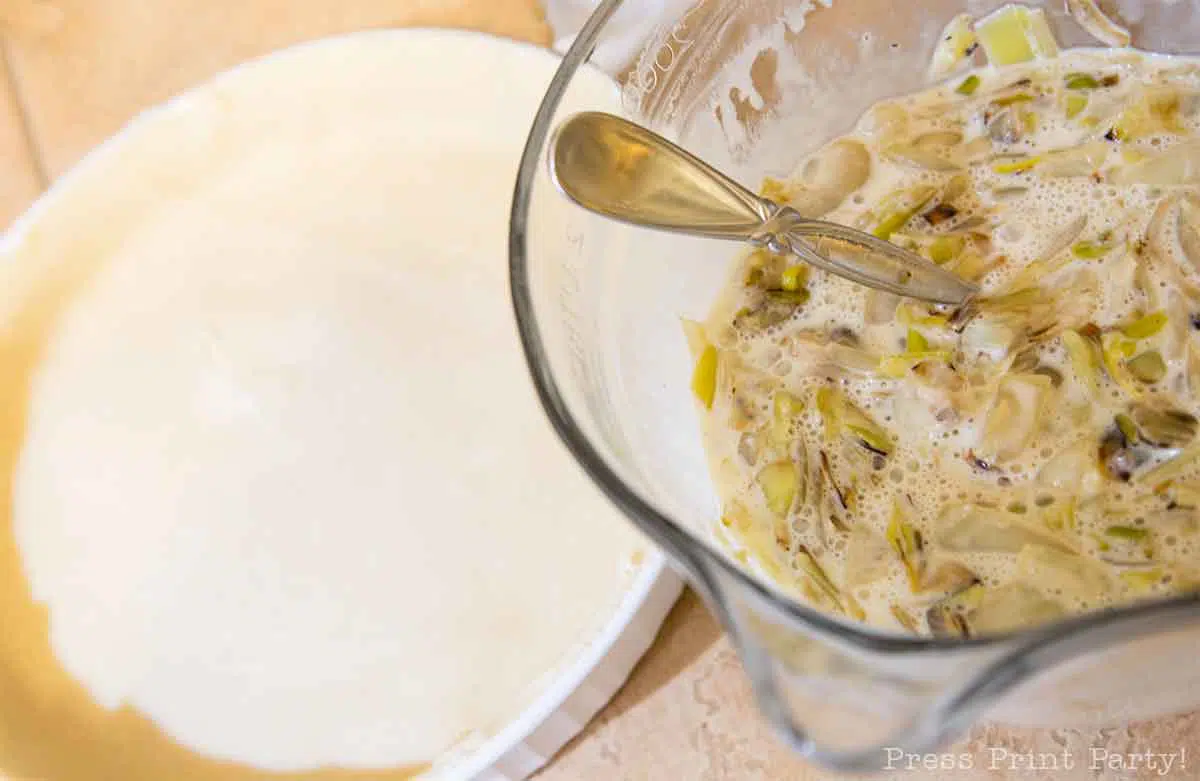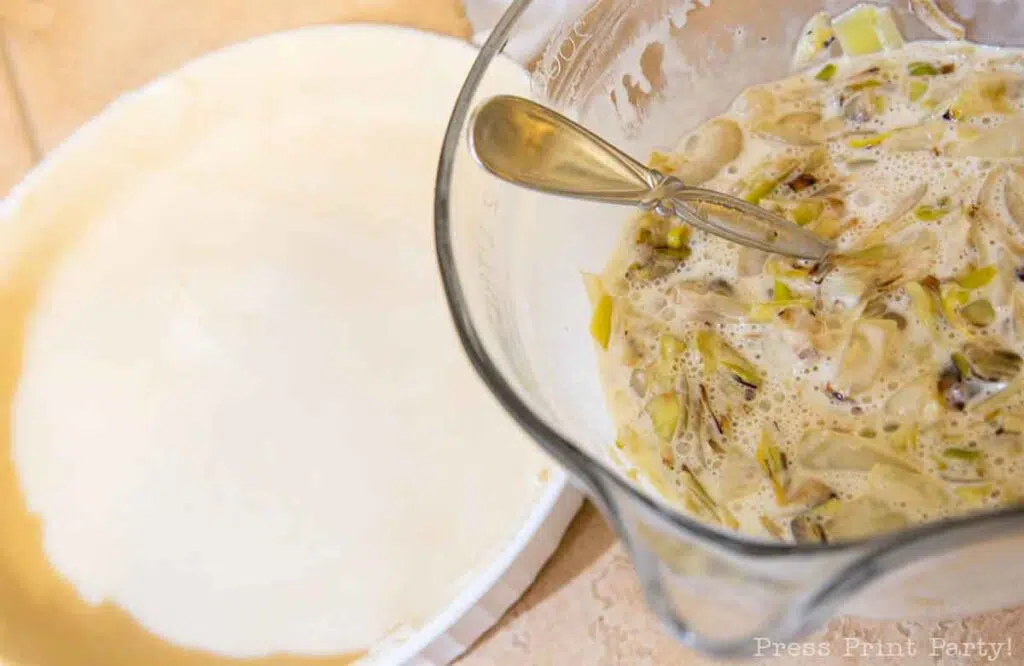 Pour the tart filling into the tart shell.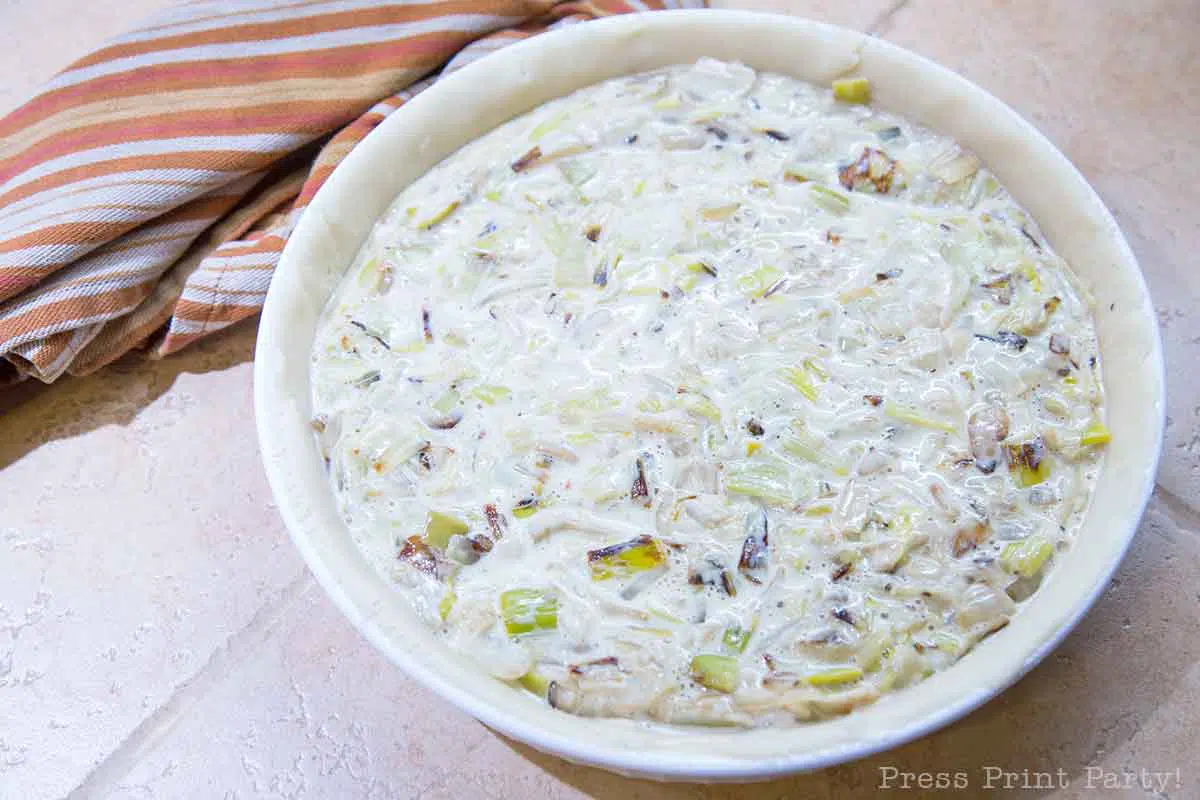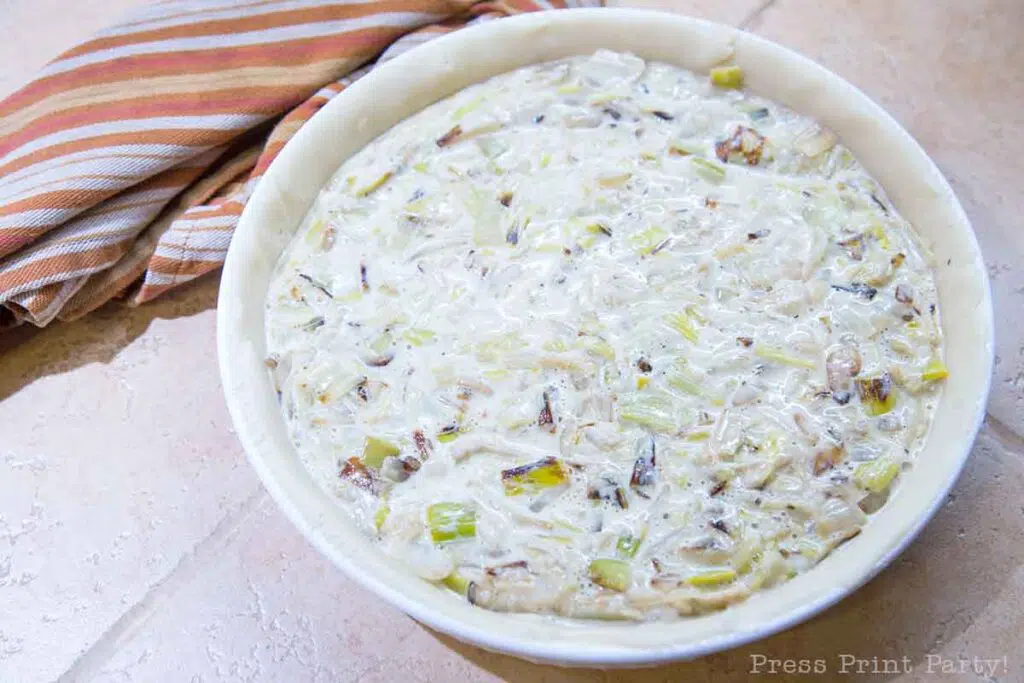 Cook in preheated 450F degree oven for 35 to 40 minutes.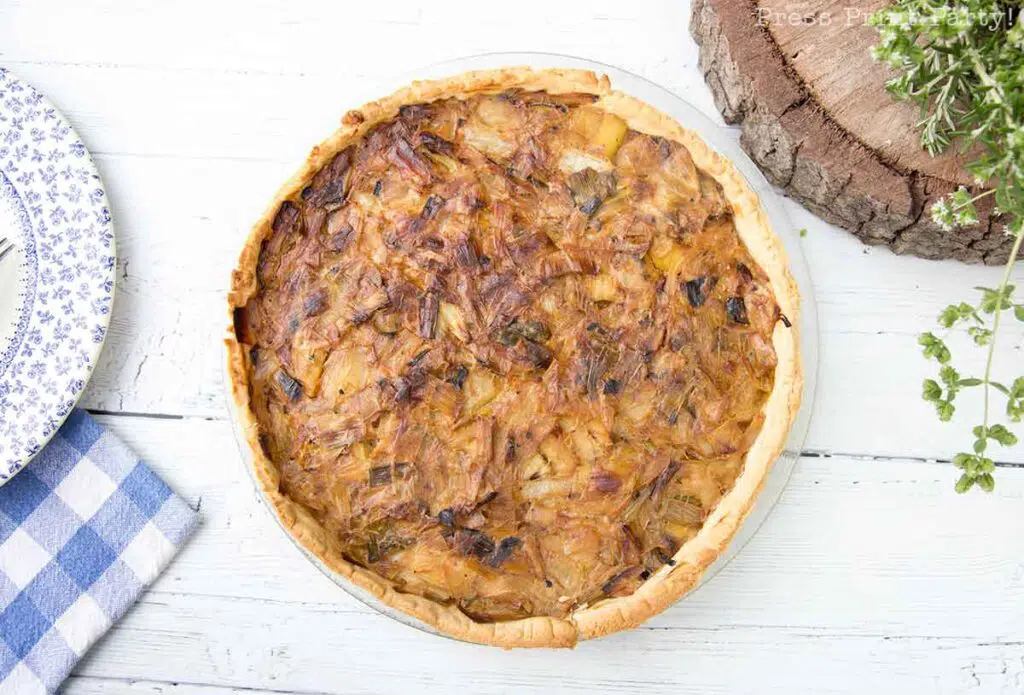 I love to serve it with a mixed green salad and a simple vinaigrette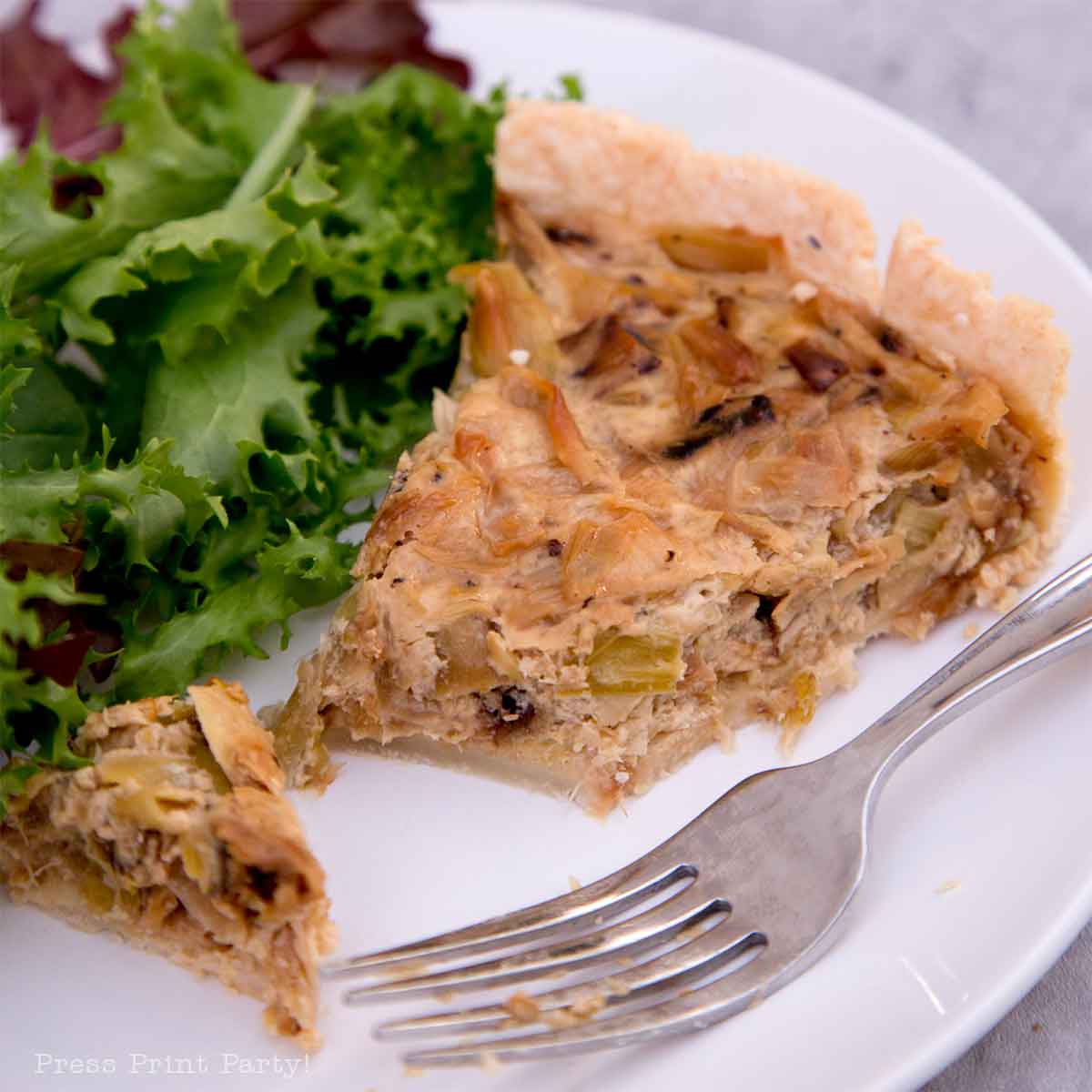 Leek Tart Questions
Can I use a regular 9 inch pie dish?
I'd recommend you use a shallow tart pan, but if all you have is a regular pie dish just use that. The tart will be a bit thicker but just as yummy.
Do I need to par-bake the tart crust?
No. There's no need to par-bake the pie crust for this tart. None of my French cookbooks call for it.
Can I use puff pastry?
Sure, why not. You won't exactly have an authentic French leek tart but it'll be delicious.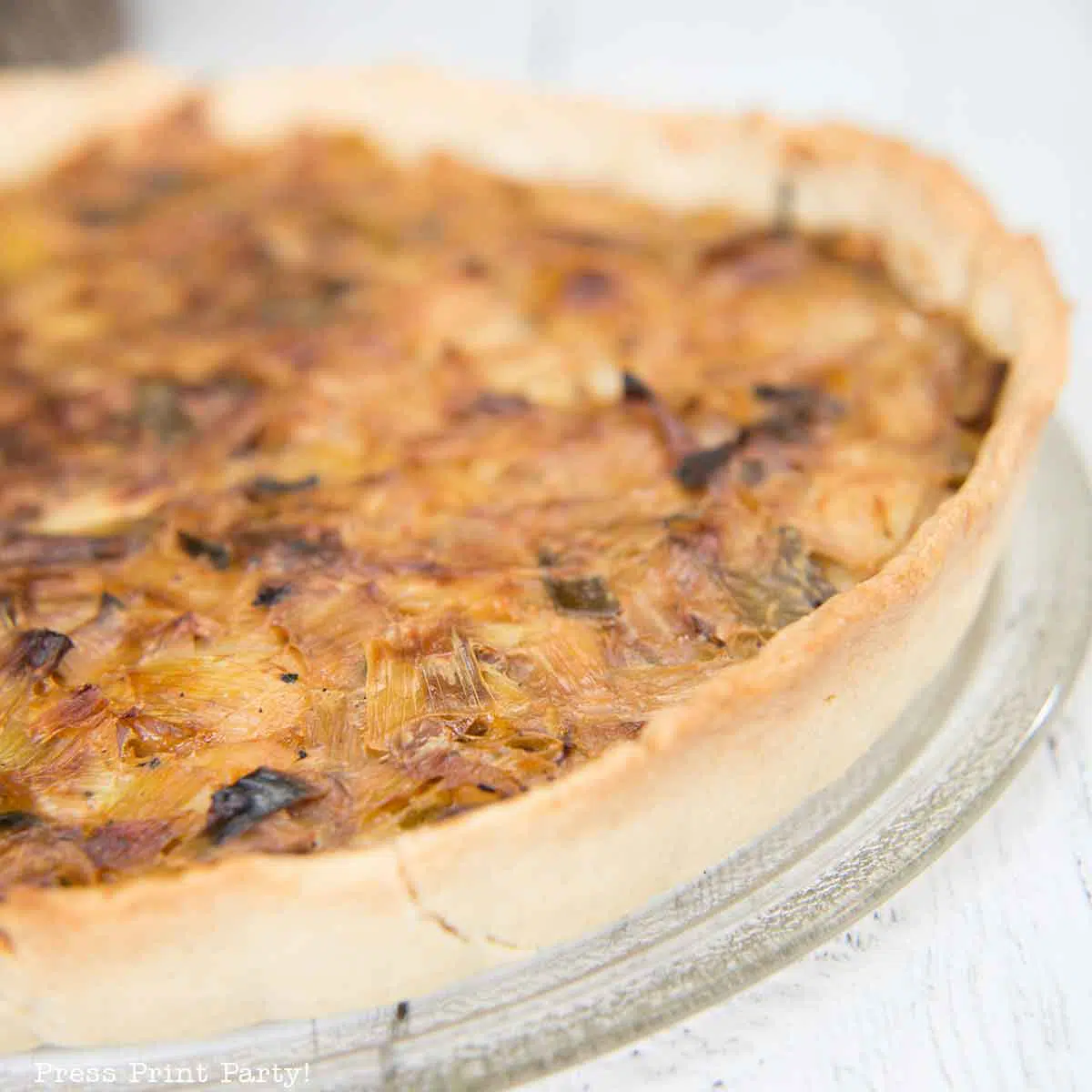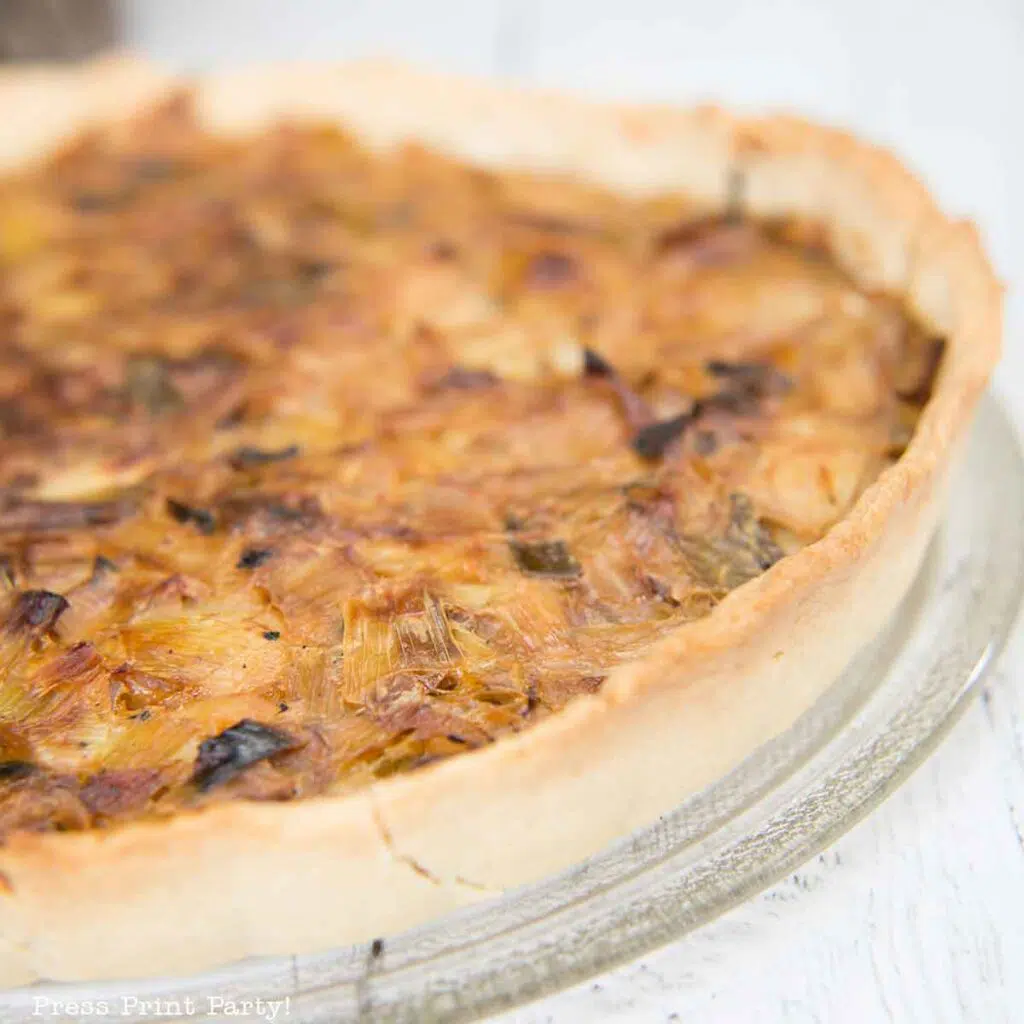 What can I substitute for Creme Fraiche?
Creme Fraiche is not something that's easily found in the U.S. Although Costco carries it and I'm sure you can find it at Whole Foods. You can easily substitute regular sour cream, Mexican cream (like Cacique Crema Mexicana), or even heavy cream.
If you've never had Creme Fraiche though, I'd recommend you try it. It's divine with strawberries and a little sugar. Really amazing.
Can I make it ahead of time?
Yes. You could make this tart a day ahead and stick it in the fridge. You can set it on the counter and bring it up to room temperature before the meal. Or cover it with foil and reheat it in a 350F degree oven for 15-20 minutes.
You can serve this tart at room temperature but it's best warm. Do not serve cold.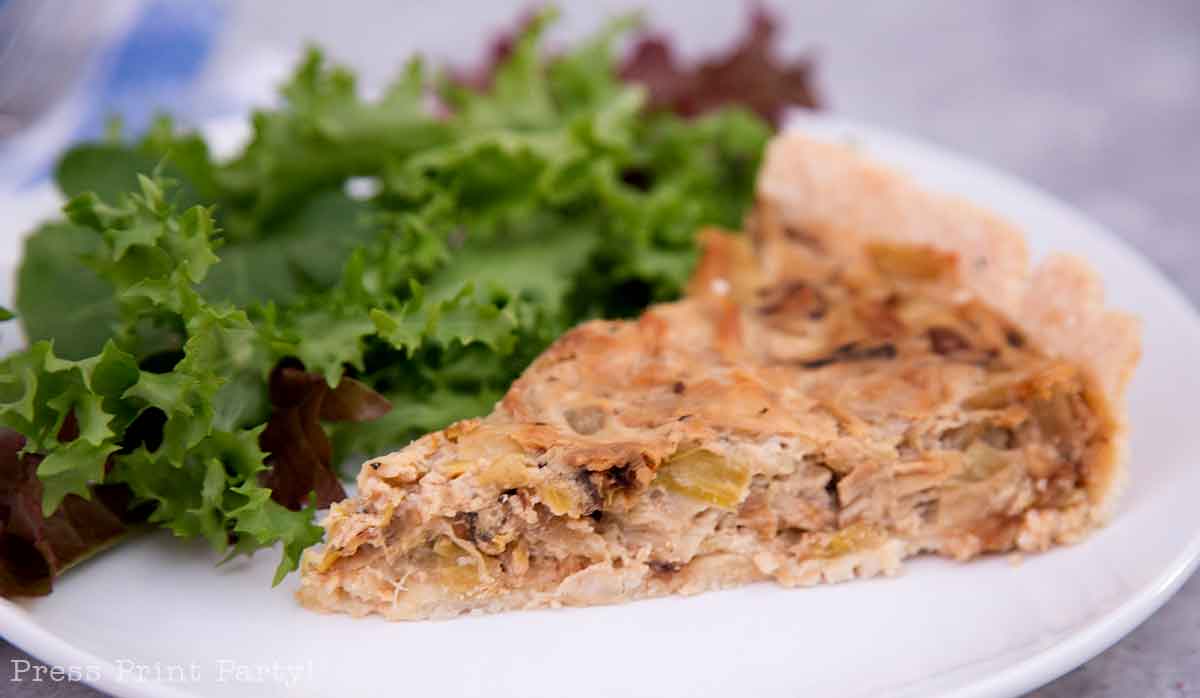 Can I freeze my baked leek tart?
Yes, it freezes well for up to a month. When you're ready to use it thaw in the fridge overnight. Then, reheat as above.
---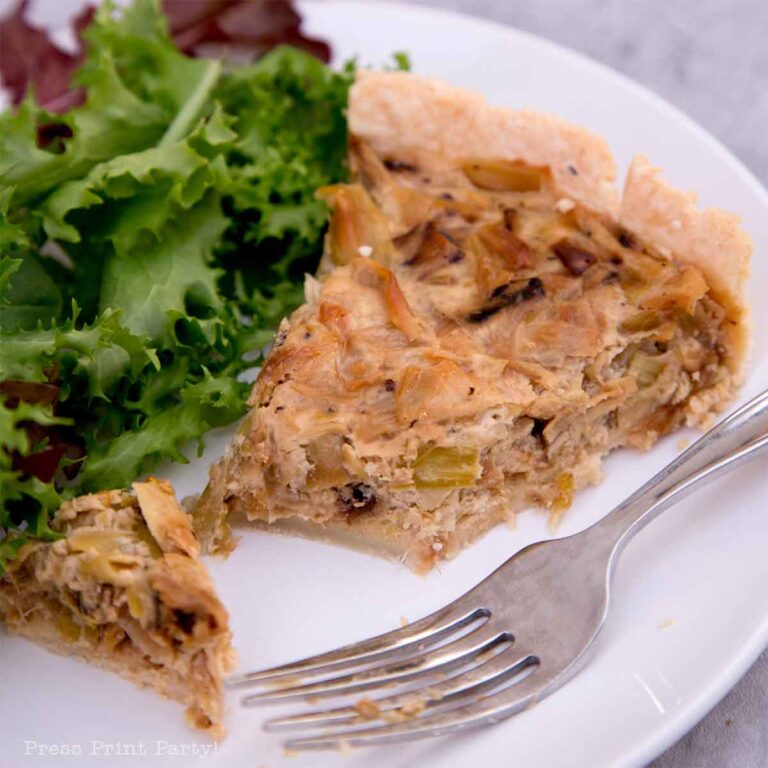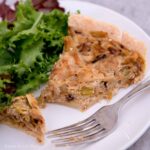 French Leek Tart (Flamiche – Tarte aux Poireaux)
Cook Time
1
day
40
minutes
Ingredients
Pie Crust
1½

Cups

Flour

1/2

tsp

salt

10

Tbsp

cold butter

3

Tbsp

ice cold water
Filling
5

Large Leeks – White and light green parts only.

1

egg

1

egg yolk

2

Tbsp

butter

1

cup

creme fraiche or sour cream

Salt and Pepper – to taste
Instructions
Butter your pie, tart, or quiche dish.
Make the pie crust
Chop the cold butter into small squares.

Stir flour and salt in a stand-up mixer bowl set up with the paddle attachment. Or in a medium bowl.

Add the butter cubes a few pieces at a time and beat at slow speed or work with your fingers (or a pastry cutter) until crumbly.

Add the ice water one Tbsp at a time and mix slowly until a ball forms.

Place the dough on a floured surface and roll it to fit your tart dish.

Lay the dough in the buttered dish and set it aside in the fridge.
Make the filling
Wash the leeks and cut the light green and white parts into half-moons.

Melt the butter in a large frying pan and add the leeks.

Cook over a low to medium flame for about 40 minutes stirring occasionally.

Preheat your oven to 450° F.

In a medium bowl, beat the egg, egg yolk, salt, pepper, and cream.

Stir the cooked leeks into the cream and egg mixture.

Pour the mixture into the pie dish.
Bake at 450° for 35 to 40 mins
Recipe Notes
If you don't have enough leeks to fill your pie dish, you can add chopped onion to your leeks before you saute them.
This dish is best served warm with a nice garden salad.
This French leek tart calls for Creme Fraiche (Costco sometimes carries it), but you can substitute it with either sour cream or Mexican cream which are easily found in many American grocery stores.
---
This easy leek tart is a great recipe to make a casual dinner with friends a bit more elegant.
If you have a little time, make it for dinner tonight. It pairs beautifully with your favorite white wine!
Eat outdoors in your yard or patio, exactly like the French do.
And then, make some authentic French chocolate truffles. The perfect end to an authentic French meal. "Oh, la la!"
If you love French cooking I have more French recipes like French mulled wine and the true Galette des Rois just the way we make it in Paris.
Don't forget to pin it for later: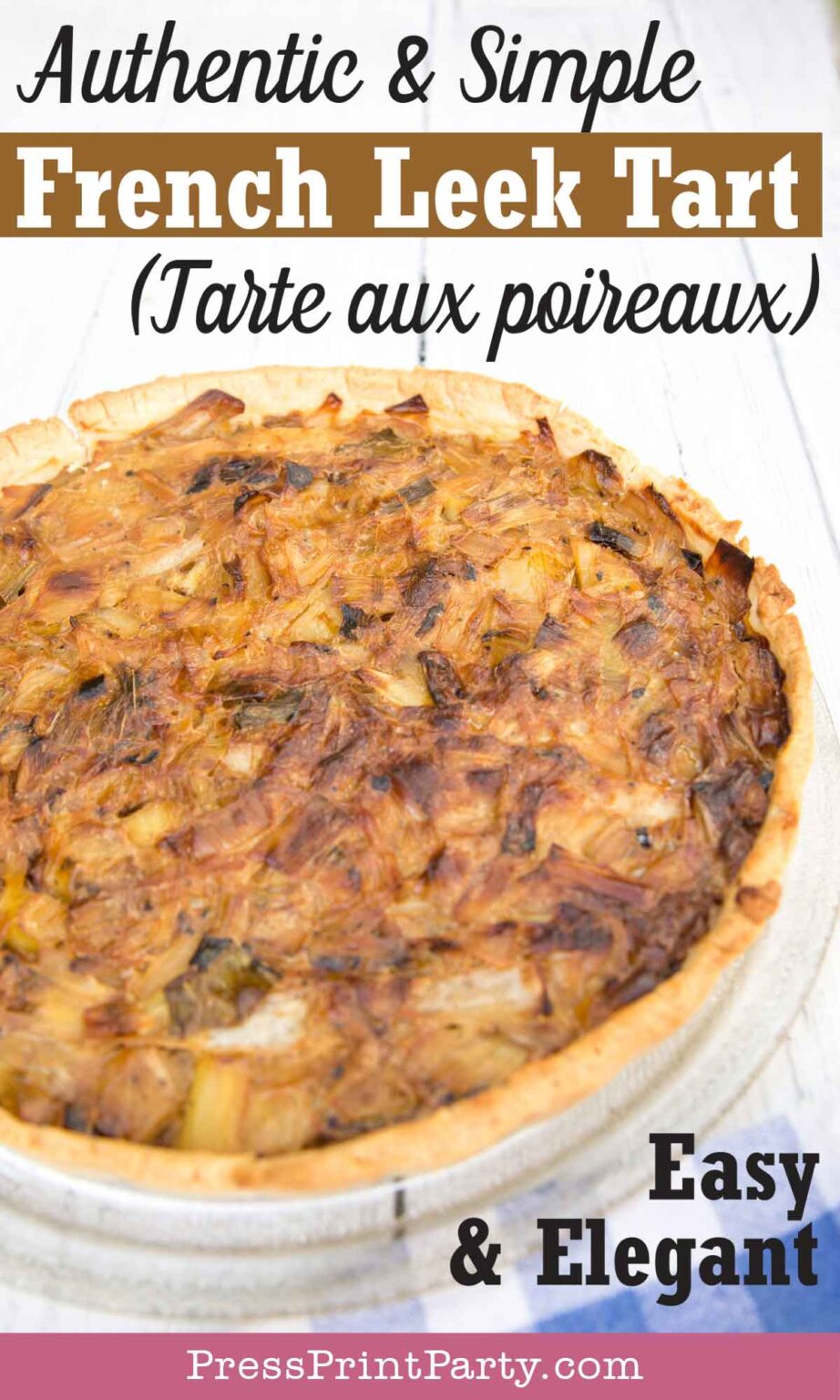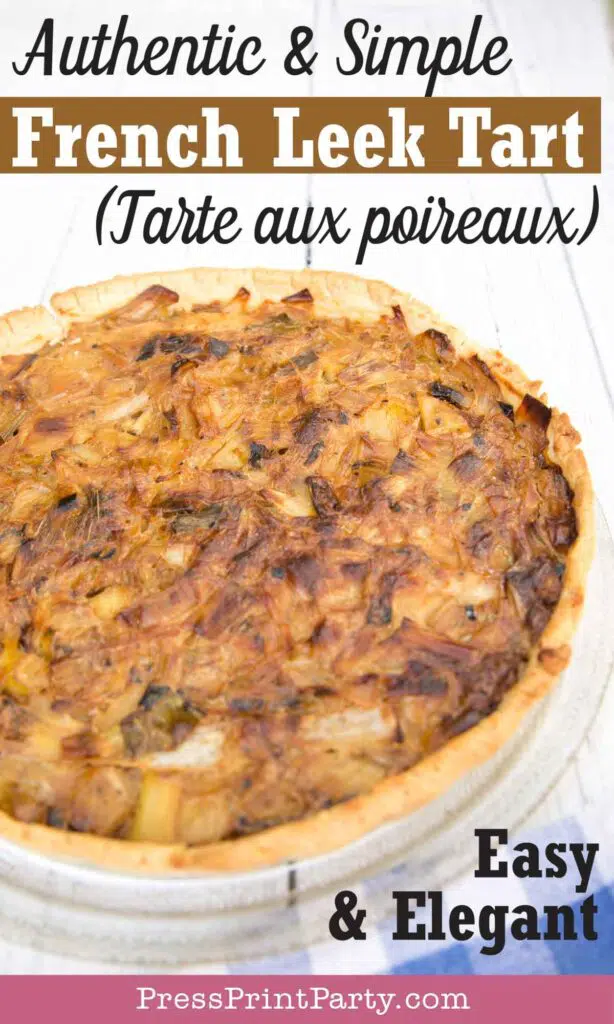 Check out our Spring printables