It's always such a treat to get great pictures from a customer!
This jungle party birthday set up is full of fantastic ideas with fun decorations, wild animal snacks, and roaring favors. All for your DIY pleasure of course.
Keep reading! I will show you where to get most of everything you see!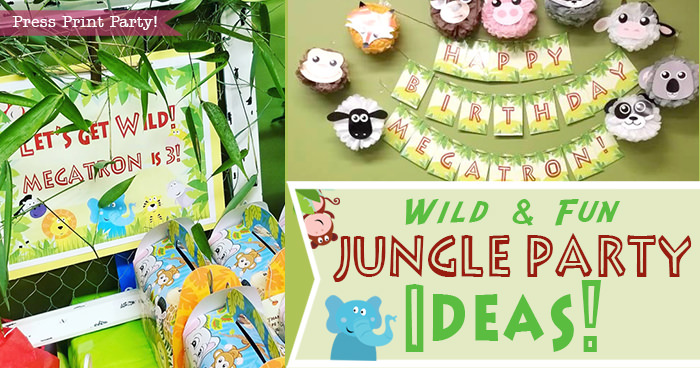 This post may contain affiliate links.
Jungle Party Decorations
Melissa did such a wonderful job setting up this jungle party table for her son's 3rd Birthday. The parts in "quotes" are notes from Melissa.
"My son is really into animals right now, so a safari theme party was a no brainer. I did some searching on the Web for animal themed decor and came across your printables. I thought they would make for wonderful decorations for my son's party."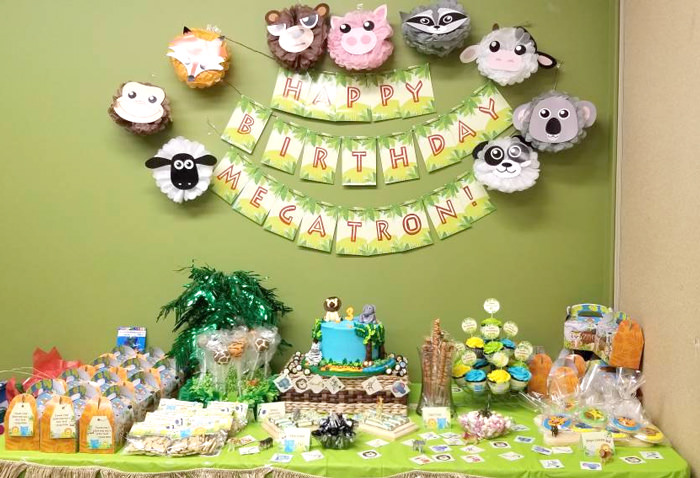 "I wanted a nice background for pictures and the kids could stand in front of the table without blocking view of the tablescape. Or the parents could stand behind the table and also get a nice picture. Your printables allowed us to put our own spin on almost all the decor used for the tablescape."
She created a focal point with a custom banner she made herself with the jungle party printable set and and array of safari and zoo pompom animals. The green plastic tablecloth and grass skirt created a simple and perfect start to her table.
Note the rustic upside down basket on which she set the cake. It's little inexpensive details like this, using things you have around the house, that can transform a table from boring to exciting.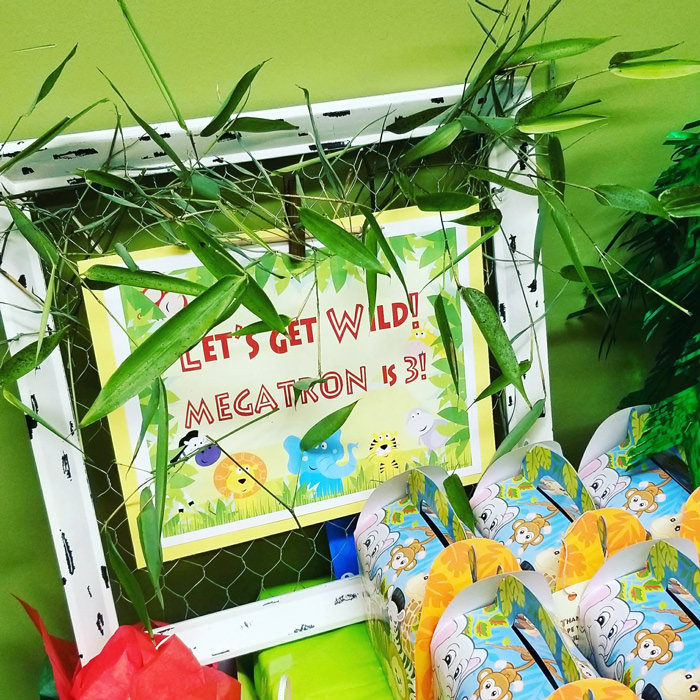 I just love how she framed the full sheet jungle party sign on a frame with chicken wire then added some fresh leaves for a wild look.
"Your printables also added that personal touch which I loved and really made it my son, Megatron's party. His real name is Sheldon Megatron Btw."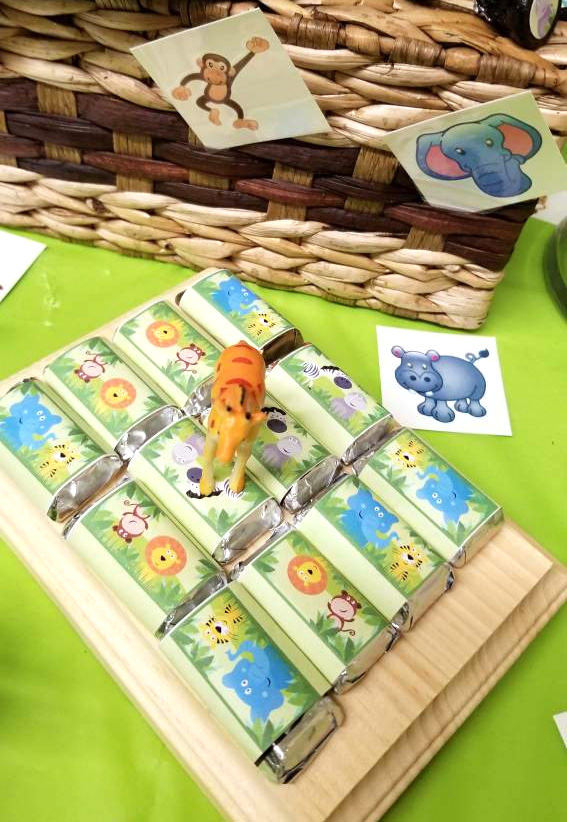 "The little animals that were all hiding among the snacks and party favors were a last second addition from my husband and I agreed."
Little plastic zoo animals were perched on everything, creating a real wild party. The Safari animal tattoos doubled as fun decorations too.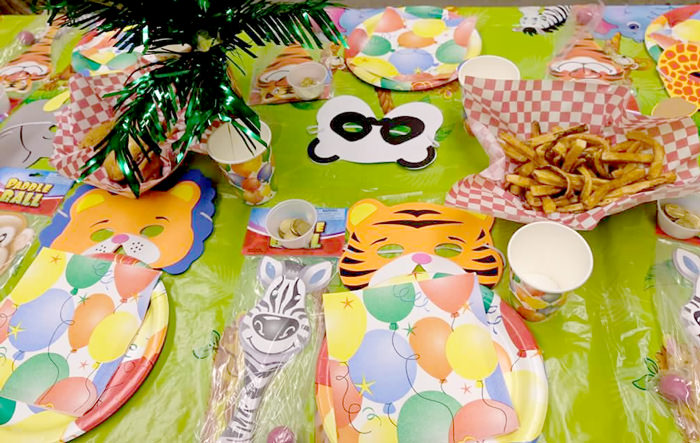 "The kids loved the animal masks and where making the animal noises of the mask that they were wearing which was super cute. "
Jungle Party Snacks
I was really impressed at the array of creative snacks on the table!
"After I found the decorations I next searched for safari themed baked goods. I was able to combine your printables, the baked goods and little extras like the little plastic animals toys I found at the local crafts store to make a sweet tablescape. I thought it would give all the little ones something to look at and each time they would notice something new!"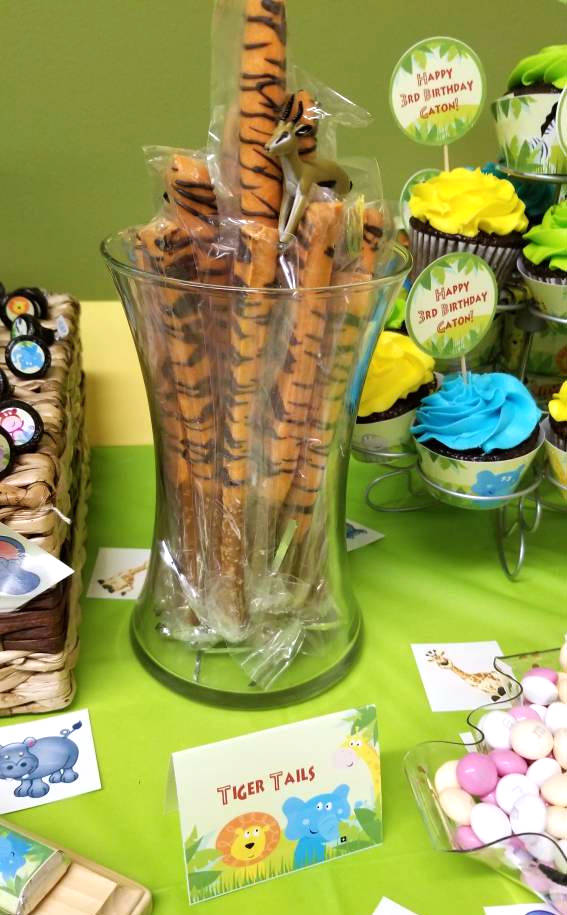 These tiger tails made with pretzel sticks look so yummy! Did you notice the gazelle perched on top?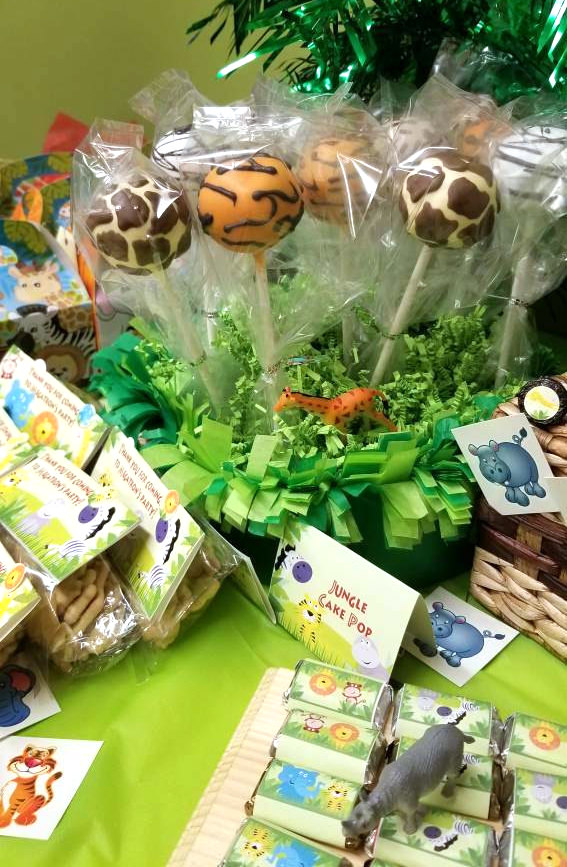 The animal prints cake pops were so well presented in their own basket with tissue paper grass. I see a giraffe hiding in there!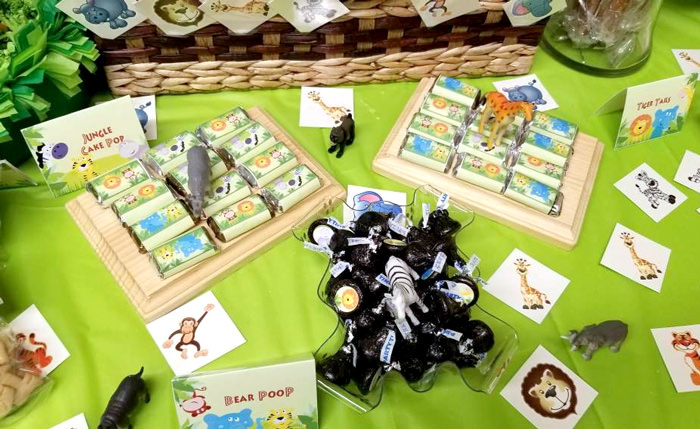 The Hershey minis wrapped in the jungle party printable wrapper did double duty as decorations and treats. Even the Hershey kisses got their own labels. Buying the black Kisses and calling them bear poop was genious.
"The little animal poop chocolate kisses I thought would be cute given that there were little animals all throughout the table"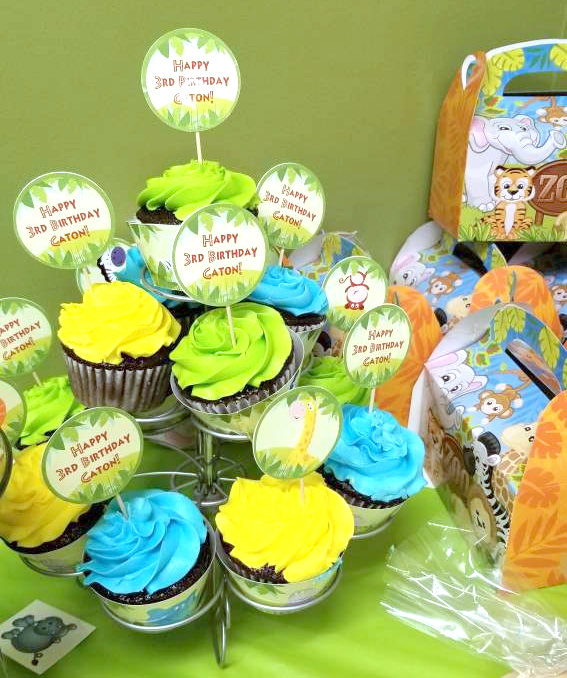 Simple cupcakes got a wild jungle make-over with printable wrappers and custom toppers!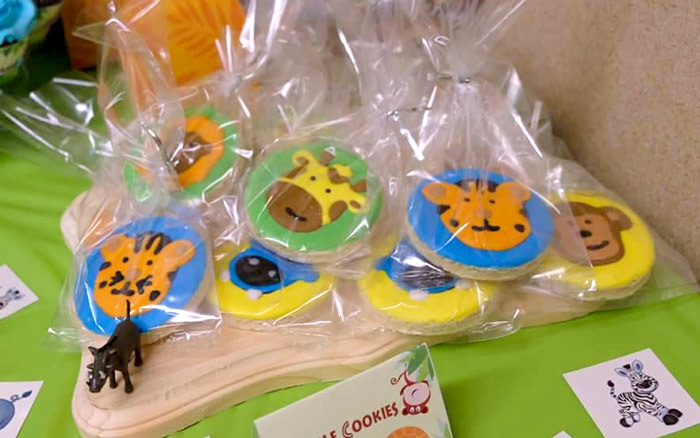 And some super cute jungle cookies are being garded by a serious rhino!
Jungle Party Favors
Those were some very lucky kids at Megatron's birthday party! They sure came home with a loot! Not only did the kids get a big favor box full of little gifts, they also went home with safari tattoos and animal cracker treats in individual bags.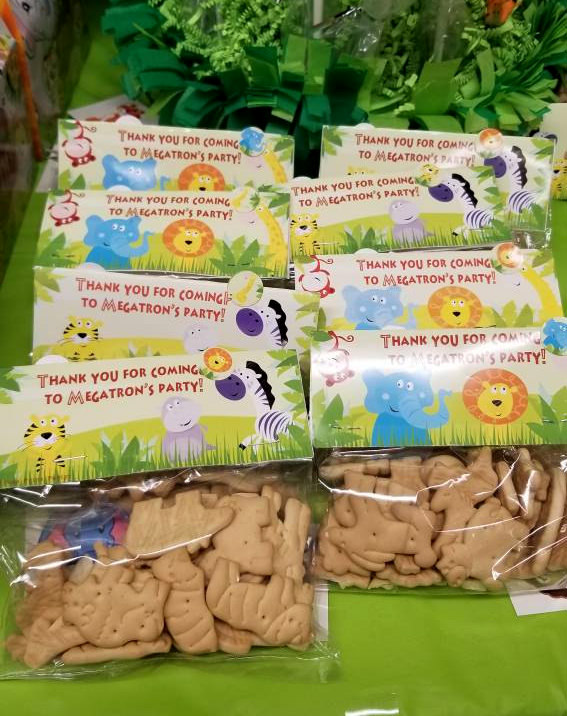 It's easy to style a beautiful party table when you start with a set of quality party printables. Use the printables to set the color scheme and theme of the party. Once you've done that, finding decorative elements and snacks to match becomes a piece of cake. See more pictures of the jungle party printable and for a different safari look check out our African safari party!
If you use any of my printables, please take some pictures! I'd be thrilled to show your party off to the world!
Pin it for later.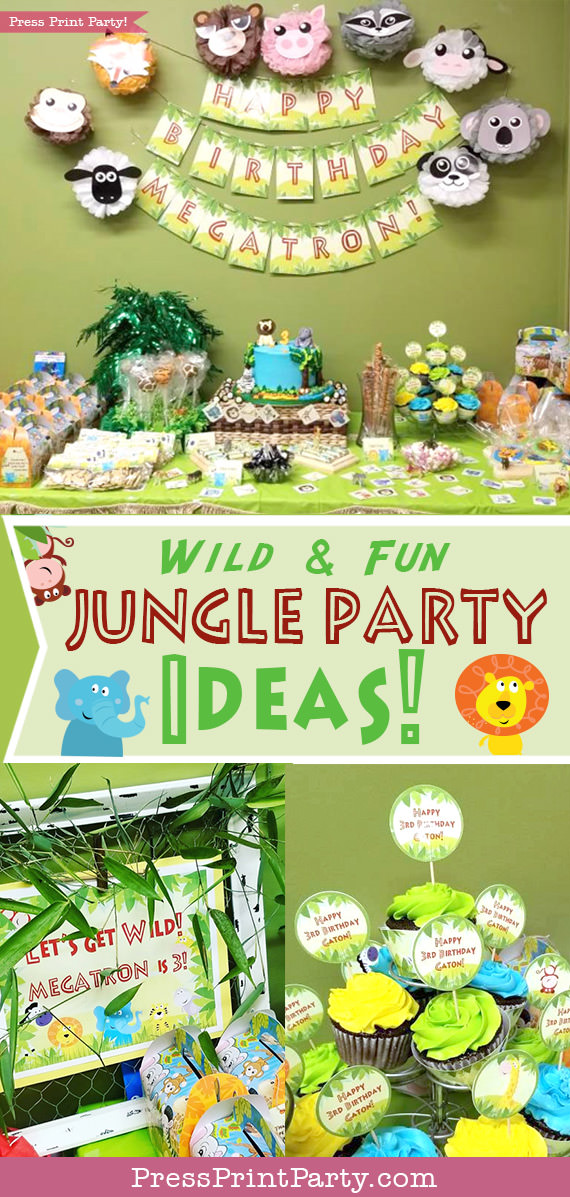 Check out our birthday printables