Designing my girls' parties is pure joy. So when they we talked about their birthdays and they both exclaimed: "Tea Party!!!" I was excited to start. With only 1 month to go I got busy creating the invitations. I wanted them to look like a tea bag and have the elegance a proper tea party should have. My husband will tell you that I have a real penchant for flowers on neutral backgrounds and roses just scream "Tea Party" to me. I love the fact that even the printable envelope itself reflects the rose design. I also Included a personal touch with beautiful twine from the Twinery to add tags with the girl's names. Then, I created the rest of the printables to match. The whole Printable Tea Party set is available in my shop.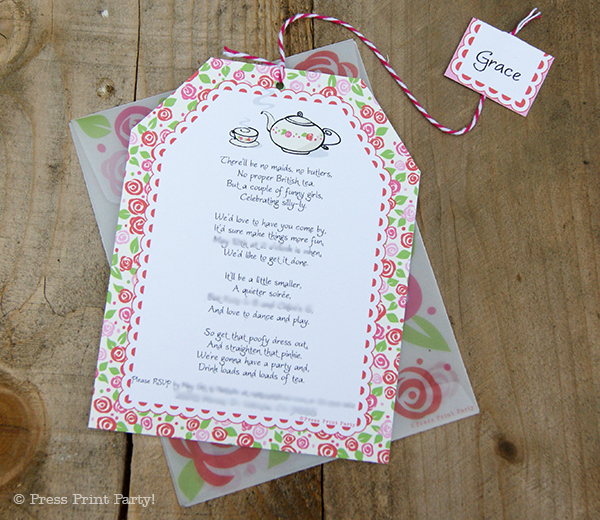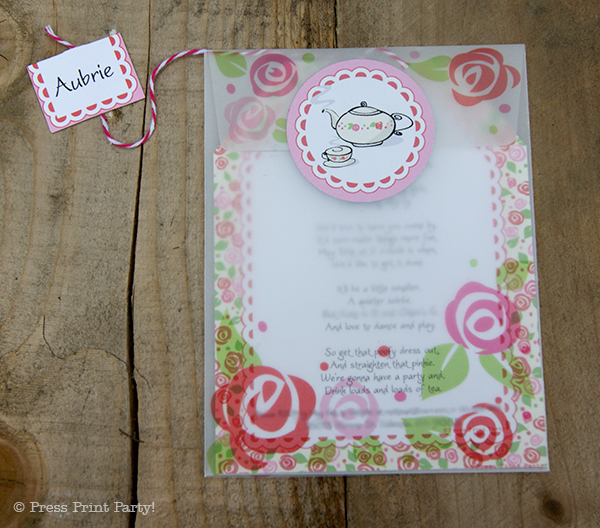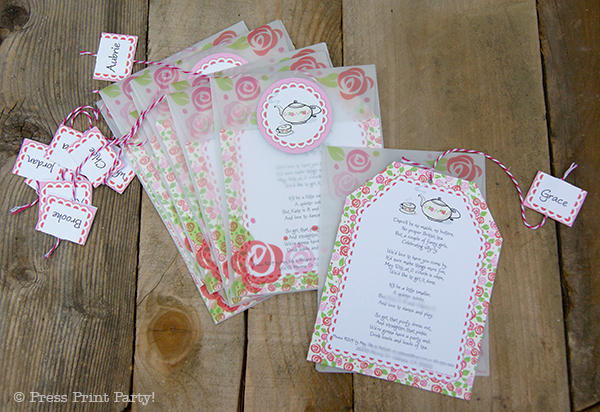 Inside, the adults who stayed were treated to a tea buffet. Complete with pecan scones, rainbow fruit kabobs, PB&Js on cinnamon swirl bread, rock candy, Smore's on a stick and meringue swirls from a Martha Stewart recipe. The little printable baskets were full of all different kinds of teas. The wonderful teapot cake complete with tea cups was center stage and was made locally in Los Angeles by Schatzi Dulce.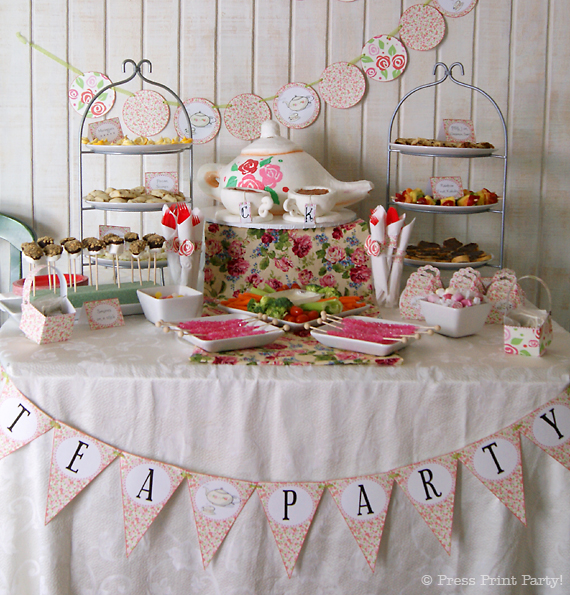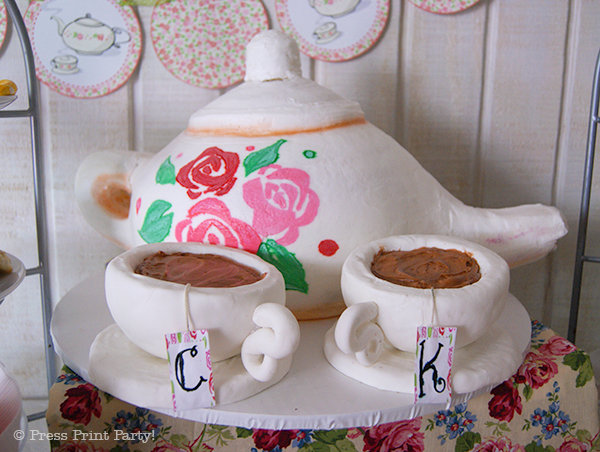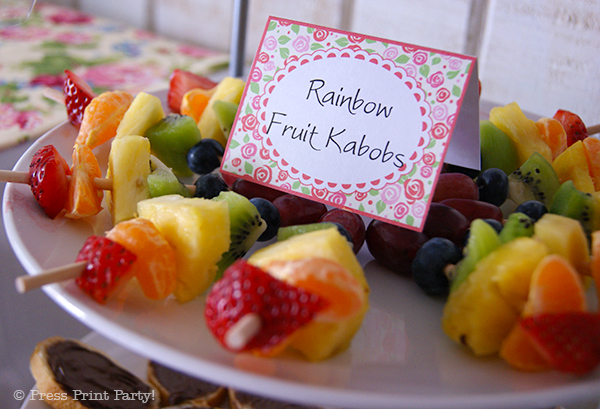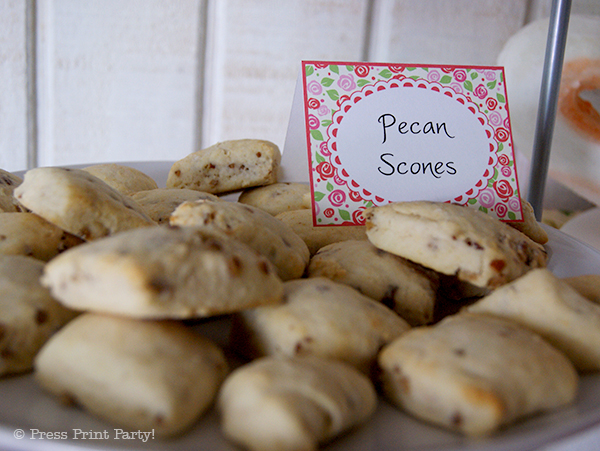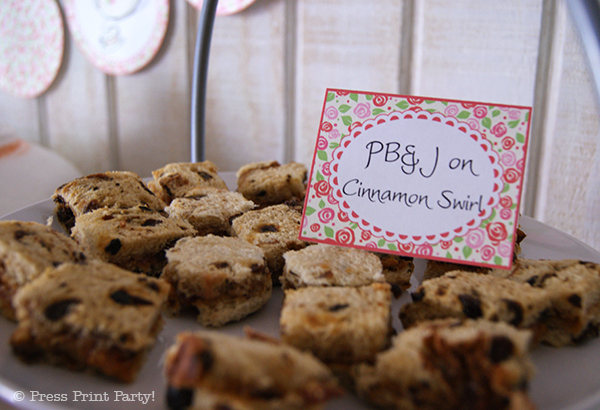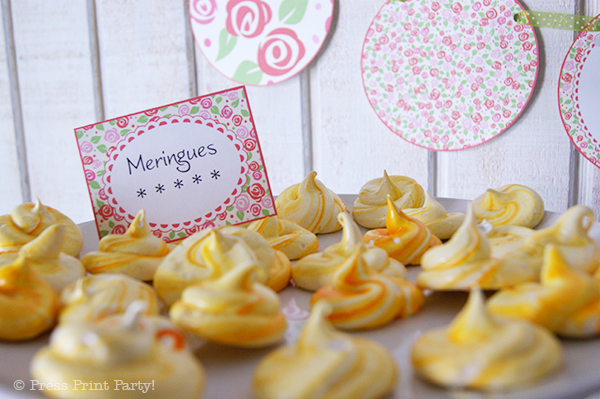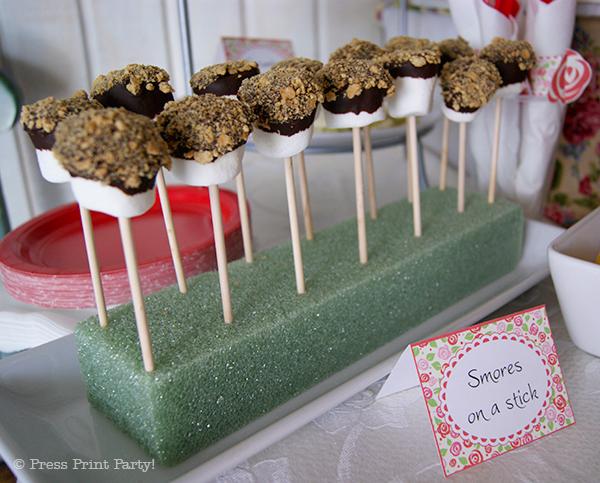 Outside stood a long elegant and colorful table for all the girls; complete with place cards and their very own rose fan. Paper pompoms are some of the easiest and cheapest party decoration to make and they offer a huge impact. They looked cute enough that we left them up even after the party.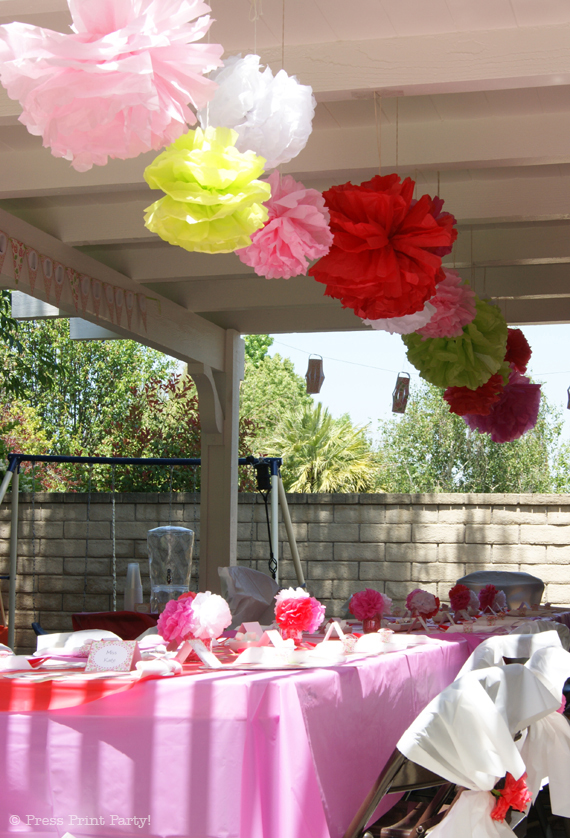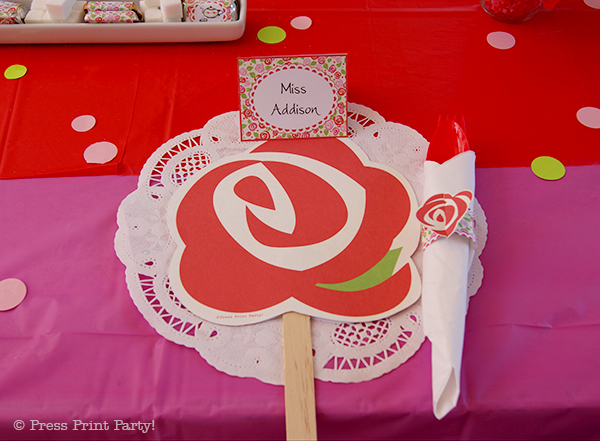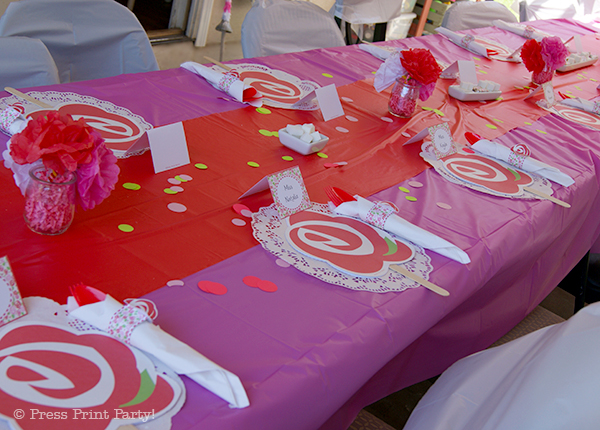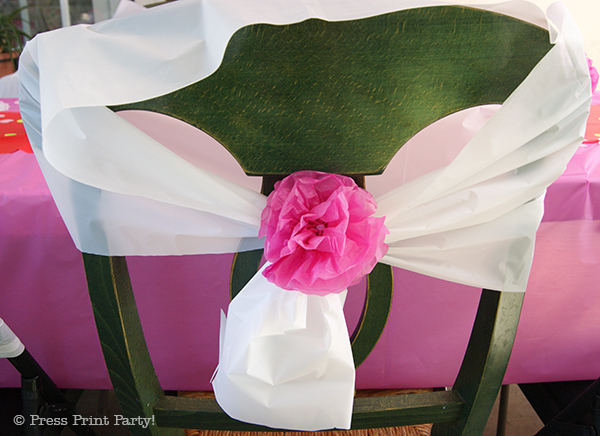 We started the party by making crafts and the girls had great fun creating their own "tea cups" from mugs with coloring paper inserts bought at Michaels. I even made a special paper to color matching the rose design (Also Included in the set at my Etsy shop)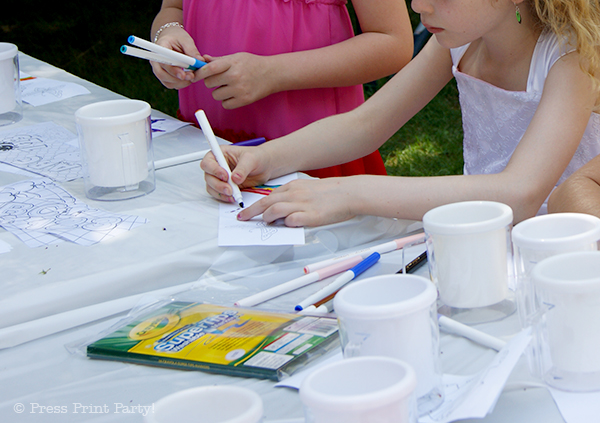 While sipping their tea served by the men in the family, the girls waved their rose fans to ward off the heat.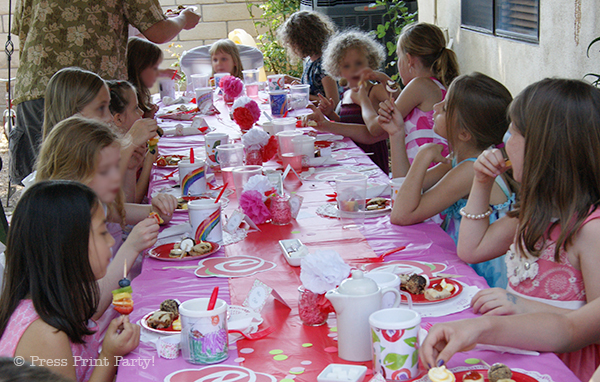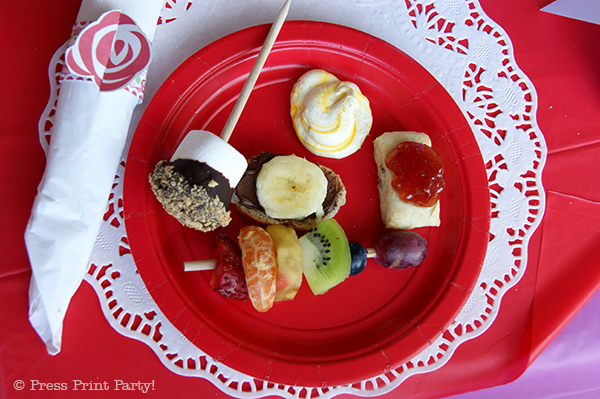 We made the piñata at home and it was rugged enough that my husband dubbed it the "concrete piñata". All 15 girls got a whack at it and they had yet to do much damage. Learn how to make it yourself here.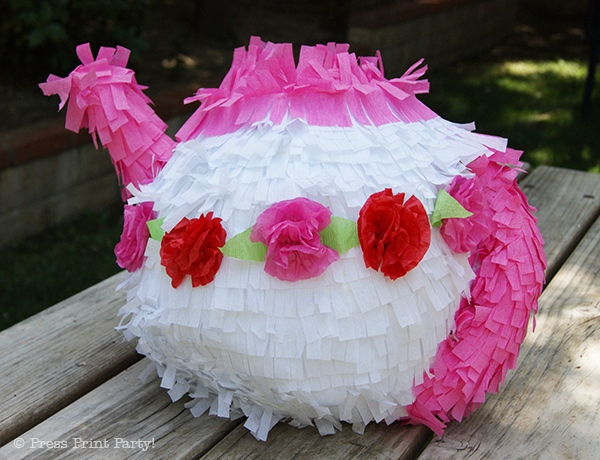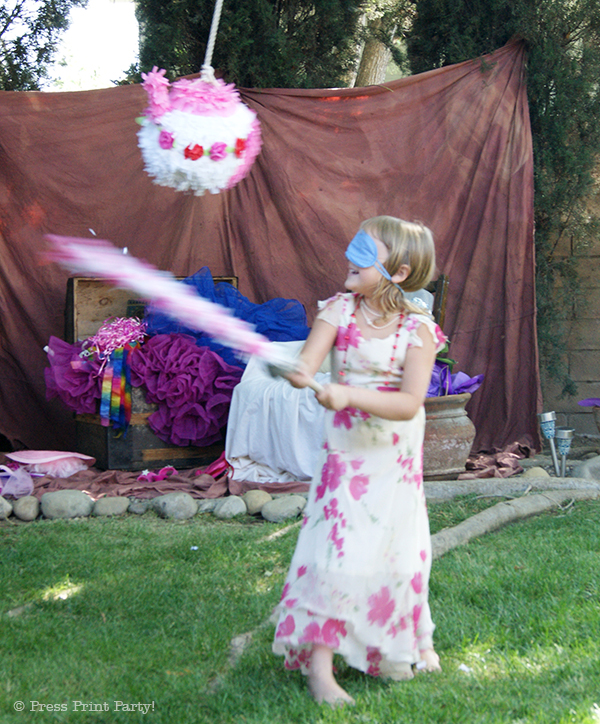 The photo booth was also a great success with all the girls wanting their fancy pictures taken. We got great response from the parents when they each received a picture of their girl Photoshopped with a vintage look and sent to them in the thank you note.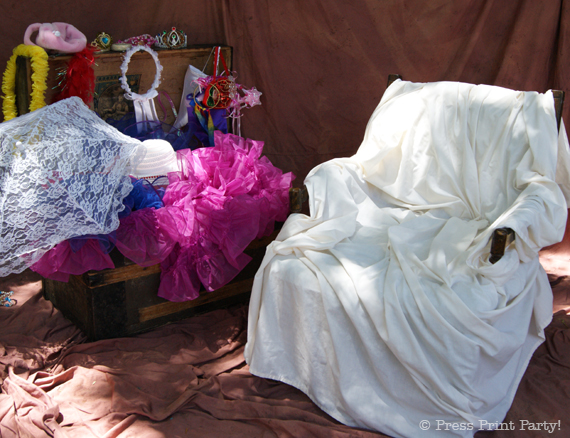 The party favors were in this lovely printable purse favor box and included a tea bag and sugar cubes, to make their own tea at home, a handmade bracelet made by my girls, as well as a little chocolate wrapped to match.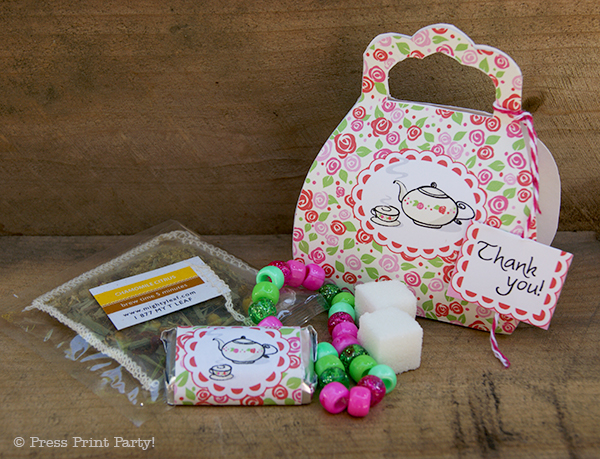 The Tea Party printable suite contains even more things then we could use for our party and is available in the shop.