The kids REALLY wanted to do fun things this summer and so I needed lots of summer bucket list ideas!
My search had me all over the web to find all the fun ideas I just couldn't think of for my own summer bucket list.
My search was very productive and I really wanted to share it. On top of that, once you've decided on the best of the best you can get my free summer bucket list printable, edit it with your own fun summer activities, and keep those awesome goals in front of you.
It's a great way to use it as a reminder for those times you're tempted to get mopey and plod around the house in your underwear.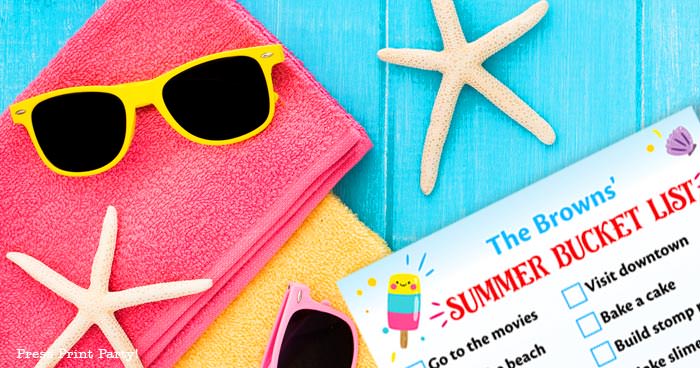 This post may contain affiliate links.
You're not going to check off all 225 ideas. My goodness, that'd be a full-time job! And it'd probably ruin most of the fun. But I hope some of these will spark your creativity. I just wanted to give you a little push for more fun this summer.
I organized my summer bucket list ideas in categories because my brain works better that way rather than trying to think through a huge jumbled-up list of summer activities.
Here you'll find some great ideas for crafts, eating, relaxing, traveling, playing, things just for fun, and yes, even learning and working around the house.
Make some new crafts this summer
Summer is the perfect time to get crafting. Especially on those super hot summer days when you don't want to get out of the air-conditioned house!
Make paper airplanes
Play with salt dough
Have a craft night with friends
Make a puppet
Make nail art
Paint rocks
Make a summer scrapbook
Paint tattoos on your legs or arms with body paint or washable markers
Summer Bucket List Ideas for the Foodie
Summer is more than hot dogs and hamburgers, it's a great time to learn to make things from scratch.
Have a picnic
Make homemade ice cream
Have friends over for dinner
Make lemonade
Get ice cream from the ice cream truck
Make root beer floats
Eat funnel cake
Eat corn on the cob
Eat chili cheese dogs
Drink a tropical drink
Have a BBQ with friends
Make popsicles
Make apple sauce
Make homemade pasta
Make homemade pizza
Eat a Sno-cone
Try a new restaurant (The more exotic the better)
Make cake pops
Get lunch from a food truck
Make pancakes
Make dinner on the grill
Eat dinner outside
Make a pie
Make jam
Have an over the top milkshake
Try a new fruit (The farmer's market or an international market is great for that).
Put Some Things on Your Summer Bucket List Just for Fun
There are many creative ways to have fun. Choose a couple you've never done but always wanted to.
Write a book
Catch fireflies
Use the fire pit
Sing more
Make a fairy garden
Use your gift cards
Date night once a week
Do random acts of kindness
Take lots of photos
Watch fireworks
Watch old cartoons
Stay up past midnight
Go on a Ferris wheel
Have a slumber party
Watch a meteor shower
Dye the tips of your hair a funky color
Make a summer music playlist
Have a photoshoot with friends
Take candid photos of family members
Buy a new dress
Take a picture each day
Have theme days
Organize a block party
Send a postcard
Buy a new pair of sandals
Make a time capsule
Have a sleepover
Camp out in the backyard
Have a nature scavenger hunt
Explore Exciting Places over the summer
Now that you have a little more free time, it may be time to visit some new places and have new adventures.
Go fruit picking
Go to the pool
Go to the beach
Go to the zoo
Go to the museum
Go to the amusement park
Go to the water park
Go to the planetarium
Go to the aquarium
Go to the botanical gardens
Visit downtown
Go to see a blockbuster movie
Go to an outdoor concert or music festival
Visit family
Visit friends
Go on a retreat
Go on a bike ride
Go to the circus
Go to the carnival
Go to summer camp
Go on a camping trip with family
Go to garage sales
Go to the farmer's market
Swim in a lake
Go on a road trip
Go to a professional sports game
Hike a new trail
Ride a roller coaster
Go bowling
Go to a dollar movie
Go to the nature center
Visit a farm
Go to the pet store
Go to a parade
Visit Grandpa and Grandma
Visit a new playground or local park
Tour a fire station
Go on a factory tour
Go to the aquatic center
Go to the library
Bonfire at the beach
Go dancing
Go to a drive-in movie
Go laser tag
Explore a new town
Go on a spontaneous day trip
Go feed the ducks
Indulge in a spa day!
Go snorkeling
Visit a state park or a national park
Go to a petting zoo
Go see a show at the theater
Go geocaching
Go to a tea house
Go to the arcade
Go to the trampoline park
Explore tide pools
Go to an exotic grocery store
Go hiking
Go fishing
Take the Time to Learn Something New this Summer
This is the time of year to learn a new skill that will last a lifetime.
Practice skipping stones
Learn to play an instrument
Learn to surf
Boogie board and catch a wave
Paint with watercolors
Learn origami
Learn to do calligraphy
Make balloon animals
Teach my pet a trick
Overcome a fear
Learn a magic trick
Learn a new language
Fun things for kids to do with friends, or you!
Kids just want to play, that's quality time for them. So turn off your phone and engage in fun activities for them.
Blow bubbles
Play with chalk
Fly a kite
Have a water fight
Build a fort
Play in the sprinklers
Build a sandcastle
Build a stomp rocket launcher
Have a water balloon fight
Swing on the swings
Play Frisbee
Play hopscotch
Finger paint
Go on a treasure hunt
Play cricket
Play badminton
Make an obstacle course
Catch bugs
Make a movie
Play mini-golf
Have a pillow fight
Play cards
Jump on a trampoline
Make a pillow fort
Jump rope
Do a puzzle
Play with glow sticks
Use a Slip 'n Slide
Ride a carousel
Rent a bounce house
Build a blanket fort
Play Bingo
Don't Forget to Relax too
Your ultimate summer bucket list doesn't have to be full of busy activities, the simple act of spending the whole day barefoot counts in my book. Less stress makes for a better summer.
Watch an old movie
Stay in bed until noon
Sleep in (a lot)
Take a walk in the park
Watch a sunrise
Watch a sunset
Go birdwatching
Go stargazing
Take walks in the neighborhood
Watch clouds
Sleep in a hammock
Collect seashells
Sleep in a tent in the backyard
Pick flowers
Call an old friend
Go screen-free for a day, maybe even a whole weekend
Have breakfast in bed
Stay in pajamas all-day
Go barefoot for a day
Start a blessings jar
Read the Bible every day
Write a letter to a soldier
Join the Library summer reading program
Read a book
Make Good Use of Those Extra Summer Light Hours
It may be time to be productive this summer.
Wash the car
Make overdue home repairs
Volunteer
Wash the dog
Have a garage sale
Clean your room
Organize your closet
Exercise everyday
Clean the garage
Repaint a wall
Refinish furniture
Plant a tree
Plant flowers
So what do you plan to do this summer? Do you have more fun summer bucket list ideas to add to this list? Let me know in the comments.
I wish you good times and much fun and may this be the best summer ever!
So, go, explore, create!! And don't forget to go get your free printable summer bucket list!
Pin it these fun summer bucket list ideas for next year too: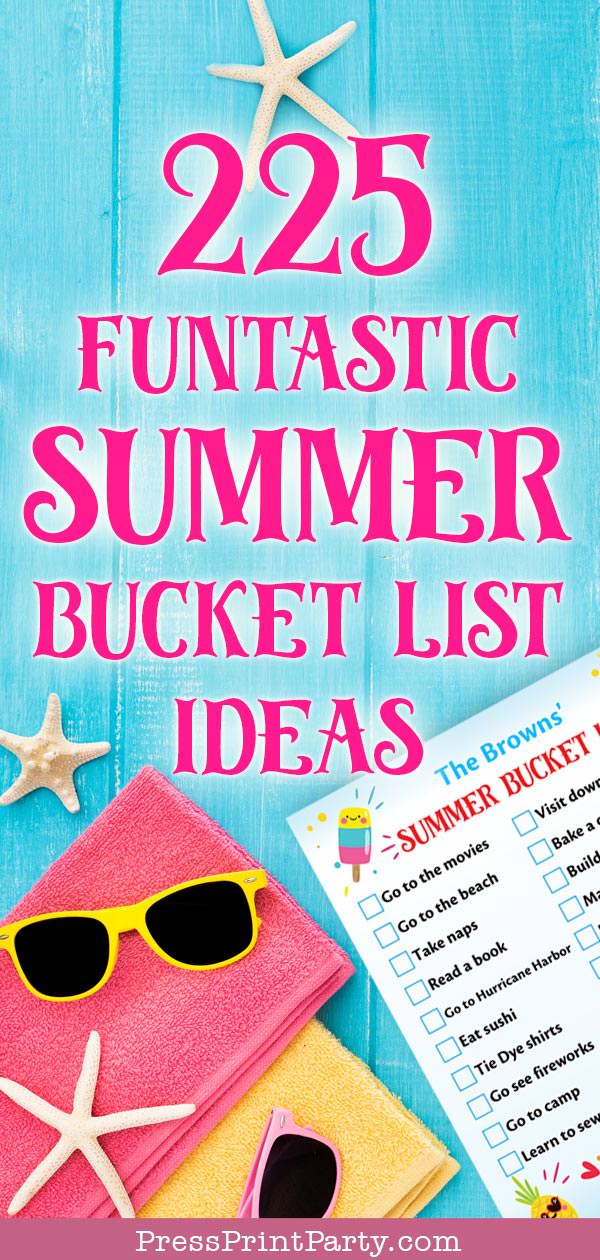 Check out our summer printables