Fish coloring pages are great for entertaining and teaching little ones about aquatic creatures! I was astounded by some of the fun facts I learned as I put this blog post together.
For example, did you know that some species of jellyfish are immortal? Turritopsis dohrnii are able to revert back to their baby state once they reach maturity or if they are injured!
What an amazing ability!
If you find that so interesting, don't you worry! I've included more fun facts throughout this post.
Of course, these free printable fish coloring pages are not just great for kids! With some vivid colors, kids of all ages and kids at heart can enjoy these fun coloring pages.
This collection of free fish coloring pages allows young children to practice their coloring skills, color recognition, and fine motor skills. Don't forget to share some fun facts with them while they color! They will find the different fishes fascinating.
A great way to incorporate coloring into your day or school breaks is to make sure you always have some on hand! Stock up on your favorite coloring supplies and free printable coloring pages so you can whip them out at a moment's notice.
Planning a trip to the aquarium? Expose your kids to the different kinds of fish they might see before you go. Are the kids complaining about being bored over summer break? Here you go, kids! Go color to your heart's content.
I have lots of other free printable coloring pages in my shop including some free coloring pages that are perfect for the 4th of July! I'm sure you'll find a few you love.
Let's take a look at the fish coloring pages this downloadable book has to offer!
---
Not So Fishy Fun Facts
I'll be honest, I collected a lot of amazing facts about fish and sea life for this post. I used a lot of them to help talk about each coloring sheet down below, but I couldn't fit them all in! So for all you fun fact and sea creature enthusiasts, I'll leave more fun facts here:
Some fish, like lanternfish, have special organs that produce light, making them look like they are glowing in the dark.
The largest fish in the world is the whale shark, which can grow up to 40 feet long and weigh 20 tons.
Globally, we consume around 150 million tons of fish each year, making it one of the most widely consumed protein sources on the planet.
Male clownfish (Think Marlin in Nemo) are the primary caregivers of the eggs. They guard and aerate them until they hatch.
The average lifespan of clownfish in the wild is 6 to 10 years.
Goldfish do not have stomachs. Food just passes through their digestive system very quickly.
Goldfish can see both visible and ultraviolet light which helps them detect predators and find food.
Jellyfish are not actually fish. They are classified as invertebrates.
Some jellyfish have a symbiotic relationship with certain types of fish, where the fish lives inside the belly of the jellyfish for protection.
Jellyfish have been used in medicine for many years – a protein found in some species of jellyfish is used in the development of a drug that helps to treat certain types of cancer.
Many starfish species are capable of opening and eating shellfish, which they do by prying open the shells with their arms.
Squids can quickly change color and patterns on their skin to blend in with their surroundings, communicate with each other, or scare predators away.
Squids have three hearts – two that pump blood to the gills and one that pumps oxygen-rich blood to the rest of their body.
Pufferfish are also known as blowfish or balloonfish due to their ability to inflate themselves with water or air when threatened.
Pufferfish have a unique swimming style where they use their fins to move in short bursts rather than constantly like most fish.
Approximately half of the fish species can see ultraviolet light.
---
15 Fun Fish Coloring Pages
Here are all the different fish coloring sheets that you'll find in the fish coloring book pdf.
Seahorses are in the category of bony fish.



Even though they don't look like fish, they have many fish features like gills and a swim bladder which helps them to float.
| | |
| --- | --- |
| | When it comes to tropical fish, there is no lack in vibrant colors. And generally speaking, tropical fish have the ability to recognize different colors and patterns. |
It is estimated that there are over 120 species of pufferfish found around the world.



Some species of pufferfish are both freshwater fish and saltwater fish.




Pufferfish have strong beaks that allow them to chew through hard shelled prey like clams and mussels.
| | |
| --- | --- |
| | The fastest fish in the ocean is the sailfish. It can swim at speeds of up to 68 miles per hour. |
Goldfish have a memory span of around three months.



Goldfish can grow up to 18 inches in length, but most remain small due to the size of their environment.




Goldfish are omnivores and will eat both plant and animal matter.
Angelfish

eat sea sponge and algae. Look out SpongeBob!




Angelfish have a gestation period of 1 to 3 days.



Jellyfish have a unique way of getting around – they use a process called jet propulsion, where they expel water from their bodies to move forward.




Jellyfish do not have a brain or a central nervous system, but they do have a simple nervous system called a nerve net.
Butterfly fish can change their colors for the situation they are in. At night, the colors fade. But when they feel threatened, the colors get brighter.

Their docile nature and pretty colors make them great aquarium fish.
| | |
| --- | --- |
| | Siamese Fighting Fish or Betta Fish are found in nature in waters surrounding Asia. This can include bodies of water with low levels of oxygen such as mud plains and marshes. |
Devil Firefish or lionfish have poisonous spines.



Moray eels appear to be immune to the venom, though. It's been observed that moray eels will eat Lionfish.
Squids have 10 arms with suckers but also have two feeding tentacles equipped with sharp hooks that they use to catch prey.

Squids are incredibly intelligent animals and are believed to have the largest brain-to-body ratio of all invertebrates.

Some species of squid have eyes that are larger than a human head, allowing them to see in near darkness and spot prey from great distances.
Octopus

are very smart! They can solve problems, remember things, use tools and open locks

.



They can also crawl on land for several minutes at a time.
Clownfish are known for their bright orange and white stripes, but they can also be found in other colors such as yellow, pink, and black.



Clownfish have a mucus layer that protects them from the deadly sting of sea anemones.




Clownfish are able to communicate with each other through a series of pops, clicks, and chirps.



A starfish can eat an animal up to twice its size!



Some starfish are bioluminescent, which means they can glow in the dark

.



Starfish have up to five arms, which can regenerate if they are severed.




Starfish are an important part of marine ecosystems because they consume dead animals and debris at the bottom of the sea. They keep the sea floor balanced.
I added this fish coloring sheet

for artists with more advanced coloring skills. Just picture the variety of colors you could add to the fins and swirly gills!
---
If you enjoyed these cute pictures of fish and would like more free printable coloring pages, go check out these posts for more:
Don't forget to pin these fish coloring pages: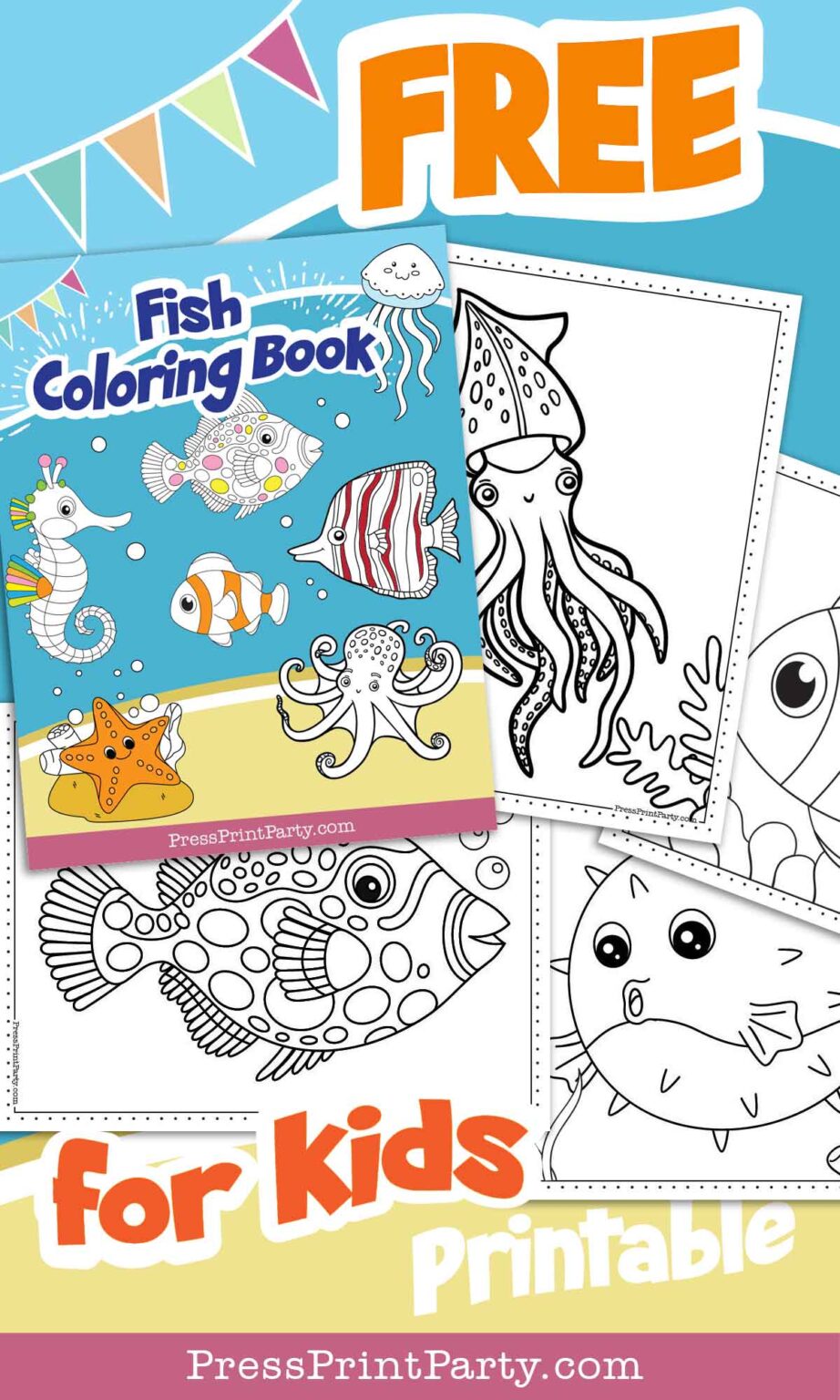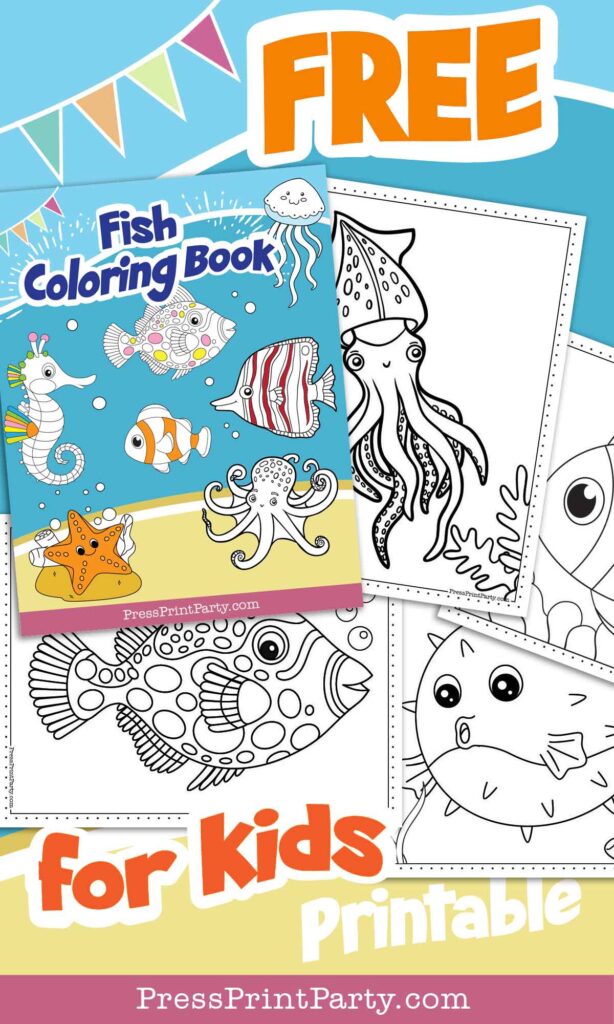 ---
Get Your Freebie:
If you've already subscribed, you can get the password from the bottom of any email I send and go directly to the Free Downloads Library.
Check out our birthday printables