Choosing a patriotic color scheme for your food is fun for kids and adults. My family loves holiday traditions, so decorating any surface, even the food, makes the holiday a little more special.
I divided this list by category.
I also added a few sub-categories to make perusing more organized. I hope you get some great inspiration for your Independence Day from these red, white, and blue food ideas.
---
Red White and Blue Desserts
Patriotic Cupcakes, Cake & Cheesecake
Take your cupcake presentation up a notch with my free, printable cupcake wrappers for 4th of July. You can also add DIY fireworks toppers with my tutorial.
4th of July Cupcakes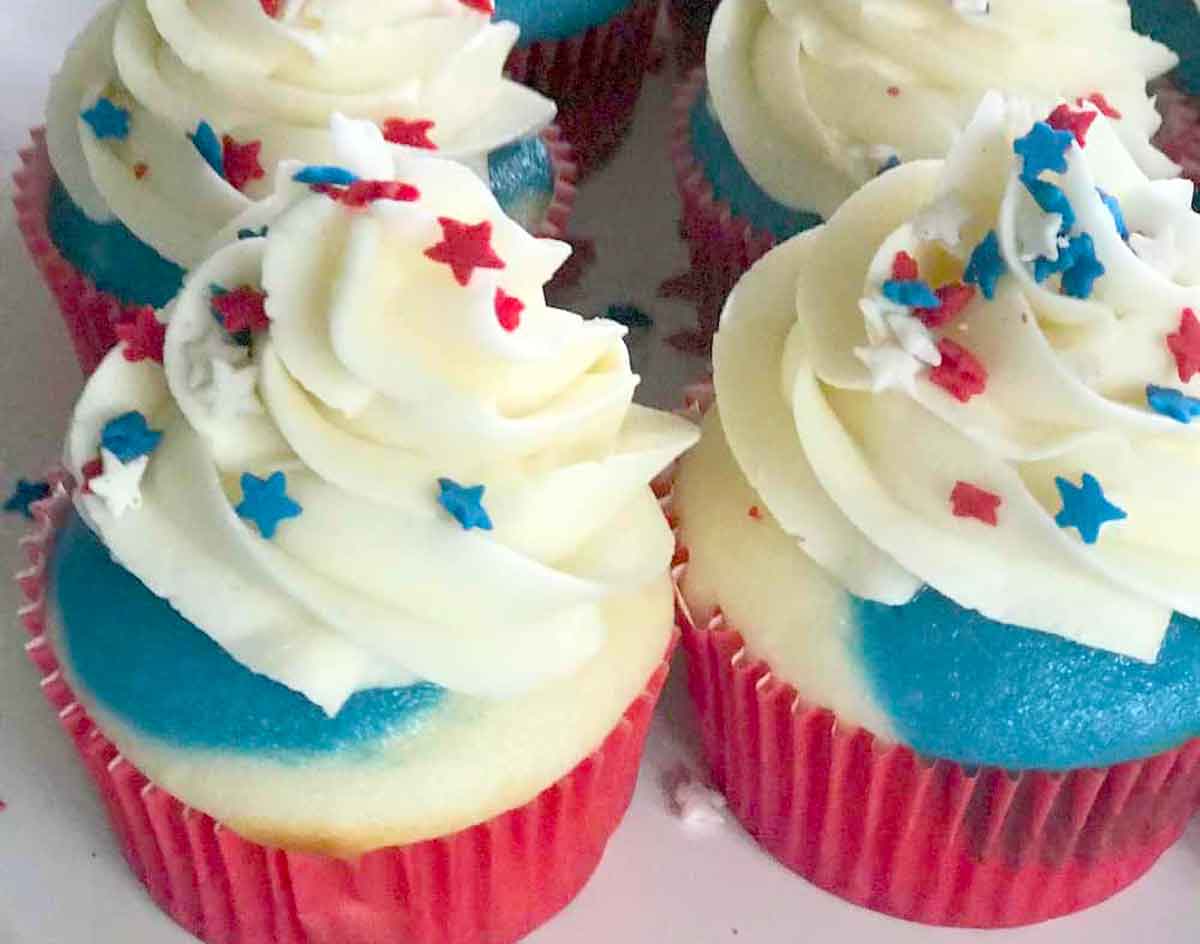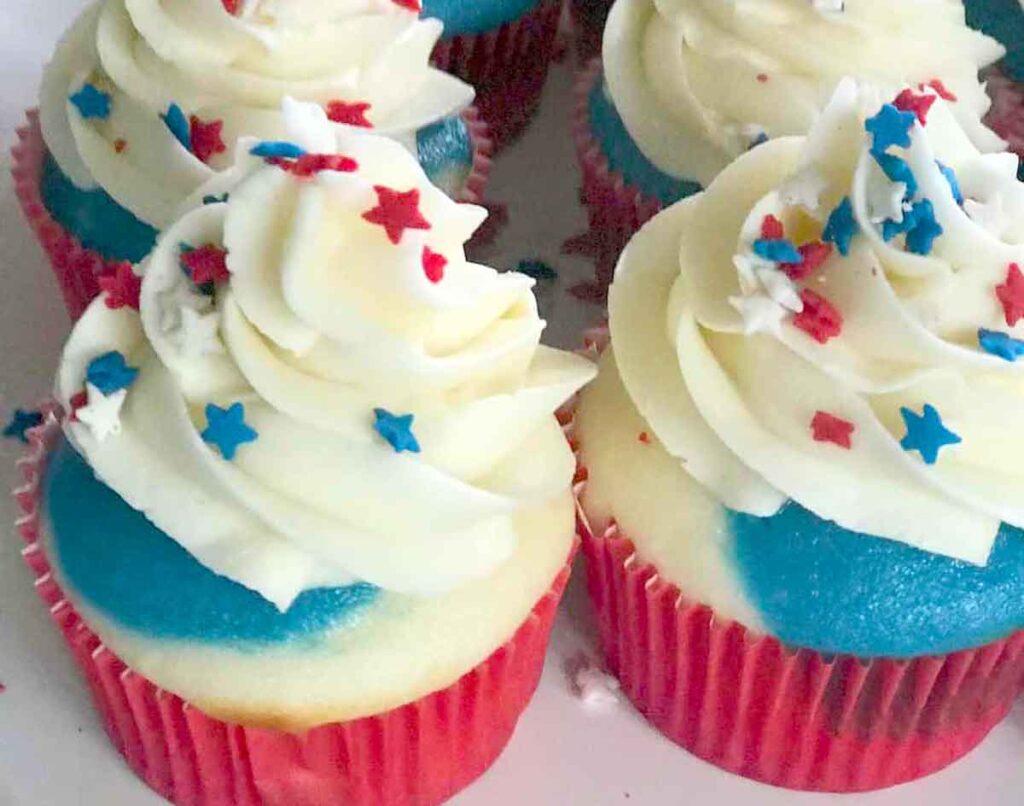 Saving You Dinero will show you how to make professional-looking 4th of July cupcakes in this blog post. The secret is homemade vanilla buttercream frosting.
---
Buttermilk Firecracker Cupcakes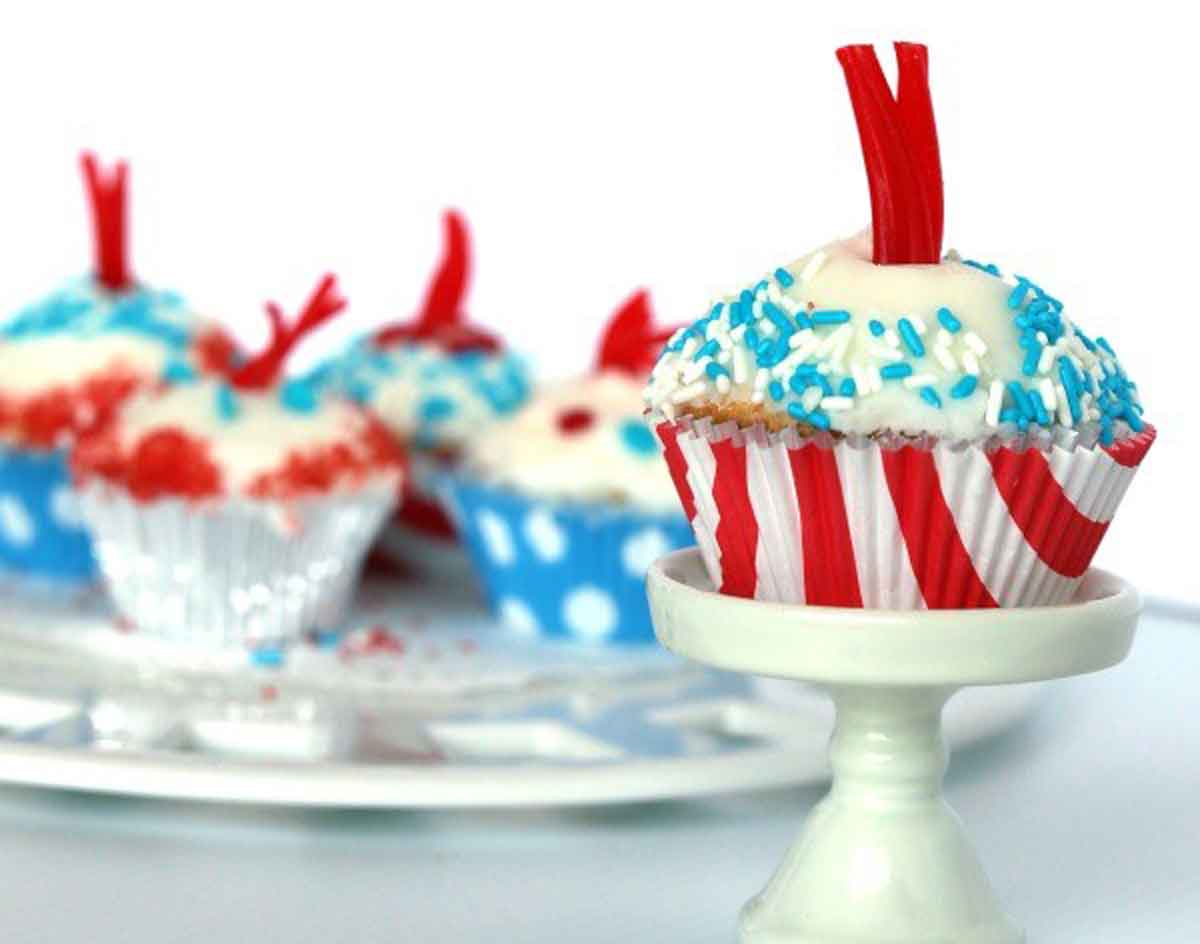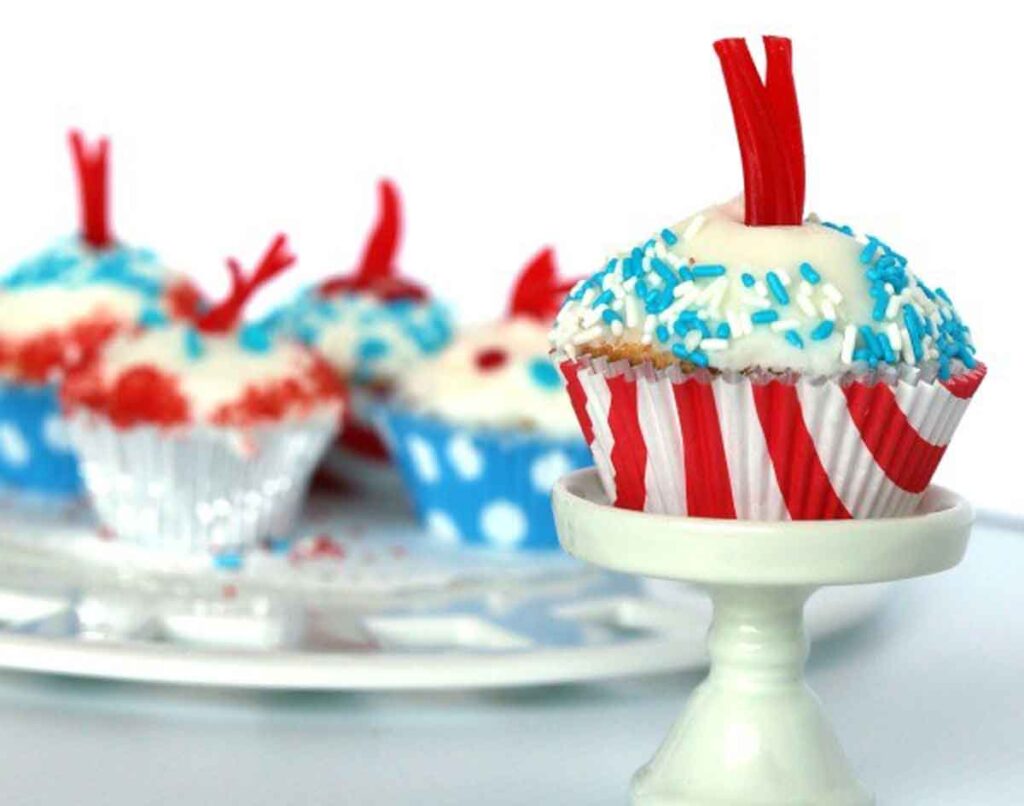 These adorable cupcakes are reminiscent of firecrackers (hence the name). While the design by Today's Creative Life looks patriotic, the flavor might be even more so with buttermilk! Why is that patriotic, you may ask? I'm not sure, it just is!
---
Patriotic Brownie Cupcakes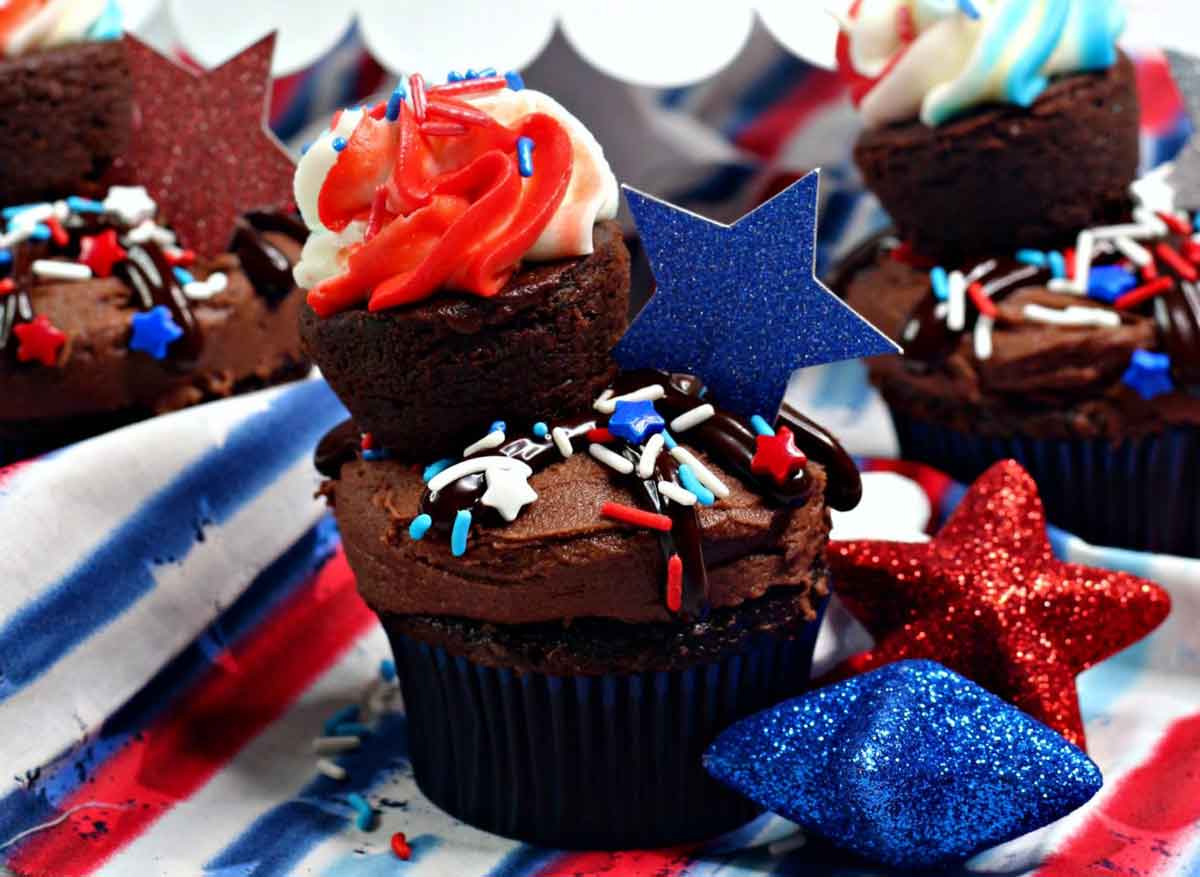 These brownie cupcakes are a feast for the senses! Persnickety Plates shows how to bake and dress up these rich cupcakes for your July celebration.
---
American Flag Cupcake Cake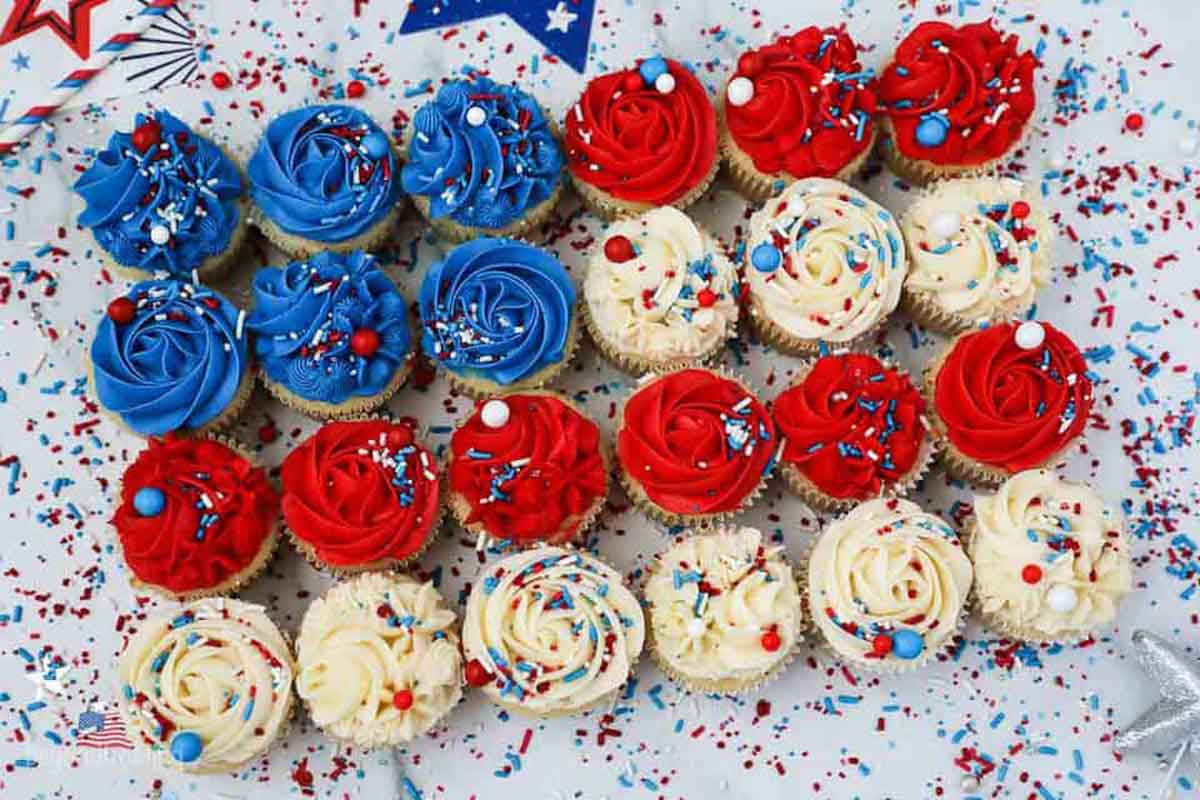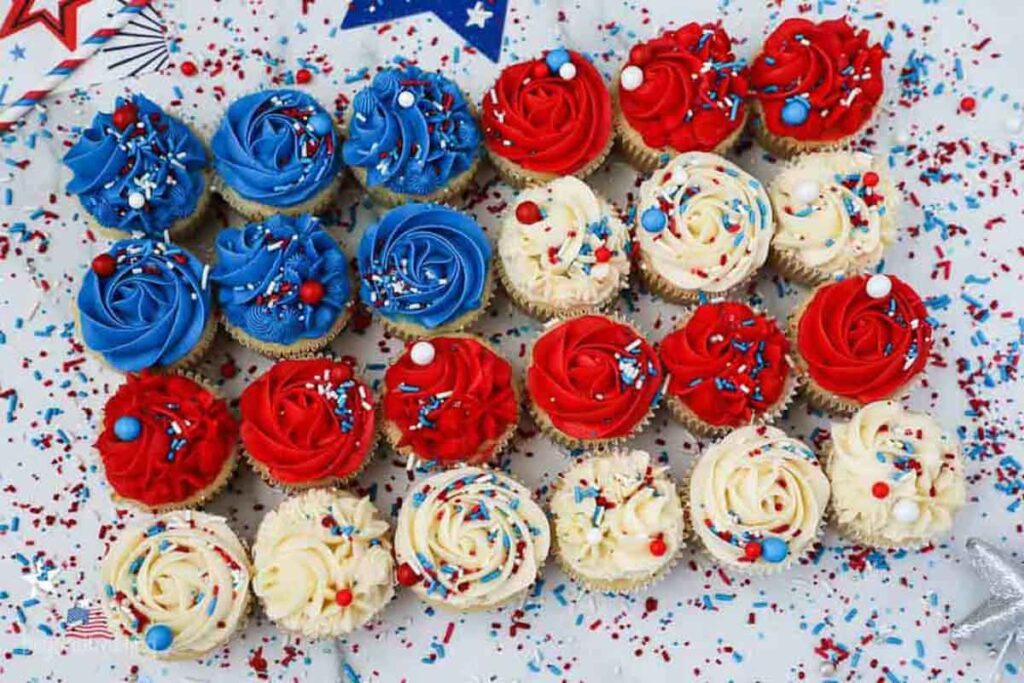 Beyond Frosting provides step-by-step instructions for creating this beautiful American flag cupcake cake. If you want to duplicate their fun piping technique, just follow along.
---
Red White and Blue Cake Roll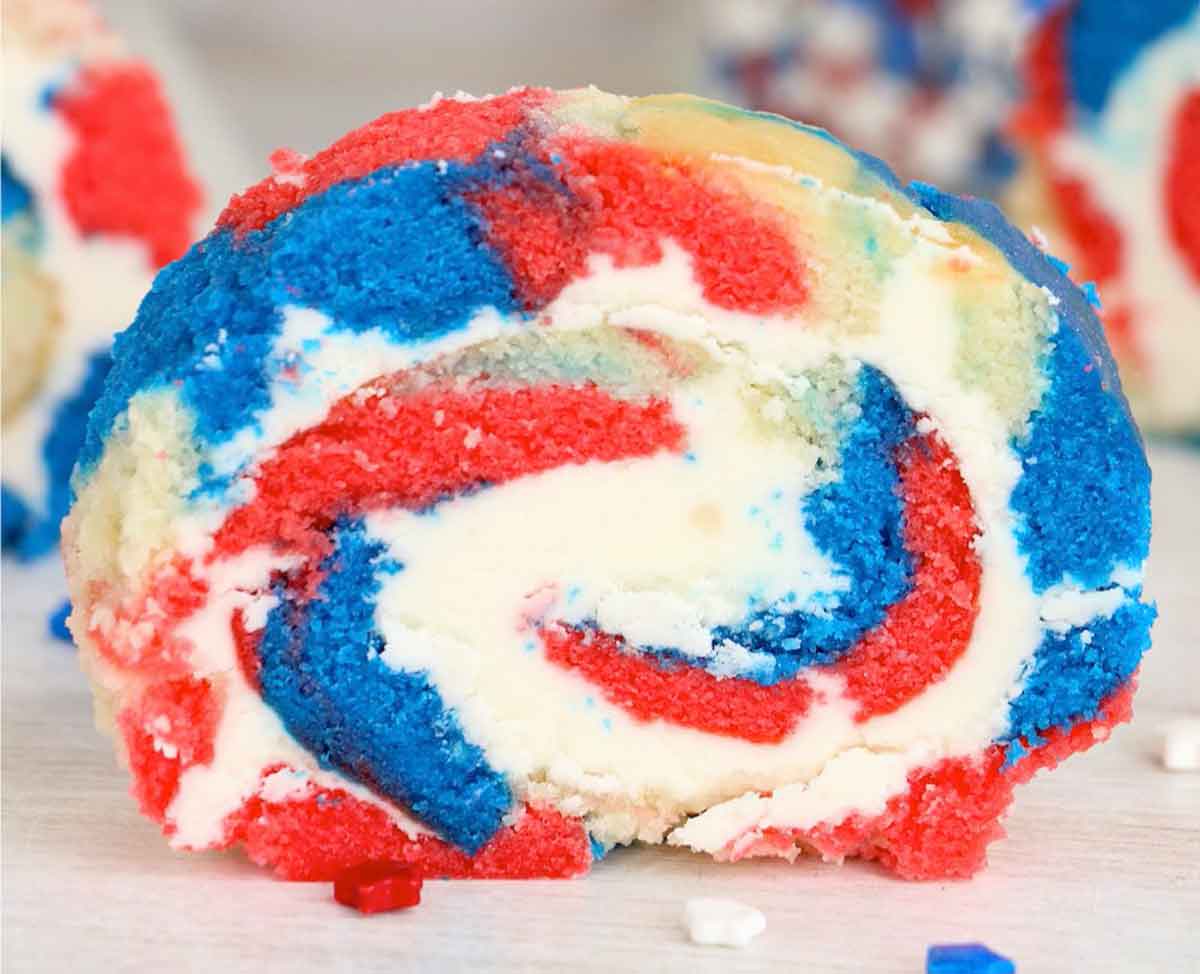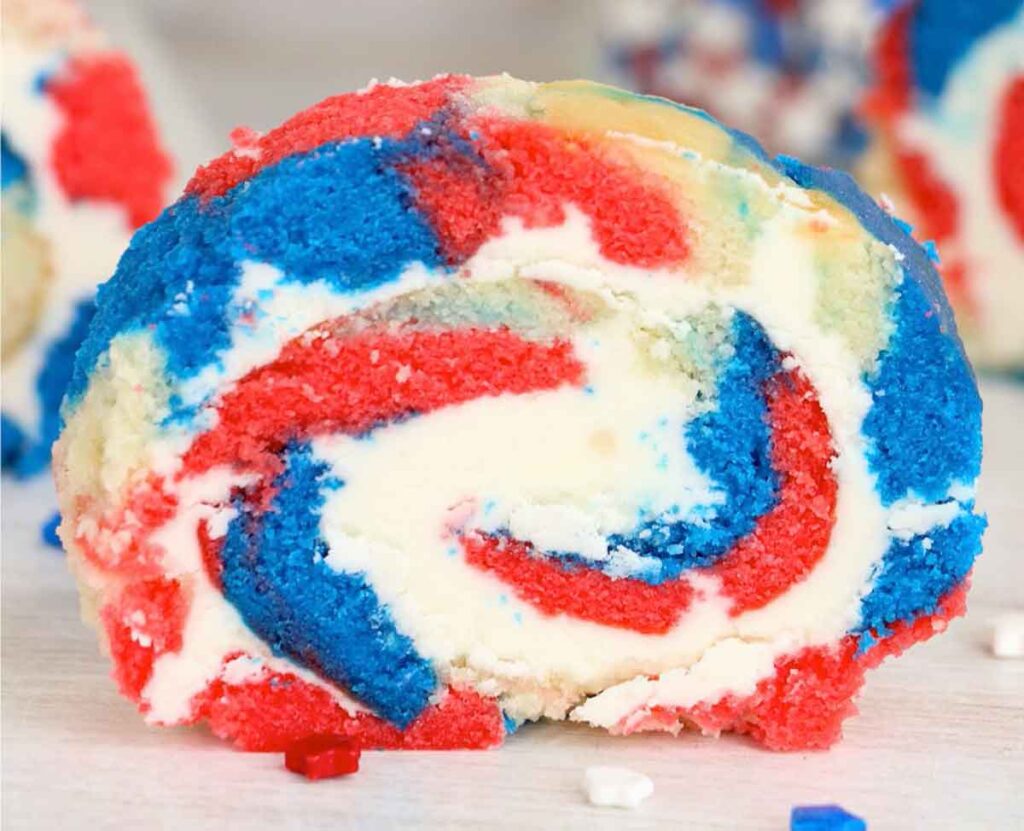 Cake rolls can be turned into delicious red, white, and blue showstoppers. This cake roll recipe by Bitz & Giggles is equally tasty and eye-catching.
---
Red White Blue Jell-O Poke Cake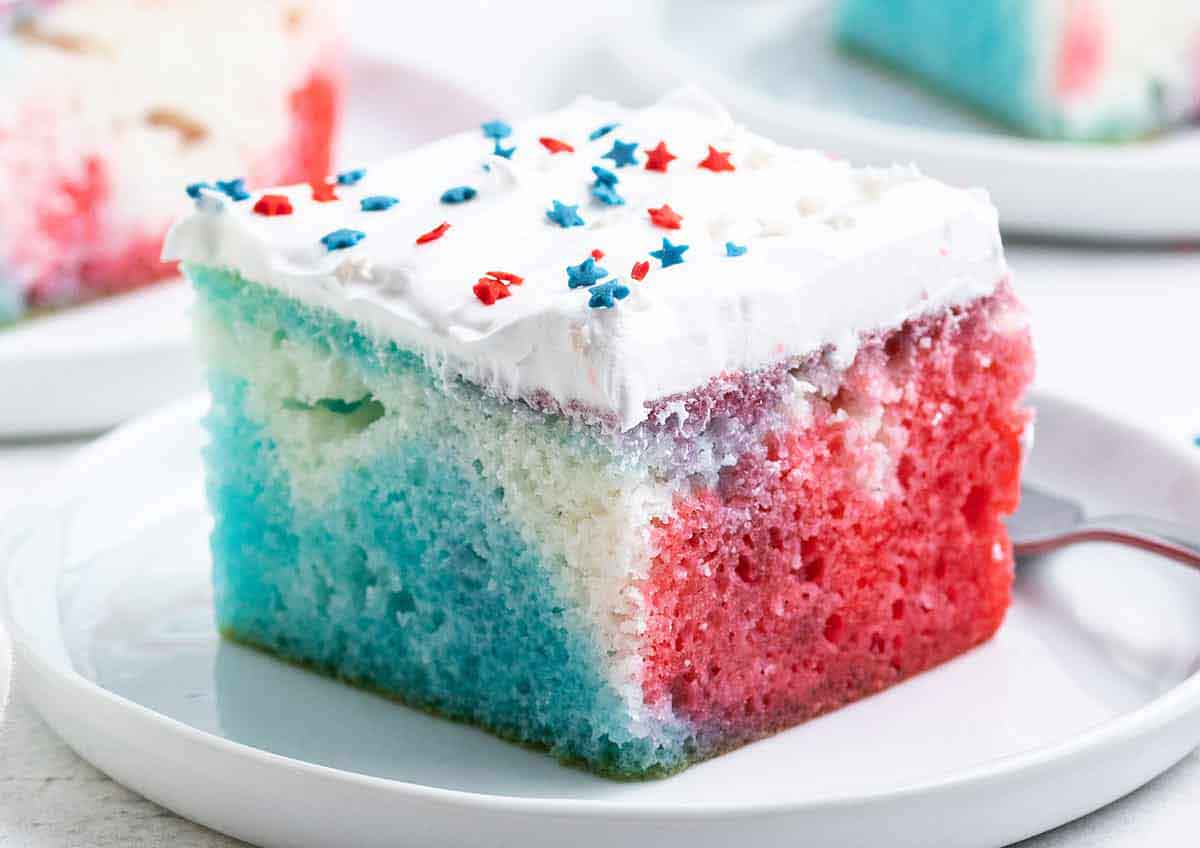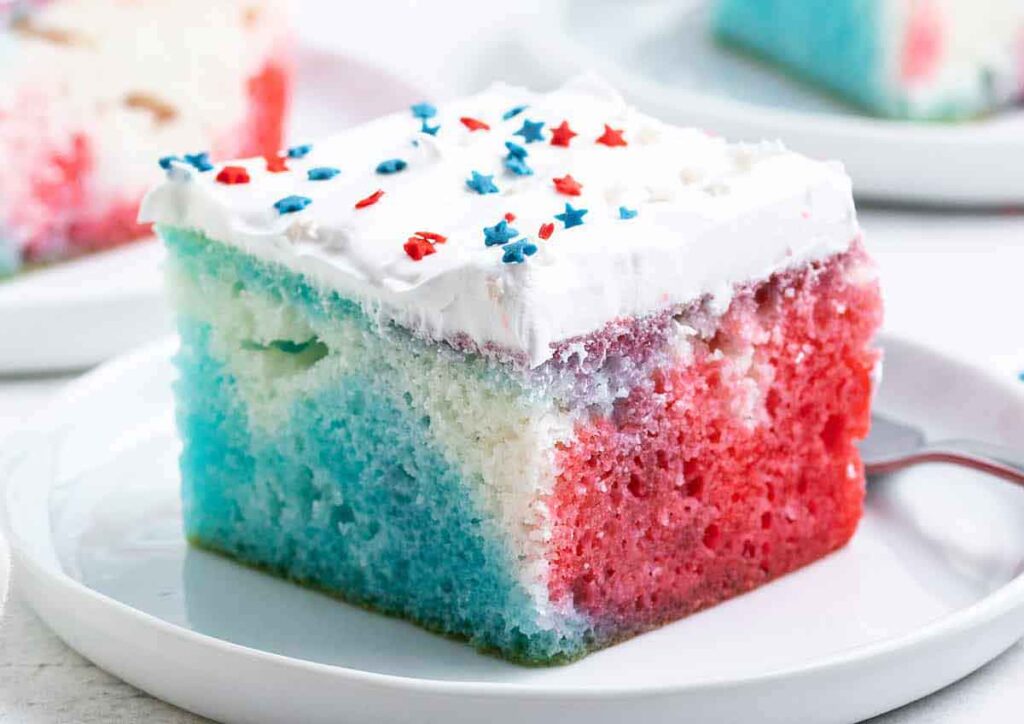 I love how vibrant the red and blue turn out in this red, white, and blue Jell-O poke cake by BellyFull. The only trick to this recipe is allotting enough time for each step. BellyFull recommends making it on July 3rd so it can sit in the fridge overnight.
---
Red White and Blue Cheesecake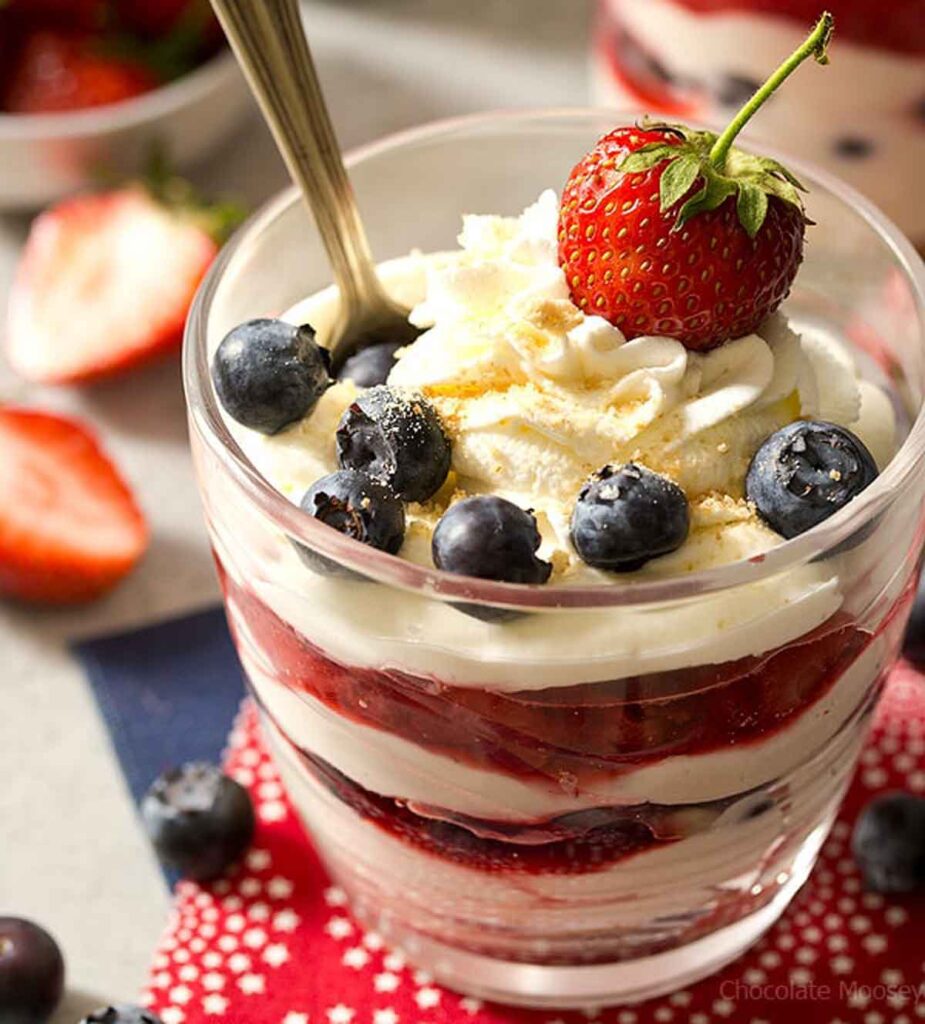 If you're looking for a sophisticated dessert idea with minimal effort, check out this red white and blue cheesecake recipe by Homemade in the Kitchen.
---
No Bake Mini Cheesecakes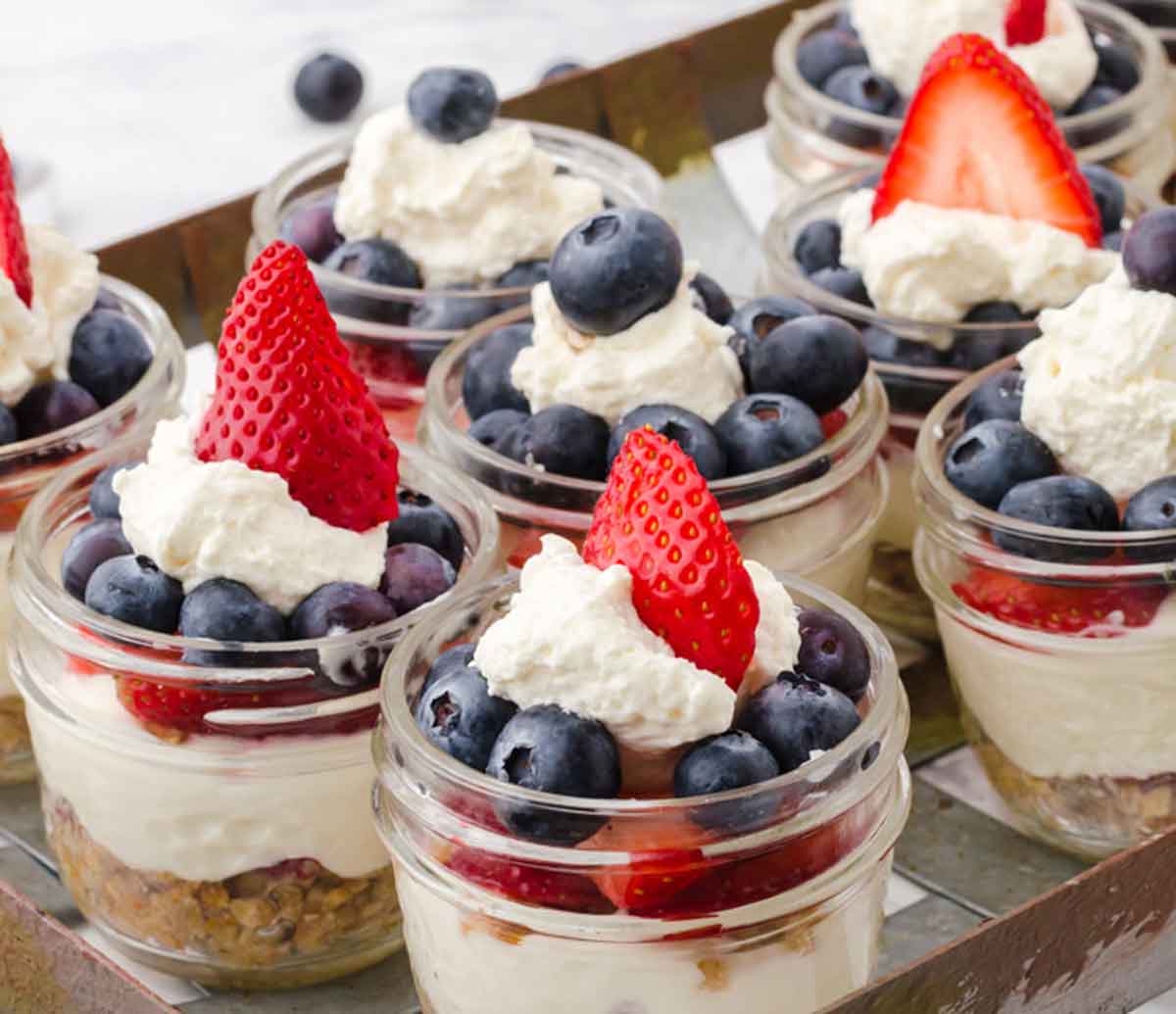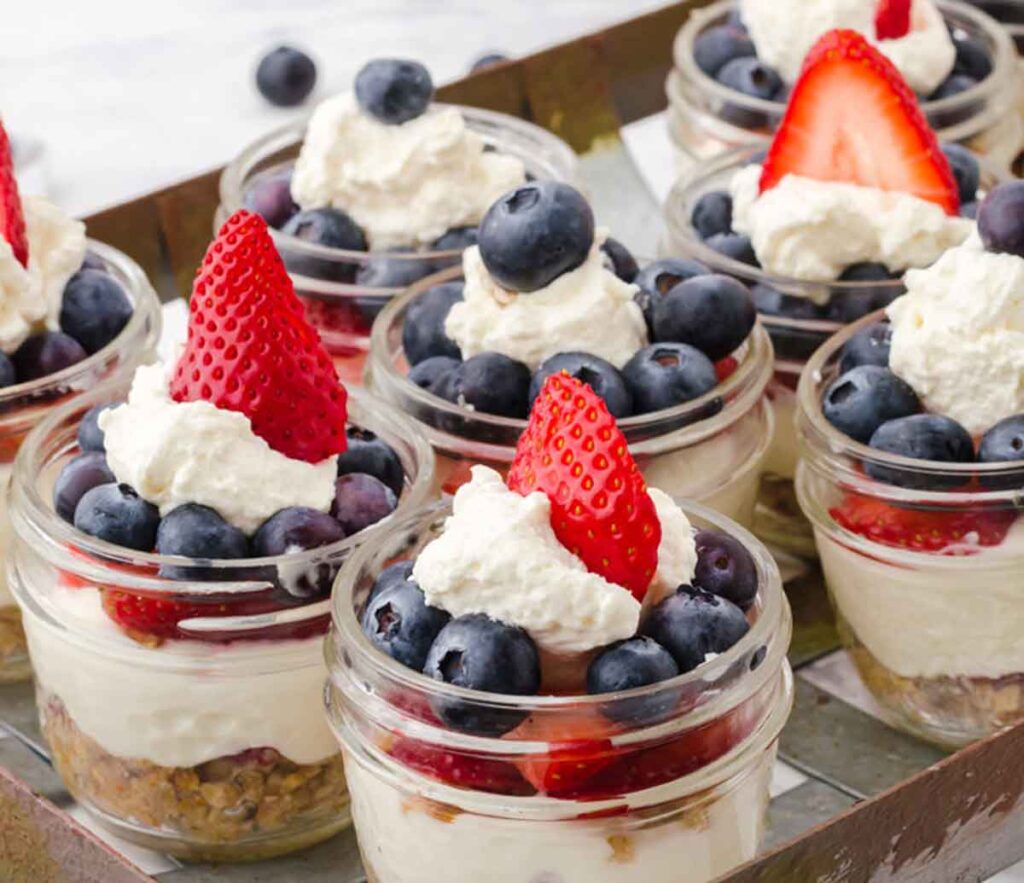 Pretzel crust, anyone? These individual mini cheesecakes by Simple and Seasonal will definitely be a highlight of your 4th of July party.
---
Easiest Ever Patriotic Red, White & Blue Cake Recipe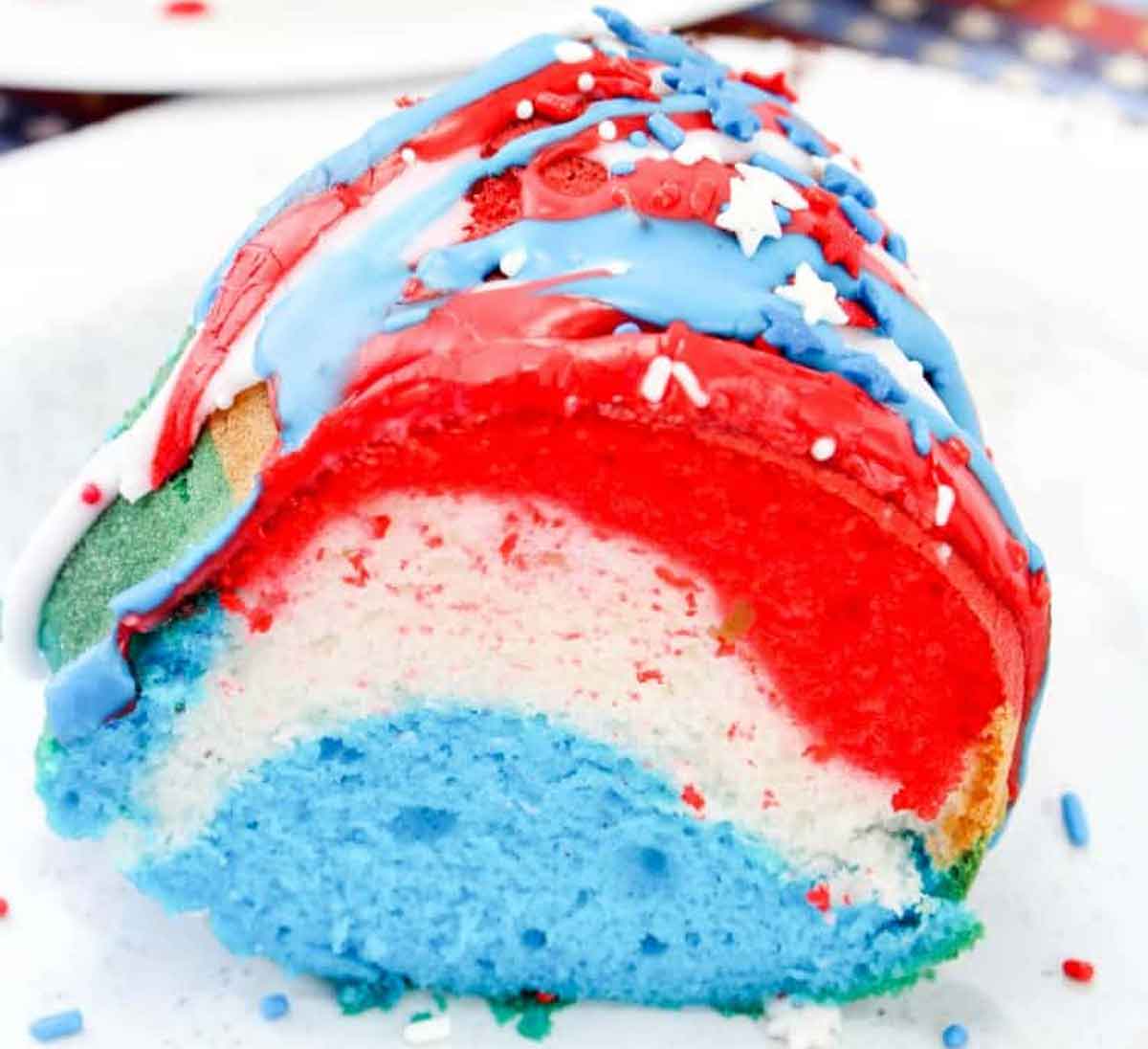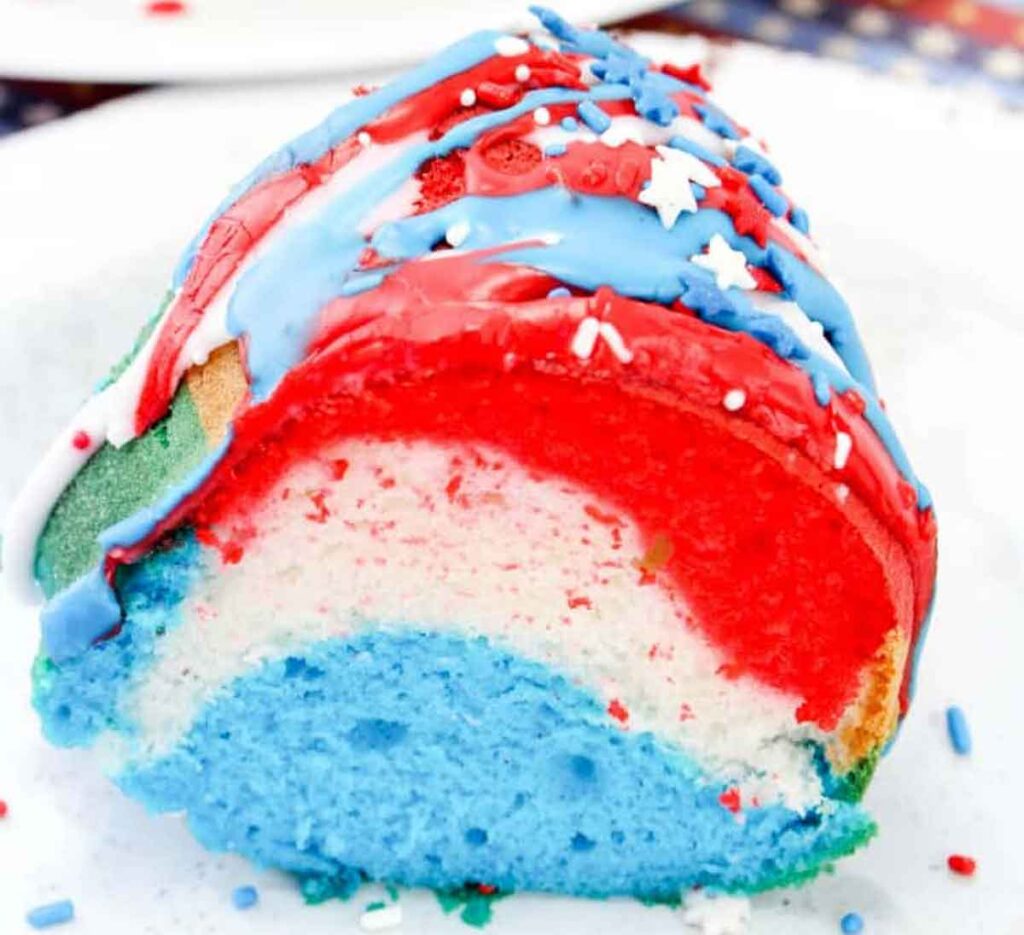 This patriotic bundt cake looks complicated but it's so easy to make. Conservamom shares the scoop on this fun firecracker cake.
---
Patriotic Ice Cream & Popsicles
Homemade Ice Cream Sandwiches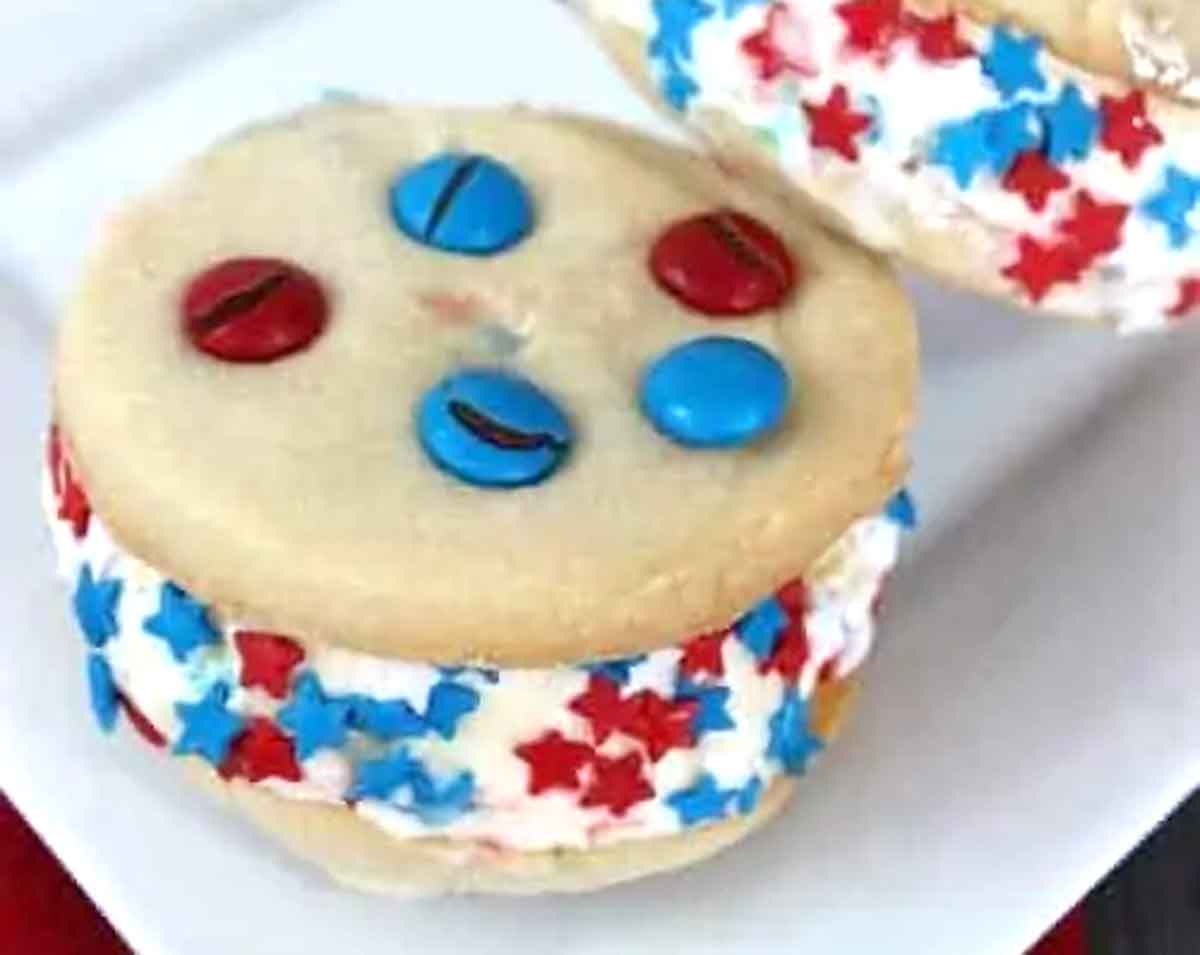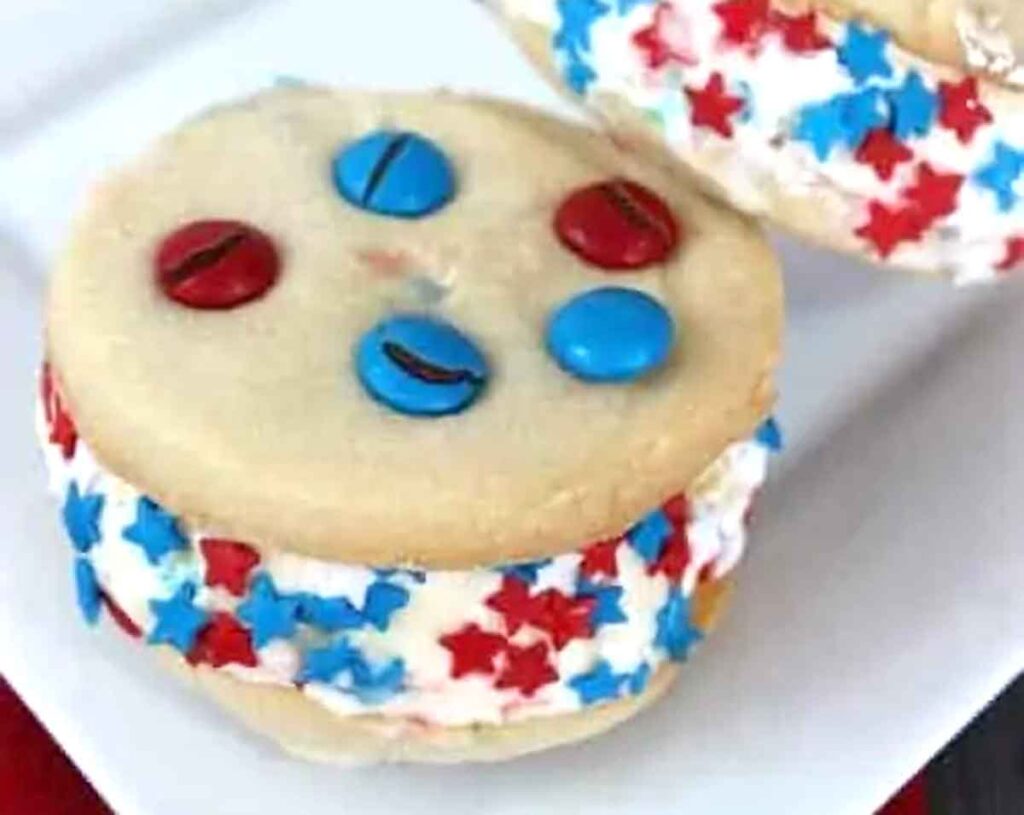 Homemade ice cream sandwiches are already a great thing. But this recipe by Saving Dollars & Sense turns them into an Independence Day treat that is guaranteed to please.
---
July 4th Patriotic Popsicles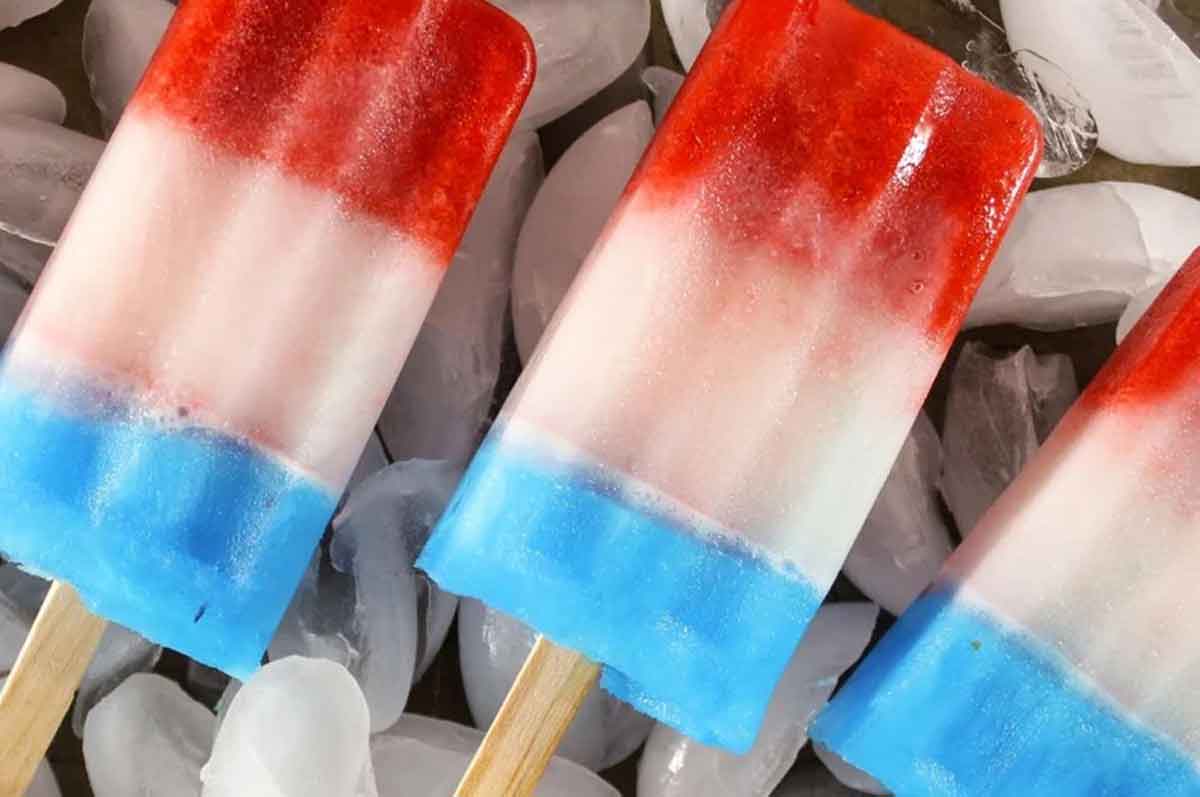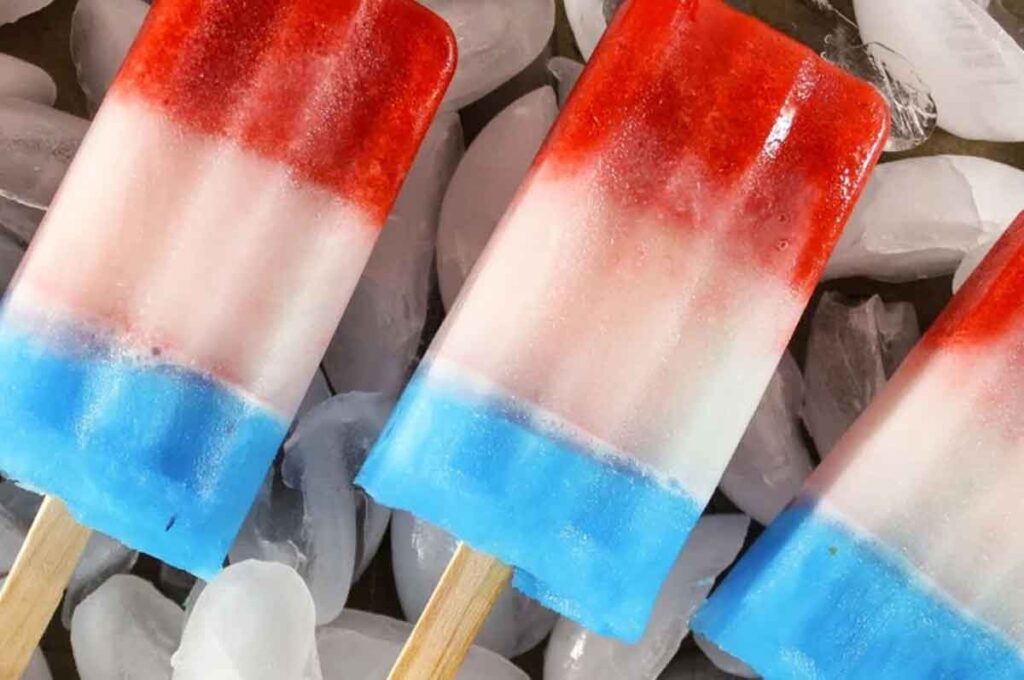 Rocket pops already come in a red, white, and blue color scheme. This recipe by Little Haloj shows you how to make rocket popsicles at home, ready for the fireworks show.
---
No Bake Berry Ice Box Cake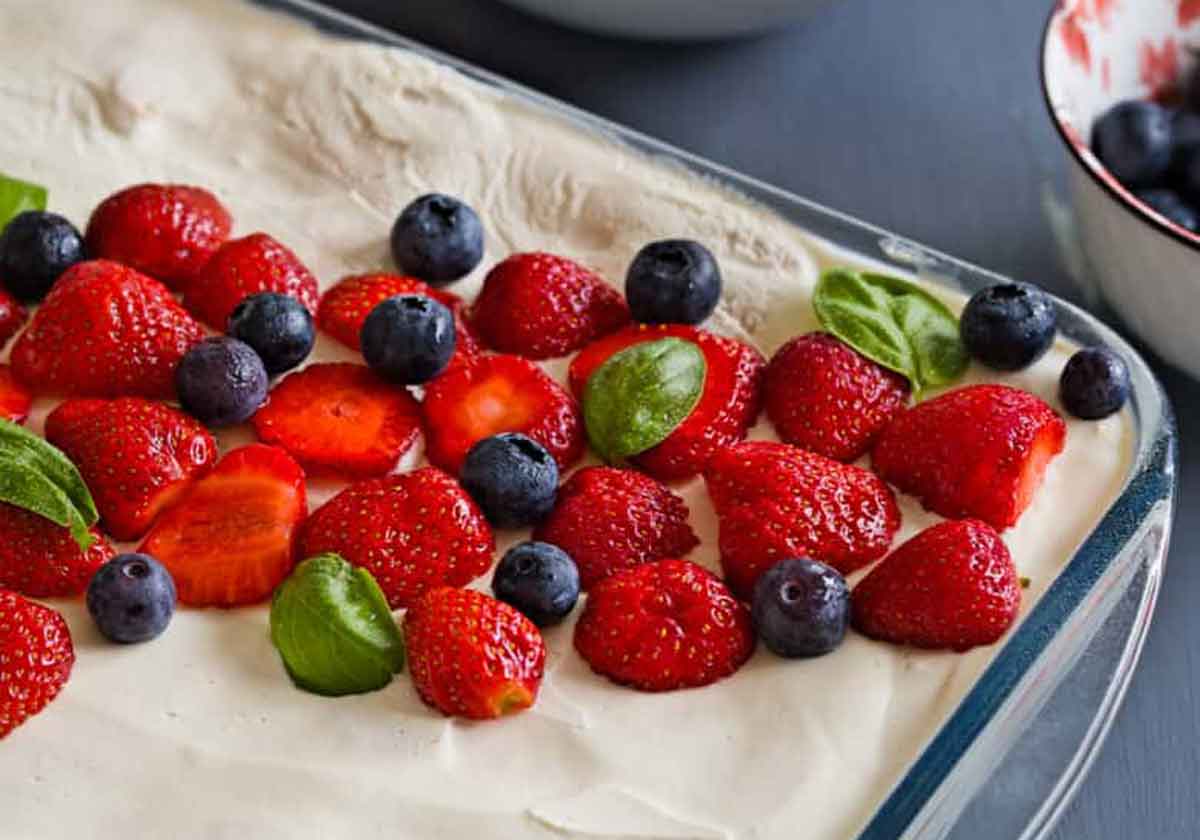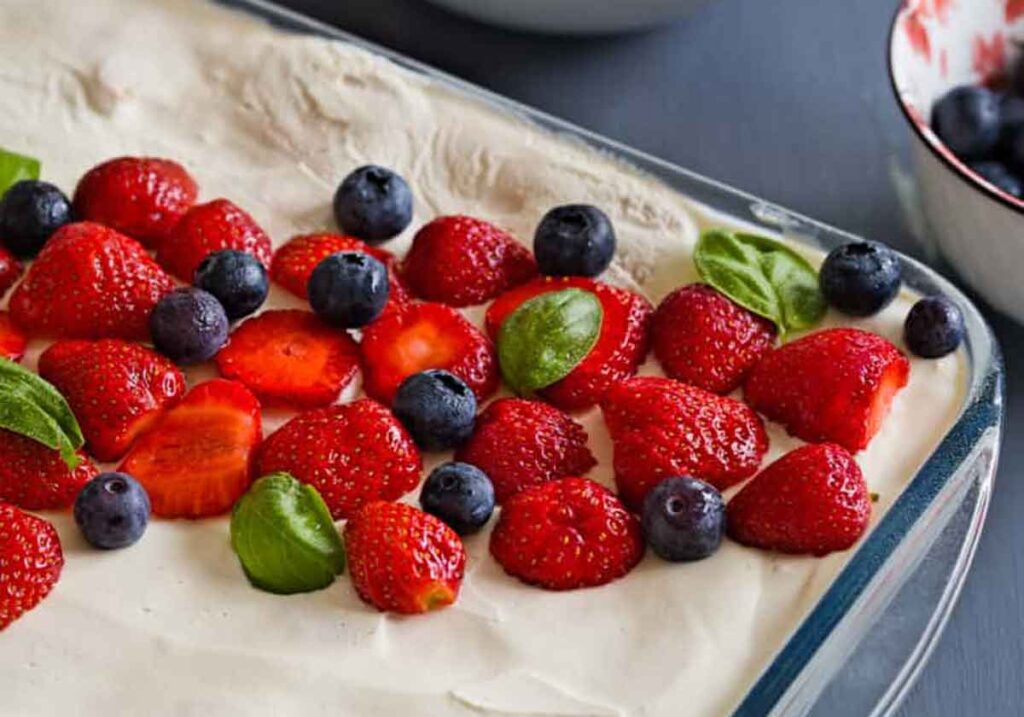 This no-bake berry icebox cake by Dani's Cookings is made with Greek yogurt and maple syrup instead of added sugar so you don't have to feel guilty about indulging!
---
Vanilla Ice Cream Pie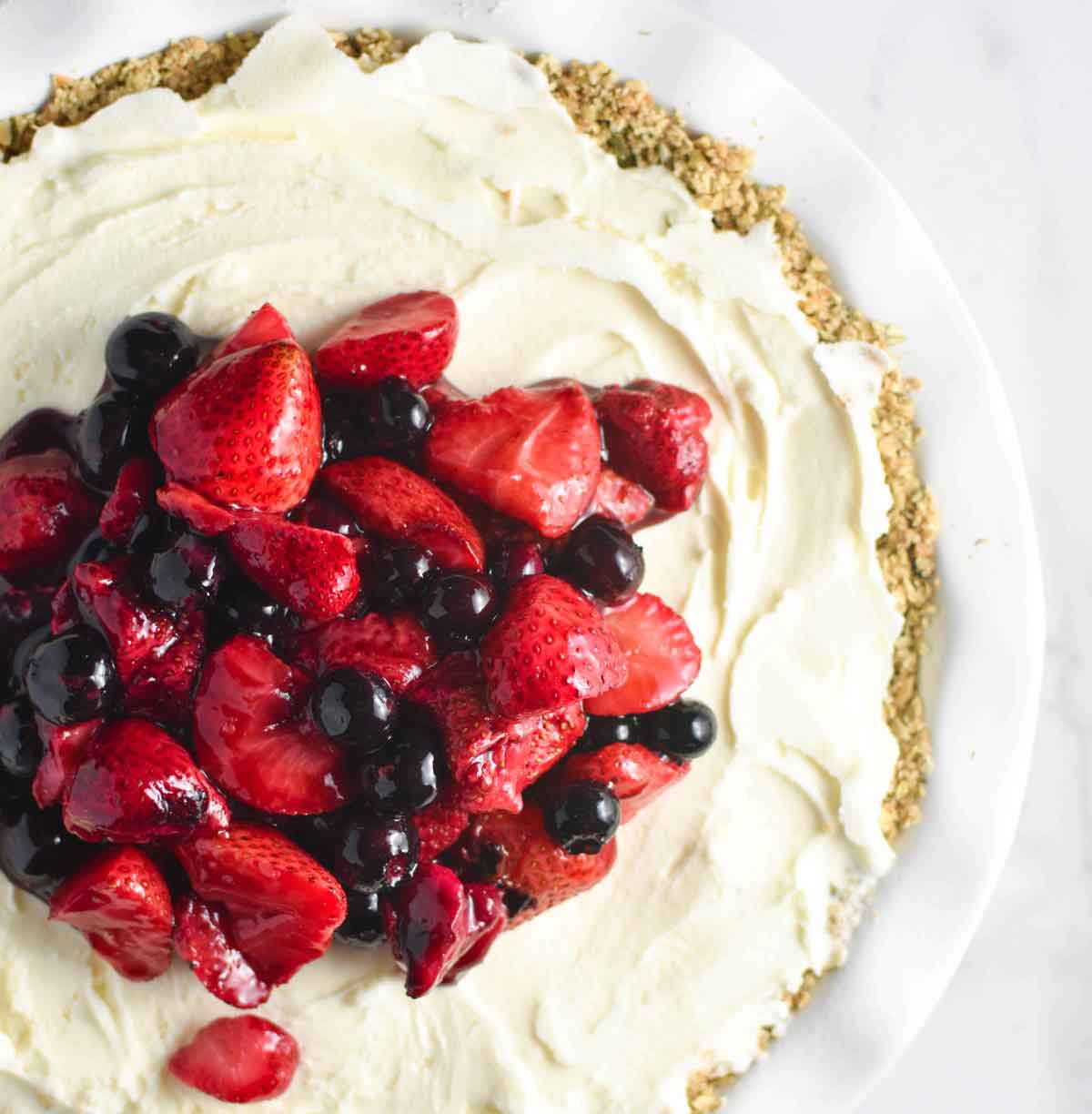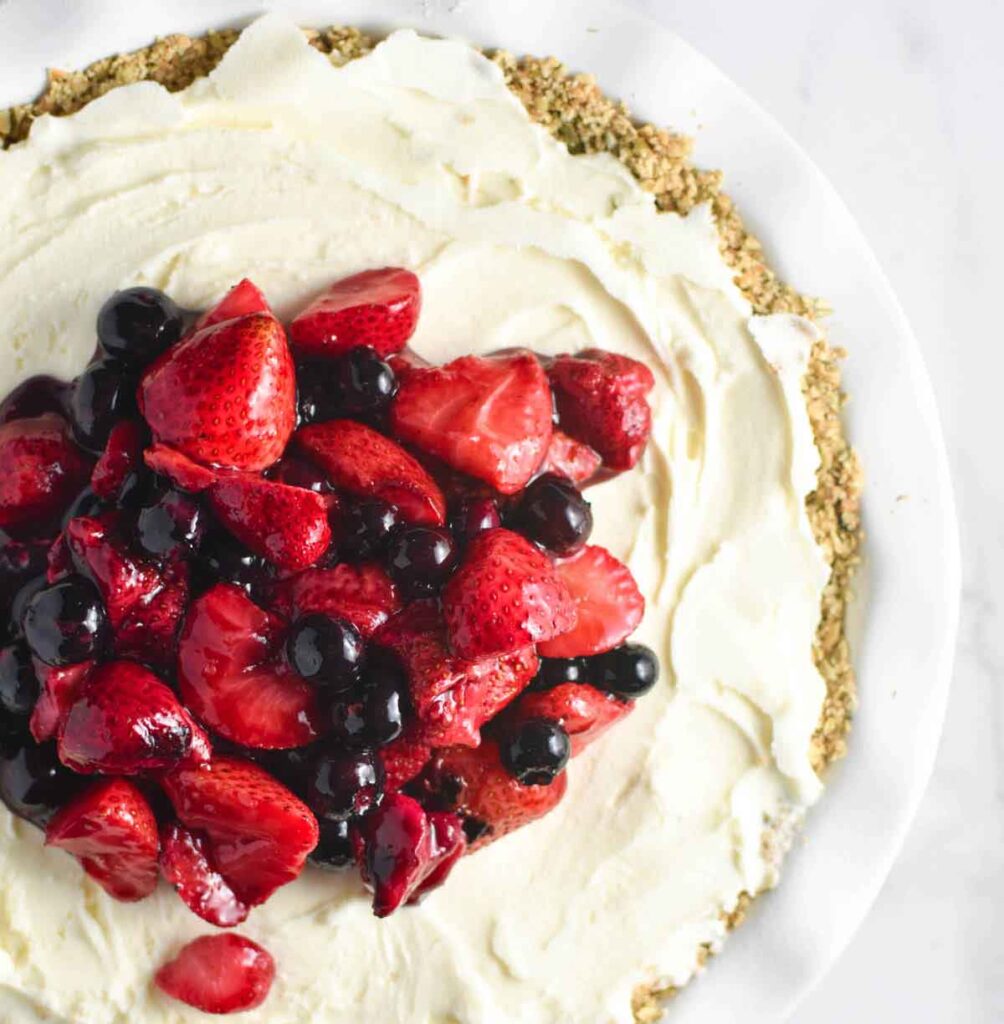 Ice cream pie needs time to set but it's probably one of the easiest recipes to throw together! The Dizzy Cook uses vanilla ice cream for the filling, but you can use any flavor you want! Cookies and cream, anyone?
---
Red White and Blue No Churn Ice Cream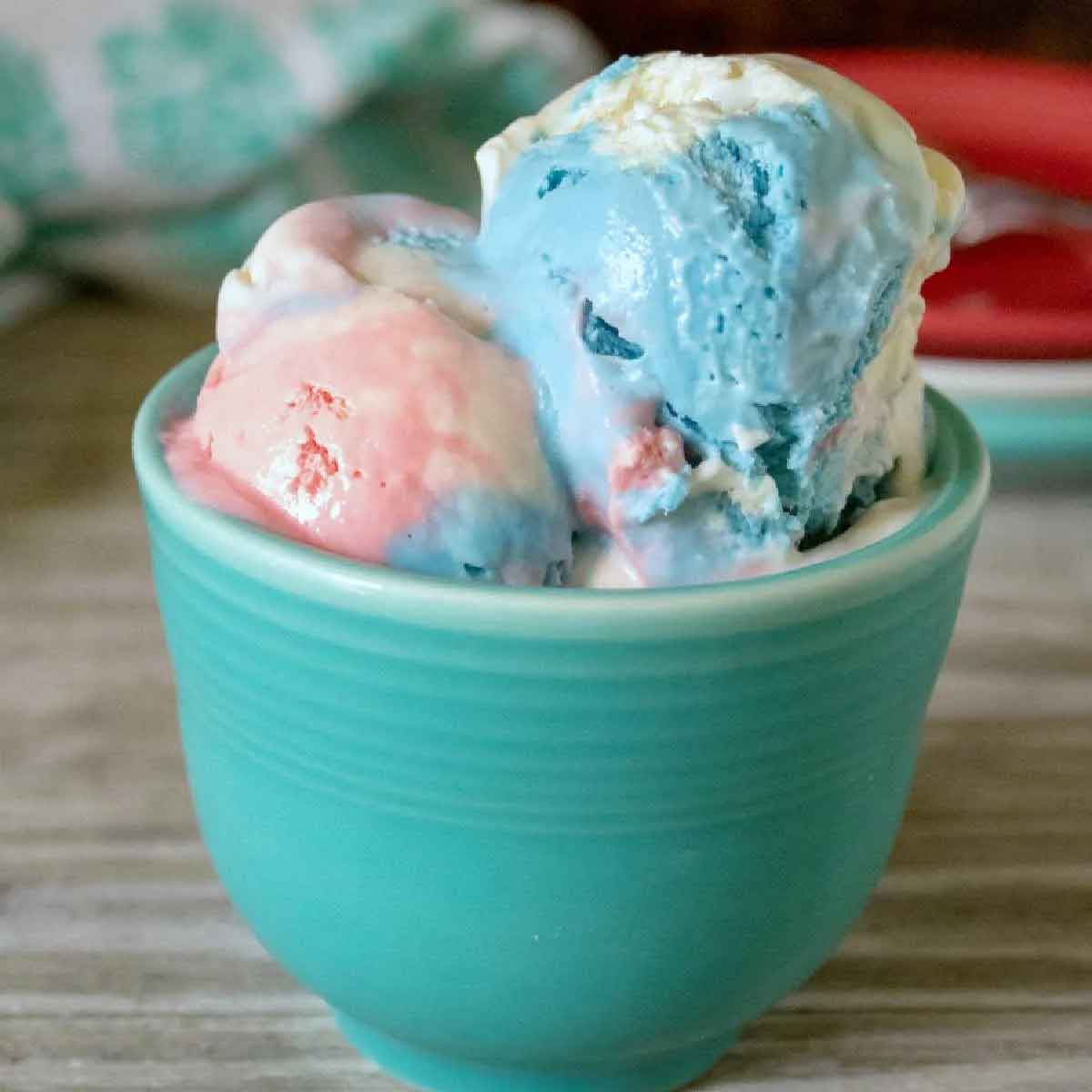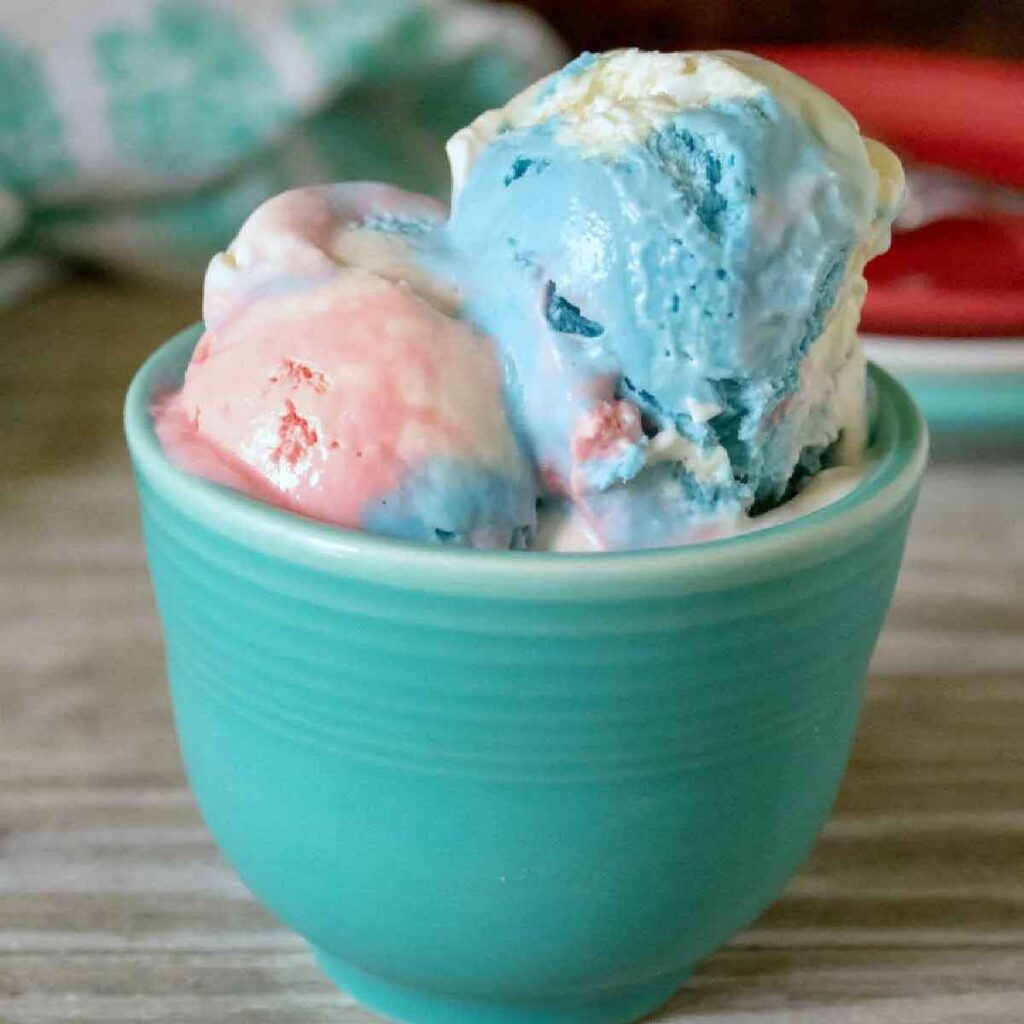 This ice cream from Cooking with Carlee is no churn so you can make it without an ice cream maker. Impress friends and family with delicious red, white, and blue ice cream this 4th of July or just for a summer barbecue.
---
Blue Magic Shell Recipe for the Fourth of July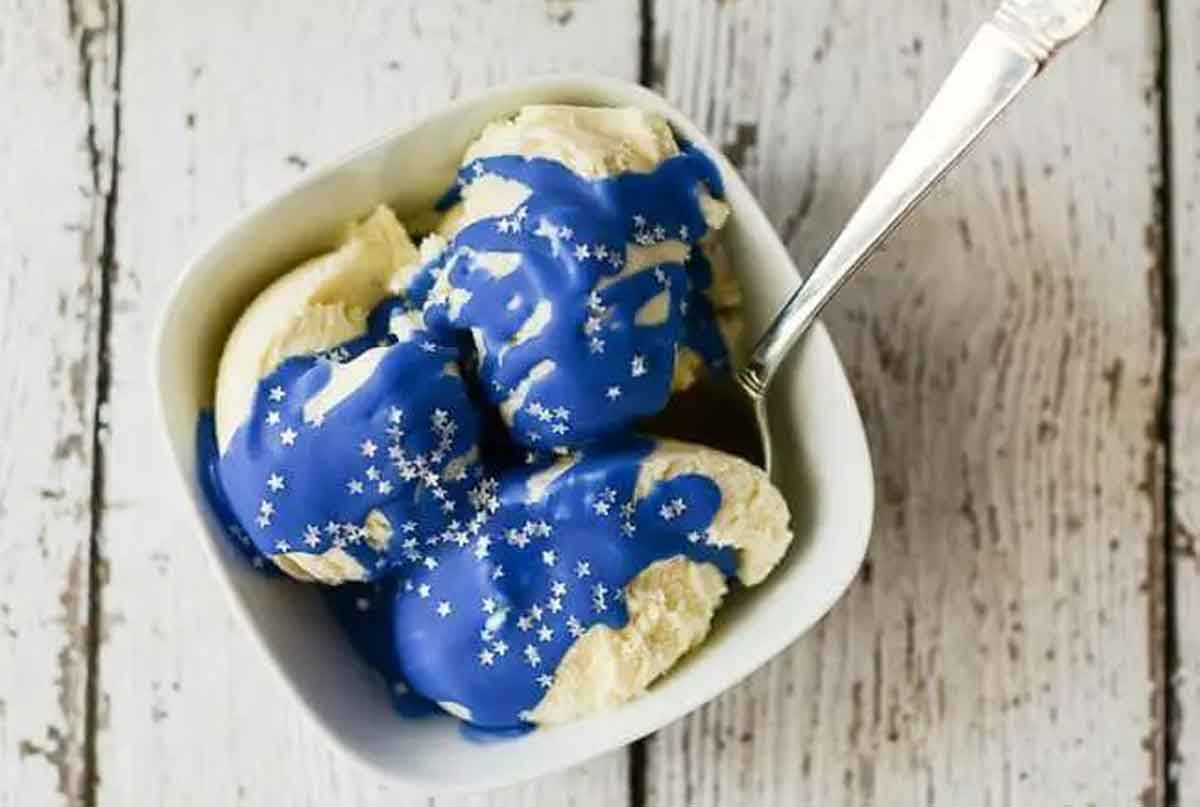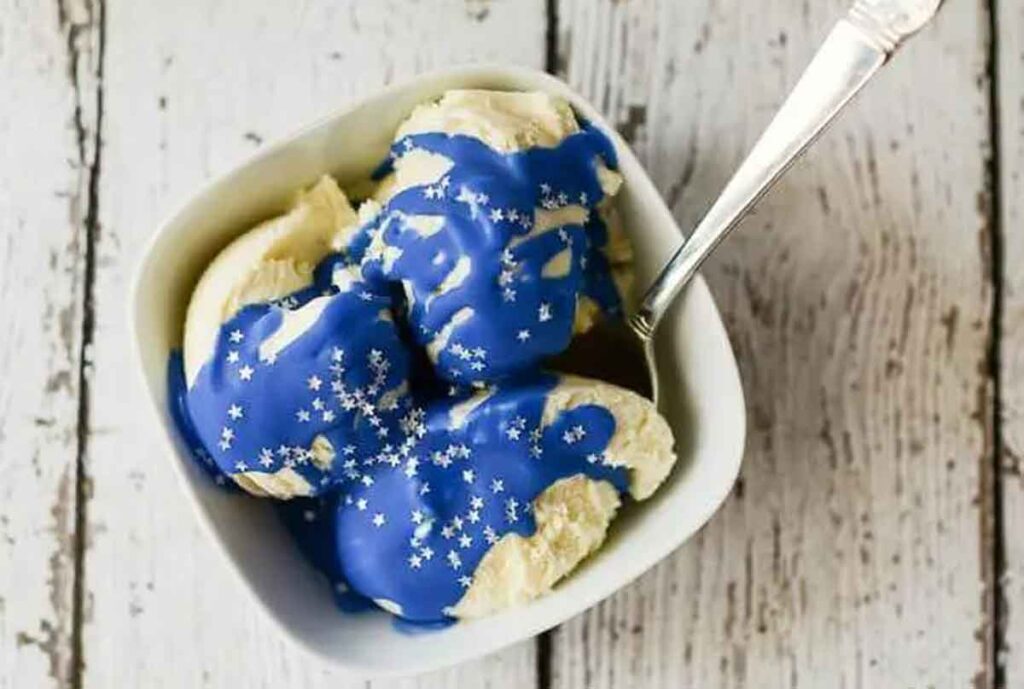 Tikkido offers a fun recipe for a homemade blue magic shell. They use blue candy melts. You could easily make an additional batch with red candy melts.
---
Healthy Options (sort of)
Vegan Frozen Yogurt Bark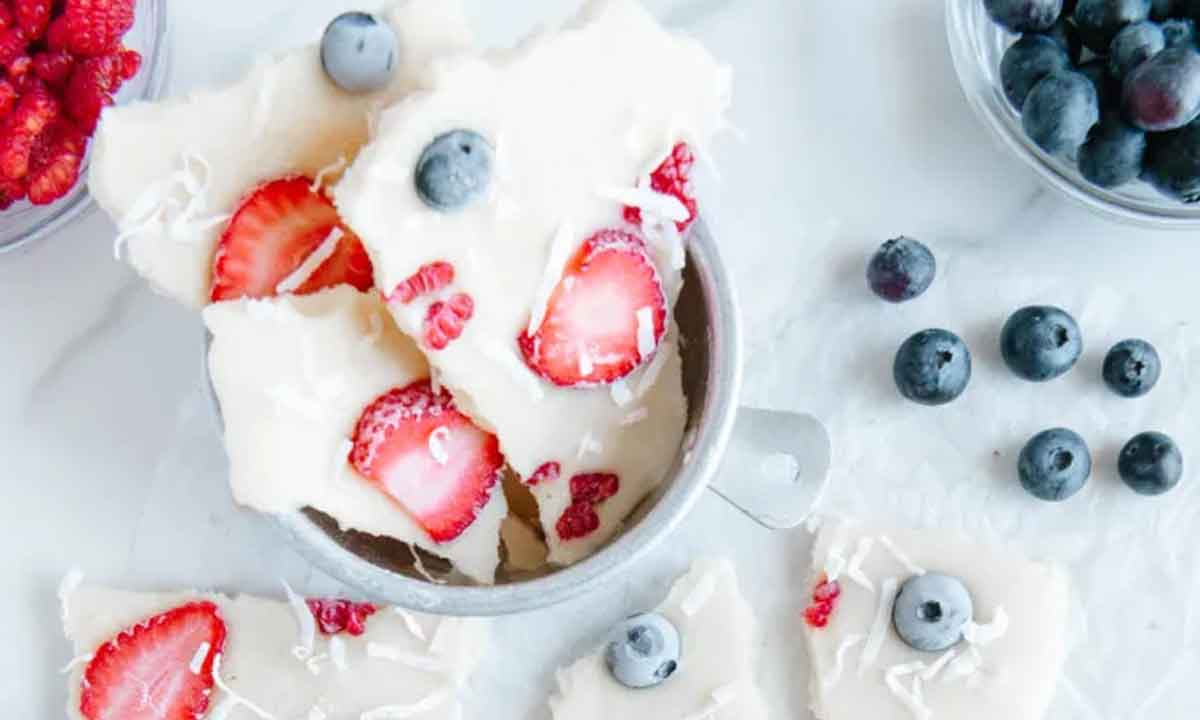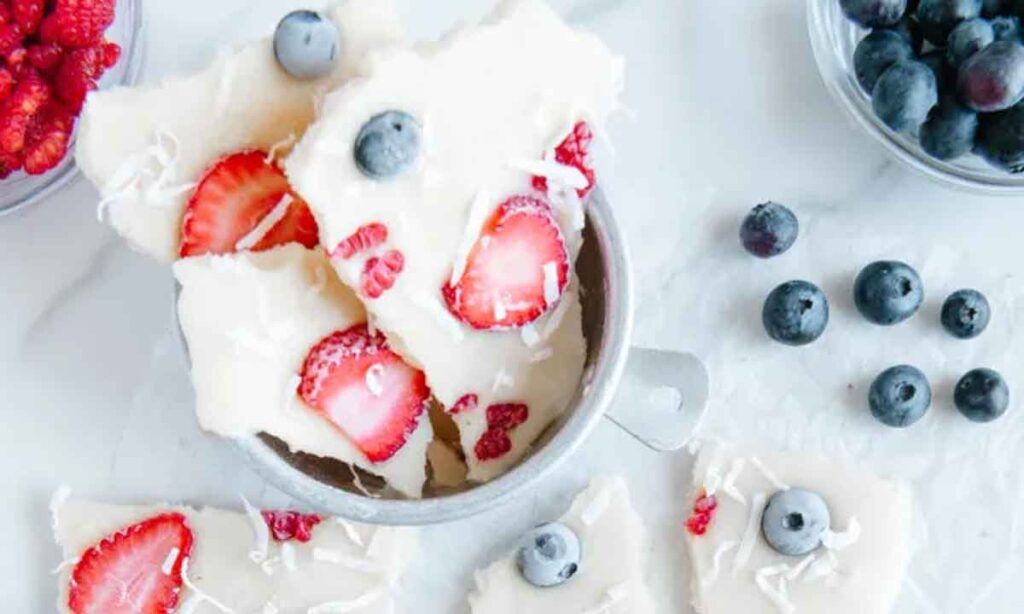 This refreshing treat from Best Served Vegan will help guests cool down while they snack, which is perfect for July. The frozen yogurt combines perfectly with fruit and coconut for tasty vegan yogurt bark.
---
No Bake Red, White, and Blue "Flag" Cookies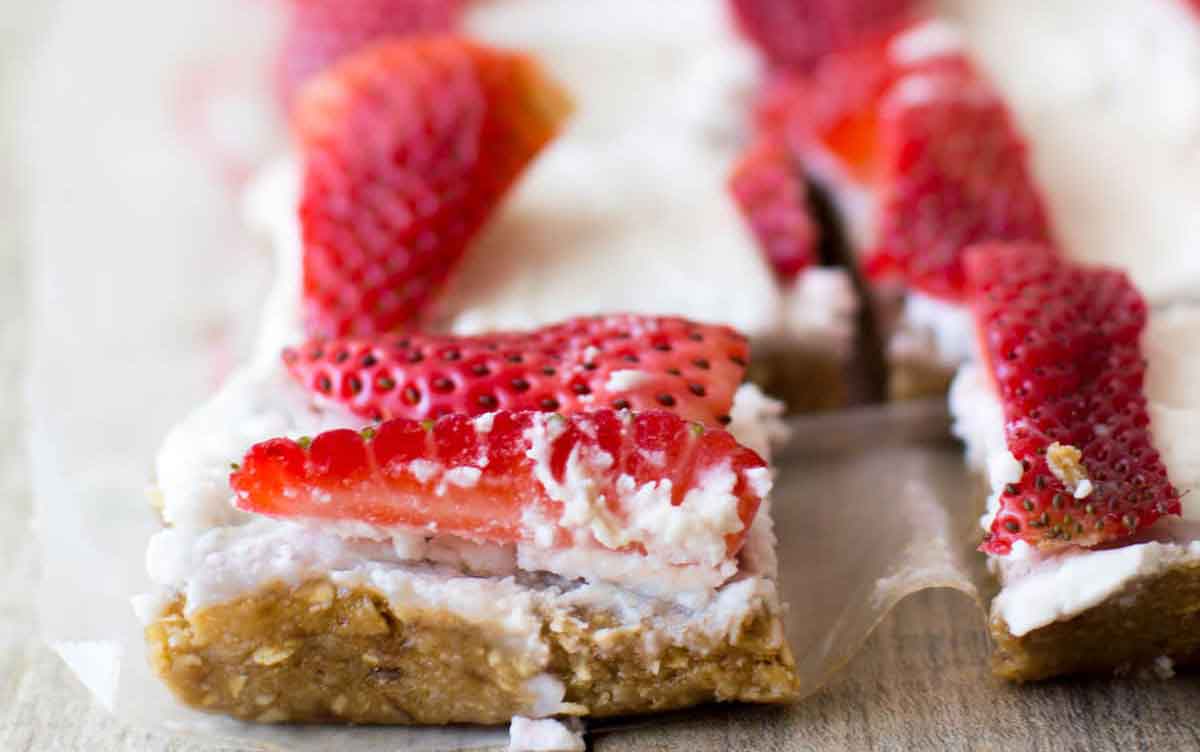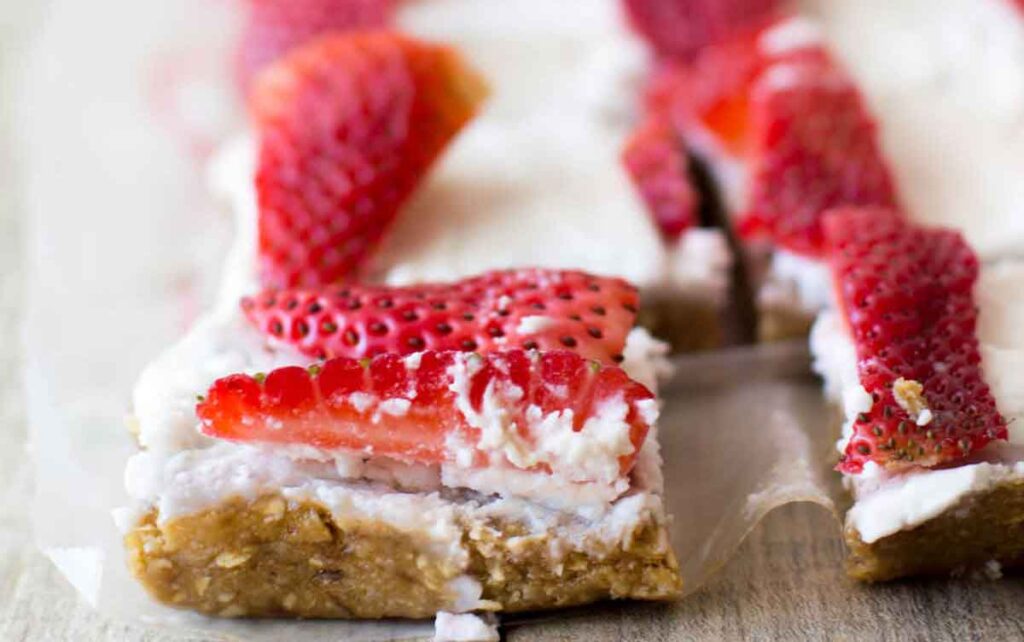 These cookies from Hungry Hobby will not leave you with the usual brain fog that comes from many desserts. Packed with dates, sunflower seed butter, and other natural ingredients, these no bake red, white, and blue "flag" cookies are practically healthy.
---
Triple Coconut Tart with Fresh Berries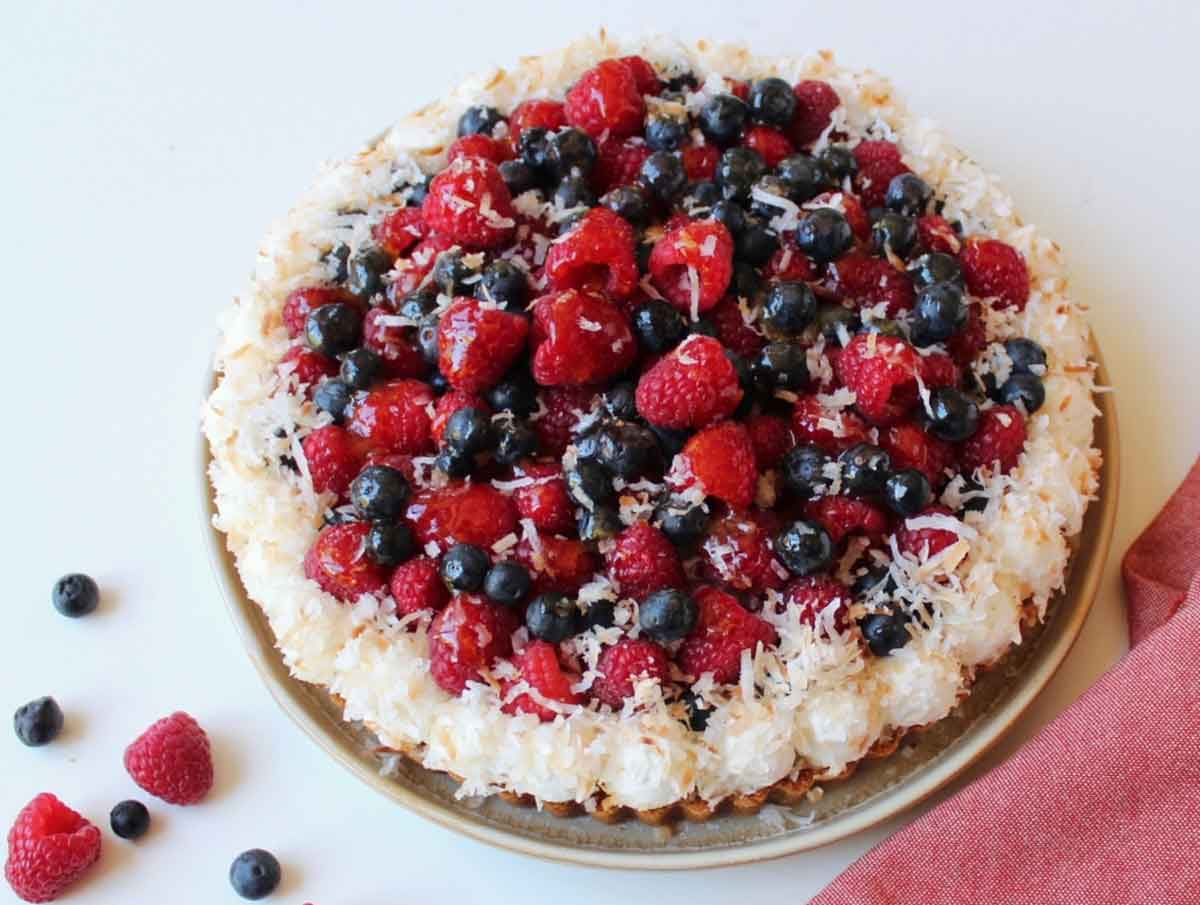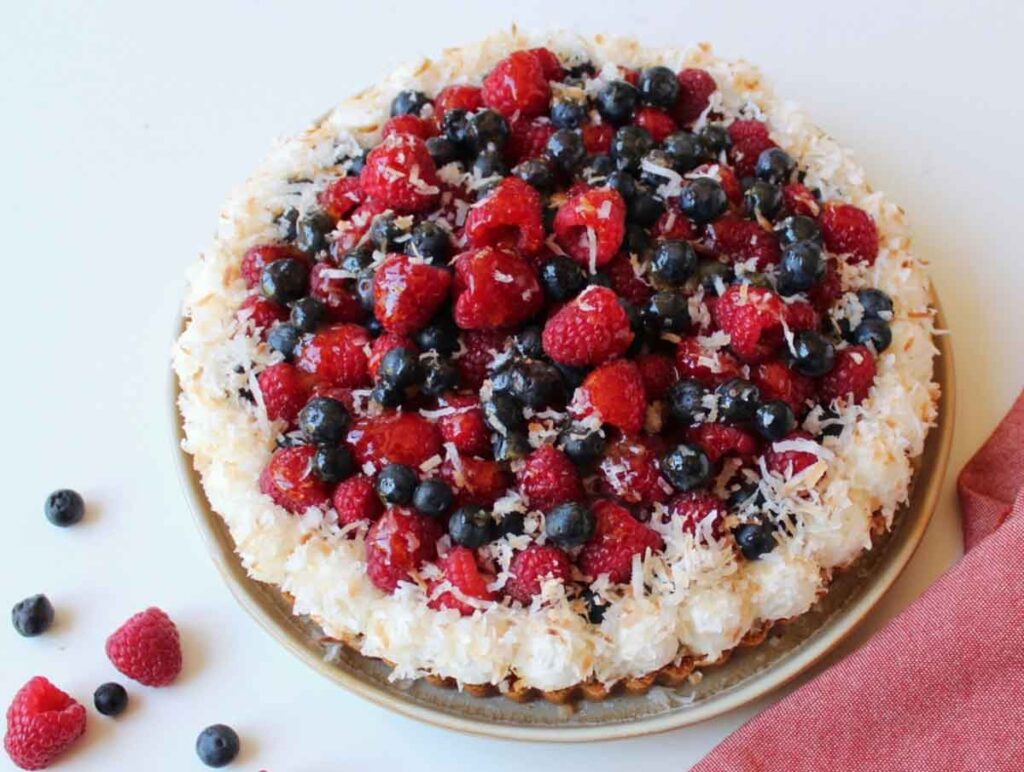 Coconut lovers rejoice! This triple coconut tart with berries from Two-Bit Tart uses coconut in three different ways.
---
Sugar Cookie Fruit Pizza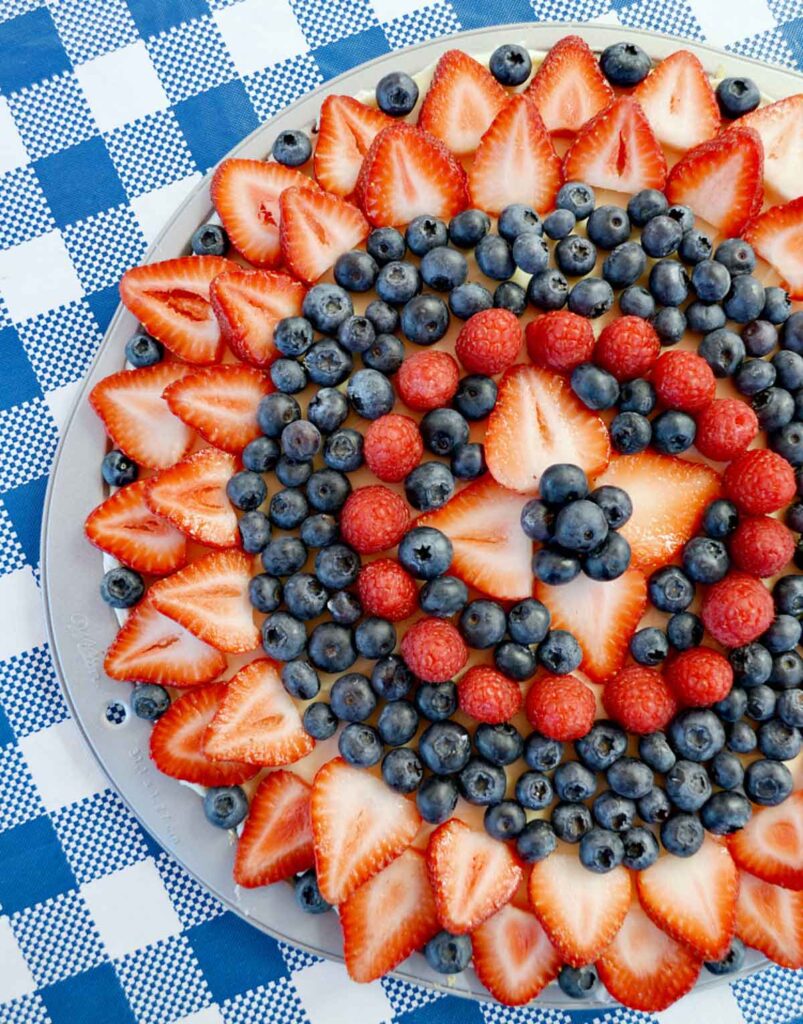 Do you eat the recommended portion of fruit each day? This sugar cookiefruit pizza Oh My! Sugar High will help you eat fruit while enjoying dessert on the 4th of July.
---
Bite-Sized Treats
Red, White, and Blue Whoopie Pie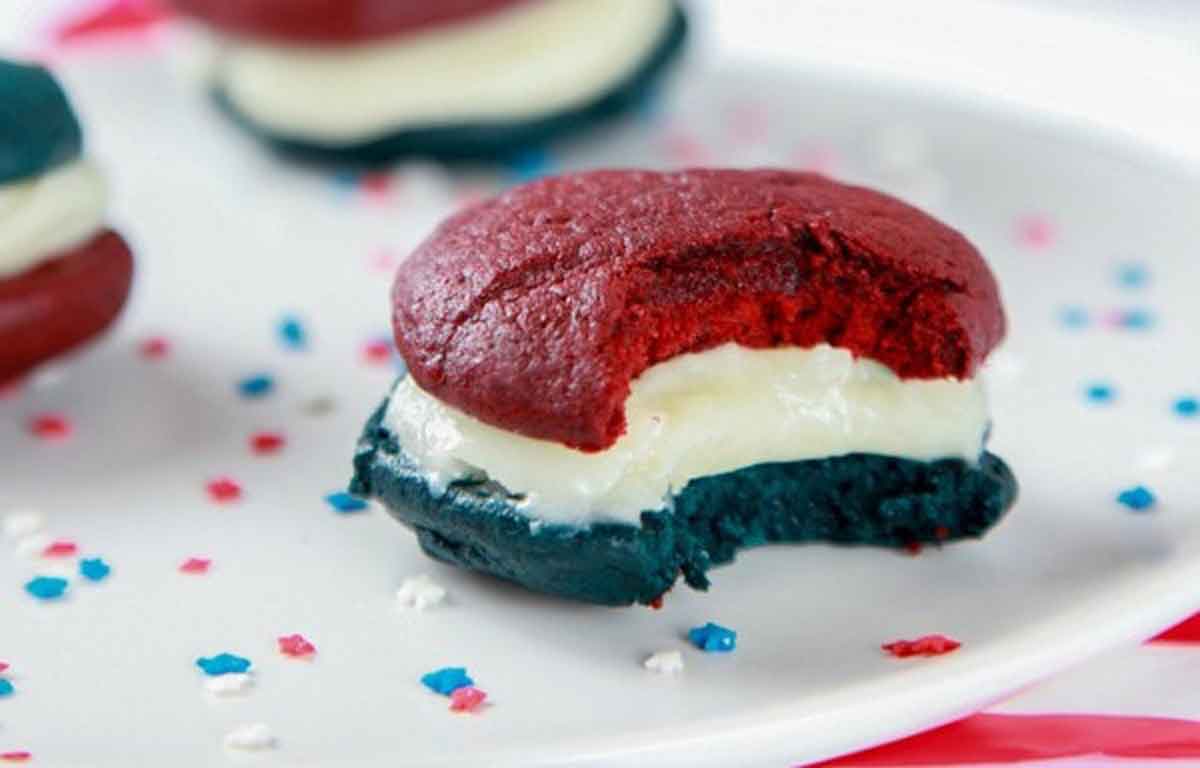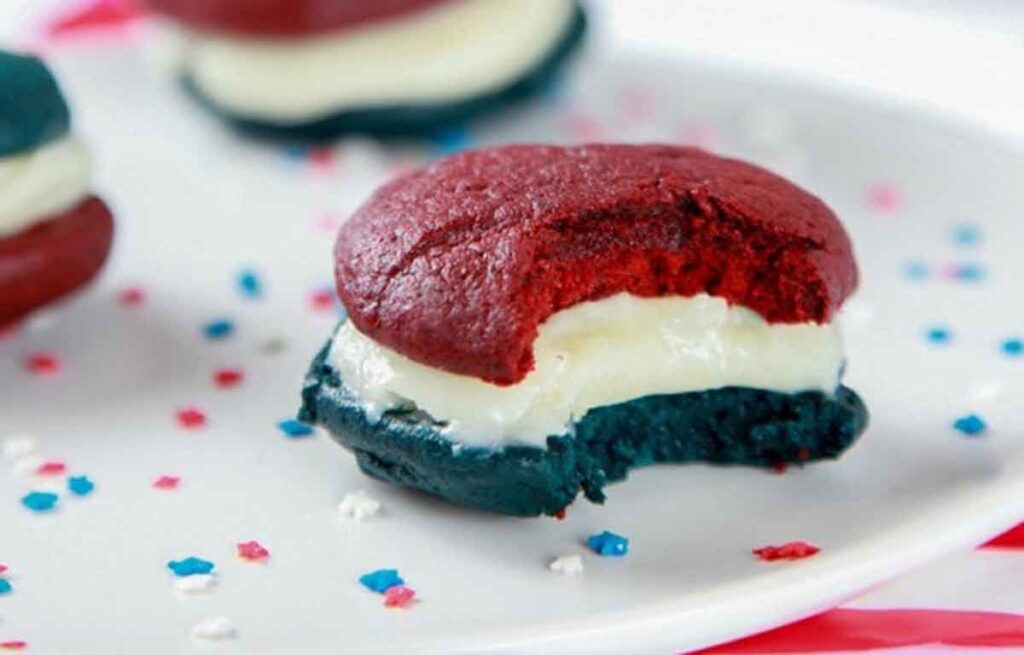 Whoopie pies are one of those desserts that seem more complicated than they are. These red, white, and blue whoopie pies from Baking Beauty are simple to make but will surprise your family and friends.
---
Patriotic Whoopie Pies Recipe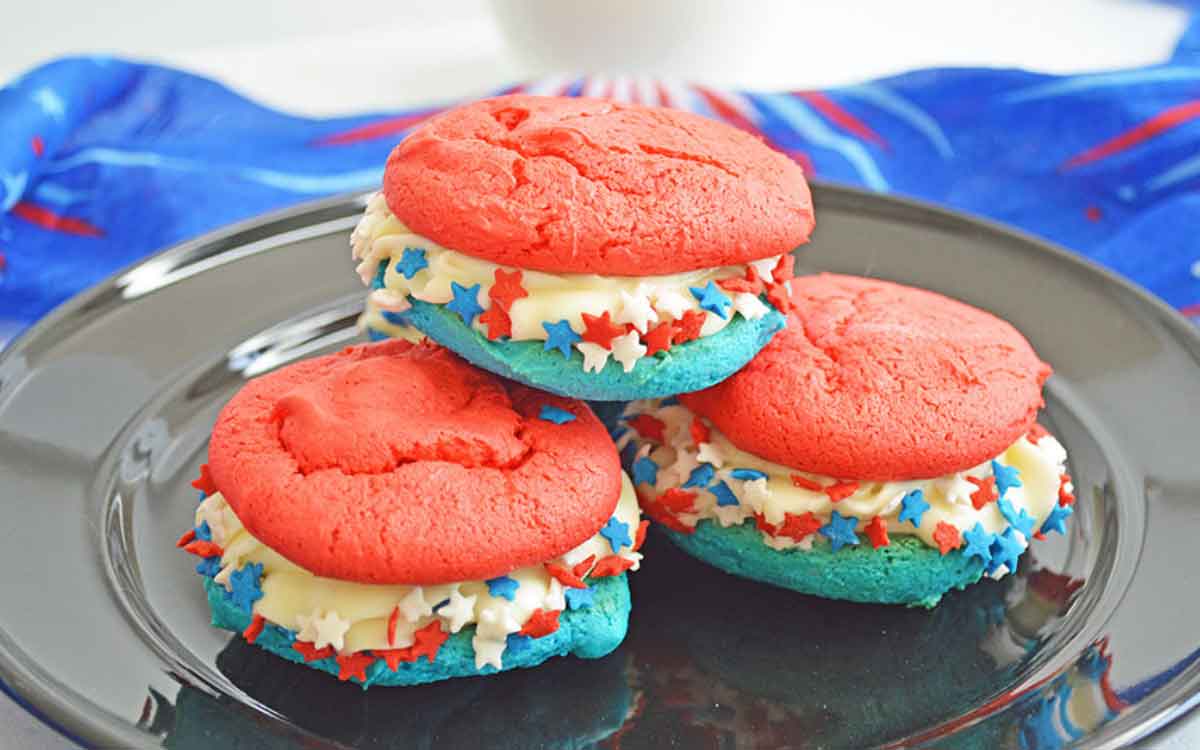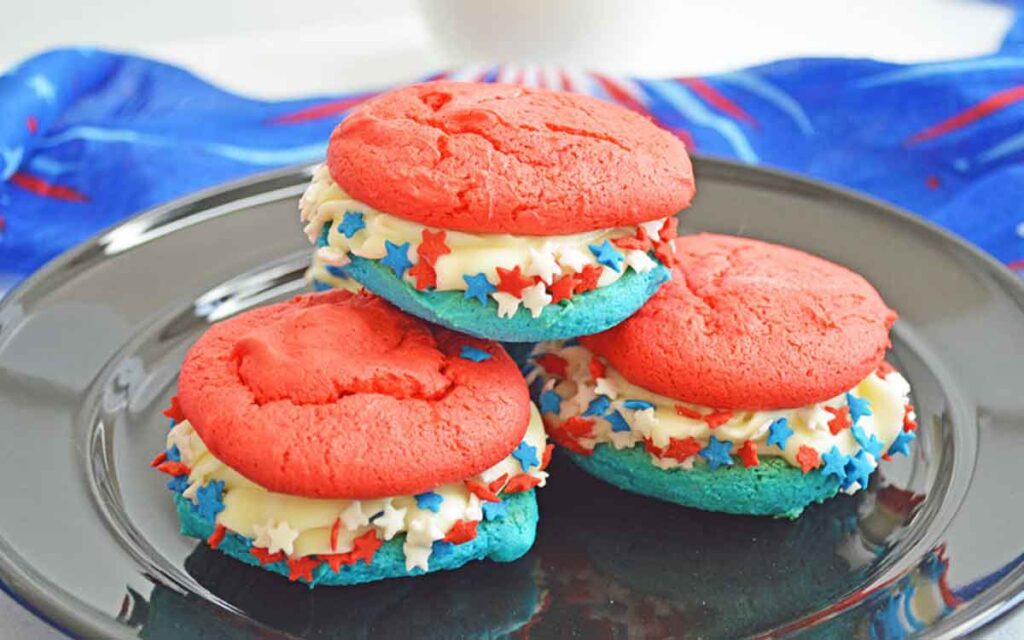 Here's another fun patriotic whoopie pie recipe. This one is from Momma Lew, and it incorporates red, white, and blue star sprinkles.
---
Red, White and Blue Mini Pavlovas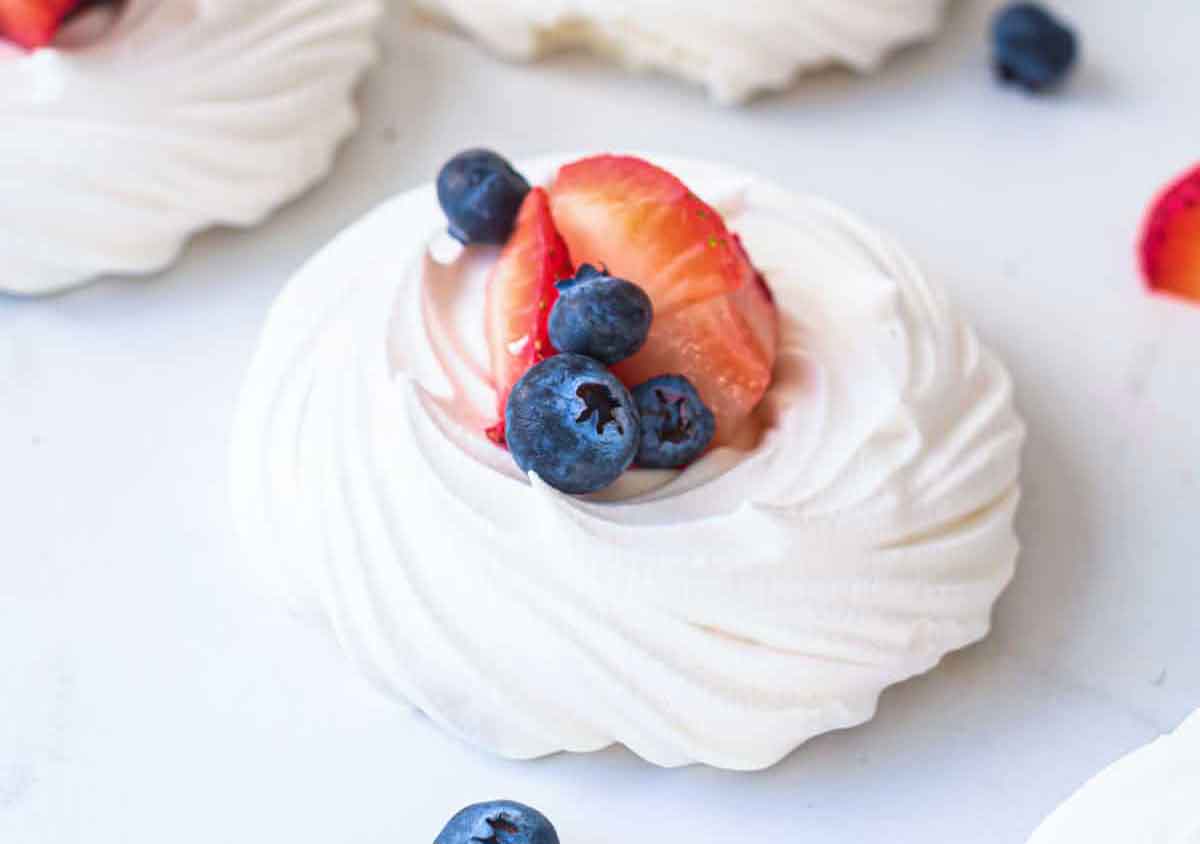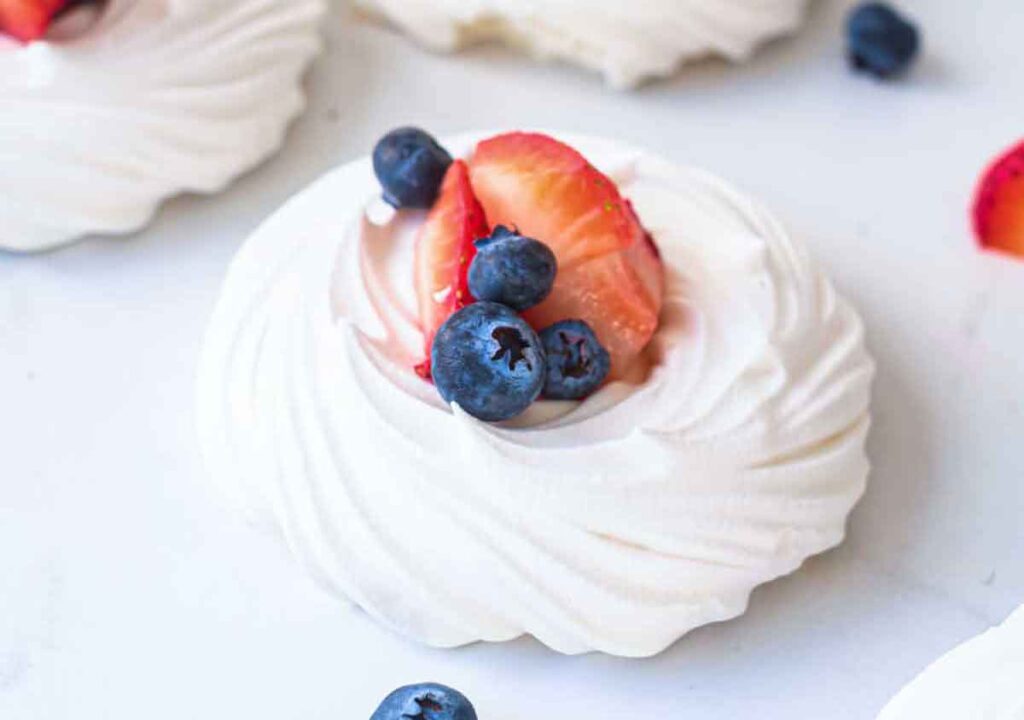 This idea from Budget Delicious uses store-bought pavlovas for a quick 4th of July dessert. Already white, top them with just a few tasty ingredients to make an all-star treat.
---
Red, White, and Blue Cherry Almond Sugar Cookies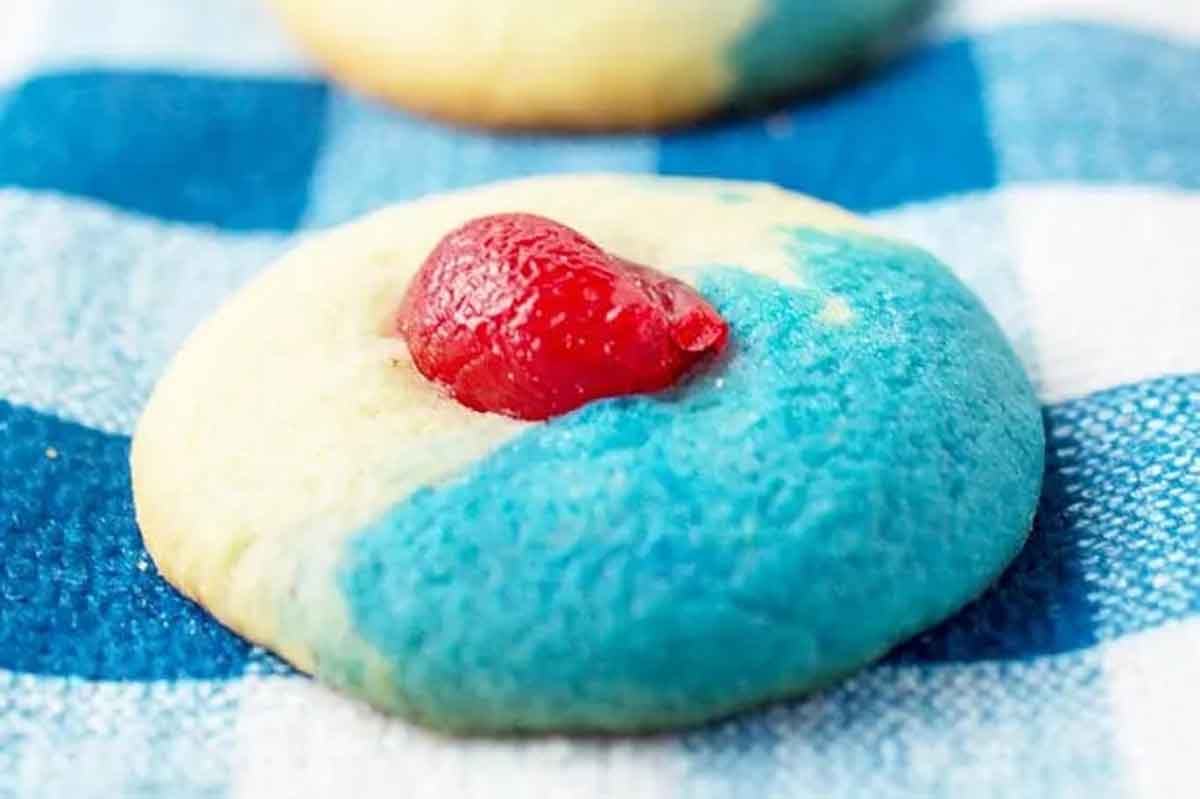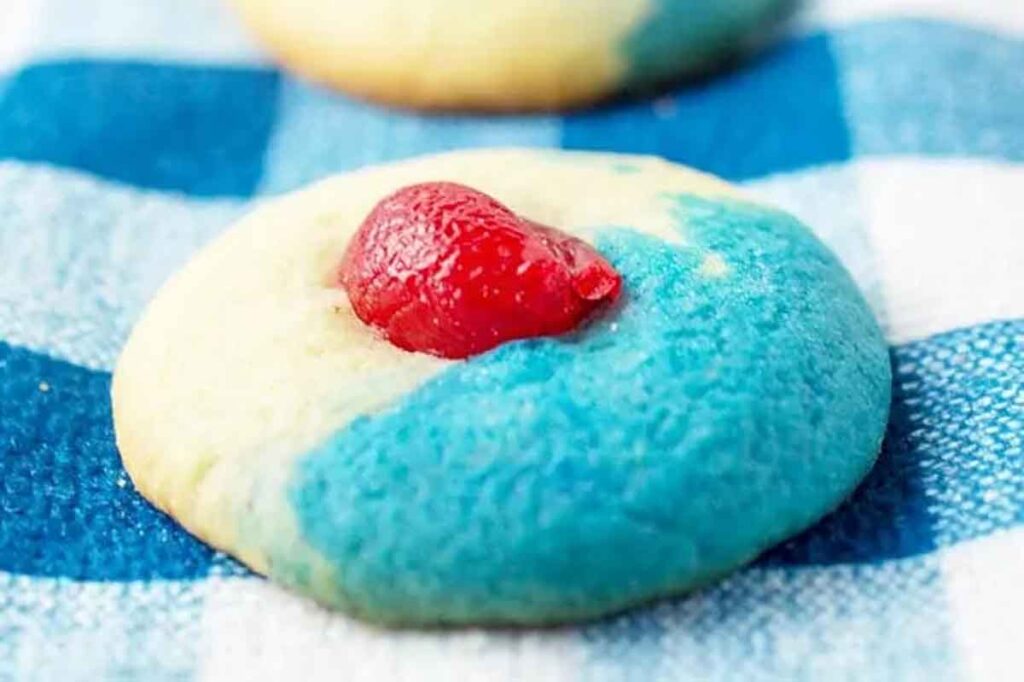 These simple, tasty cherry almond cookies by Sustain My Cooking Habit start with the classic cherry almond recipe, but don't stop there. They incorporate red, white, and blue for a nod to Independence Day.
---
Patriotic Sugar Cookies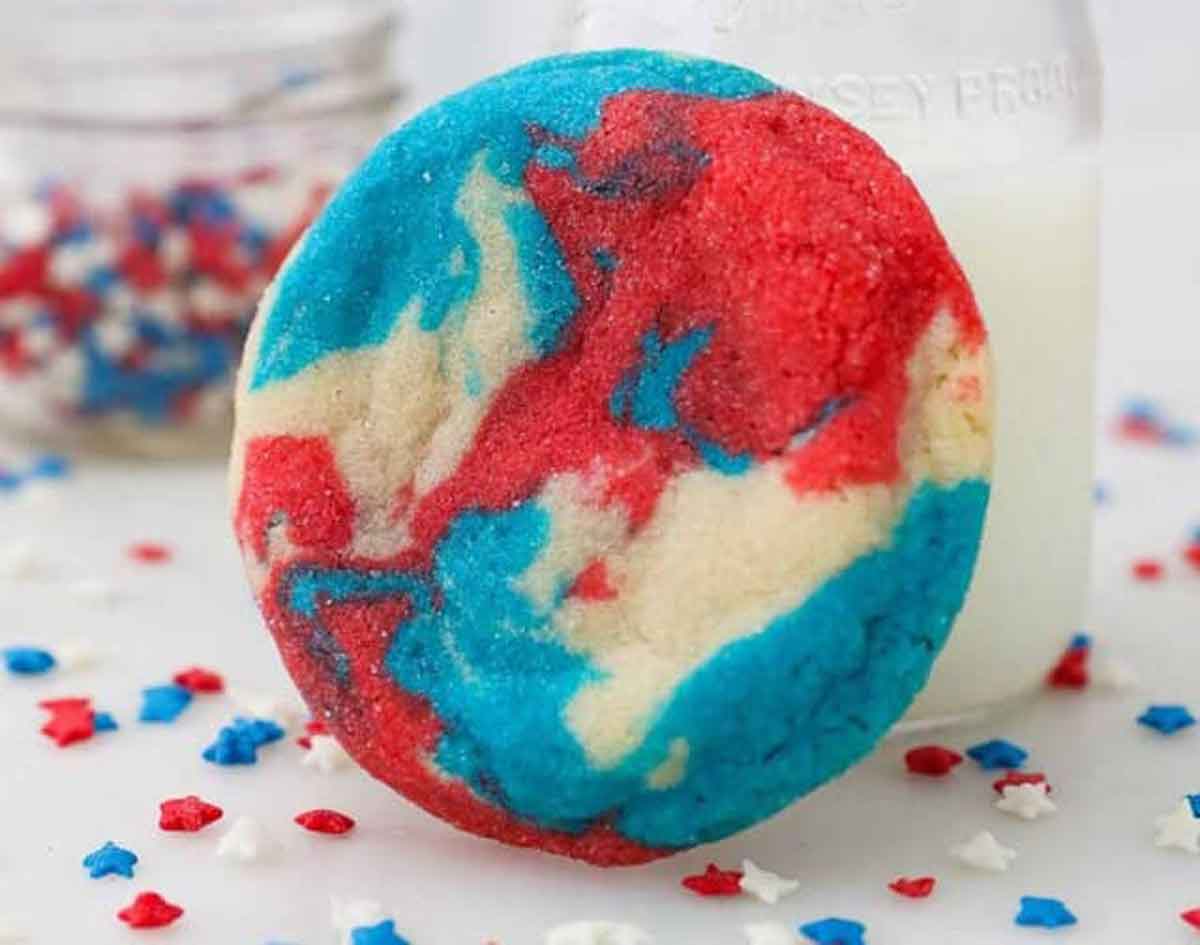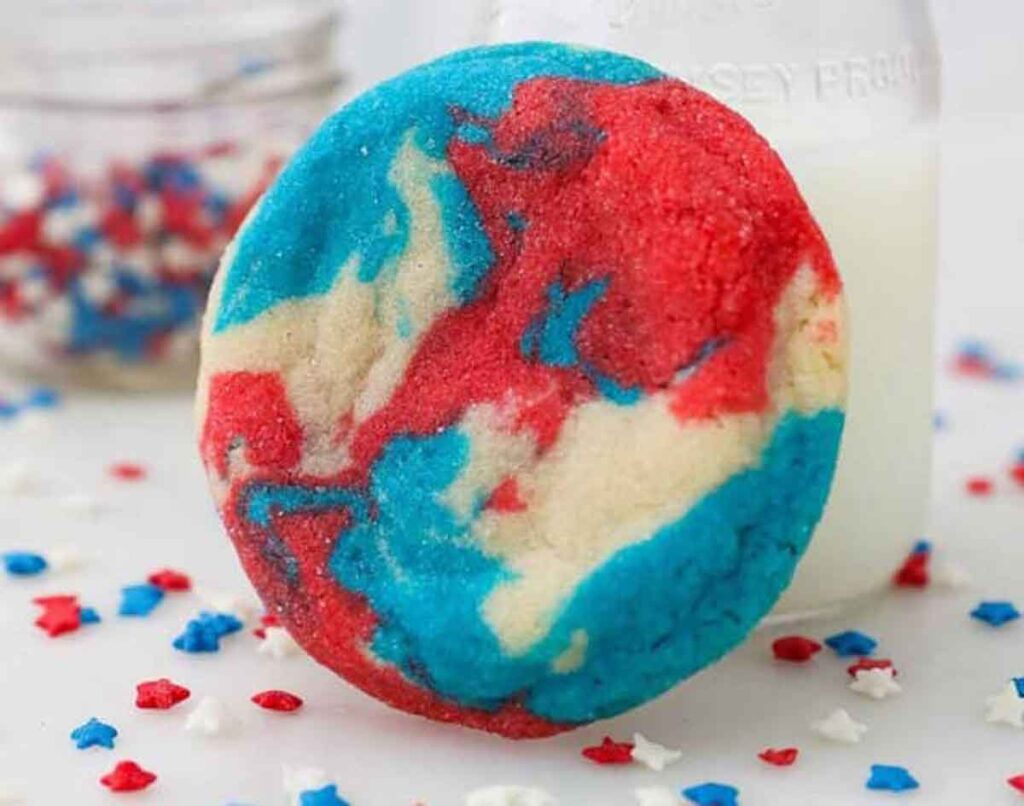 Check out the vibrant color! It's mesmerizing! Sugar cookies are irresistible, so you really can't go wrong with a batch of beautiful red, white, and blue sugar cookies like these from Beyond Frosting.
---
4th of July Cookies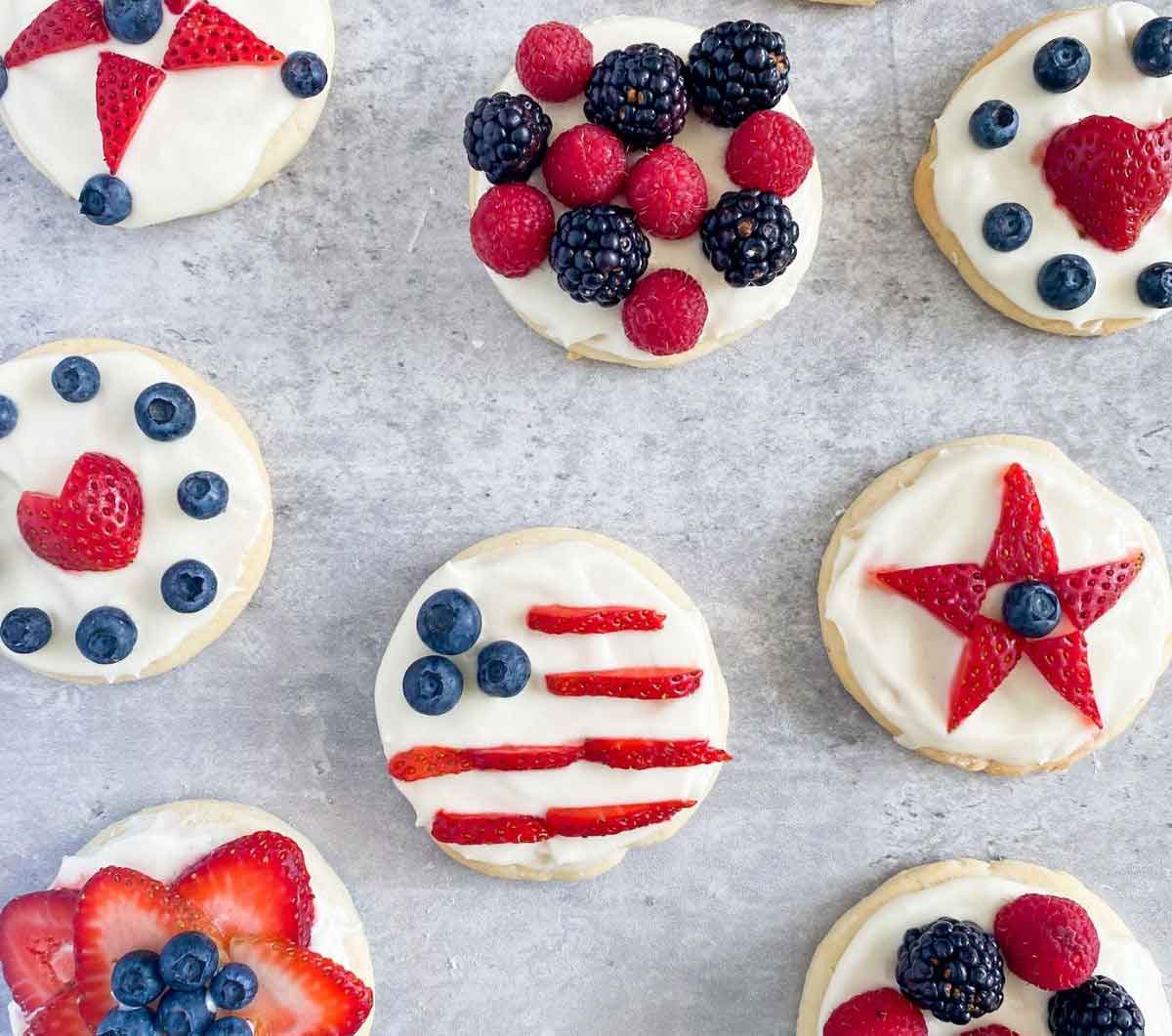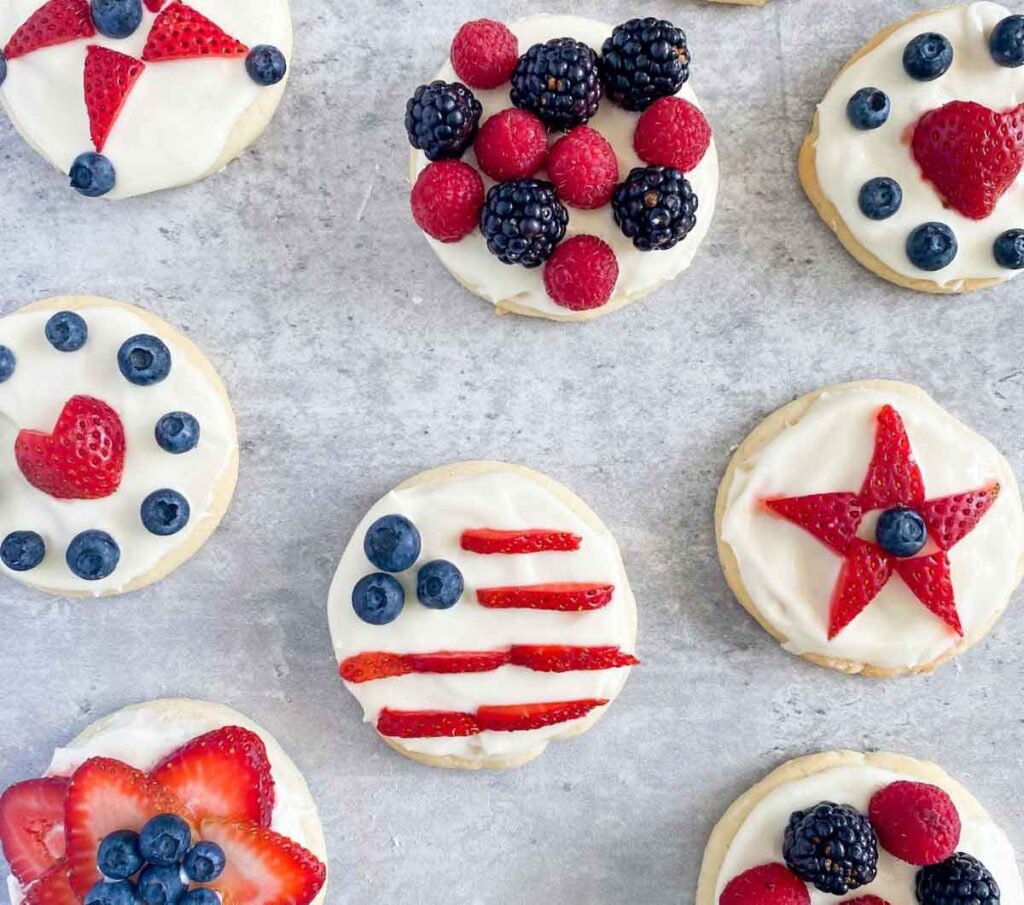 4th of July cookies that are turned into mini dessert pizzas sounds amazing to me. Frosting and a sprinkling of fresh fruit make for a fantastic-looking dessert, as shared by Simply Scrumptious.
---
4th of July Gluten-Free Sugar Cookies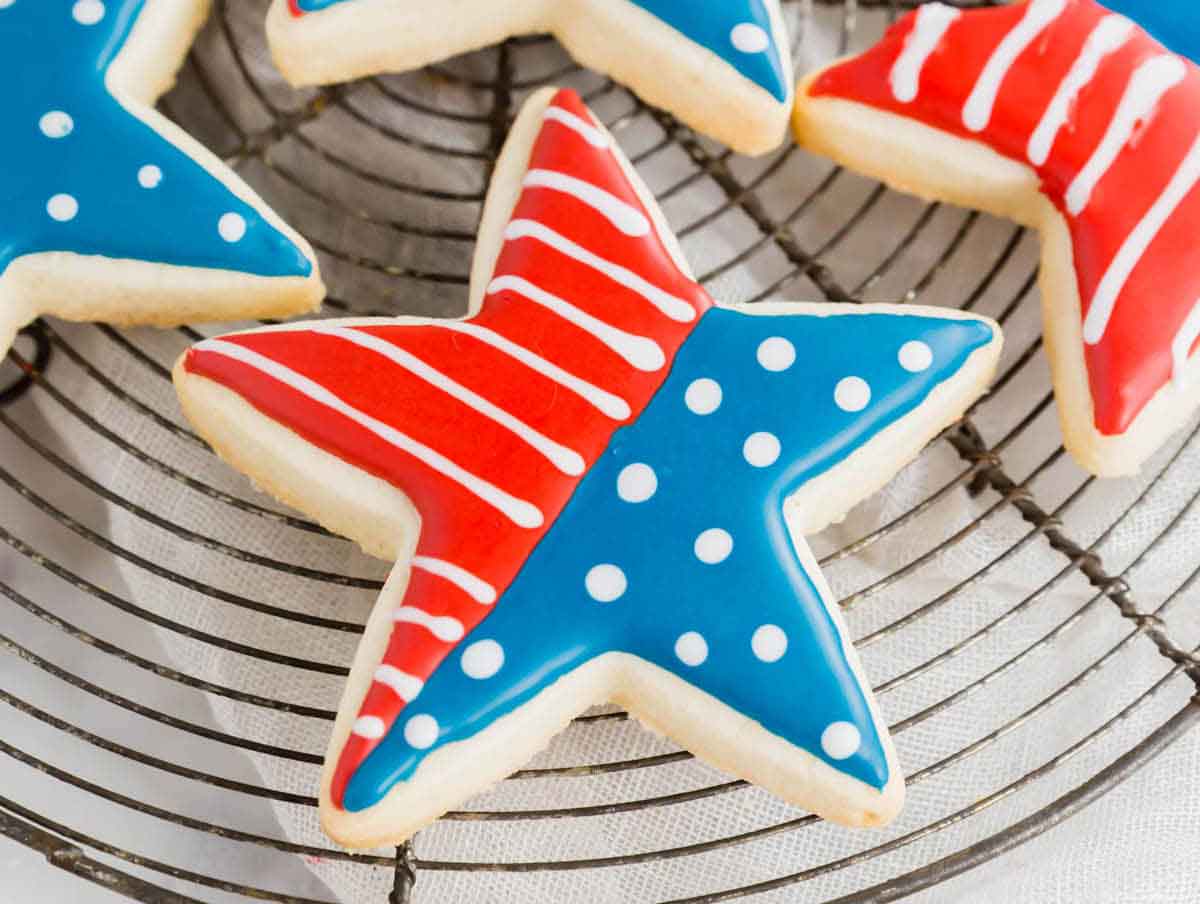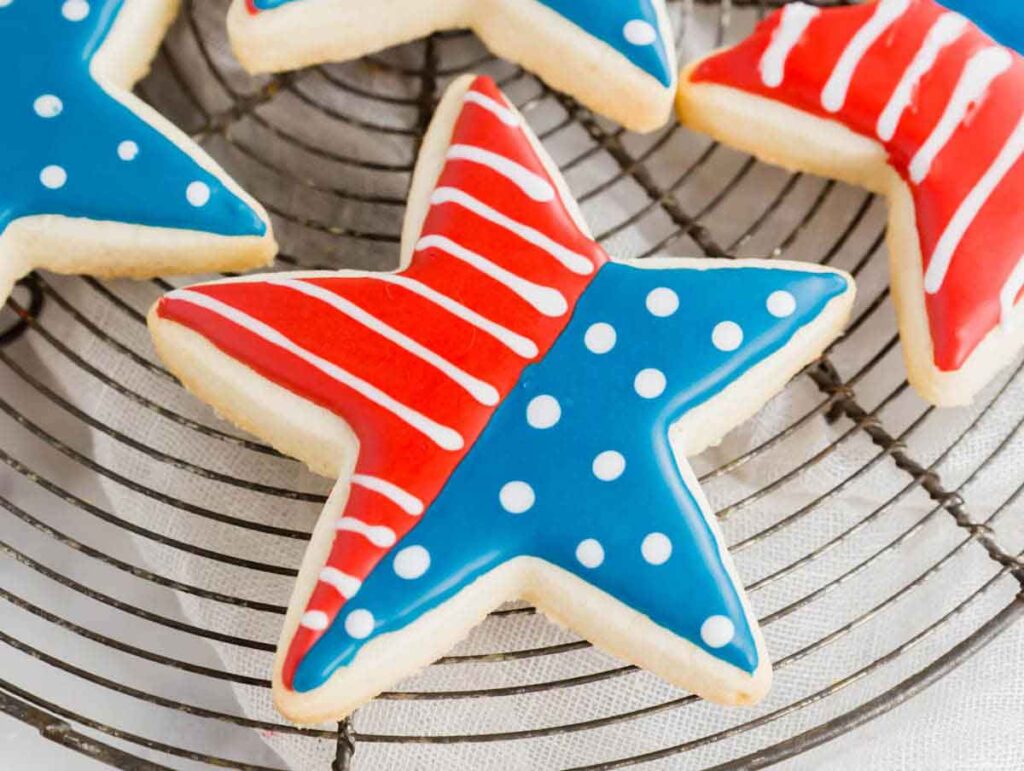 Including a gluten-free cookie option for your 4th of July spread is a kind gesture towards gluten-free friends and family. This recipe from A Dash of Megnut is perfectly patriotic and tasty.
---
Star-Spangled Cookies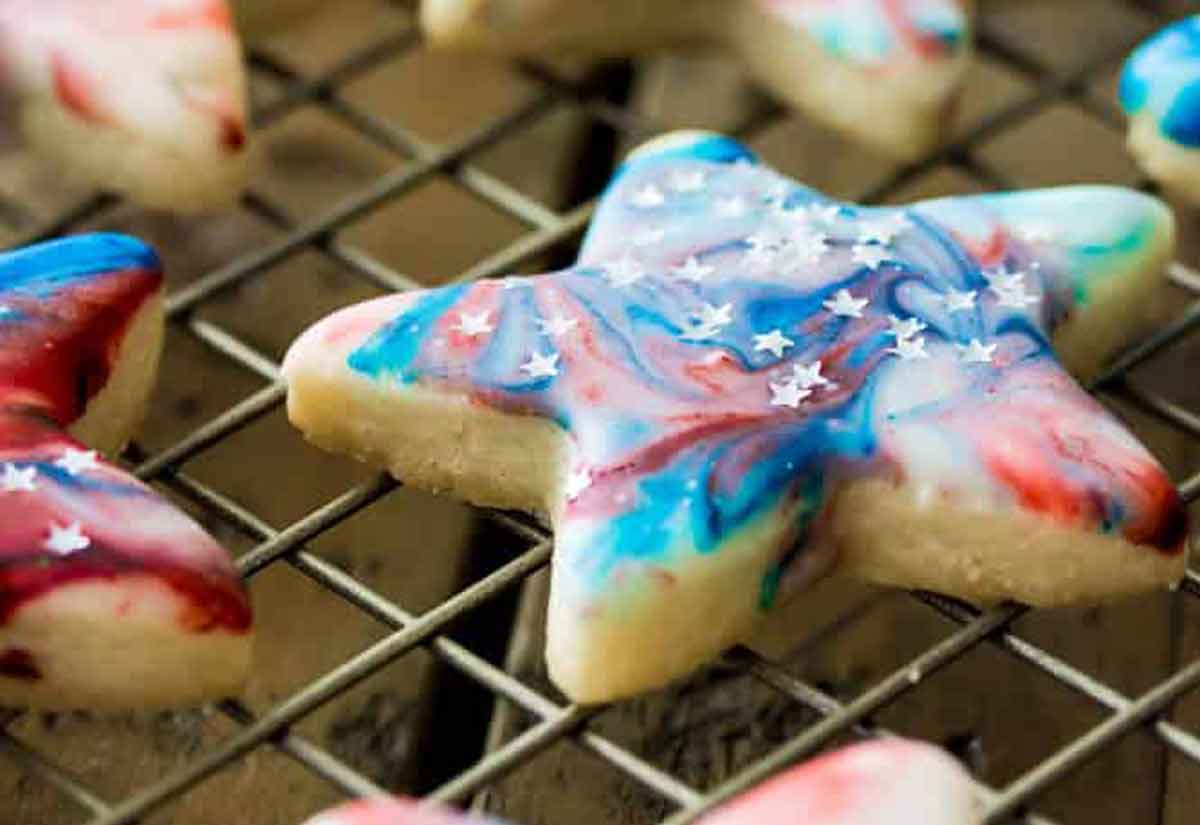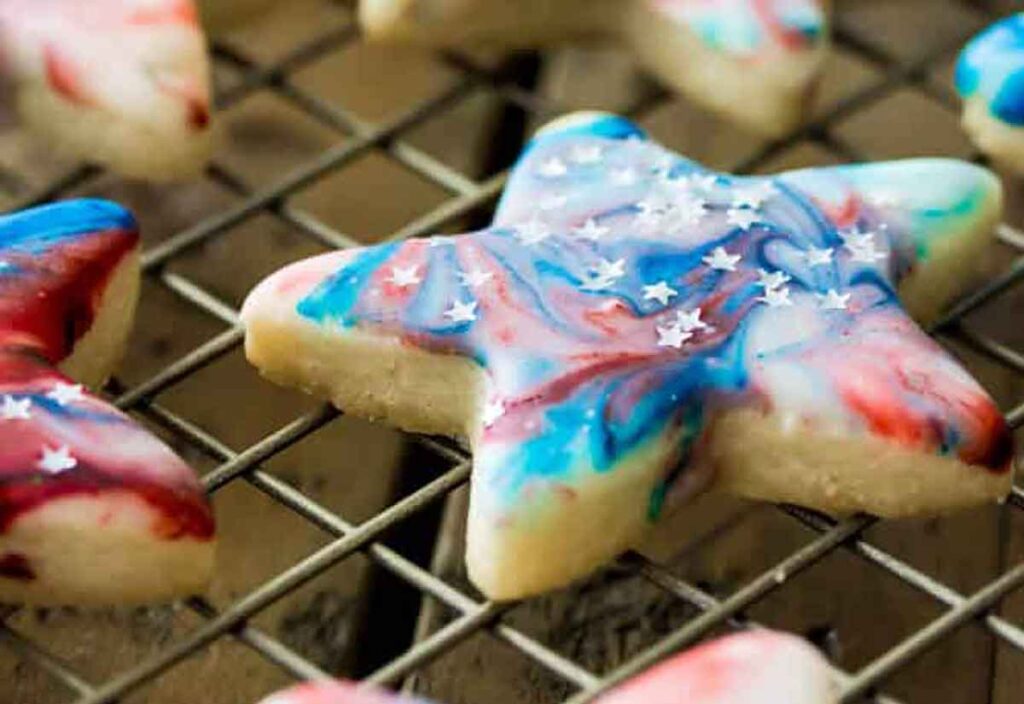 I'm a sucker for tie-dye and marbled designs so this star-spangled cookies recipe from Sugar Spun Run is right up my alley! Yours too?
---
Red, White, and Blue Strawberries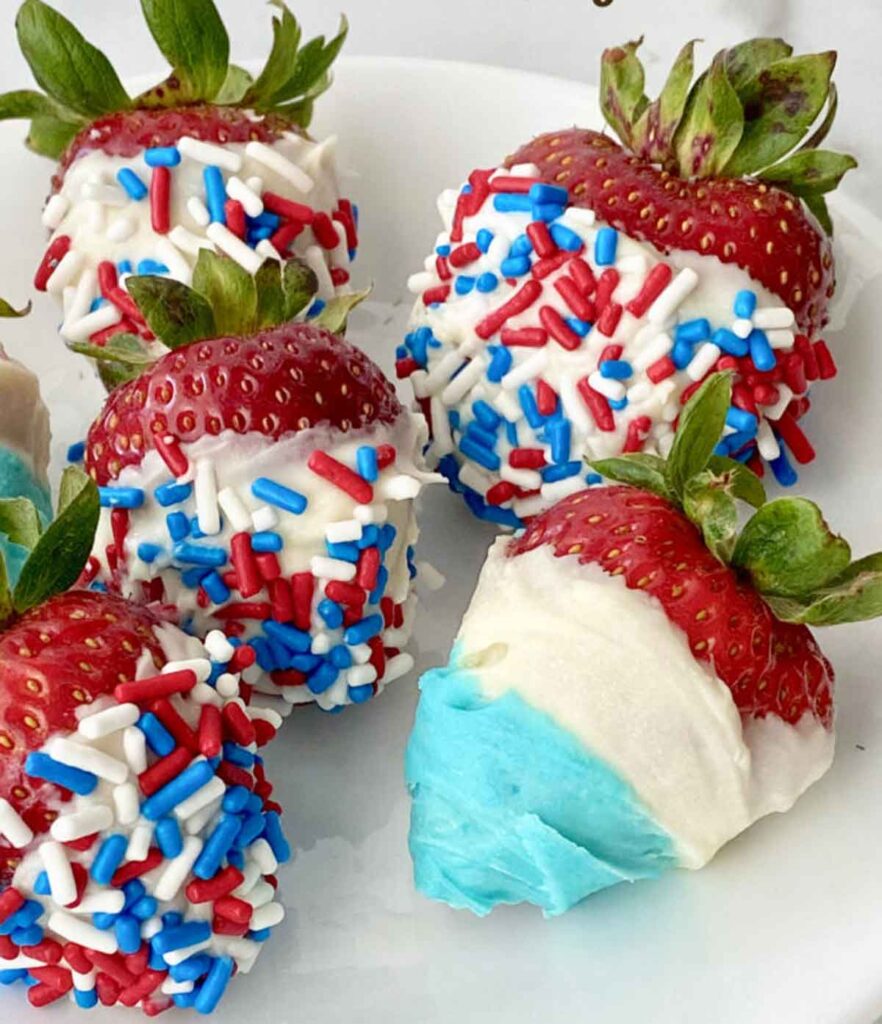 The Short Order Cook shares an easy-to-do red, white, and blue strawberry platter. These strawberries are all dressed up for the Fourth!
---
4th of July Rice Krispie Cereal Treats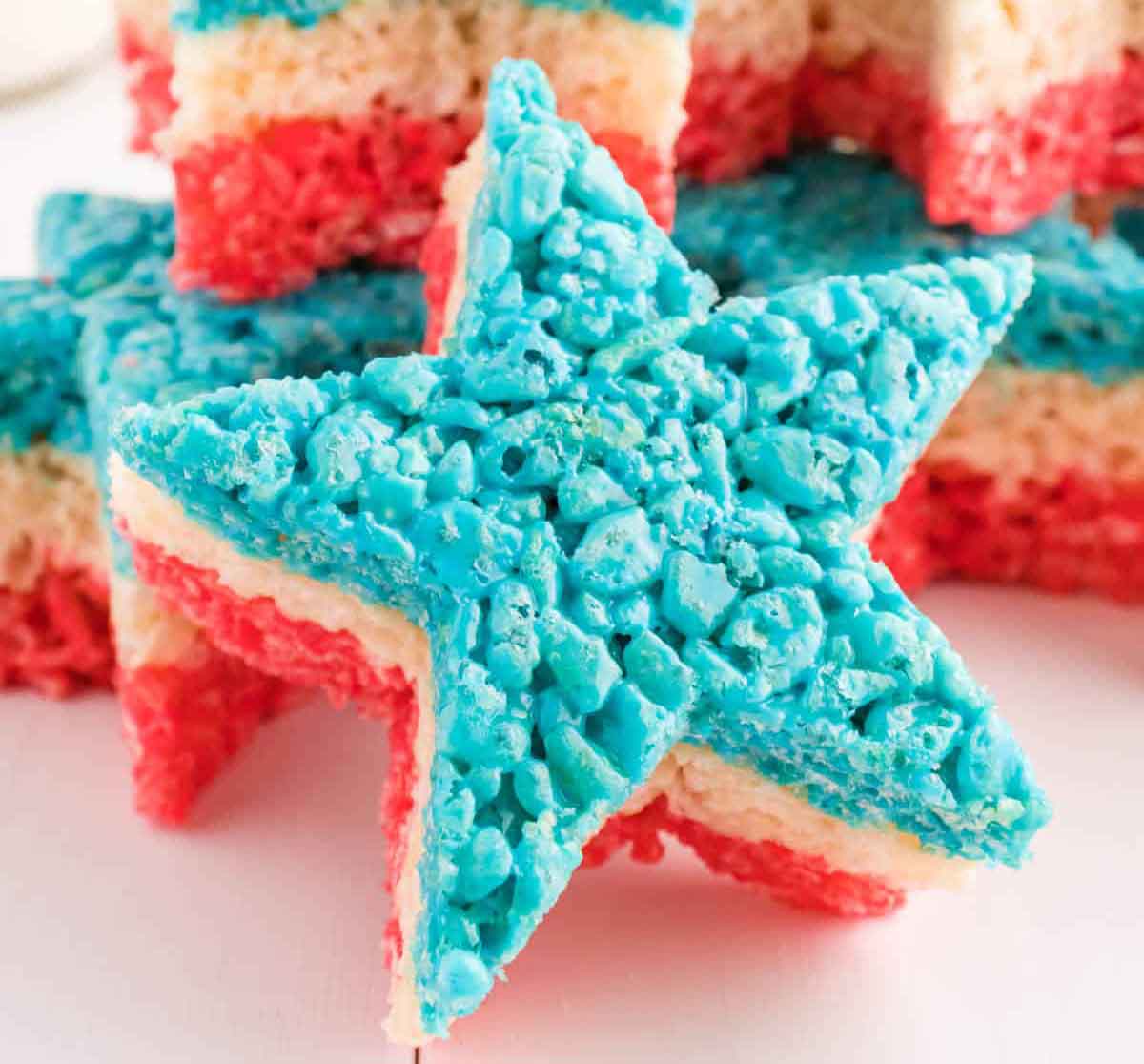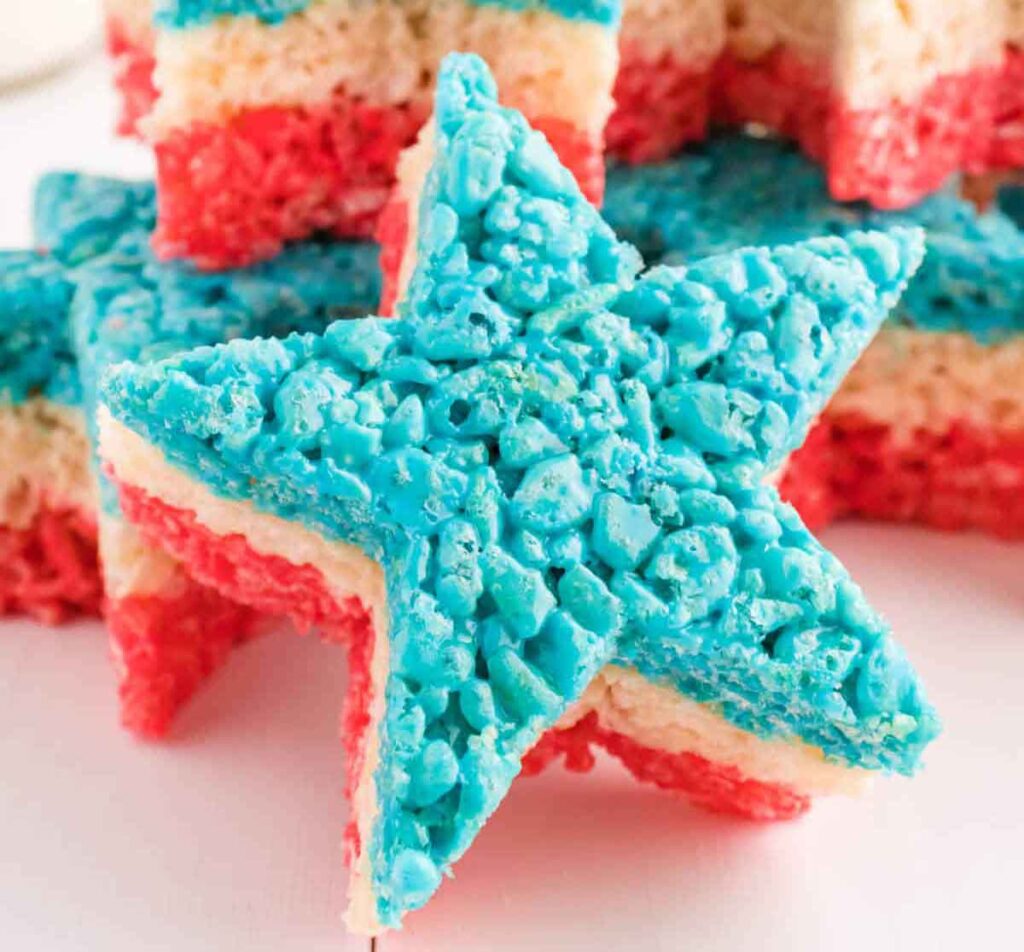 Rice Krispie treats are a pretty simple idea for any gathering. A couple of easy tweaks make these Rice Krispie treats by Fantabulosityperfect for an Independence Day party.
---
Fourth of July Rice Krispie Treats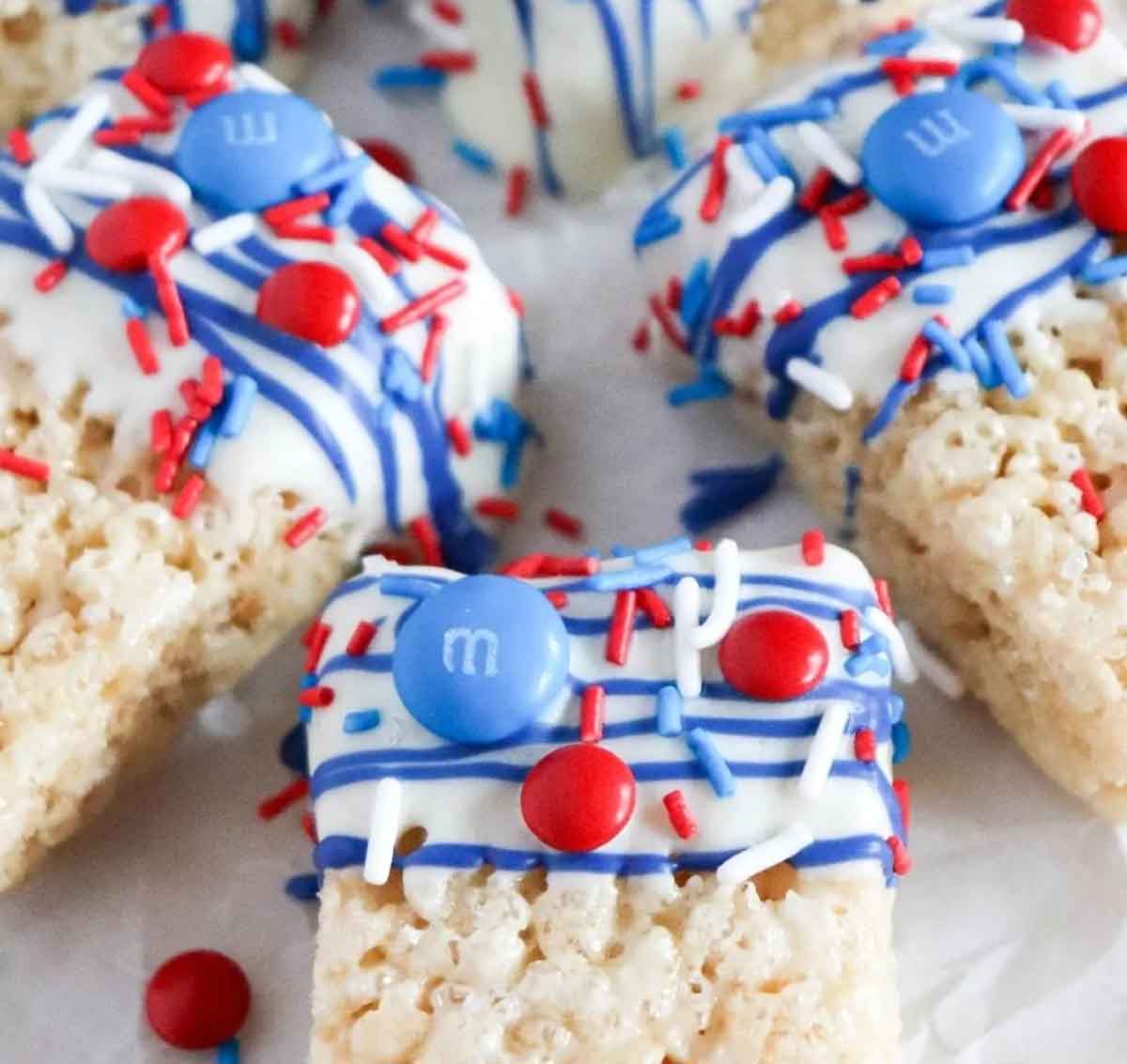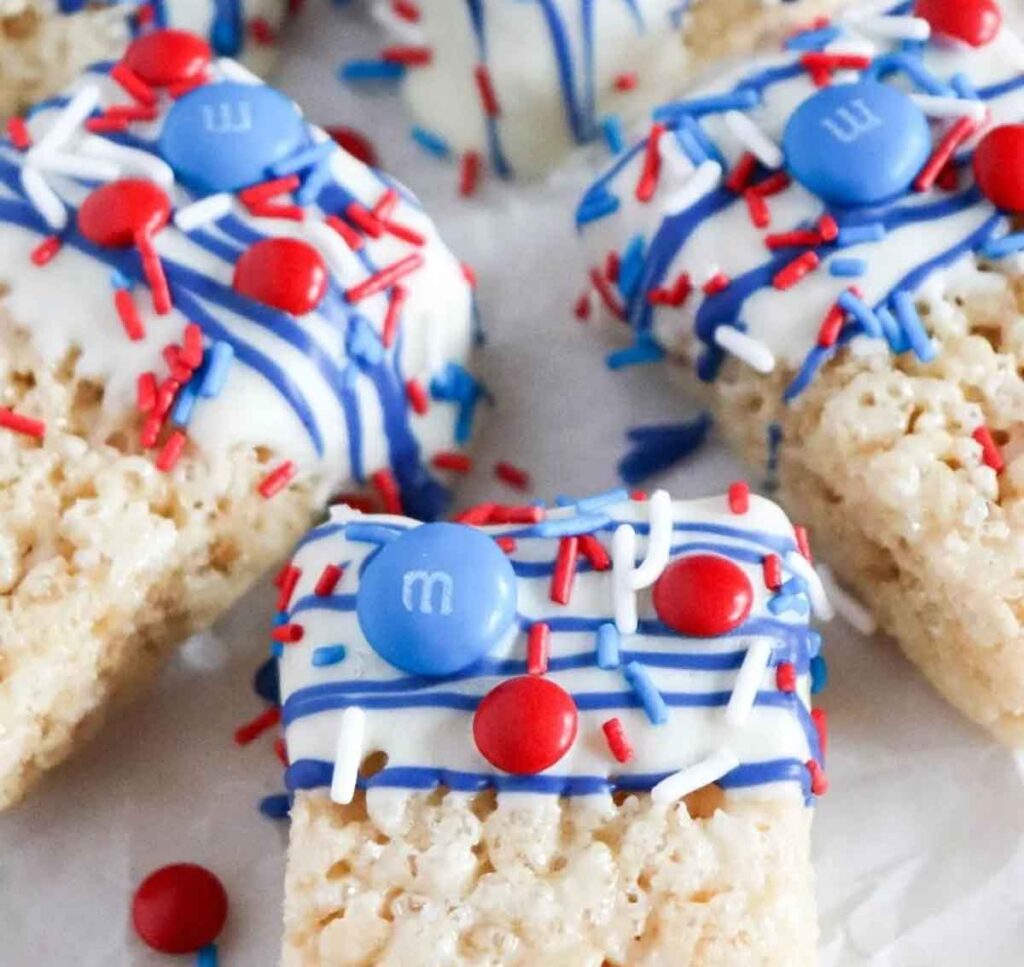 These Rice Krispie treats from Homemade Heather bring a fun nautical twist through the light blue. Kids and adults alike will enjoy this dessert.
---
Patriotic Pinwheel Cookies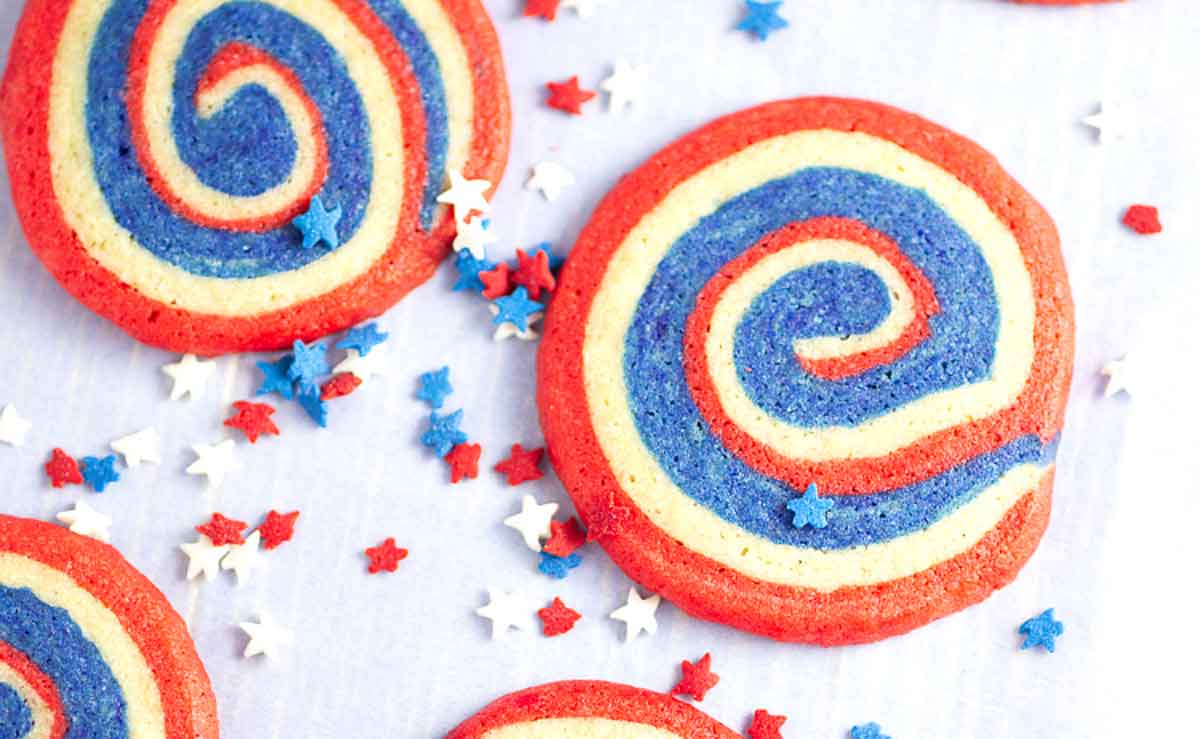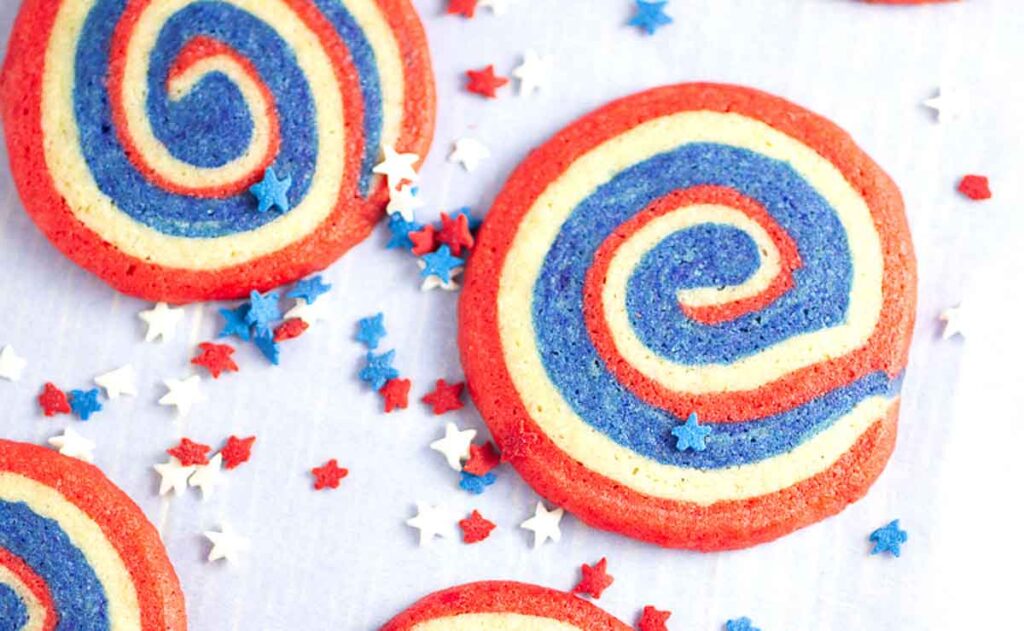 If you've been curious about making pinwheel cookies, this is the perfect opportunity to give 'em a try! Oh My! Sugar High provides all the instructions and tips you need to make a successful batch of patriotic pinwheel cookies.
---
Chocolate Chip Cut Out Cookies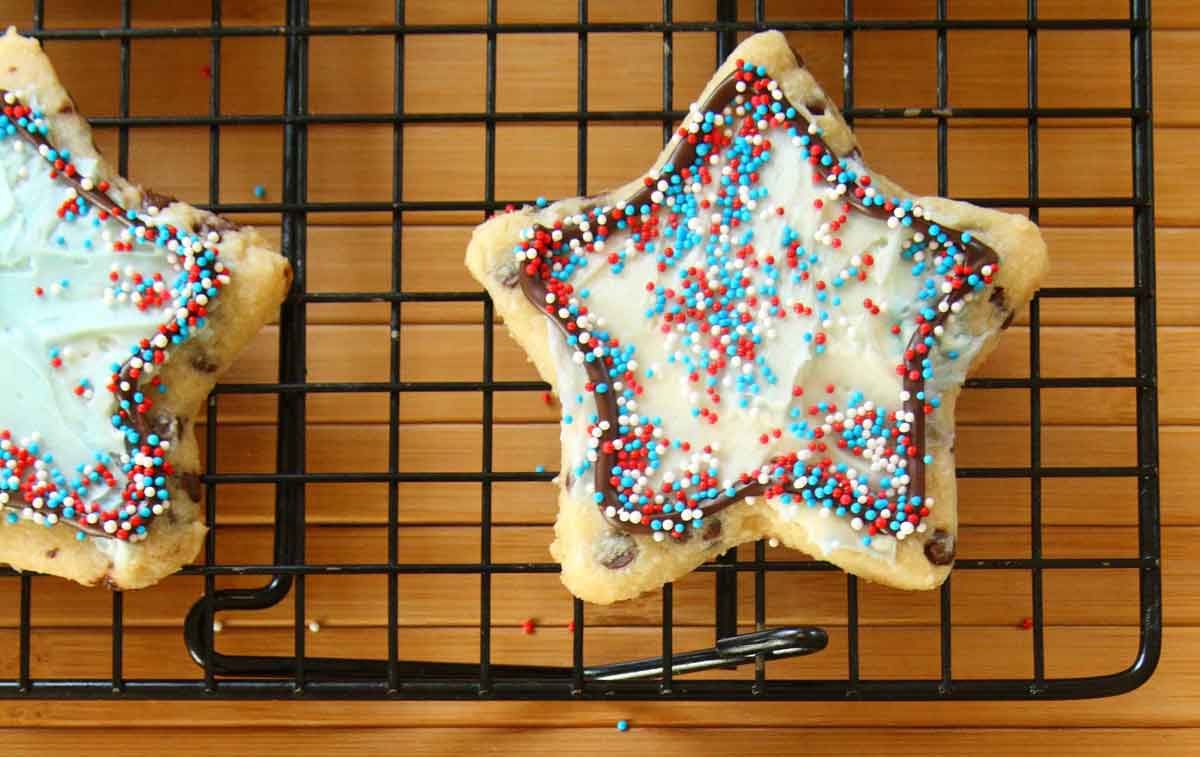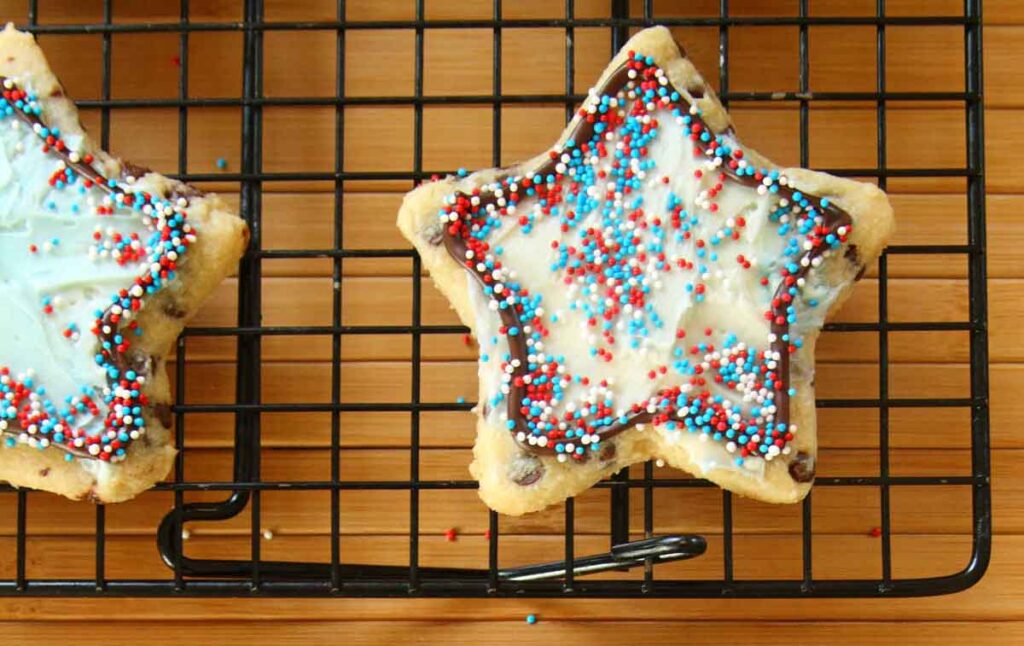 Homemade in the Kitchen offers a fun, patriotic spin on the classic chocolate chip cookie. If you don't have a star cookie cutter, just make a paper stencil, and cut around it!
---
Red, White, and, Blue Fudge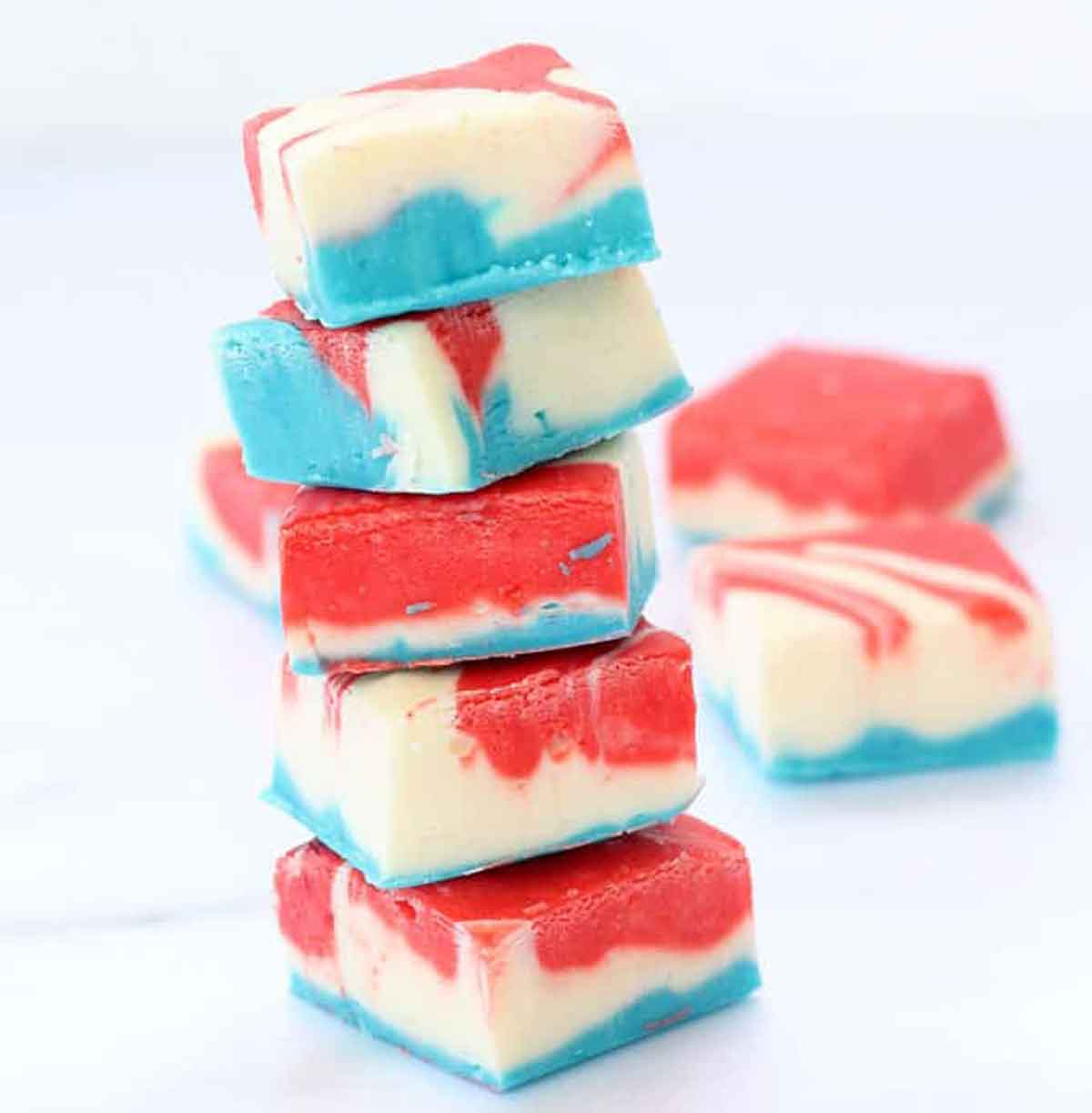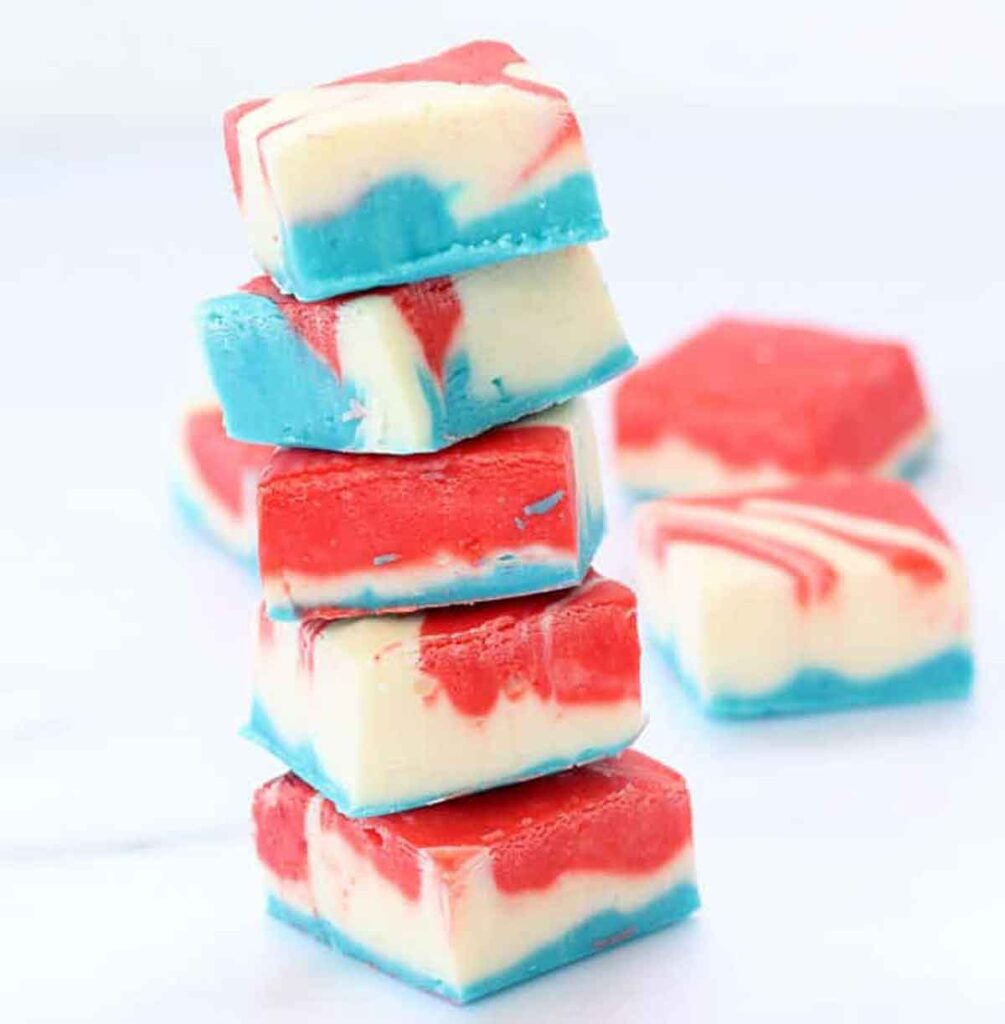 Who wants to turn on the oven in July?! This red, white, and blue fudge recipe from How to Make Easy Fudge is perfect for making and eating on a hot 4th of July!
---
Red, White & Blue Patriotic Popcorn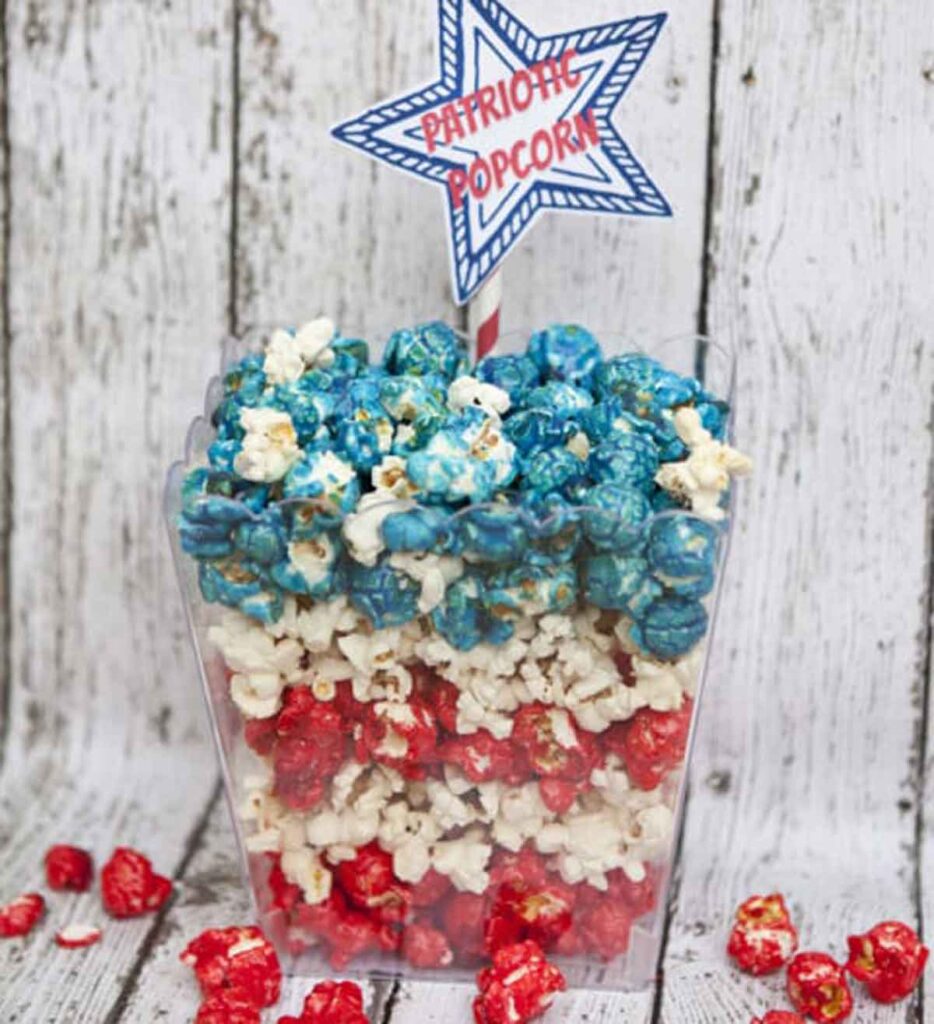 Are you a fan of kettle corn? If so, you'll probably love this patriotic popcorn recipe from Today's Creative Life.
---
Patriotic Marshmallow Pops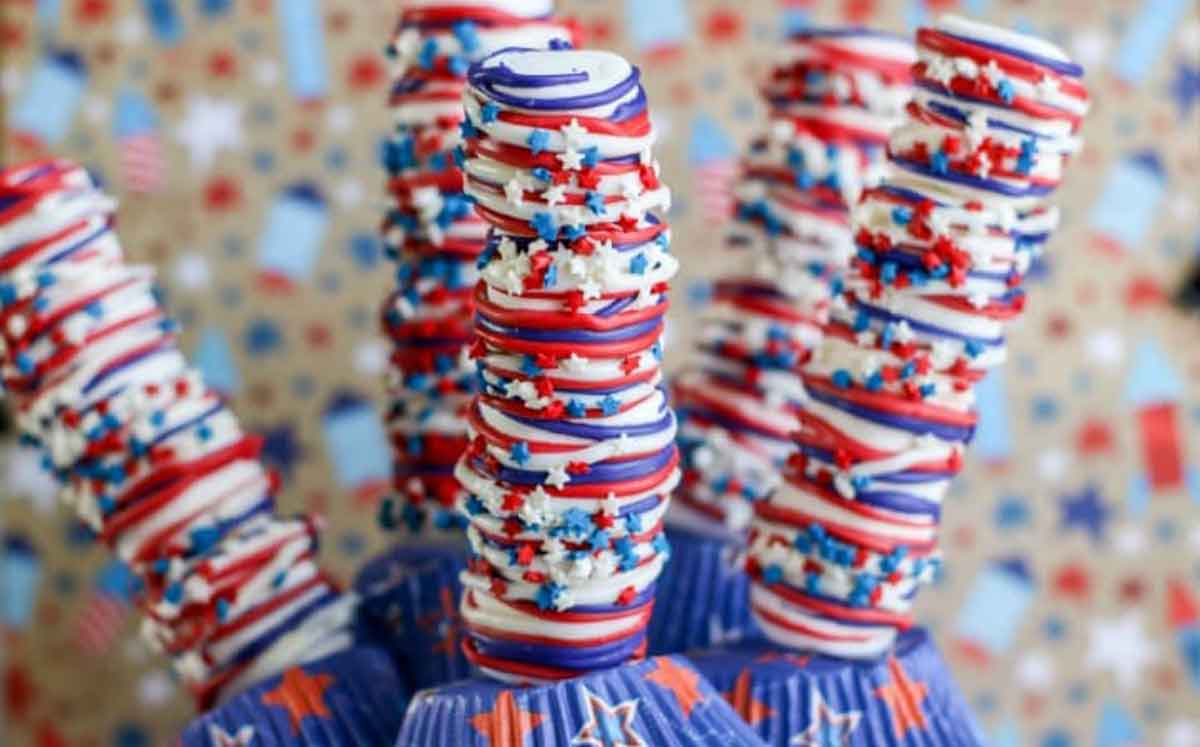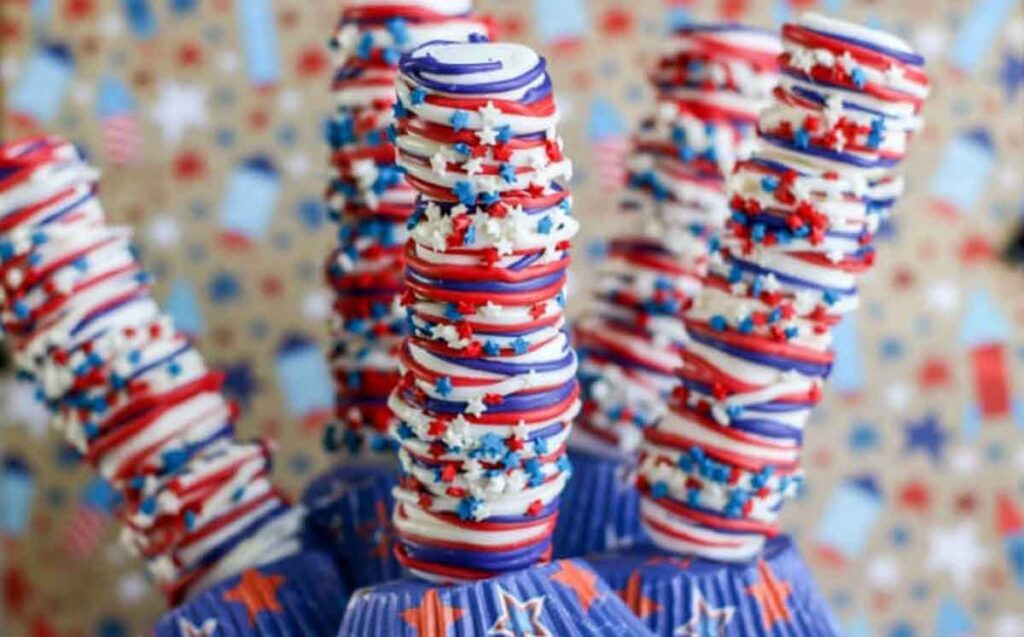 How cute are these patriotic marshmallow pops from Conservamom?! They remind me of something from Dr. Seuss.
---
Patriotic Mini Fruit Tarts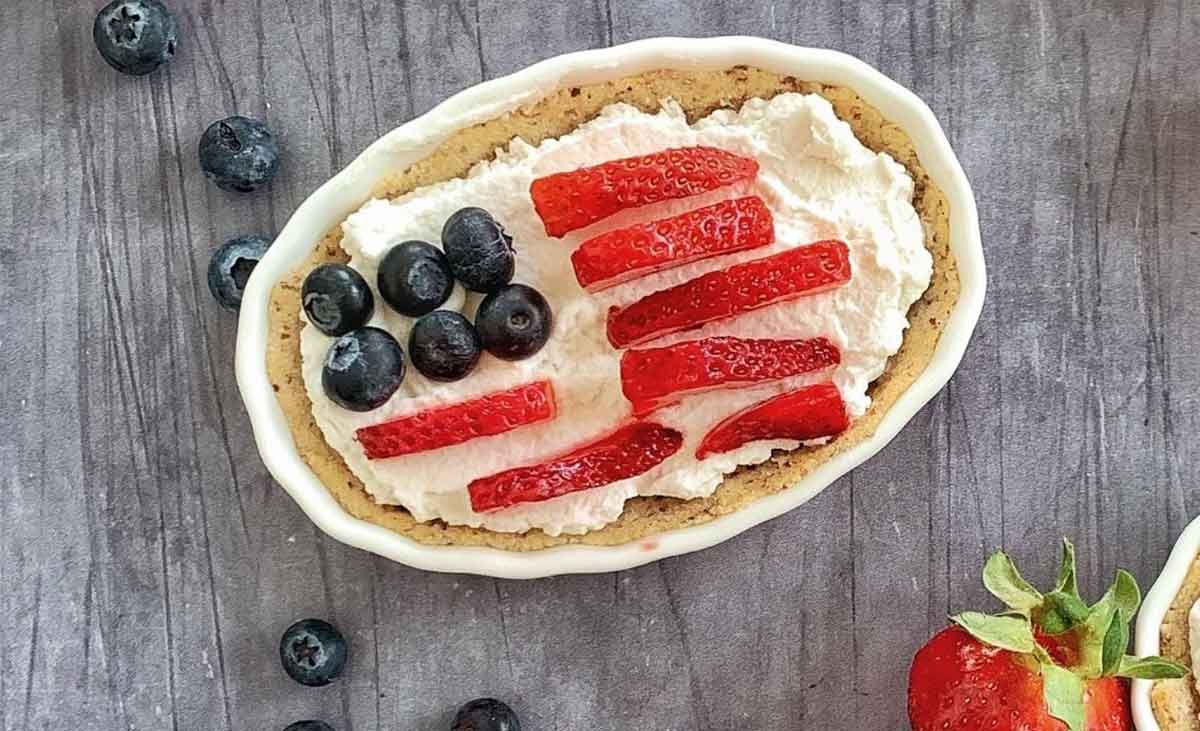 With a little sculpting, these mini fruit tarts could be in the shape of the United States! The Oregon Dietician provides a great recipe for adorable single-serve tarts that will look great on your table (whether or not you decide to sculpt them).
---
Patriotic Deviled Jell-O Eggs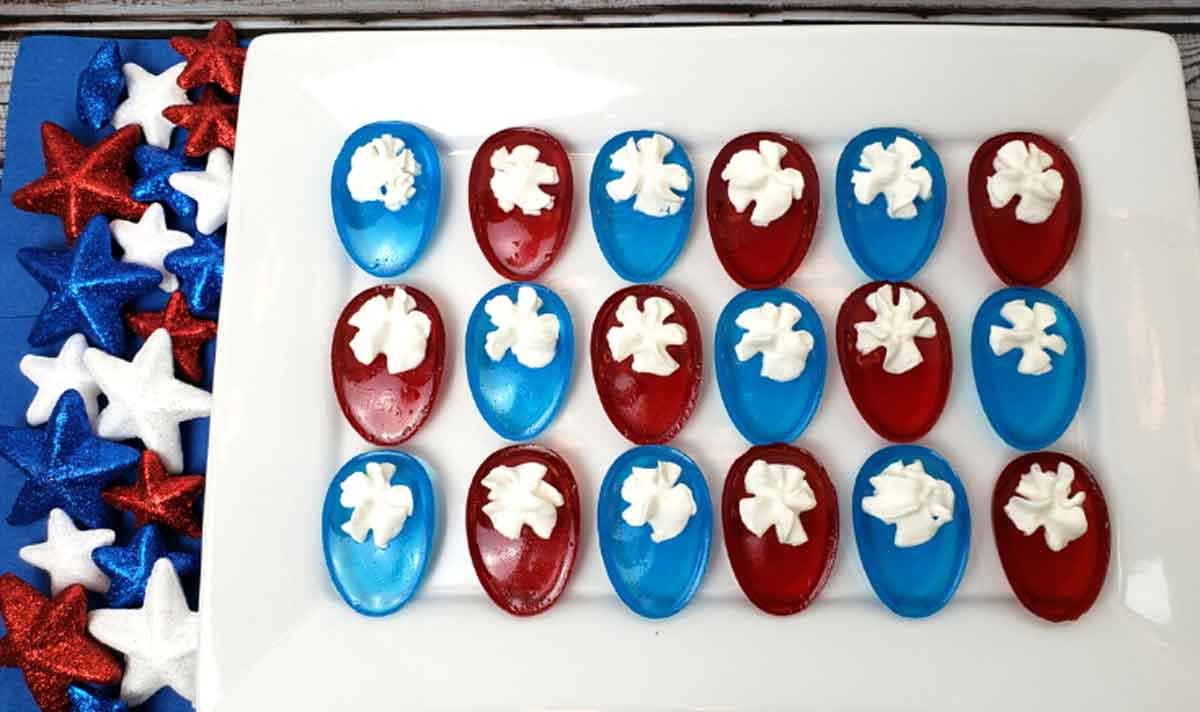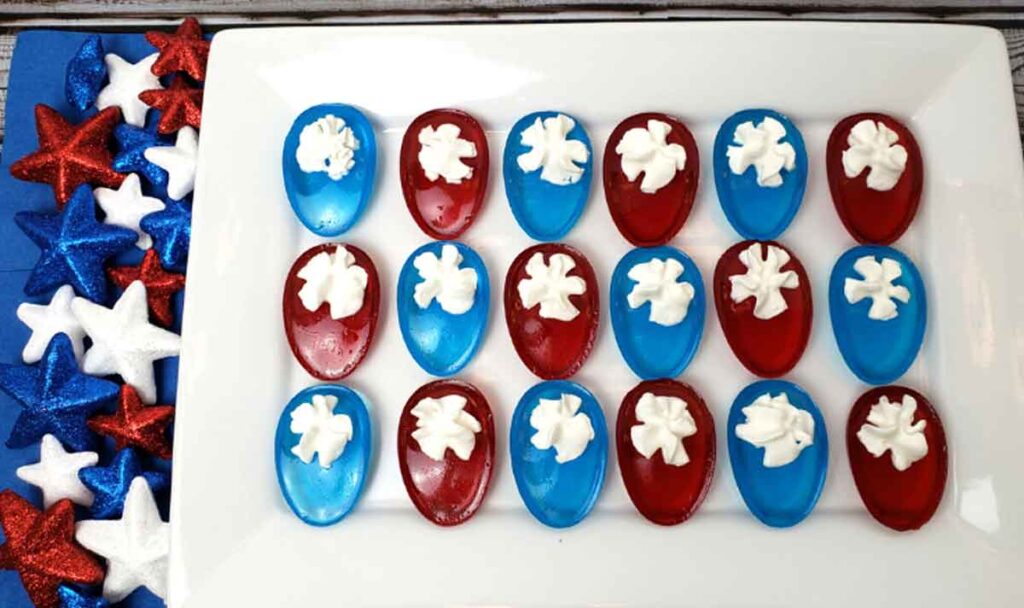 Loving Homeschool provides a creative and patriotic way to serve Jell-O (no eggs included). These deviled Jell-O eggs are gluten-free too!
---
Vegan Jell-O Jigglers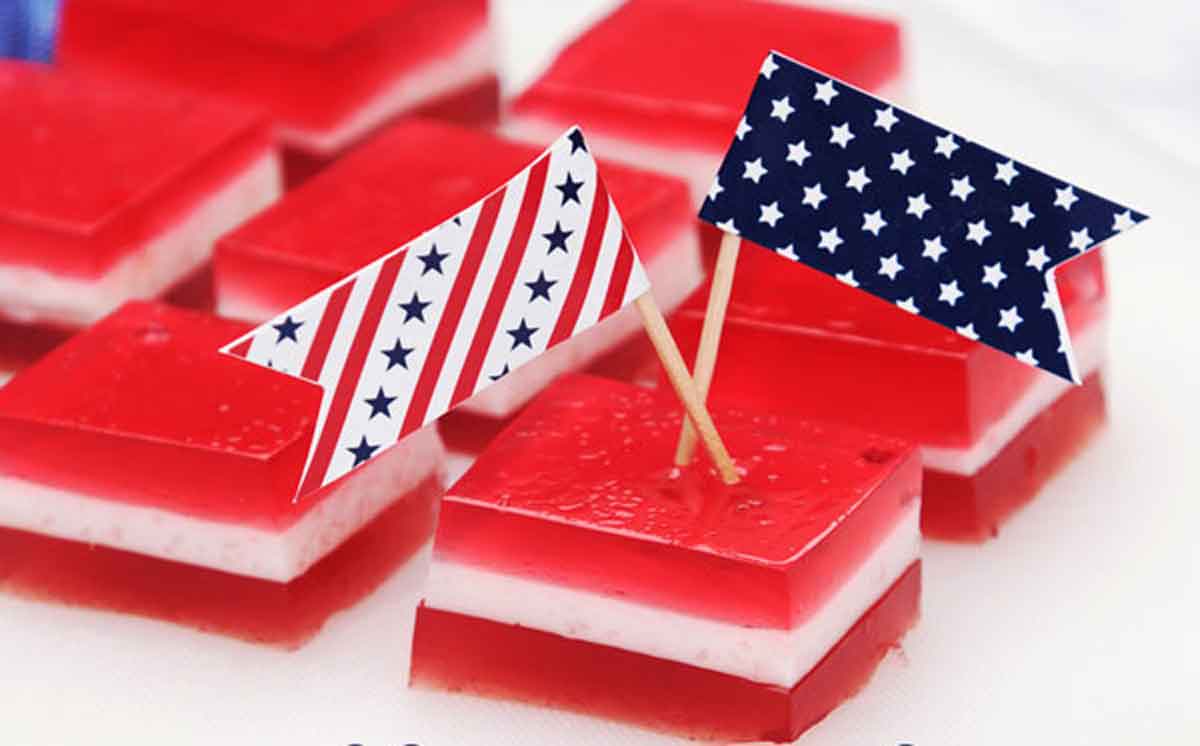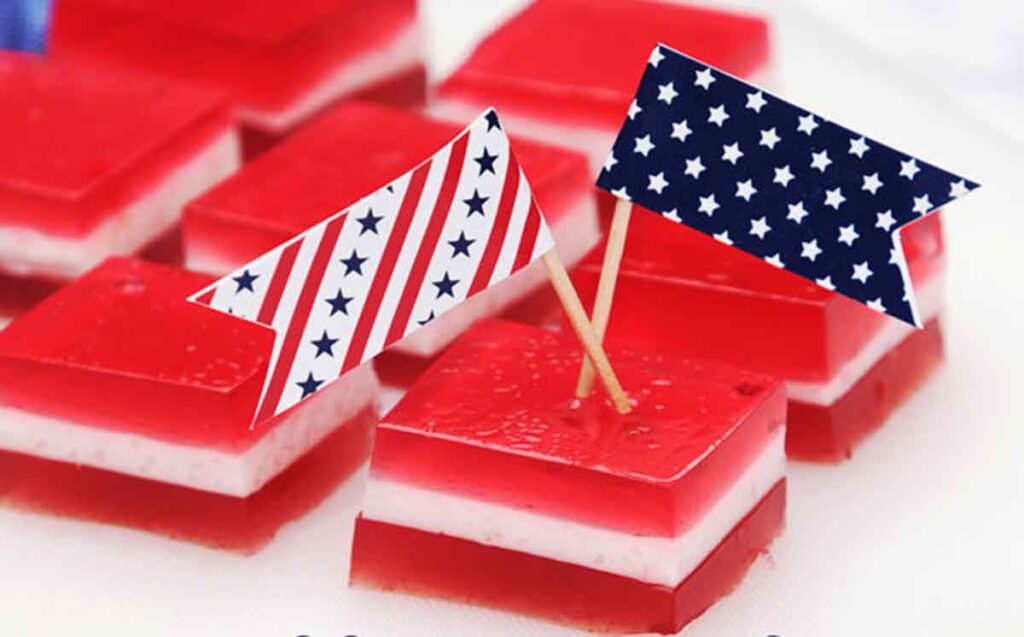 Vegans rejoice, this Jell-O recipe is free of animal products! Fried Dandelions offers a great recipe for patriotic, vegan Jell-O jigglers.
---
Patriotic Red Velvet Cake Balls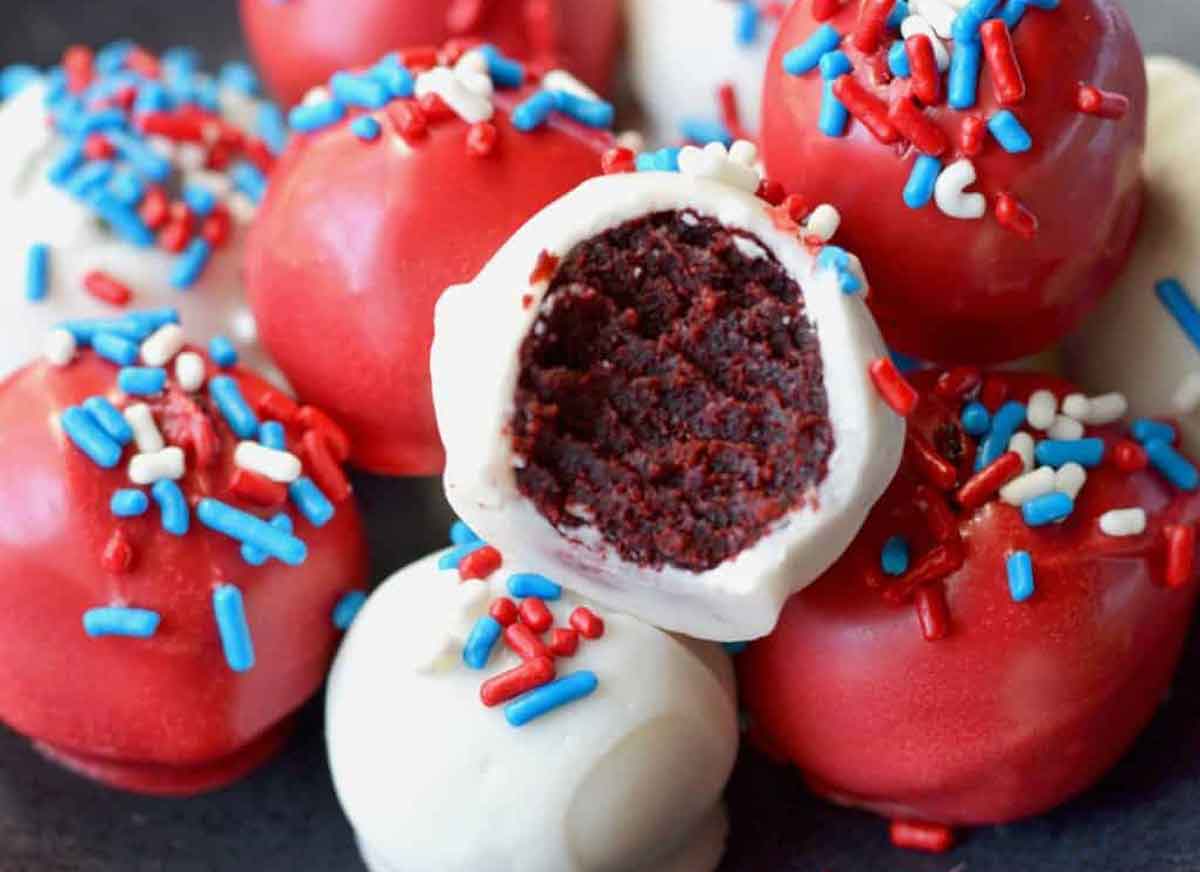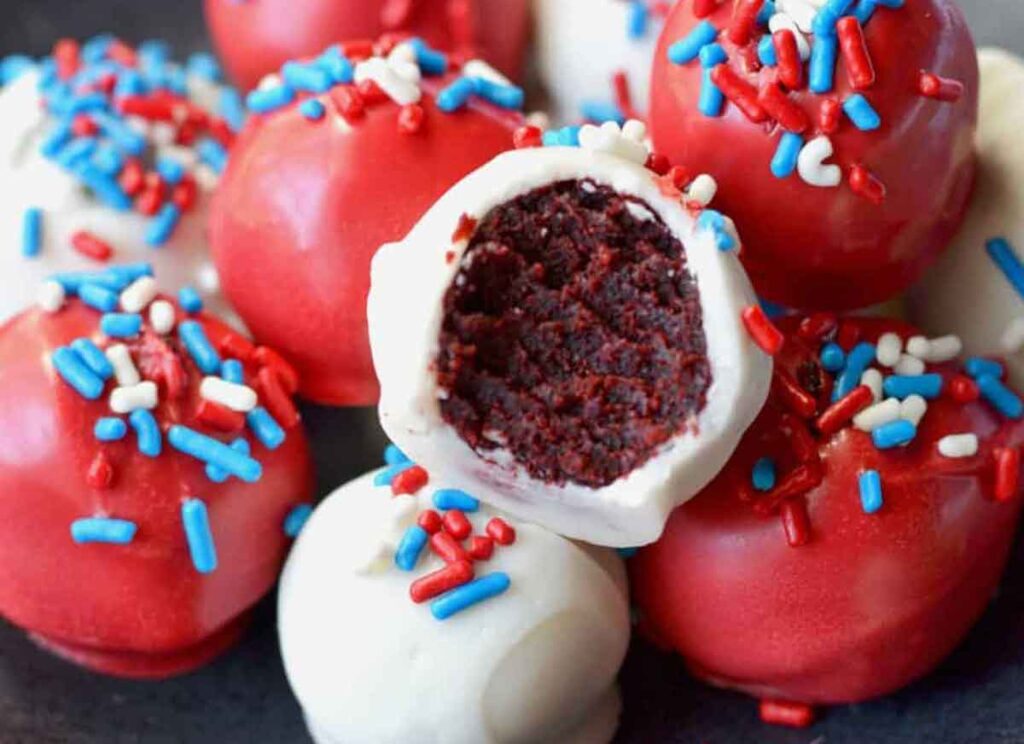 Doesn't your mouth water just looking at these patriotic red velvet cake balls? Beware, Butter Your Biscuit describes these as "Super addicting and downright sinful!"
---
Patriotic Oreo Pops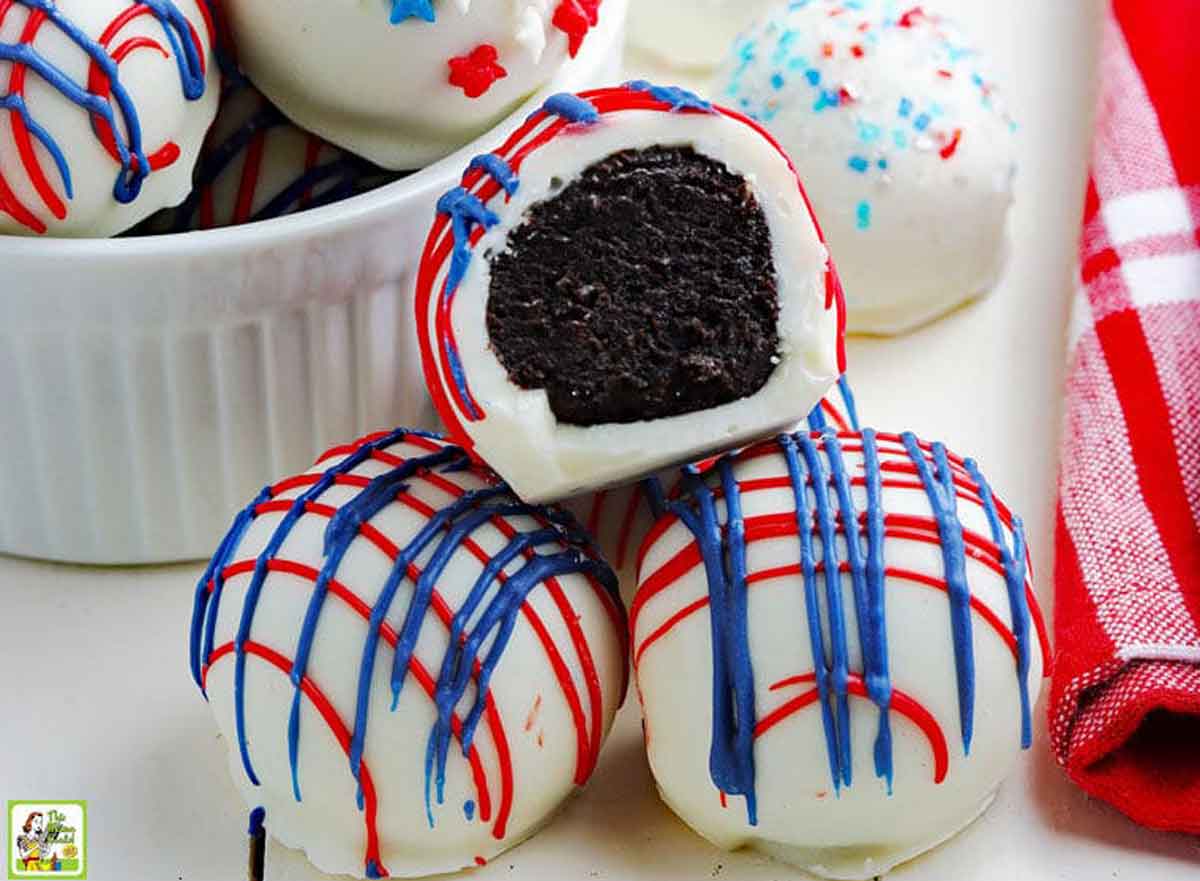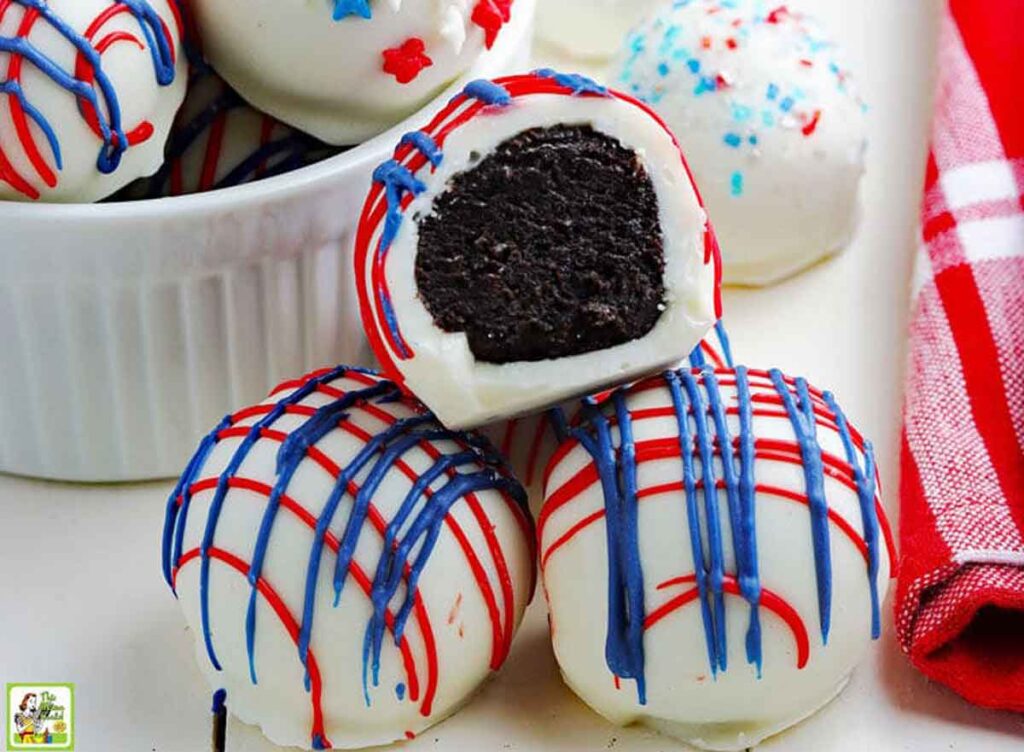 Oreo balls can easily be made with gluten-free Oreos and they are oh-so tasty! This Mama Cooks gives the scoop on this tasty-looking dessert recipe.
---
4th of July Dessert Board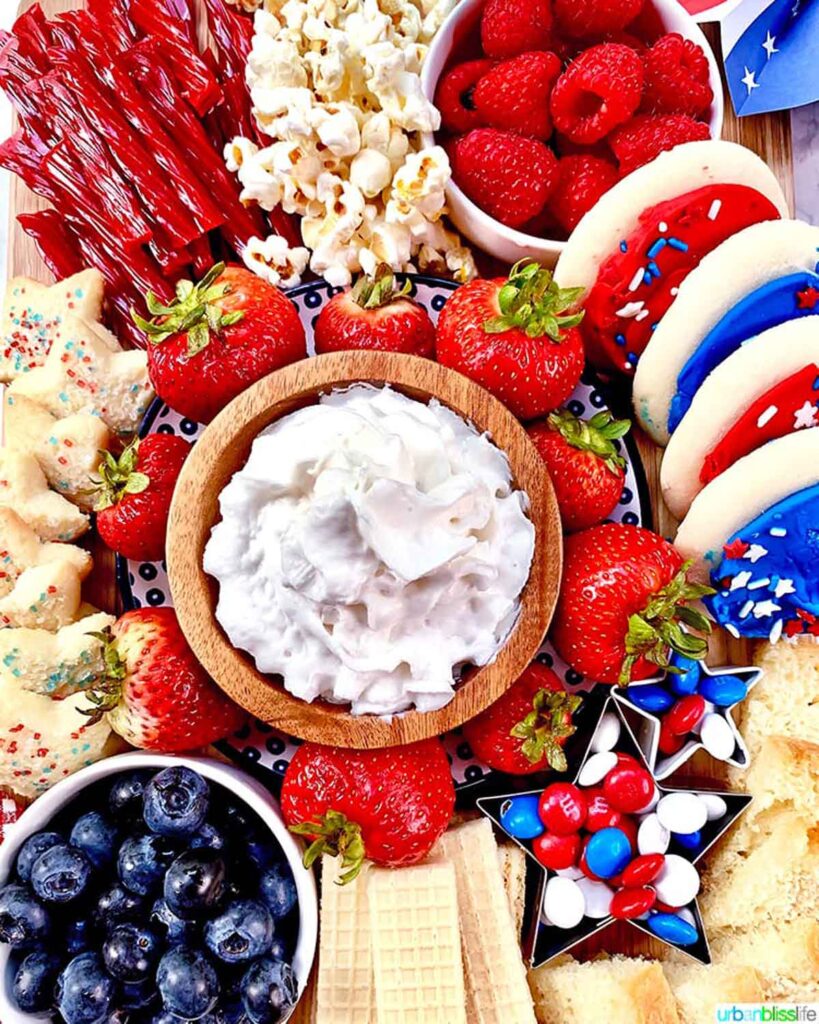 Can't decide which desserts to make? Do a 4th of July dessert board, like this one from Urban Bliss! Be sure to check out my step-by-step instructions if you're interested in building a charcuterie board.
---
Misc. Sweet Treats
Red, White, & Blue Cracker Toffee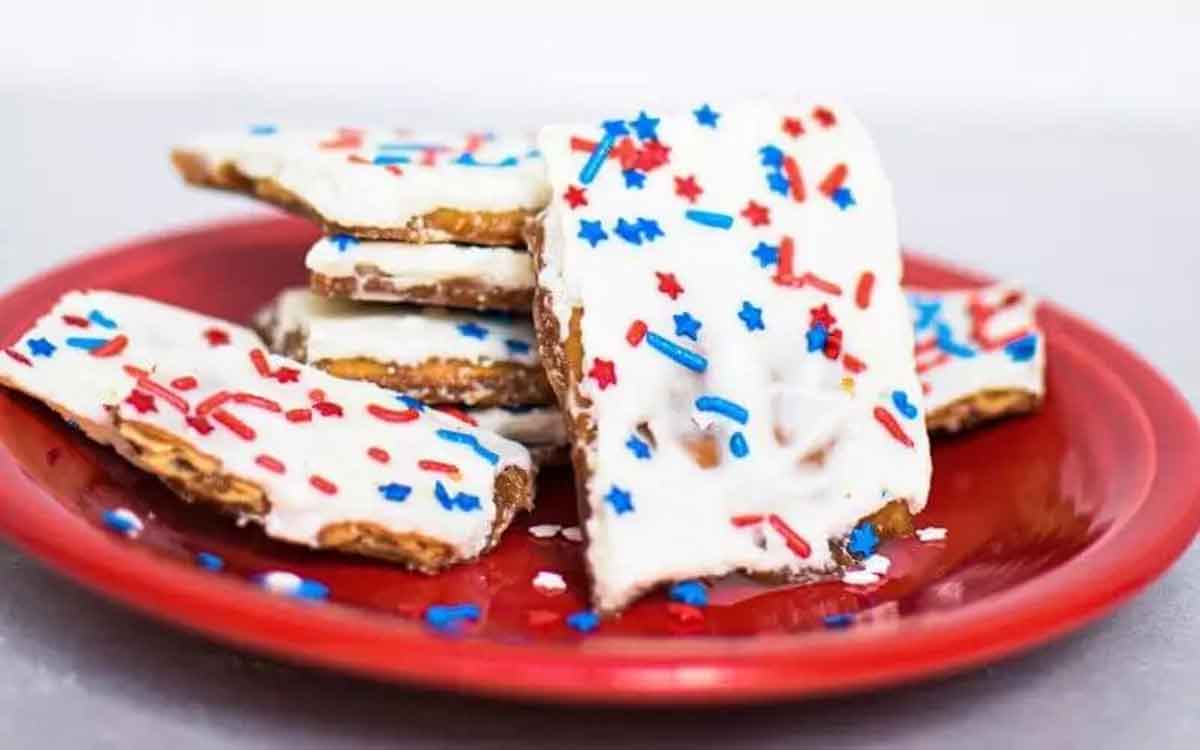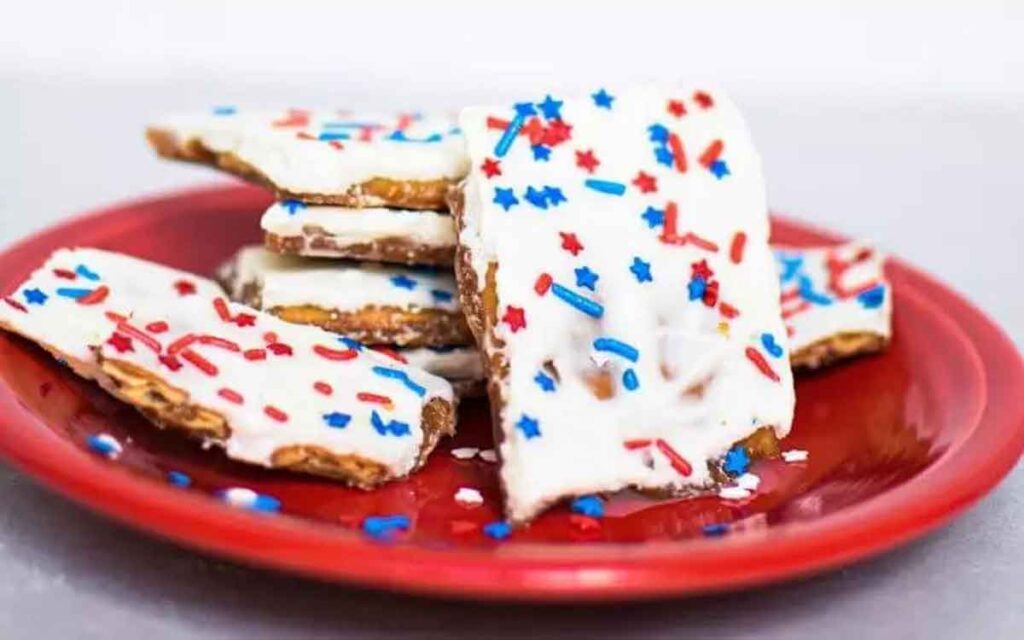 Homemade toffee over crackers gives this treat by Everyday Thrifty a sweet and salty crunch. Combine that with white almond bark and red and blue star sprinkles for a holiday-appropriate treat that is guaranteed not to last.
---
Patriotic Ice Cream Brownie Dessert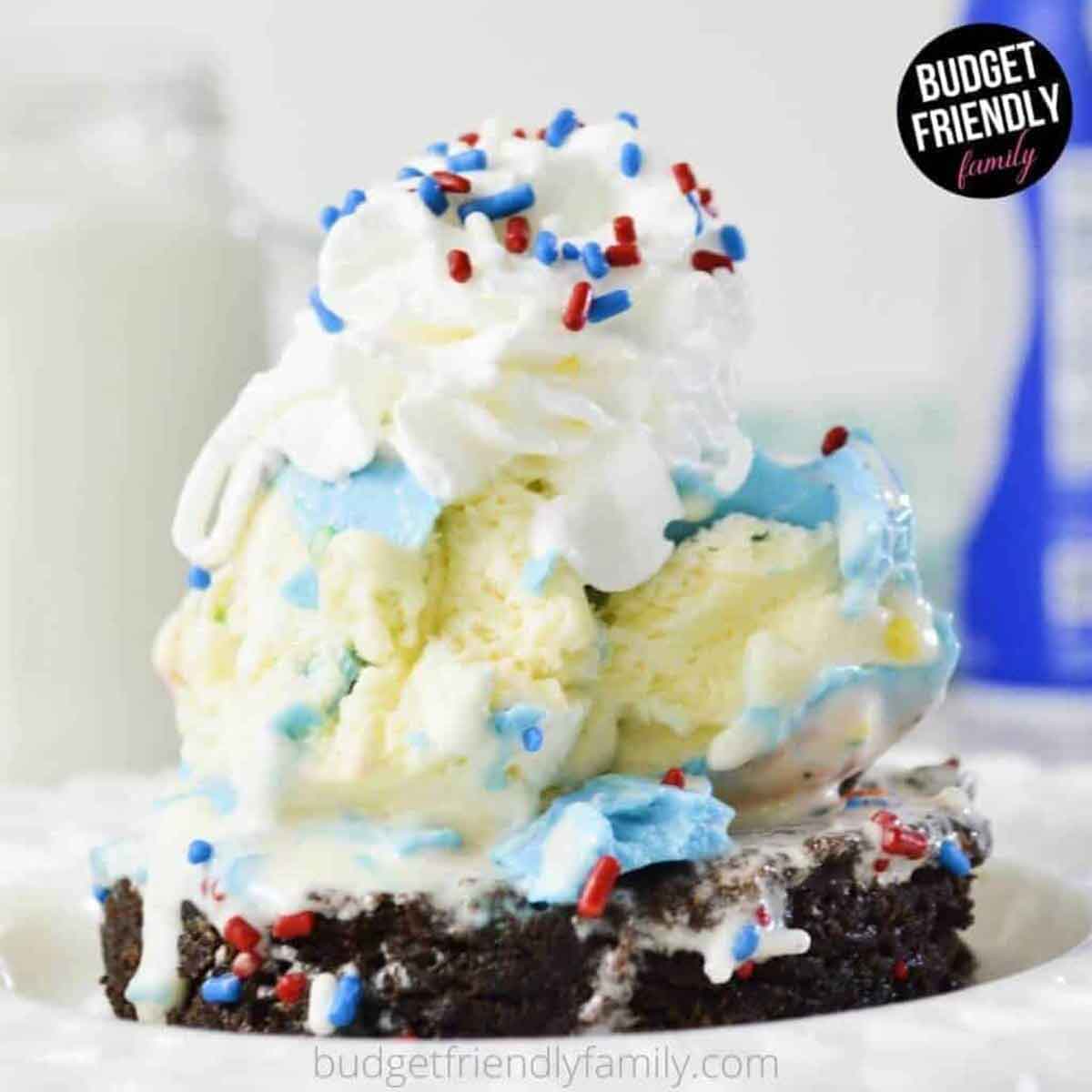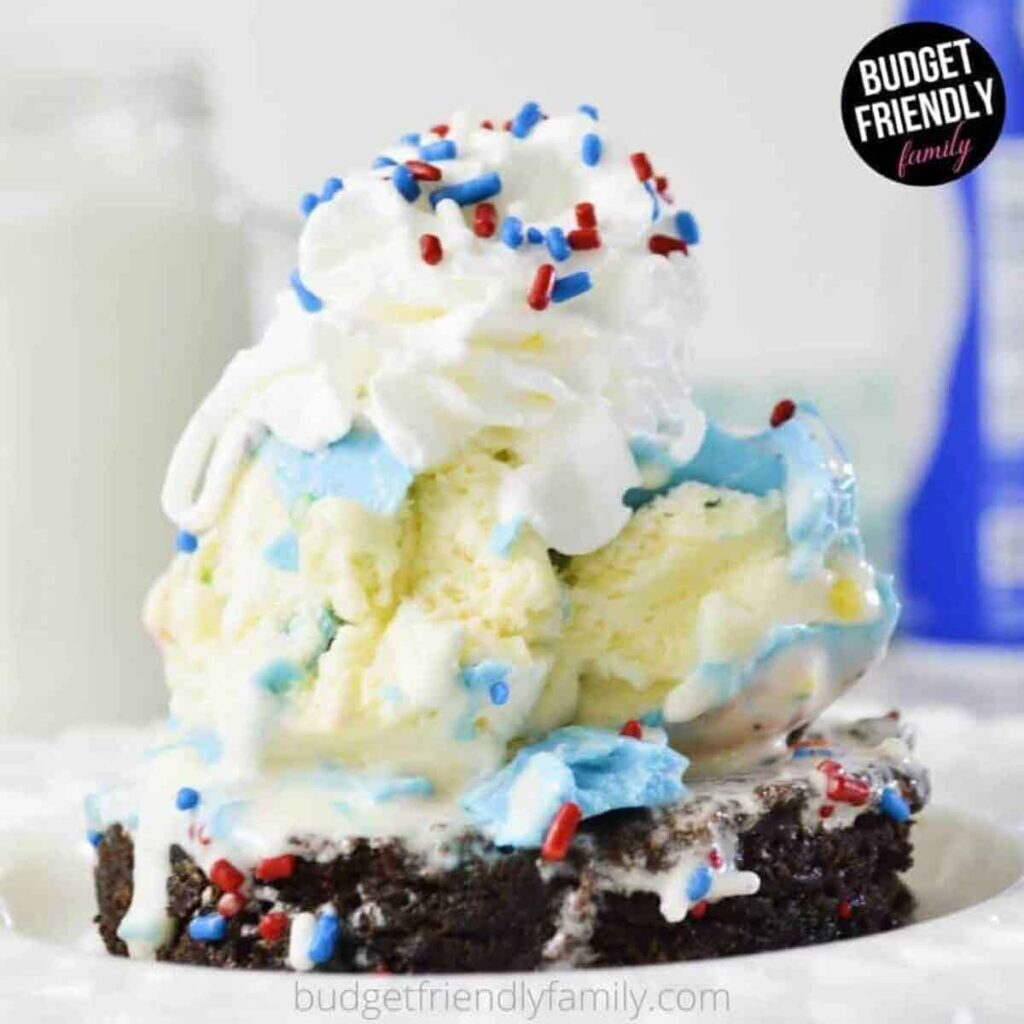 Cold ice cream on a warm brownie is a nearly perfect treat. Some red, white and blue sprinkles make this ice cream and brownies dessert absolutely ideal for the 4th of July. Thank you, Homeschool and Happiness, for the idea!
---
White Chocolate Puppy Chow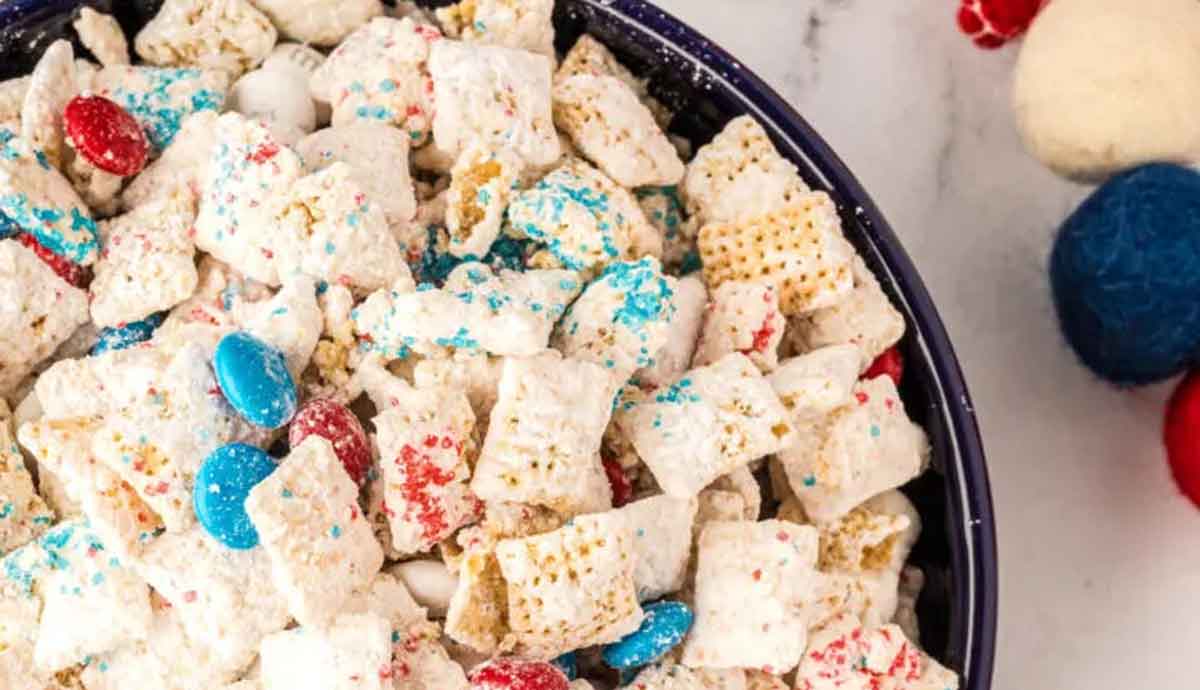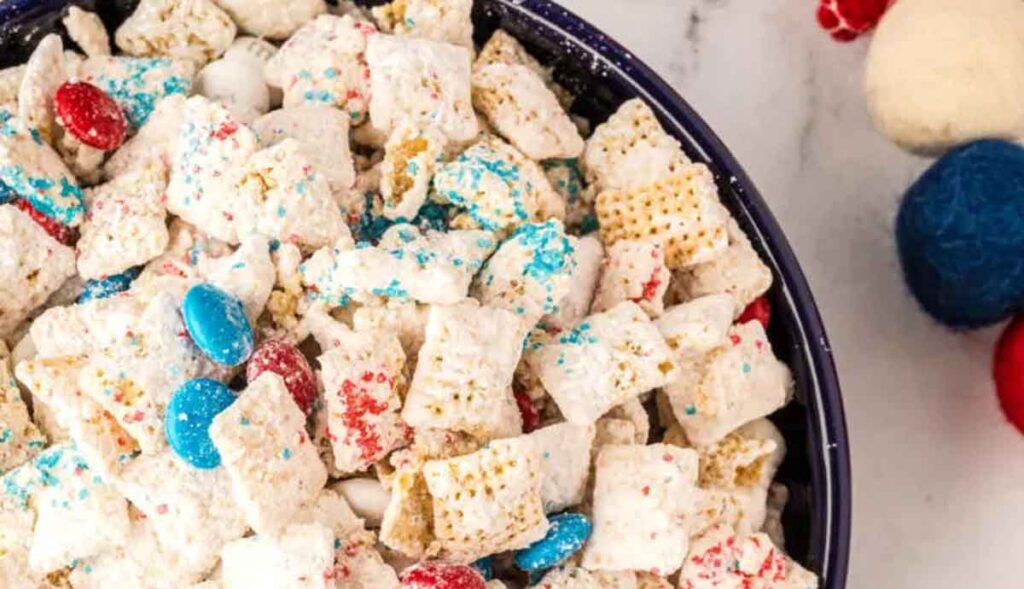 White chocolate Chex mix plus red and blue toppings make for the ideal patriotic snack for the start of July. Blackberry Babe uses M&Ms and patriotic sprinkles to add the color scheme.
---
Red, White, and Blue Jell-O with Cream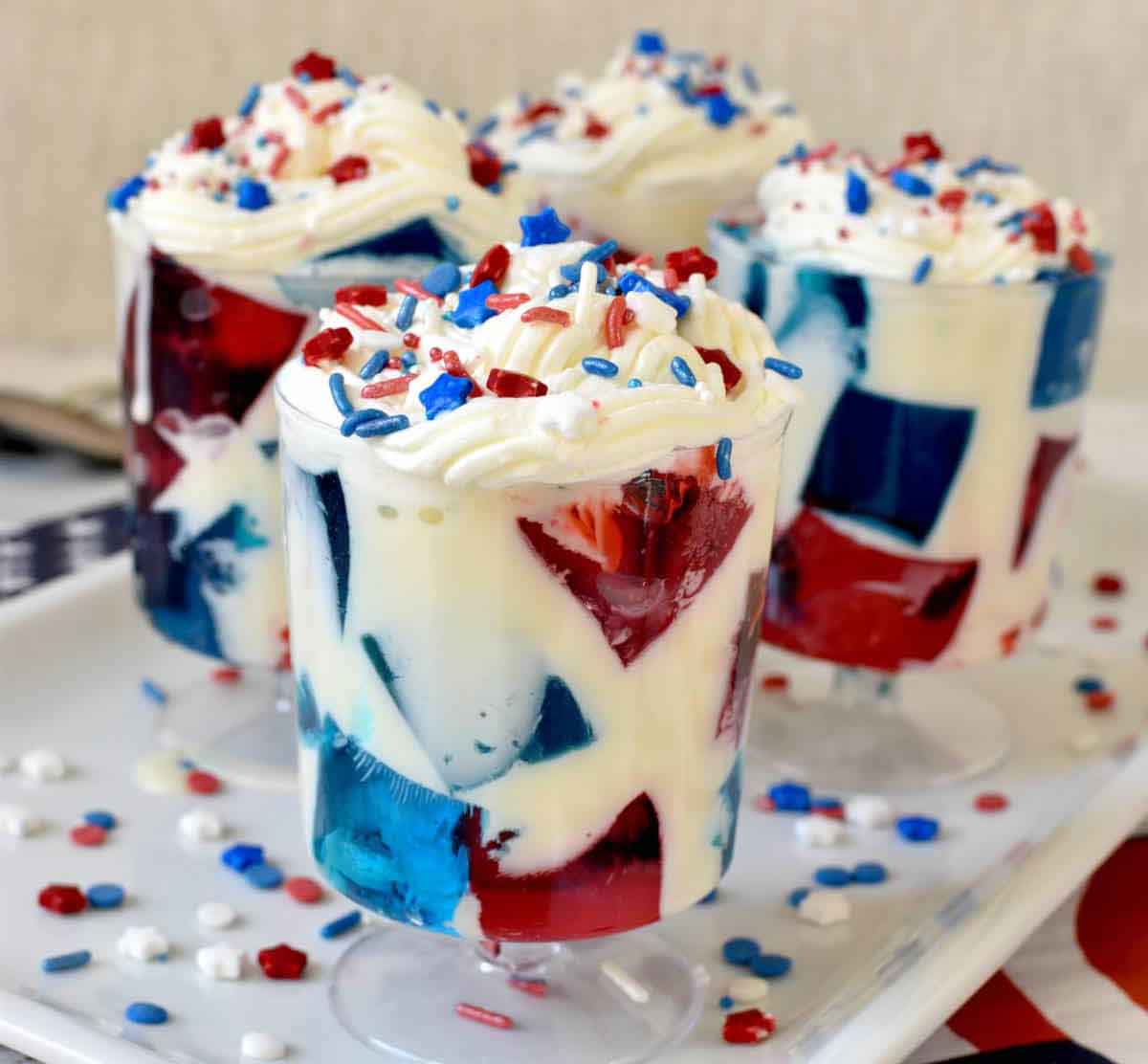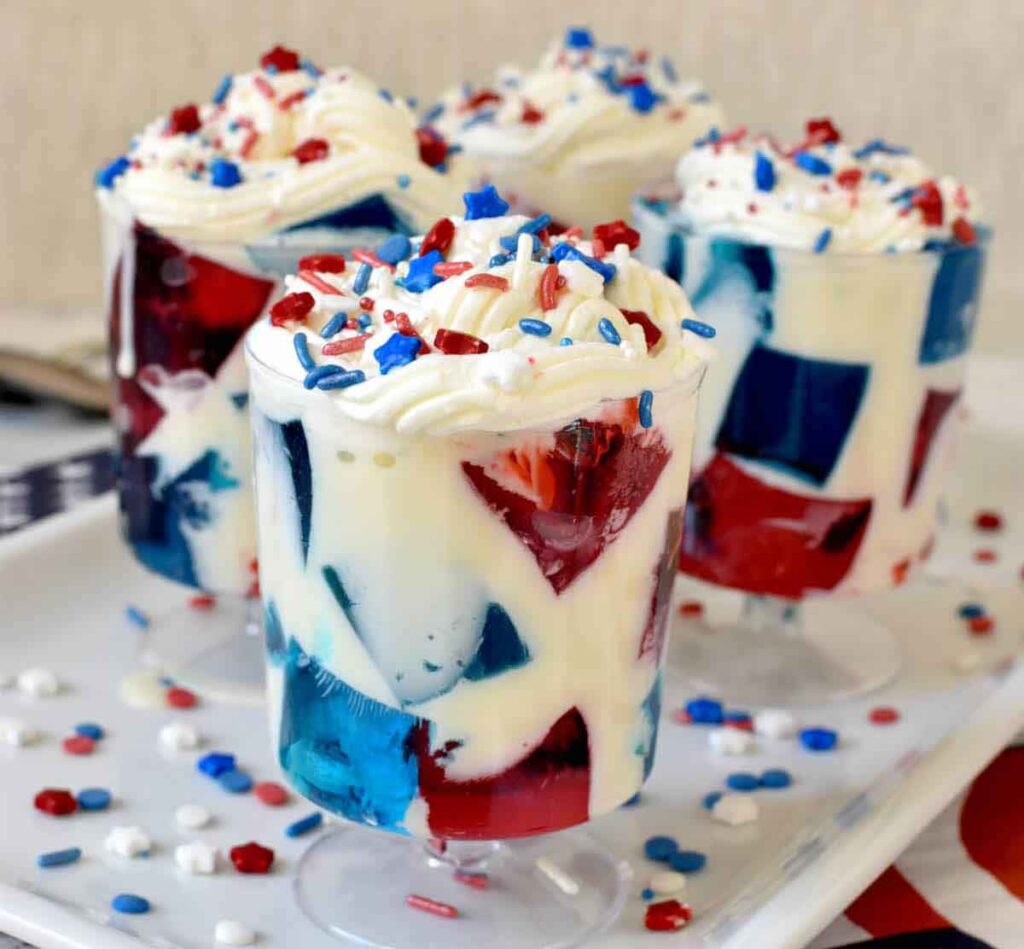 The white cream in this patriotic Jell-O dessert from Simple Living Recipes is a blend of heavy cream and sweetened condensed milk. Need I say more?
---
Red White and Blueberry Parfait with Meringue Stars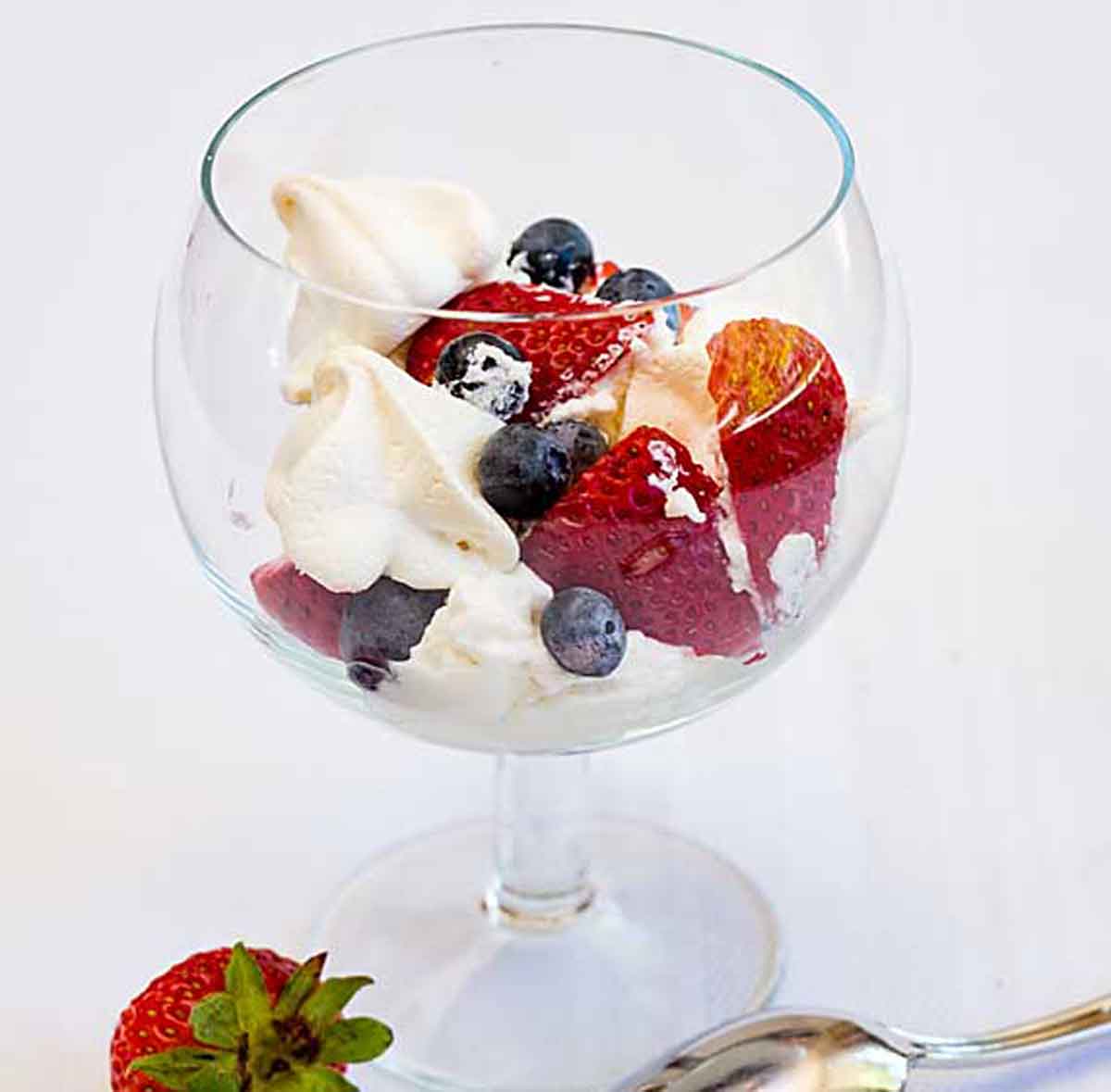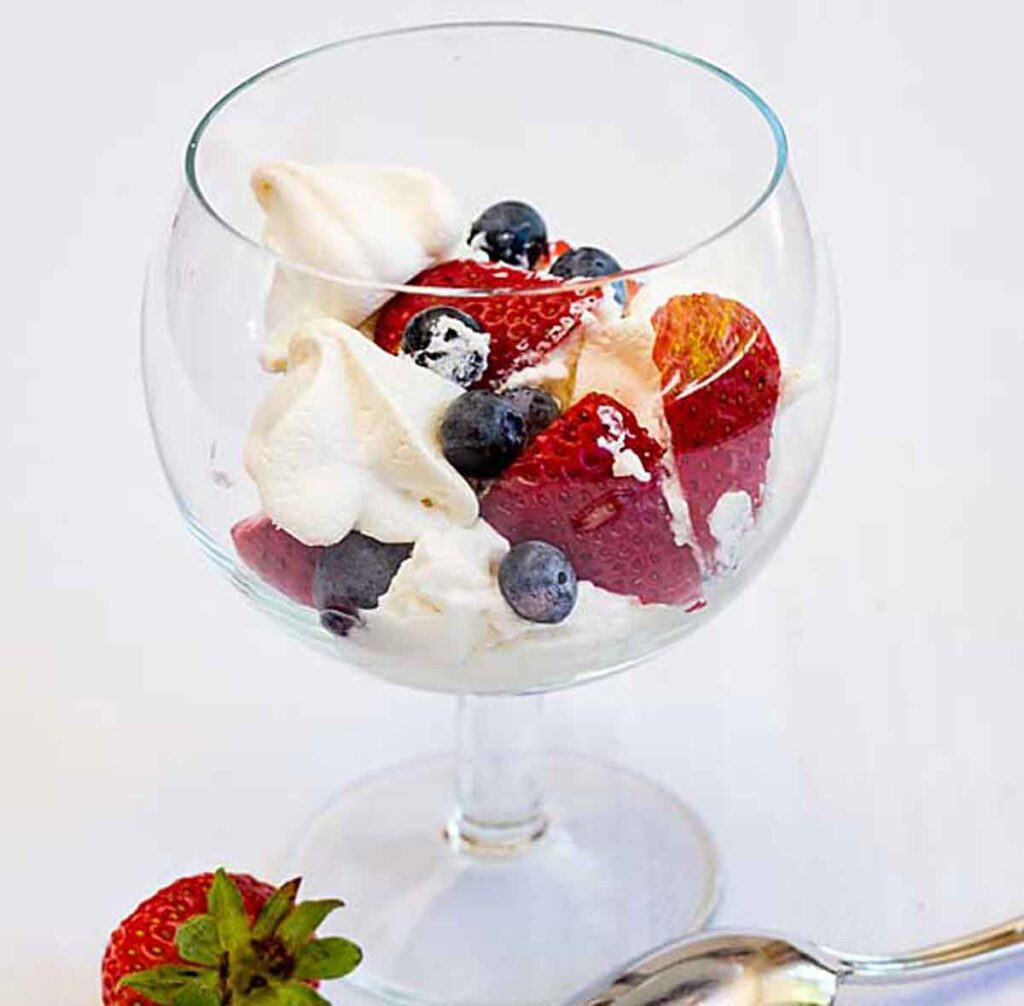 This patriotic parfait recipe from Art of Natural Living is light and sophisticated. Some simple ingredients are combined to make a truly elegant-looking dessert with a red, white, and blue theme.
---
Easy Red White and Blue Trifle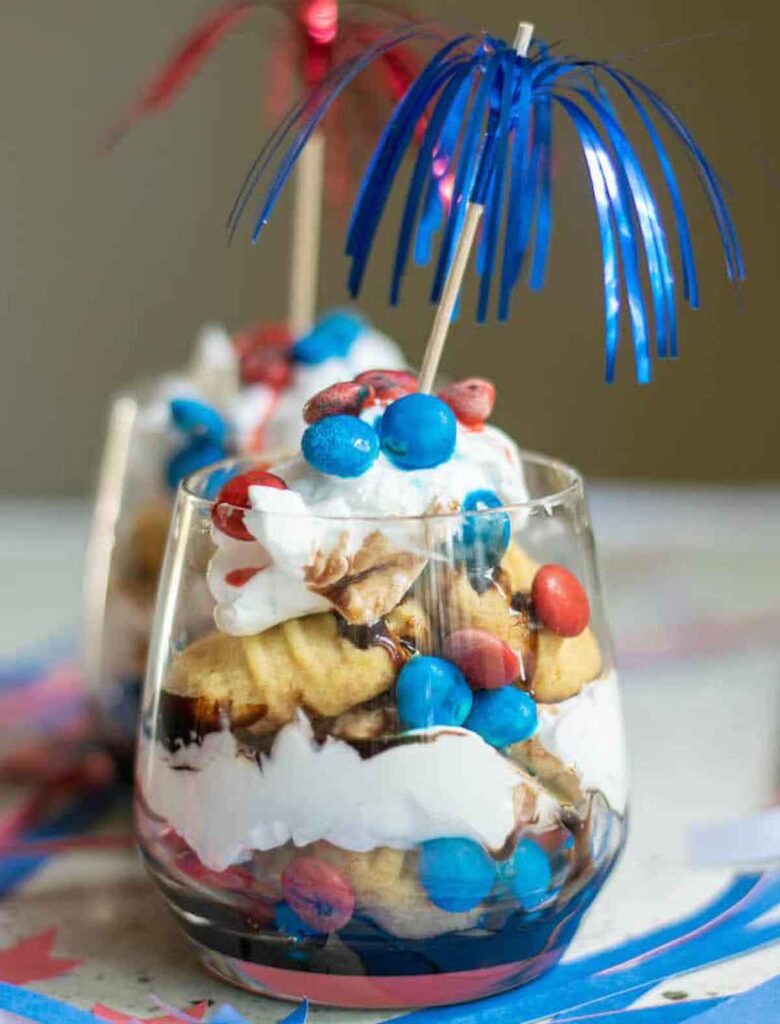 This recipe by Recipes from a Pantry is so easy to throw together, you could assign this to a child to make it for your 4th of July party. Recipes from a Pantry used shortbread cookies, whipped cream, chocolate sauce, and blue M&M to make these patriotic trifles.
---
American Flag Smores Dip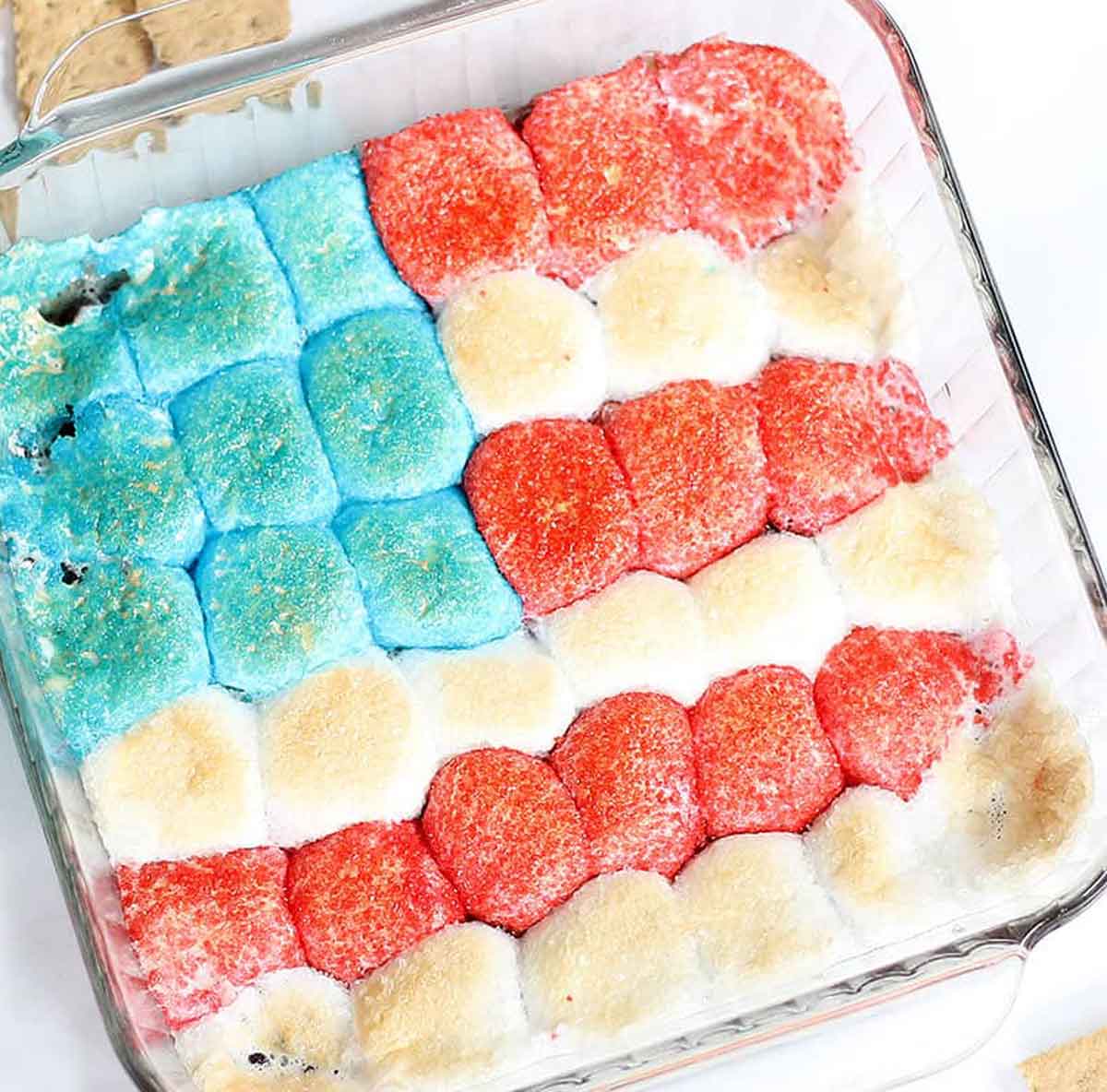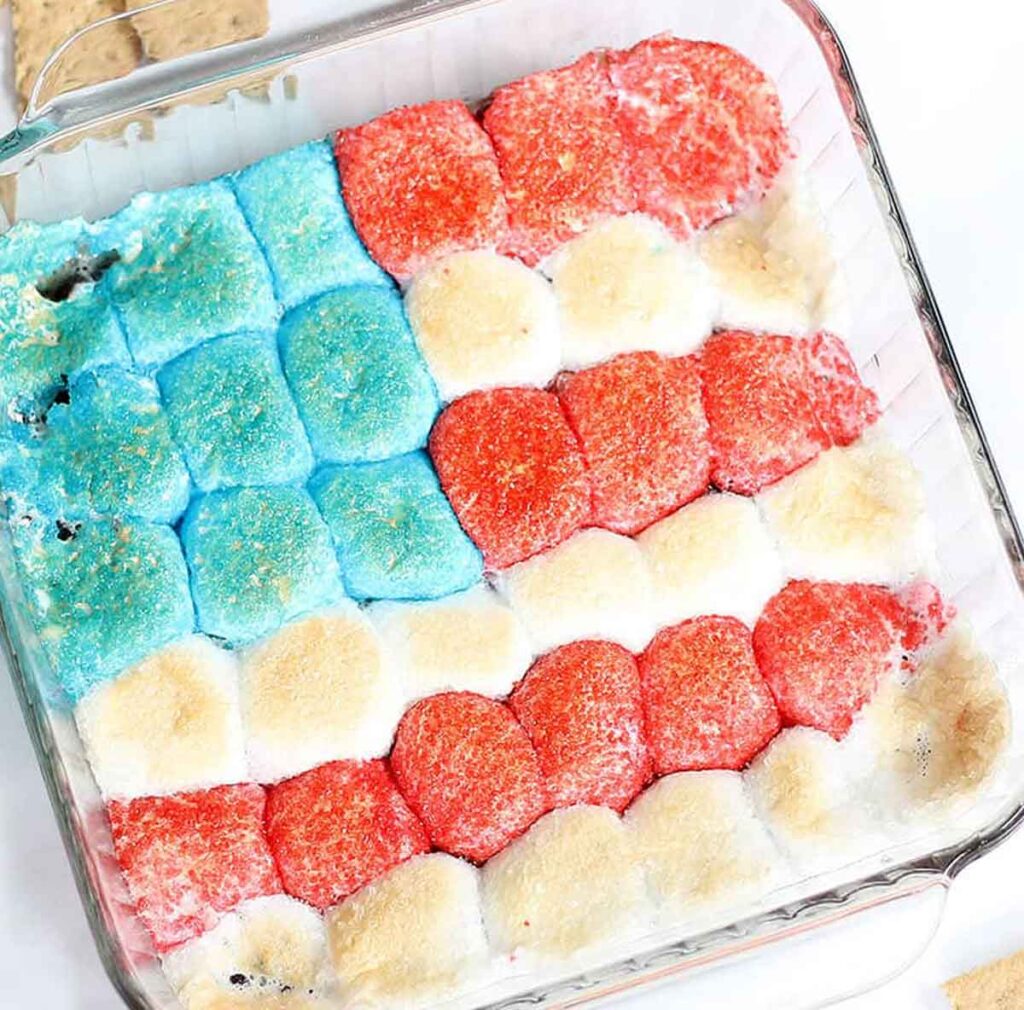 I'm not sure if the U.S.A. can claim s'mores but there is definitely something patriotic about them! This s'mores dessert recipe by The Decorated Cookie brings tasty campfire s'mores to the Independence Day dessert table.
---
Patriotic Mousse Parfait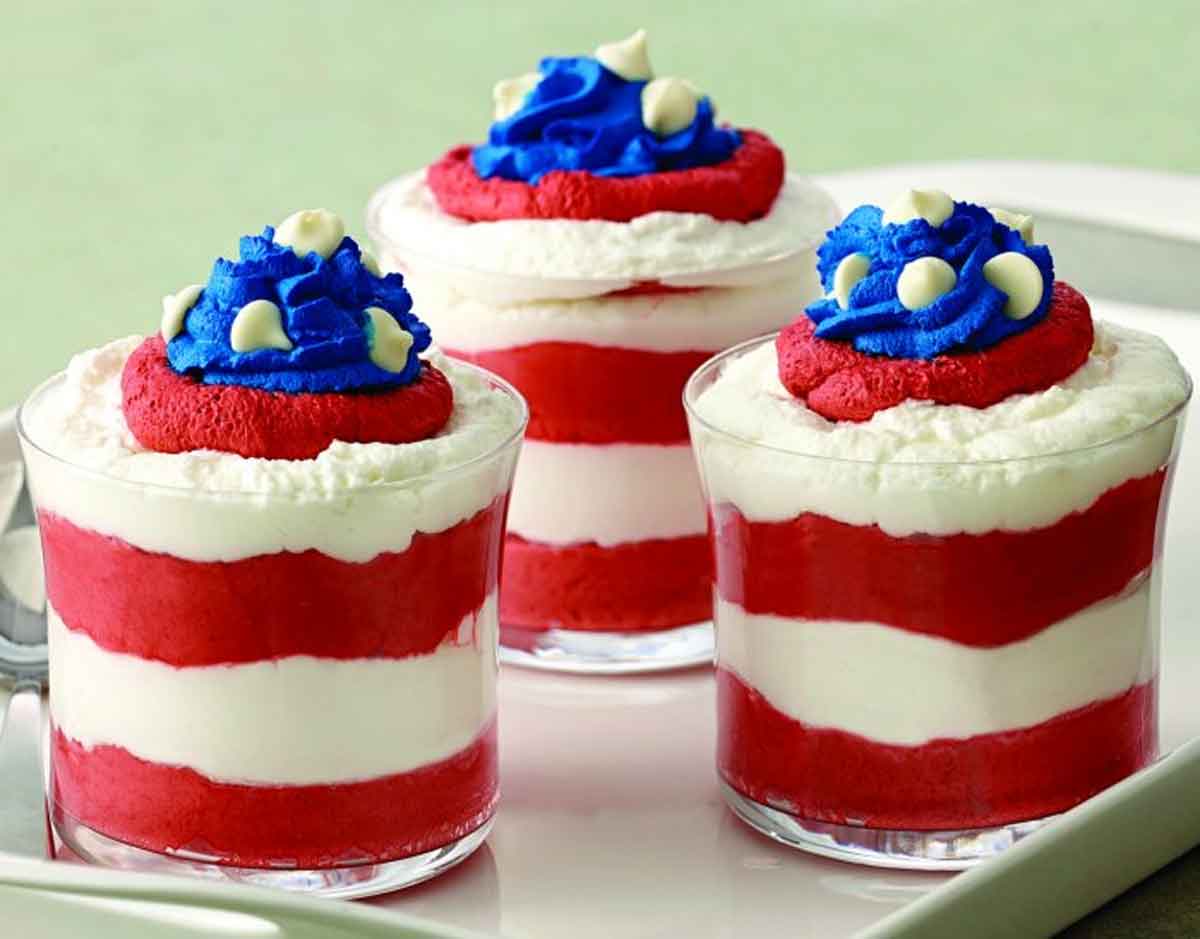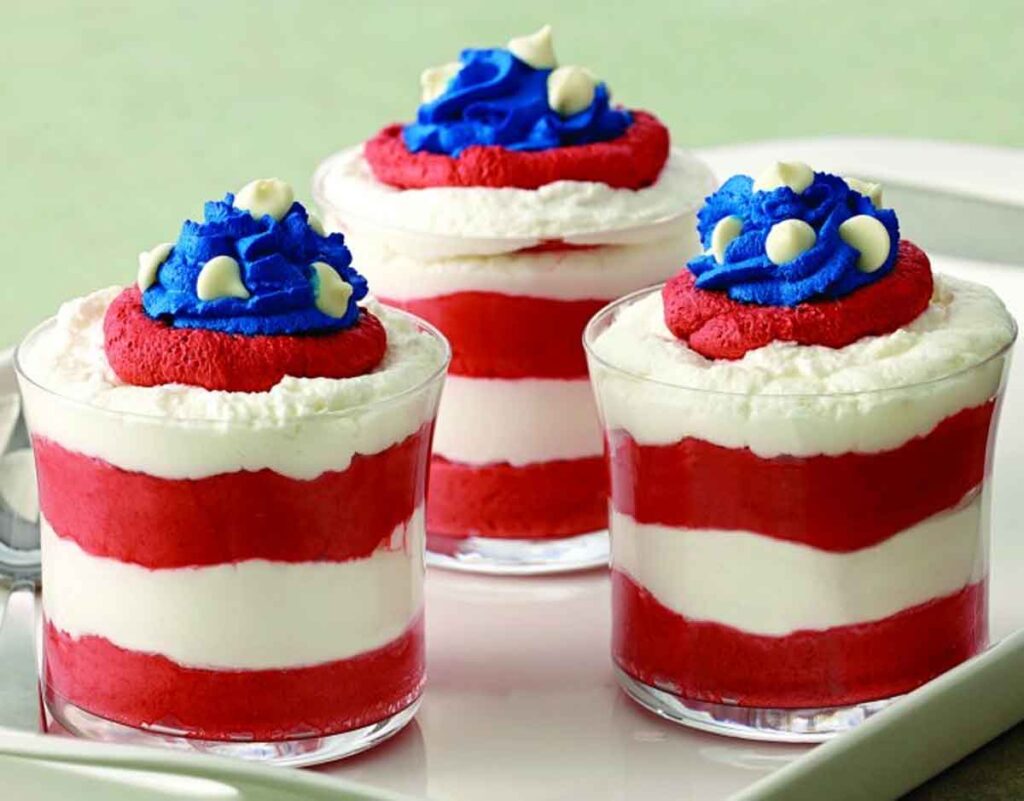 These patriotic mousse parfaits are eye-catching and so simple to make. Alternating colors in the right order is the toughest part of this recipe from Mommy Evolution.
---
Jell-O Strawberry Pie by Today's Creative Life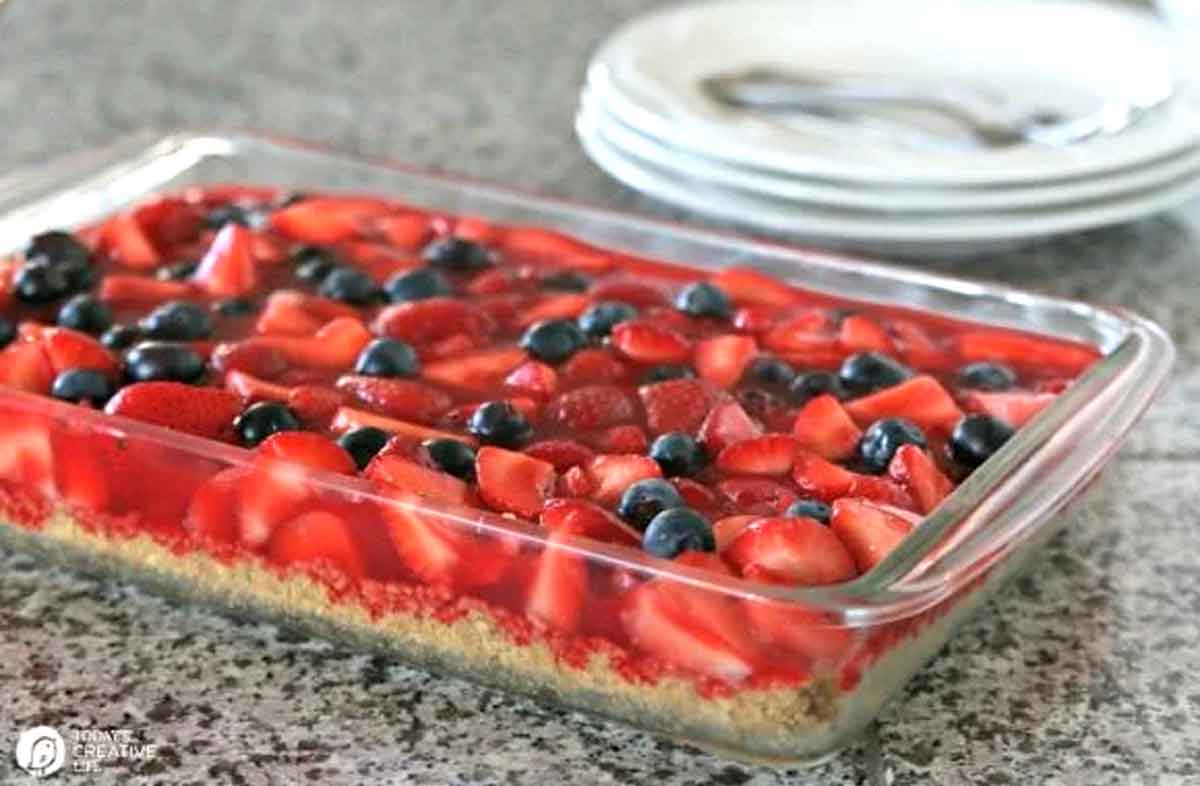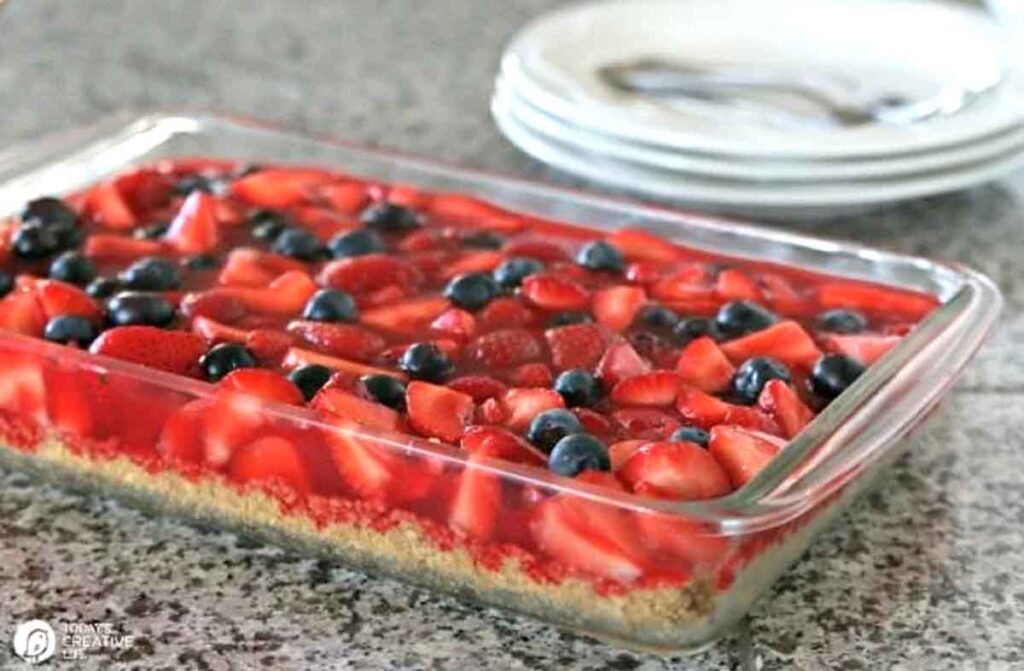 This slab pie is refreshing and embodies the patriotic season with strawberries and blueberries. Today's Creative Life walks you through the recipe including the graham cracker crust.
---
Red, White & Blue Berry Tart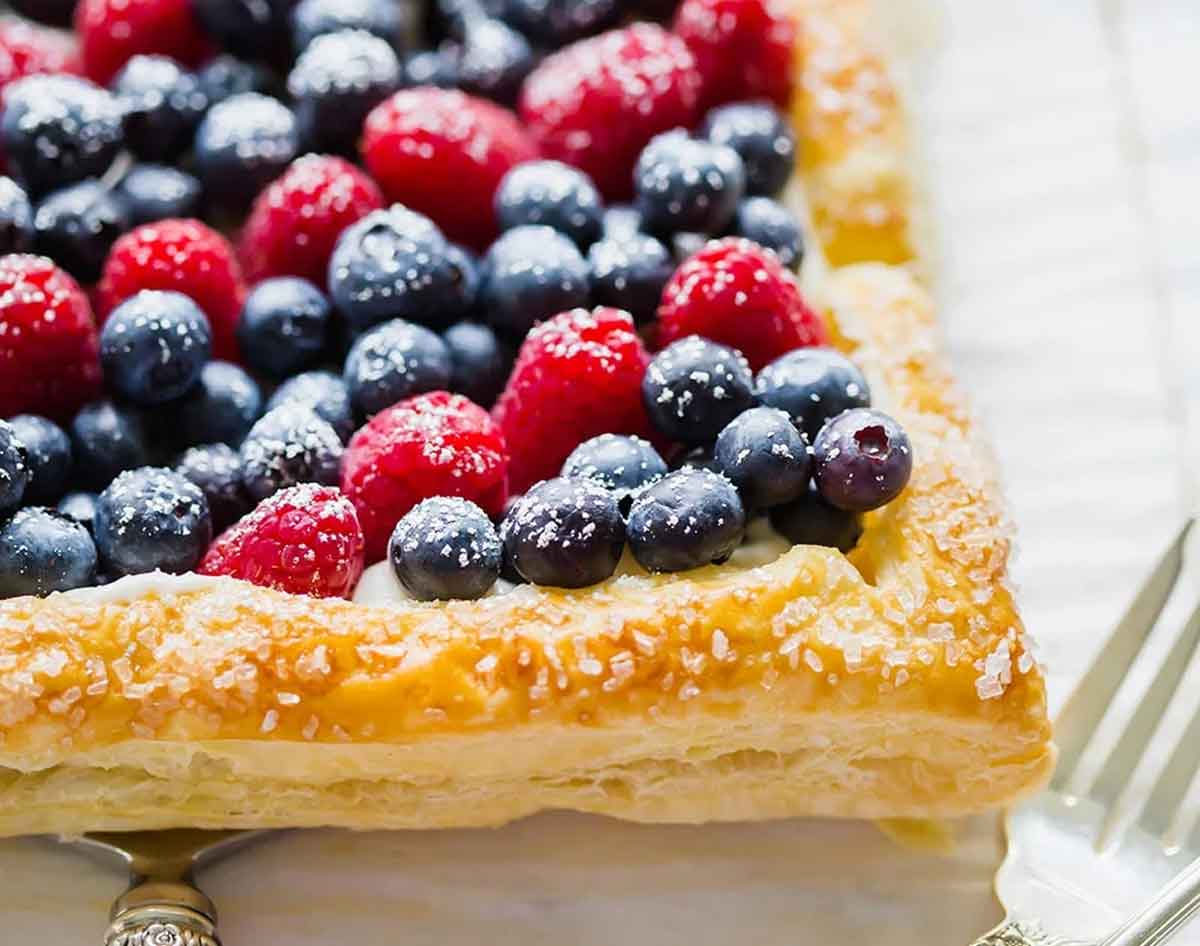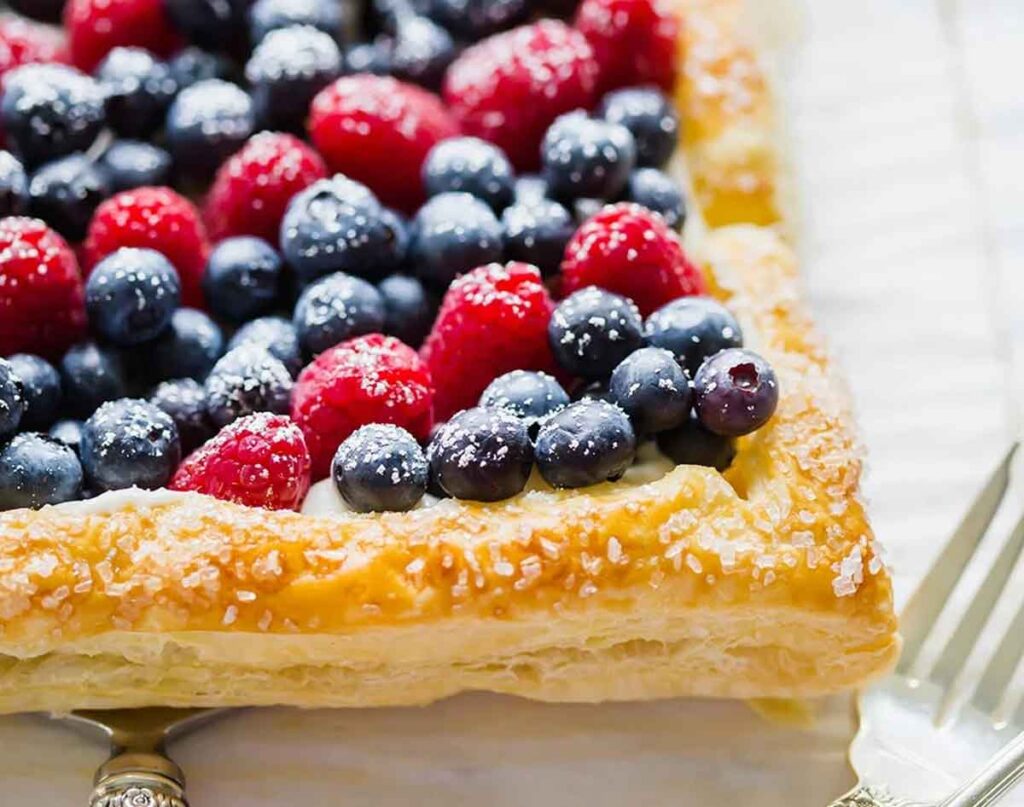 The maker of this tart recipe, Pizzazzerie, put it best: "The buttery layers of the puff pastry, the sweet cream filling, and sugared berries are the ultimate combination for the 4th!"
---
Red White and Blue Layered Jell-O Dessert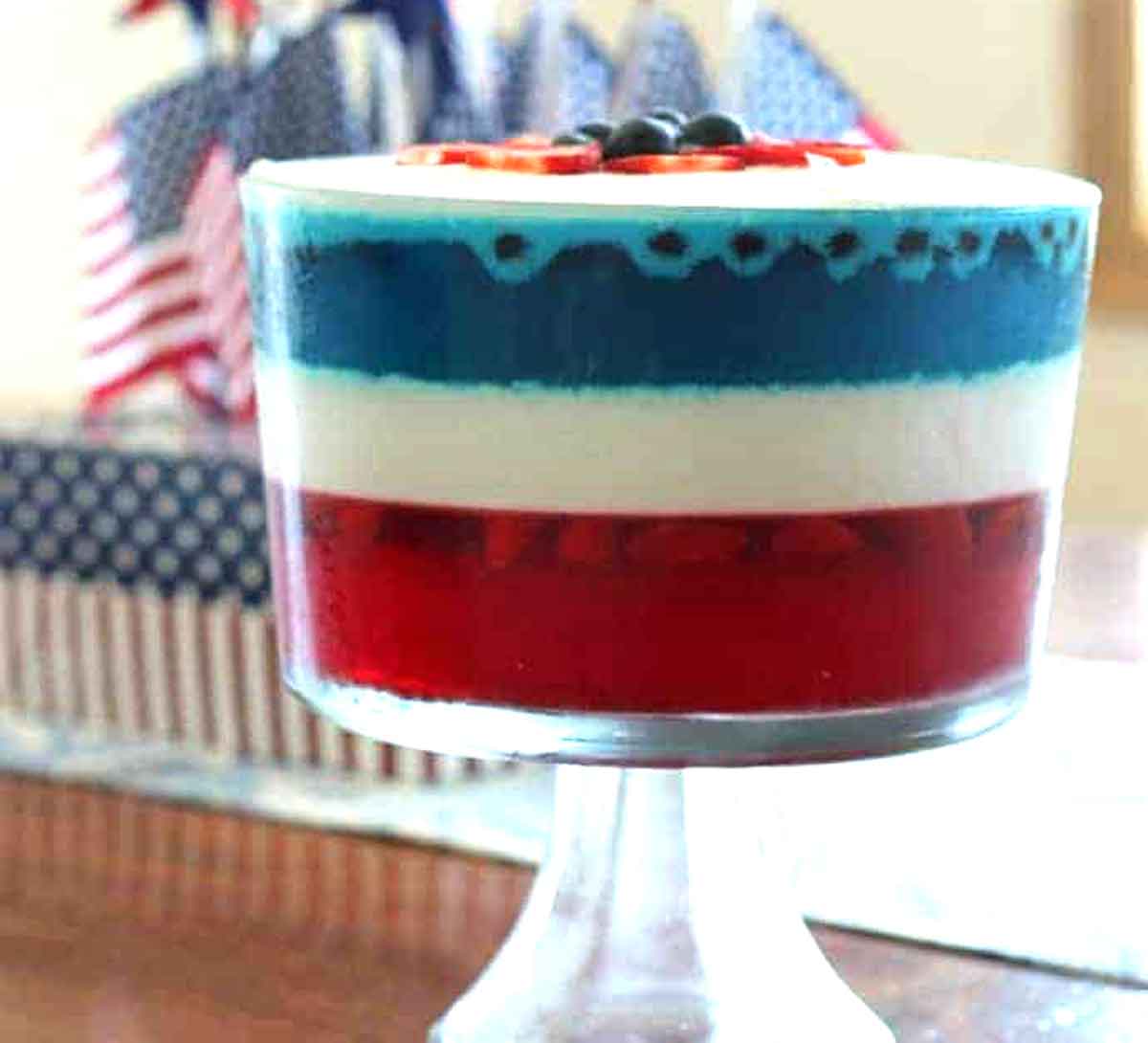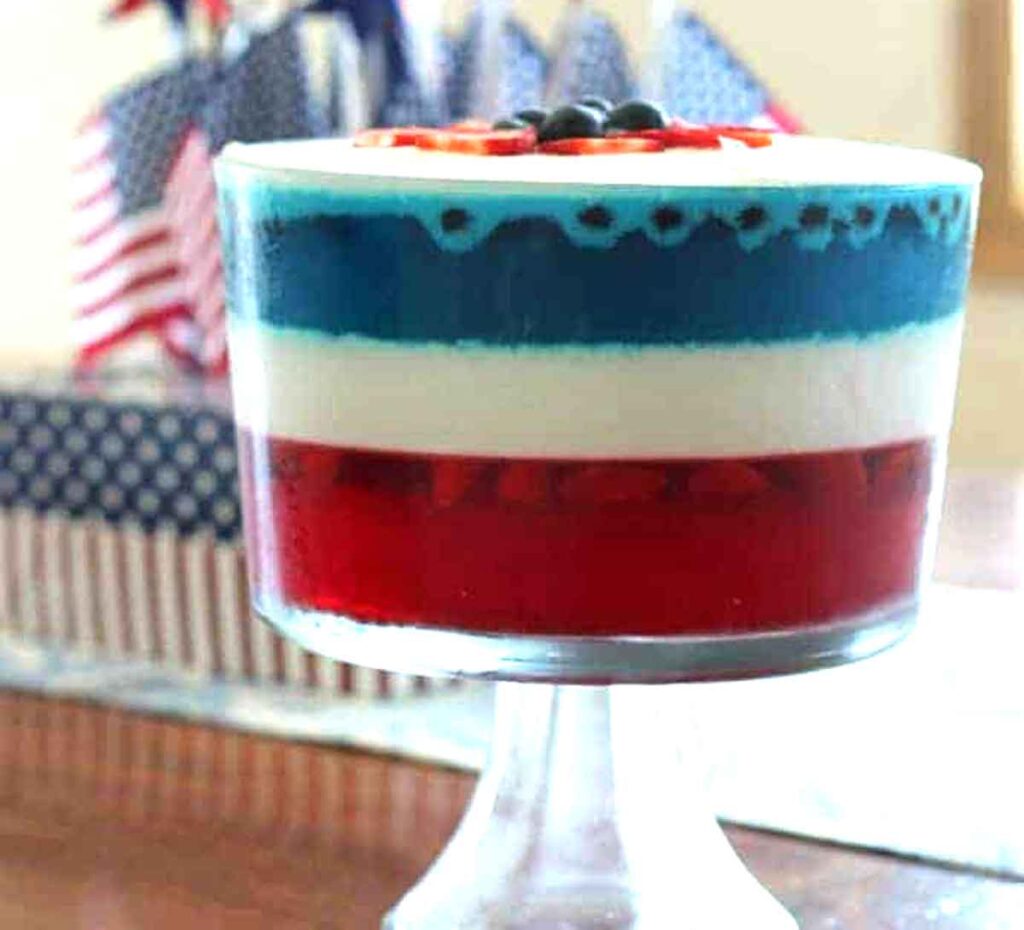 Wow your guests with this layered Jell-O dessert recipe. Simple Seasonal talks about the importance of letting each layer set completely before adding the next layer.
---
Patriotic Pavlova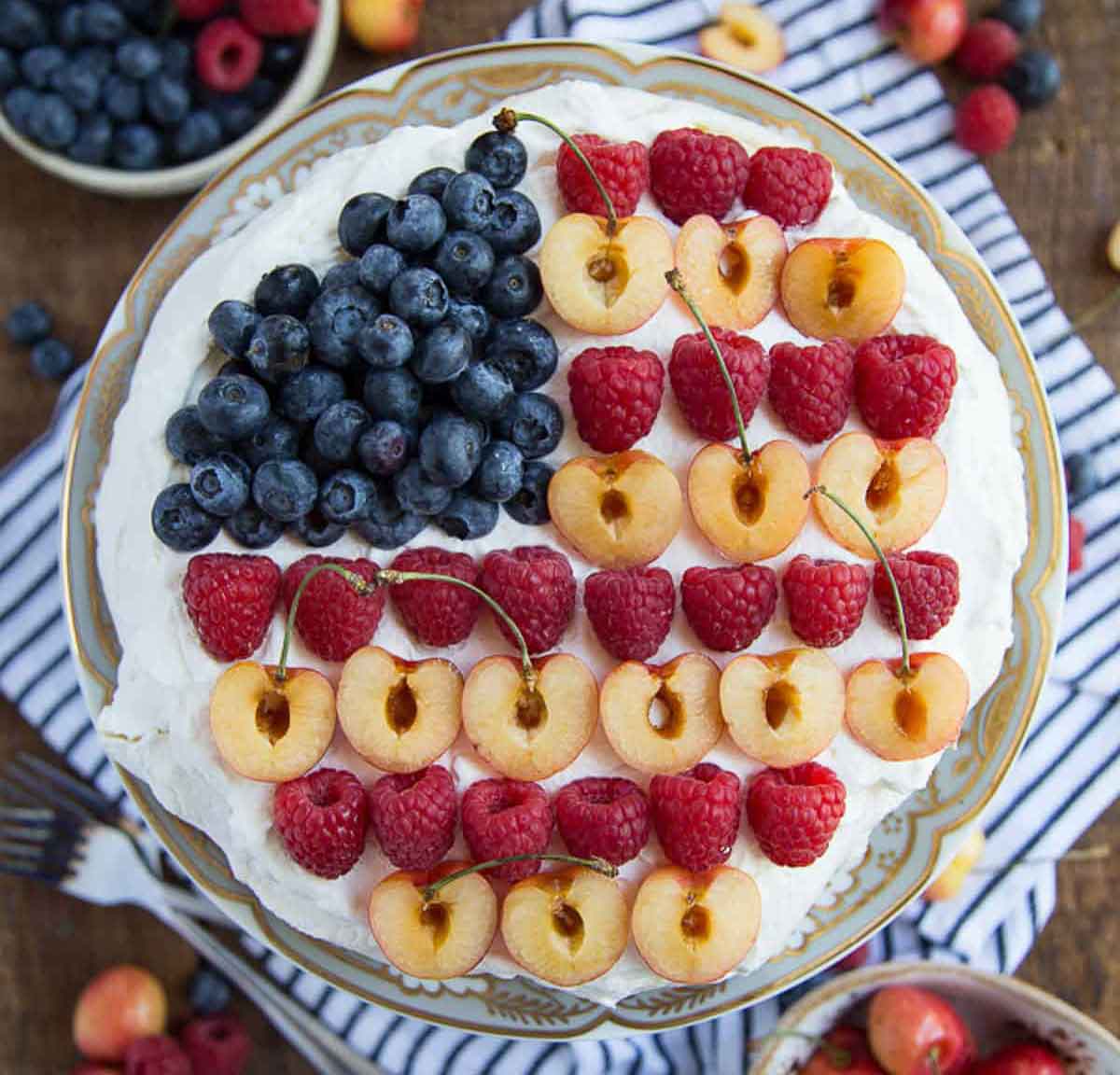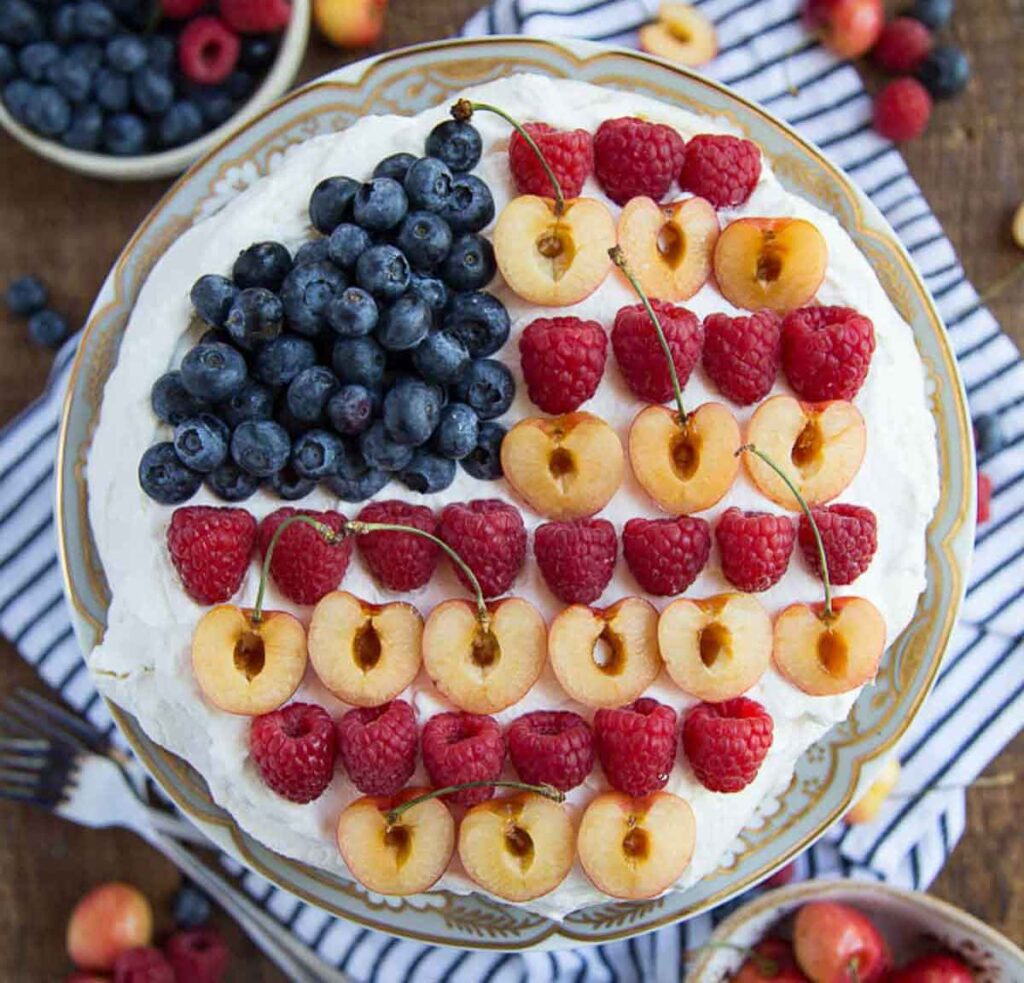 Pavlova is such a light and airy treat. This recipe by Gift of Hospitality will tell you everything you need to know to make your own patriotic pavlova masterpiece.
---
Red, White, and Blue Funfetti Blondies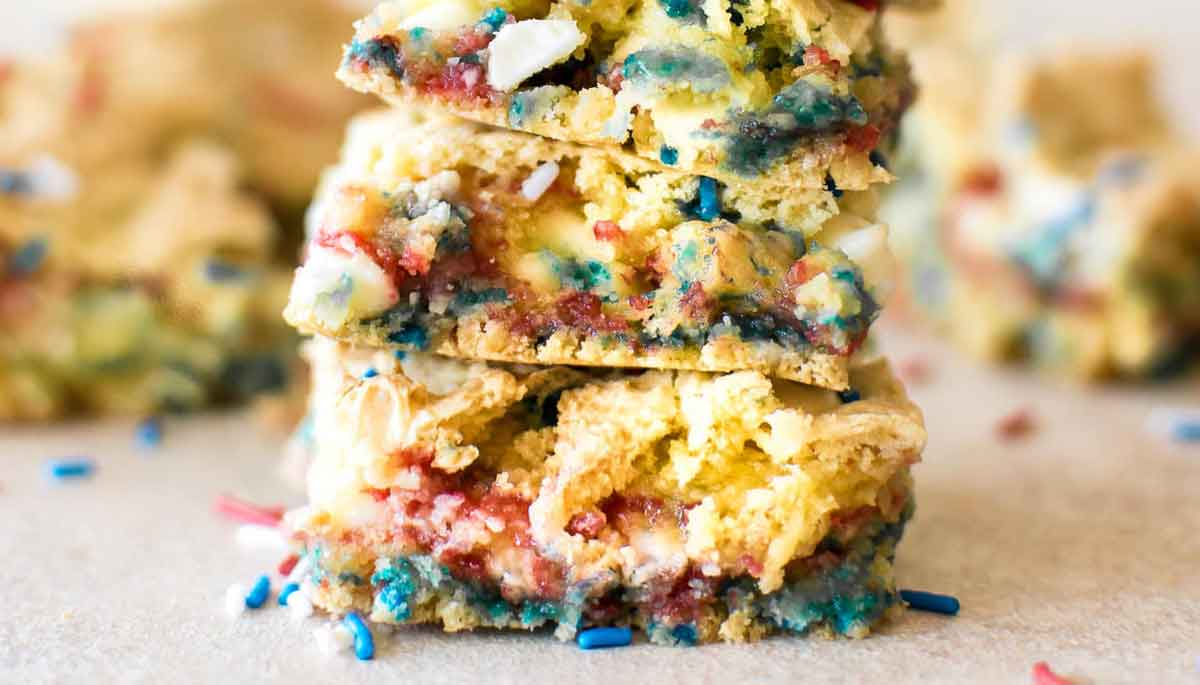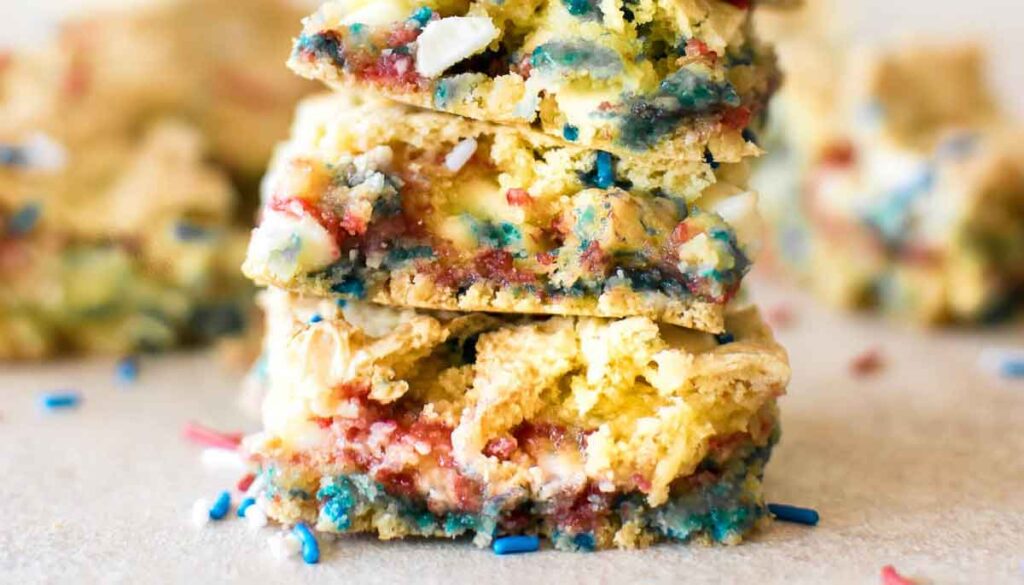 Do yourself a favor and make these red, white, and blue funfetti blondies. Salt and Lavender's secret ingredient for these bars is white chocolate chips, which add a gooey texture and sweeter flavor.
---
Crowd-Pleasing Cherry Bars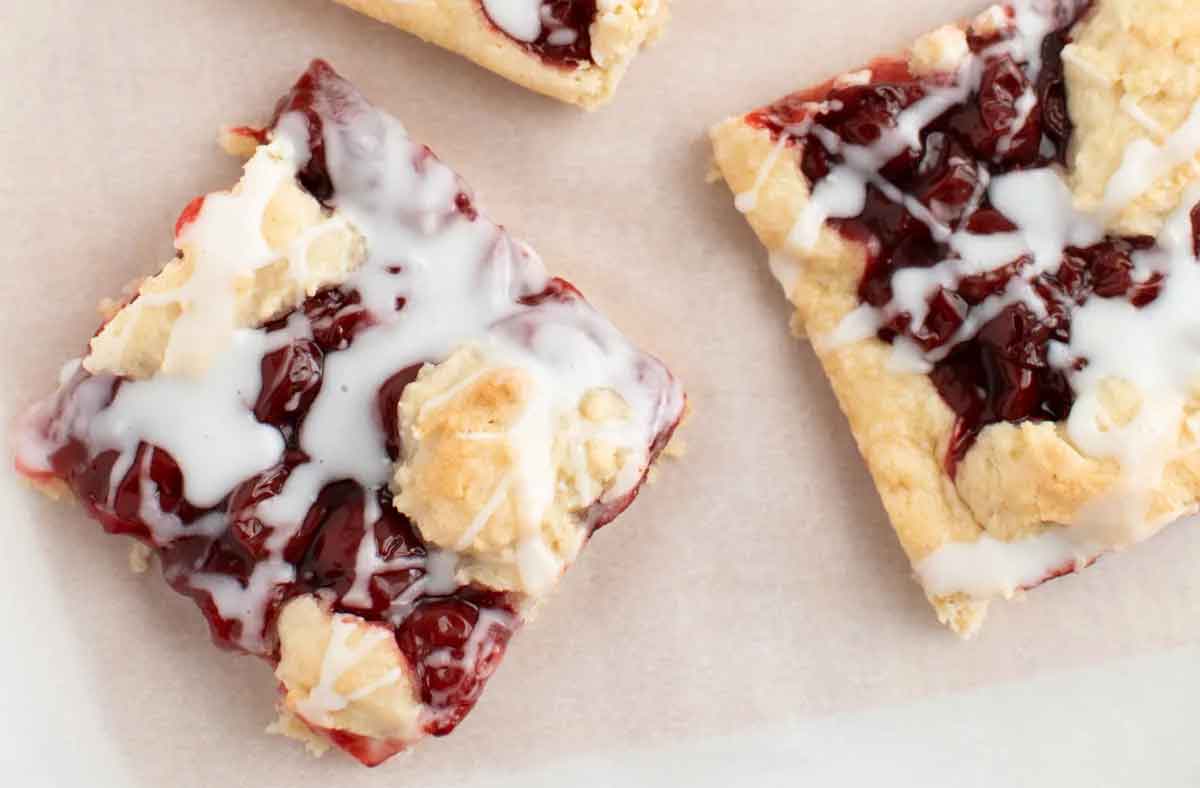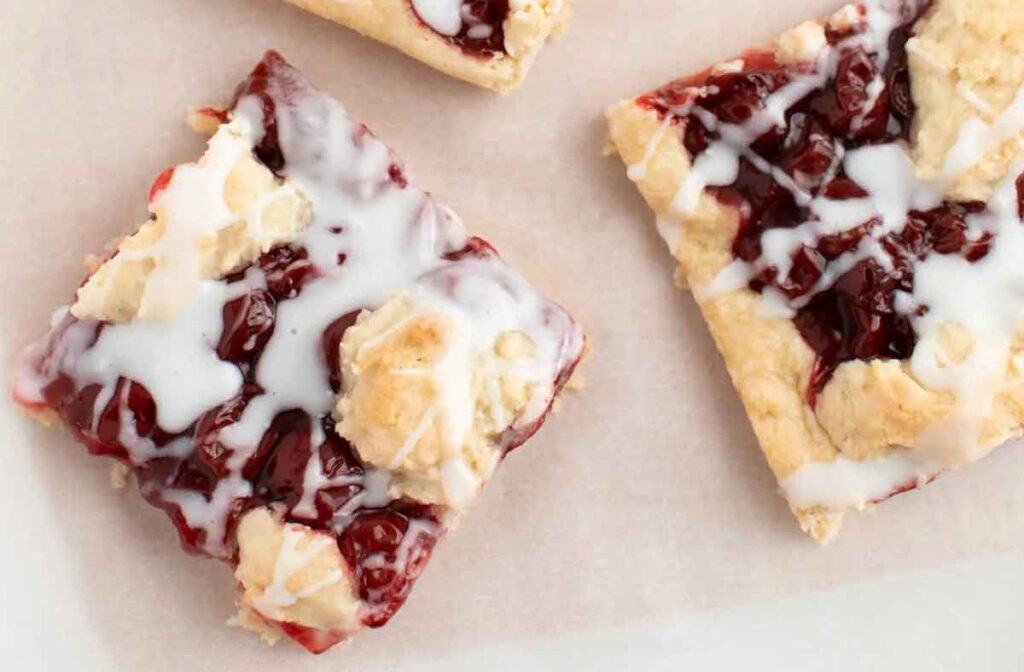 There's nothing inherently patriotic about these cherry bars aside from the red and white. But I think the founding fathers would have approved of this recipe from The Ashcroft Family Table.
---
Red White and Blue Drinks
Kid-Friendly Drinks
Red, White, and Blue Ice Cubes (Gatorade)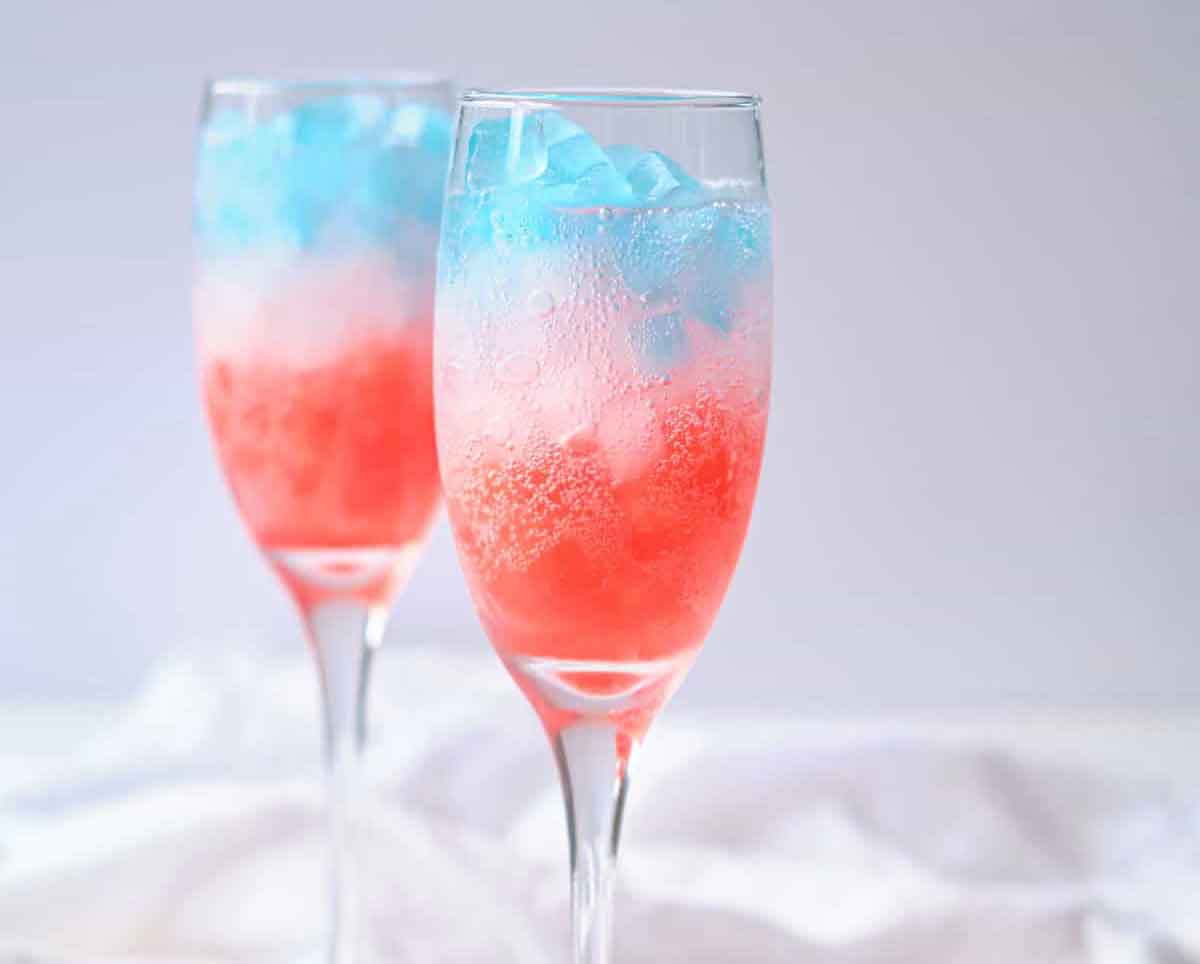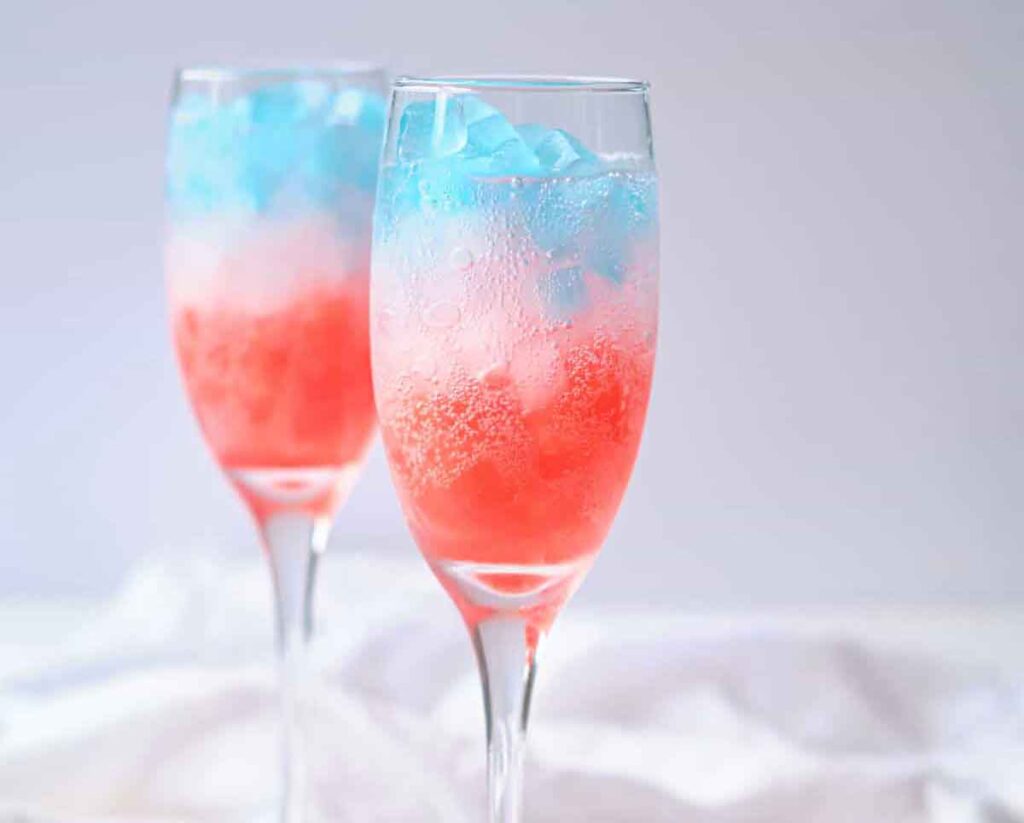 While red, white, and blue foods are common, drinks tend to be rare. But these July 4th-colored ice cubes give Sprite that RWB flair. Thanks, Budget Delicious!
---
Red, White, and Blue Ice Cubes (Fruits)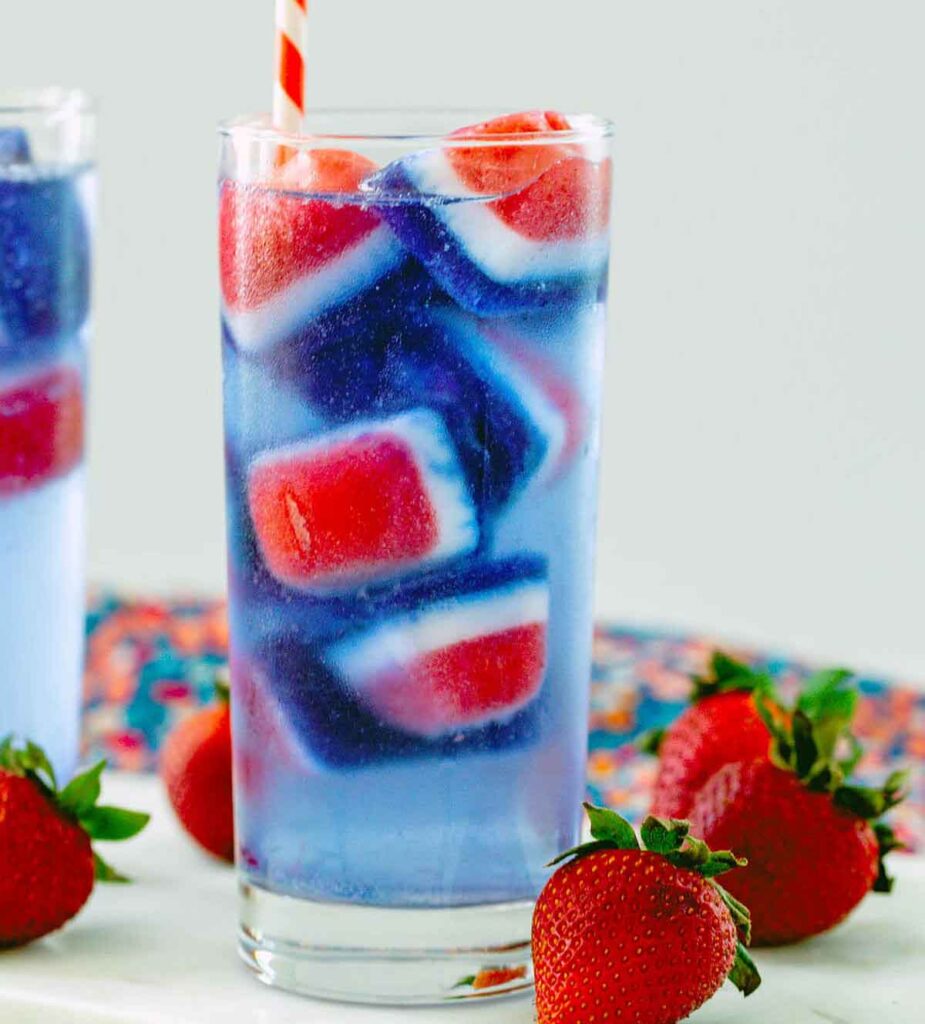 We Are Not Martha offers a fun red, white, and blue ice cube recipe that is pretty and tasty! Strawberries, coconut milk, and blue butterfly pea flower powder are the key color ingredients.
---
Red, White, and Blue Smoothie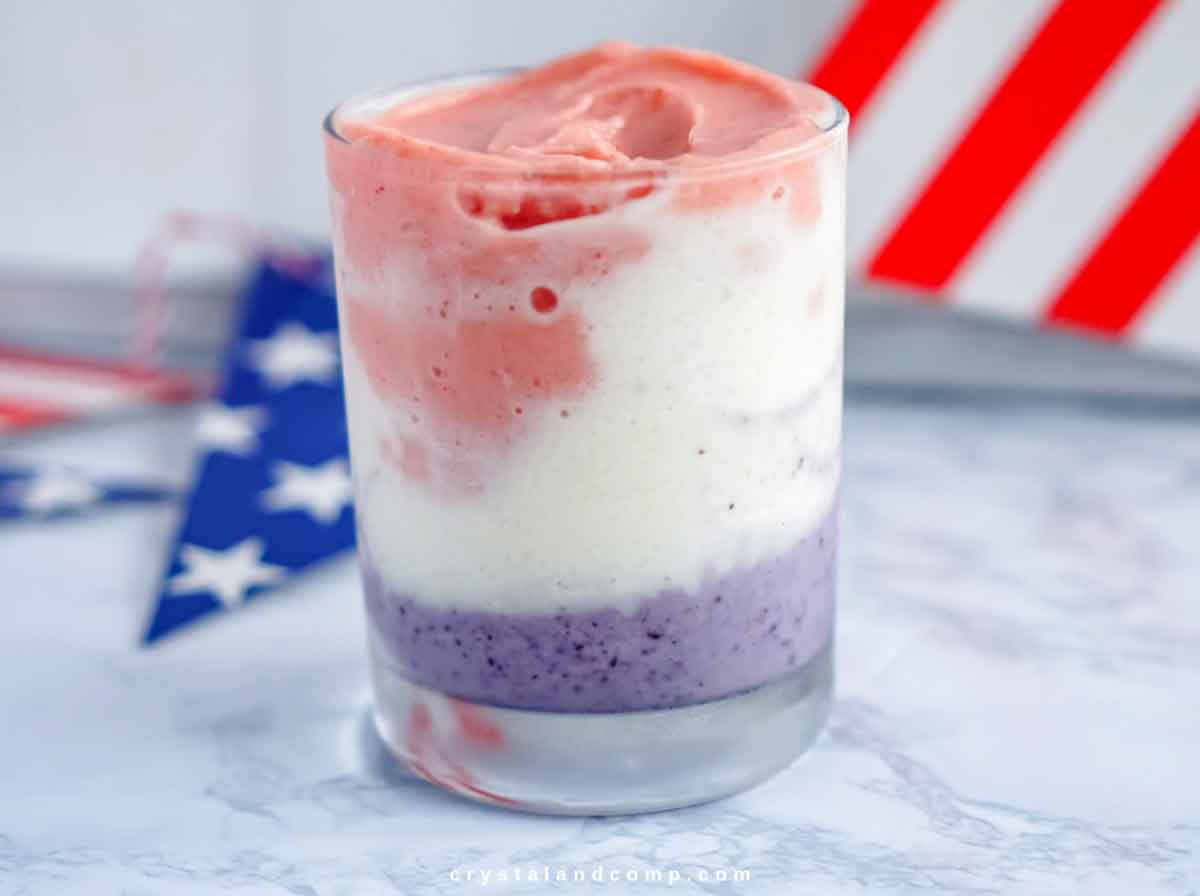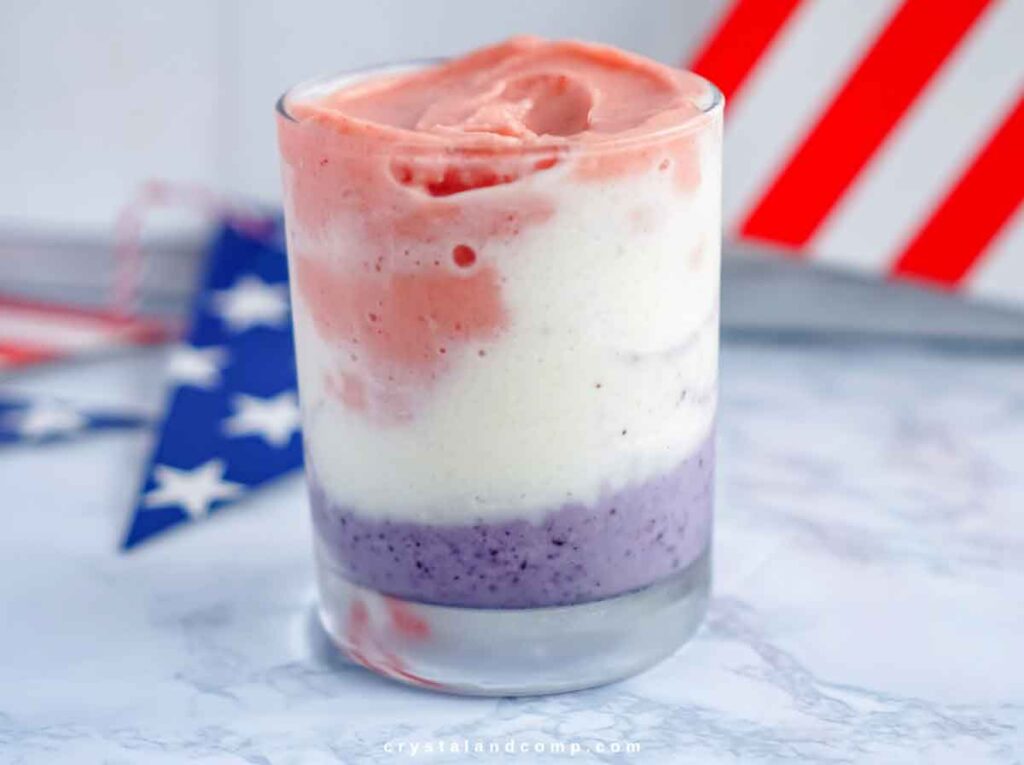 What's better than a tasty smoothie? Three tasty smoothies that are layered to offer up multiple flavors. Crystal and Comp shares how to make this festive red, white and blue smoothie.
---
Kool-Aid Patriotic Snow Cones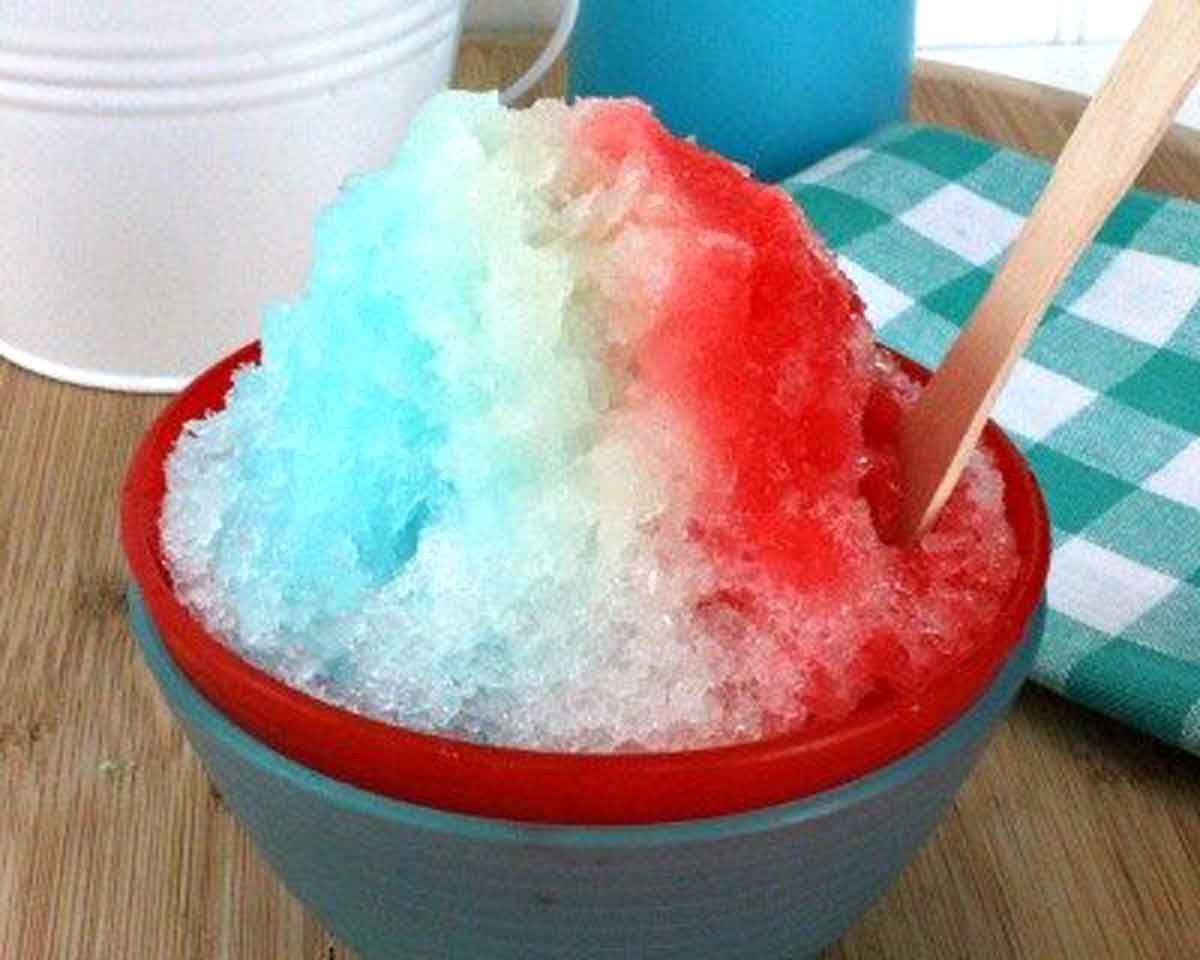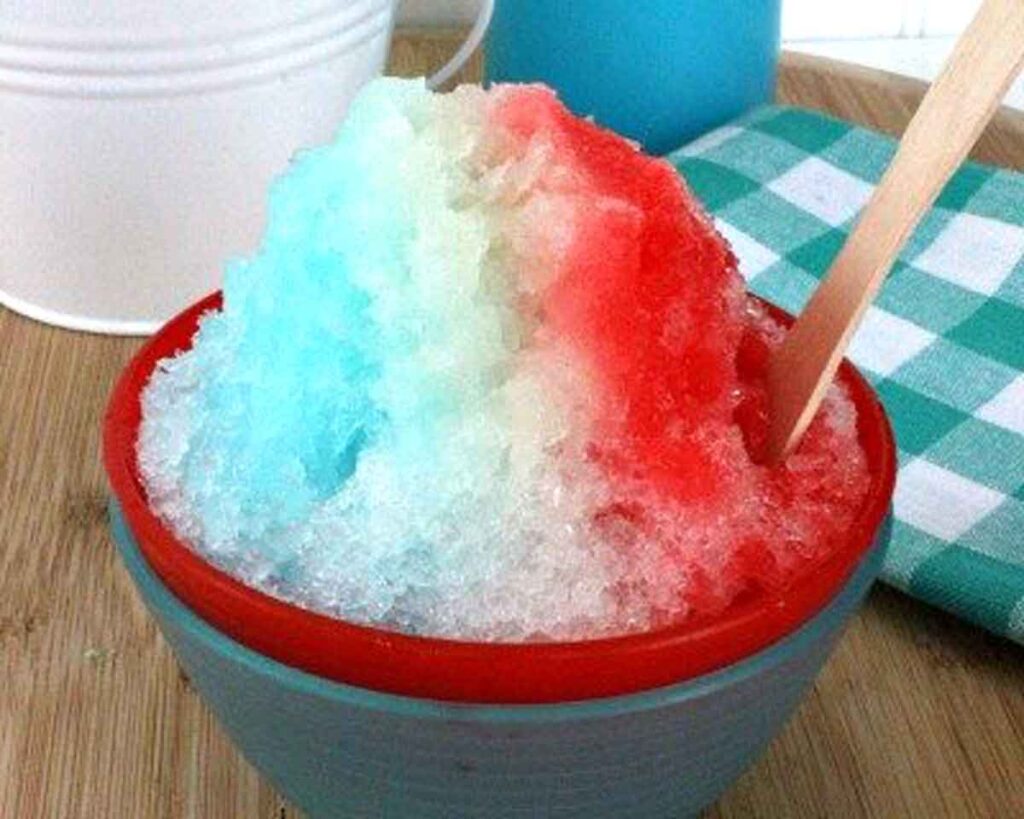 These patriotic snow cones from The Frugal Navy Wife could easily become a yearly family tradition. Your kids will love this refreshing and colorful drink.
---
Blender Virgin Daiquiri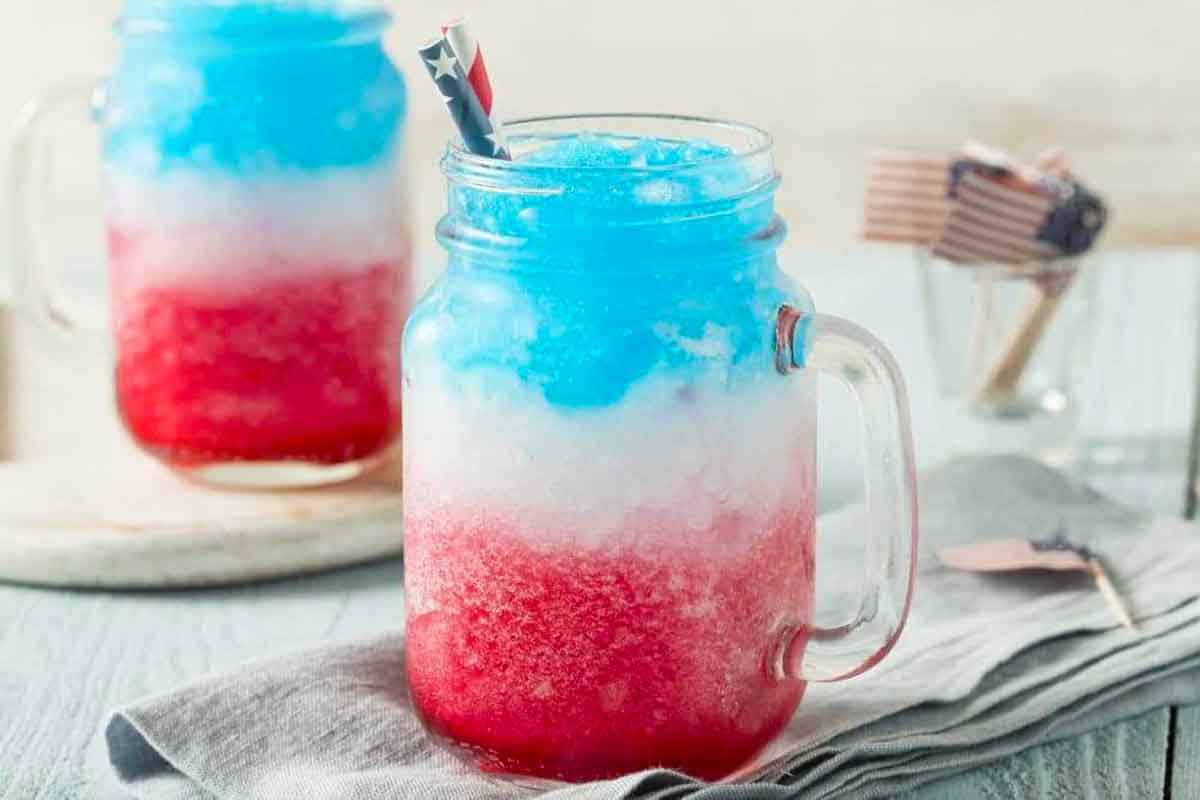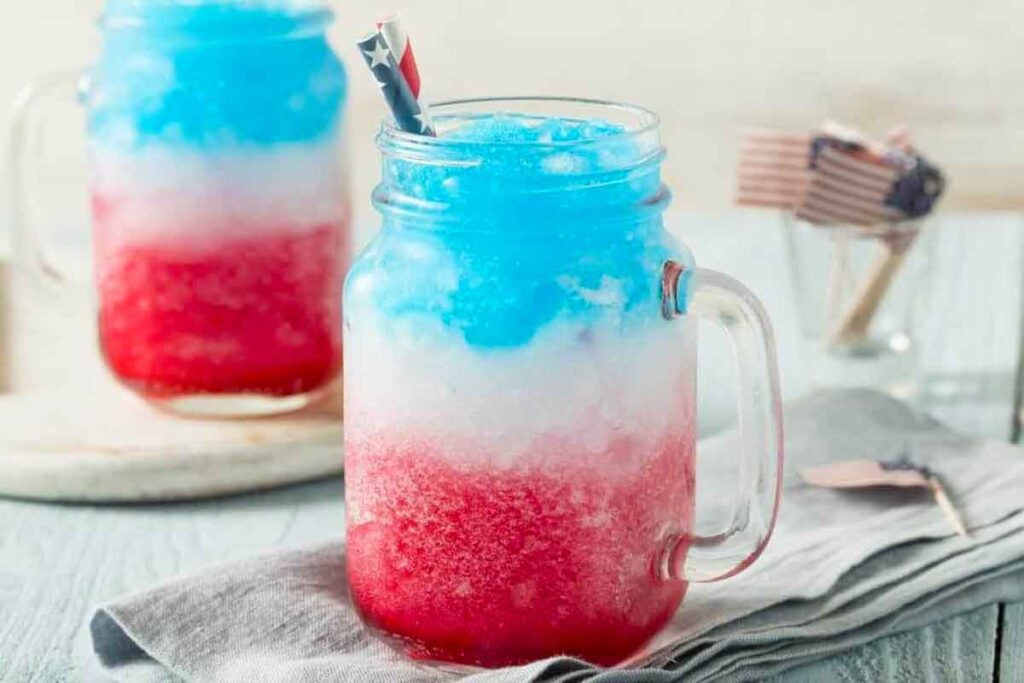 This virgin daiquiri recipe, from Recipe This, layers red, white, and blue to make a tasty drink for all ages. The best thing about it is that it's healthy thanks to fruit juice and frozen fruits.
---
Red White& Blueberry Summer Mocktail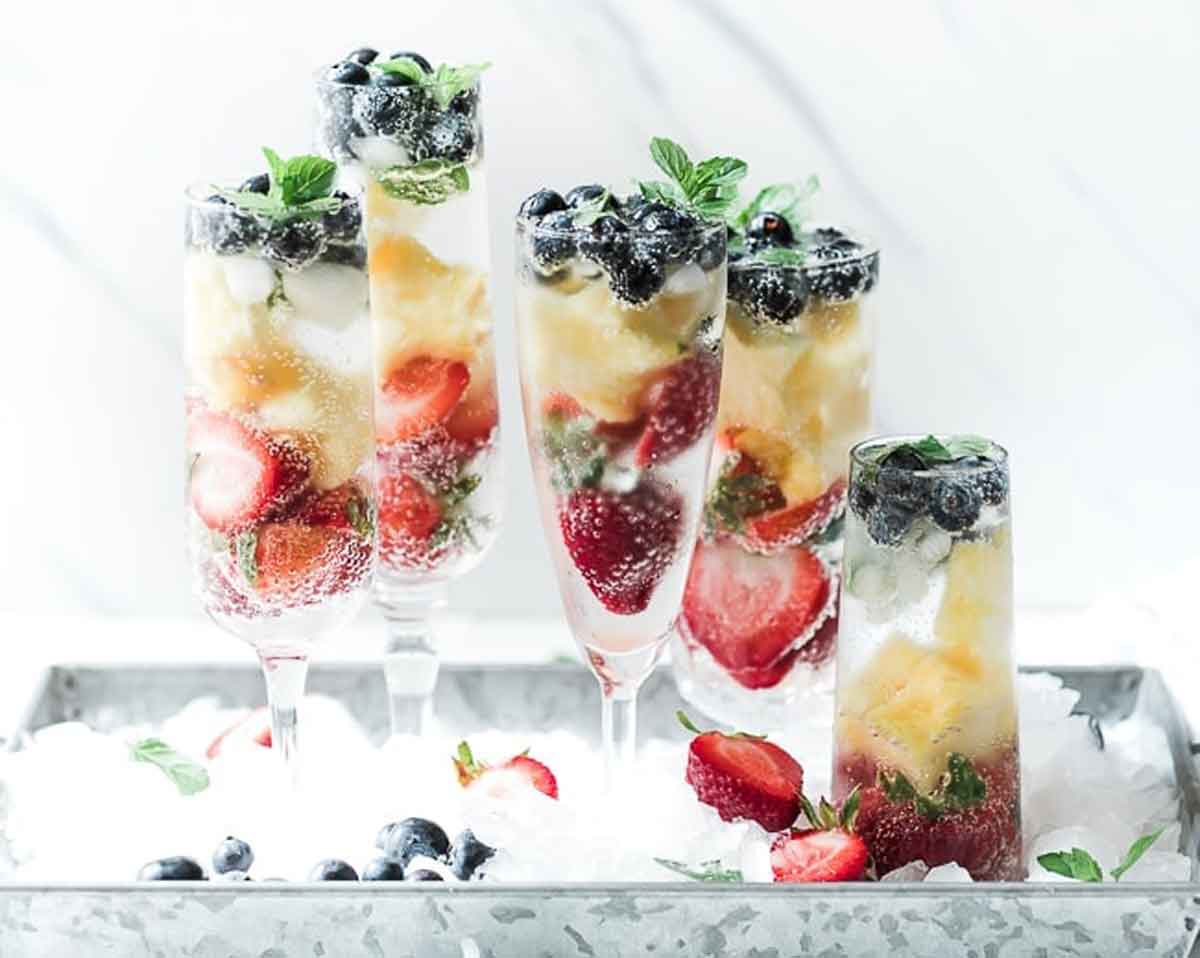 This is such a neat idea! Red, white(ish), and blue fruits are layered in sparkling water to make them an Independence Day summer mocktail. Oh! So Delicioso shows you how.
---
Stars & Stripes Mocktail Recipe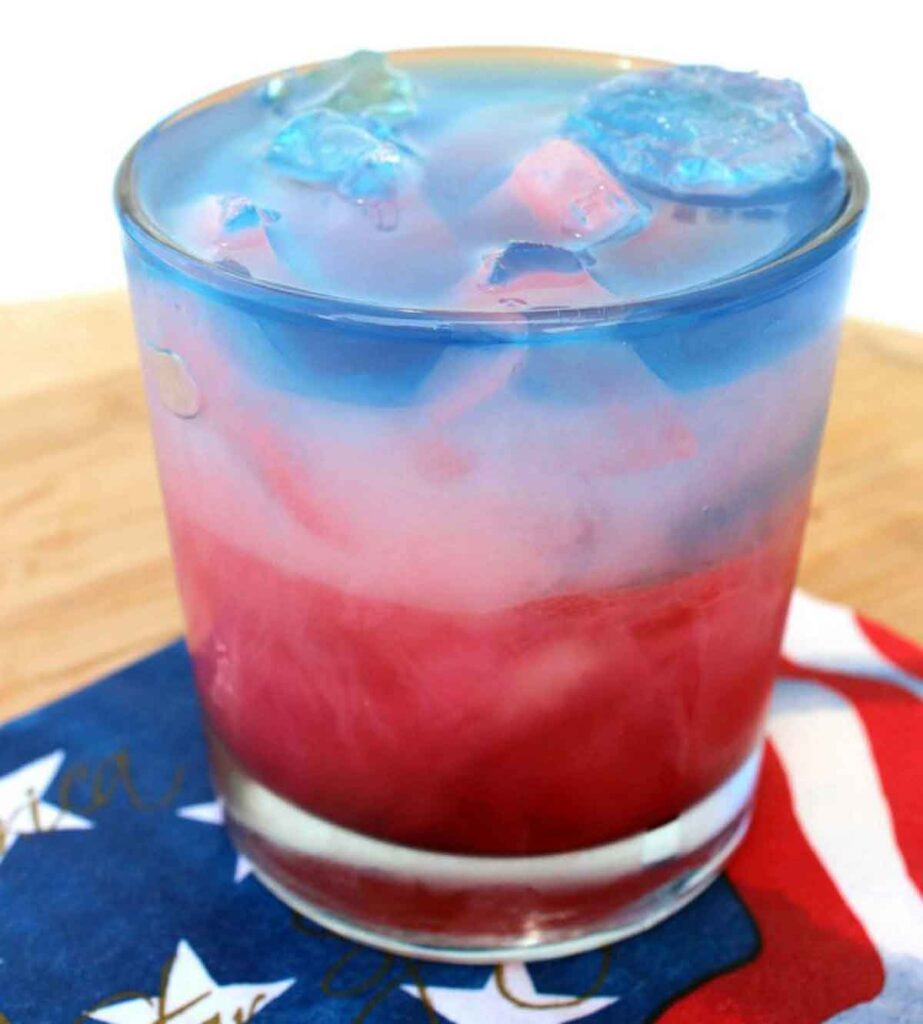 What makes this stars and stripes mocktail a winner? The Frugal Navy Wife uses piña colada mix as the base. Yum!
---
Strawberry Blueberry Lemonade Spritzer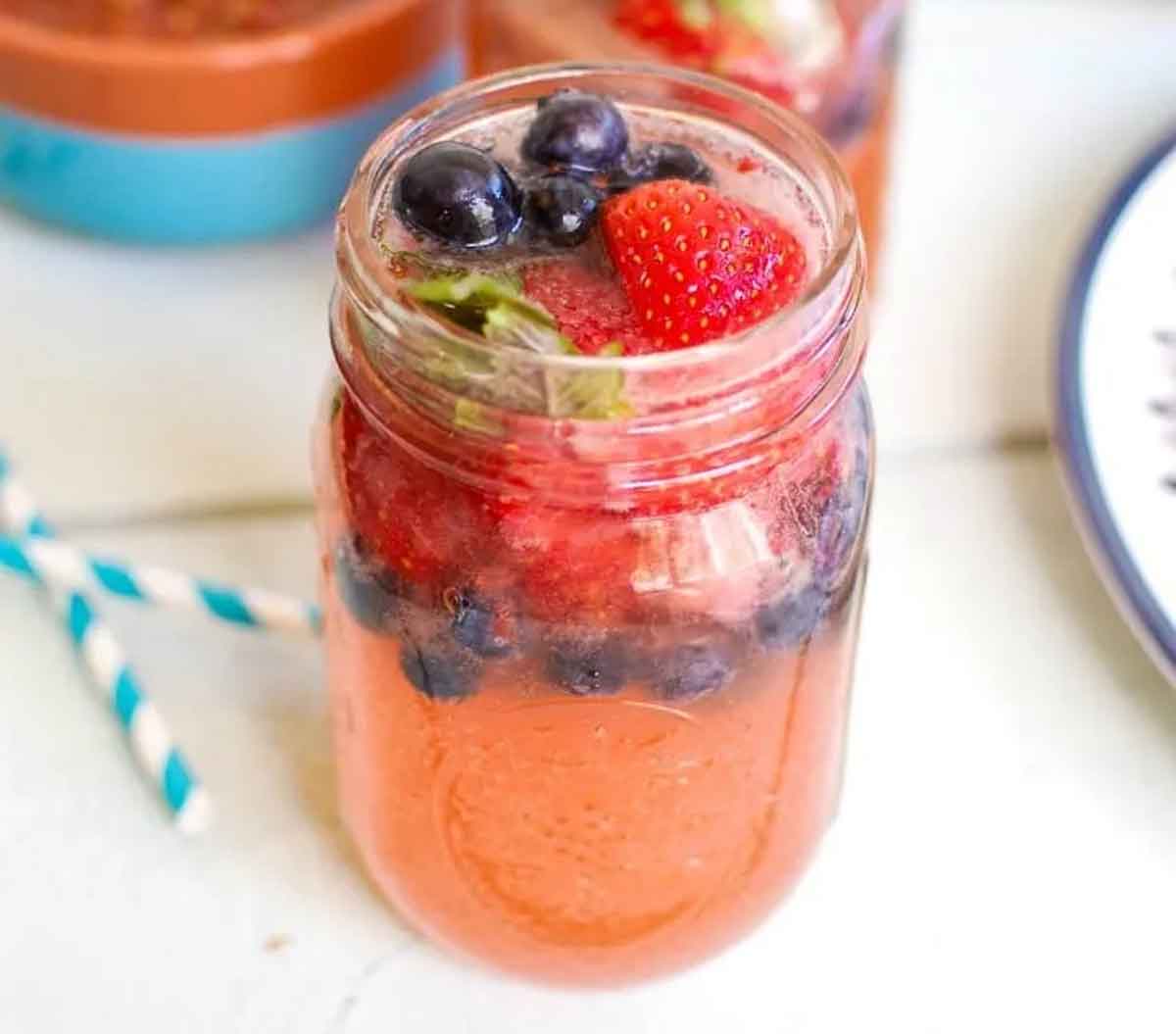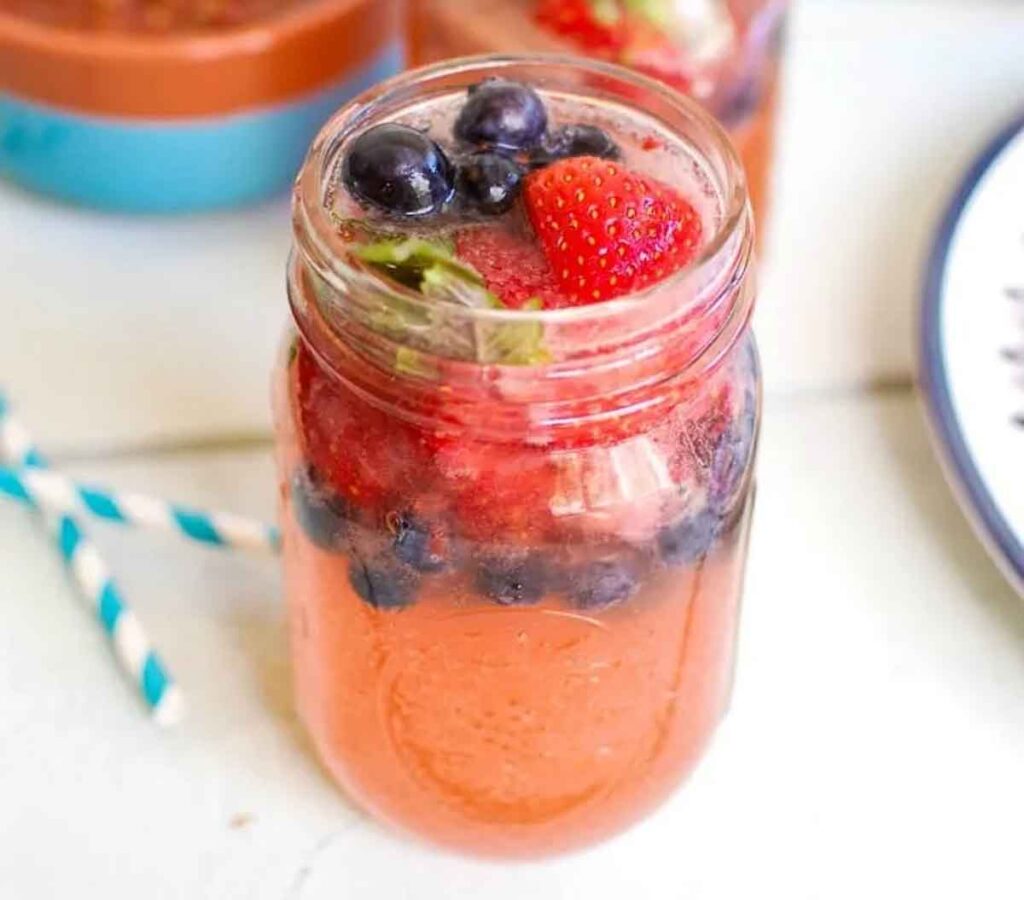 This drink can be made in a punch bowl so that guests can get refills. A Cedar Spoon shares how these strawberry blueberry lemonade spritzers can be mocktails or cocktails.
---
Patriotic Adult Beverages
4th of July Red, White and Blue Jell-O Shots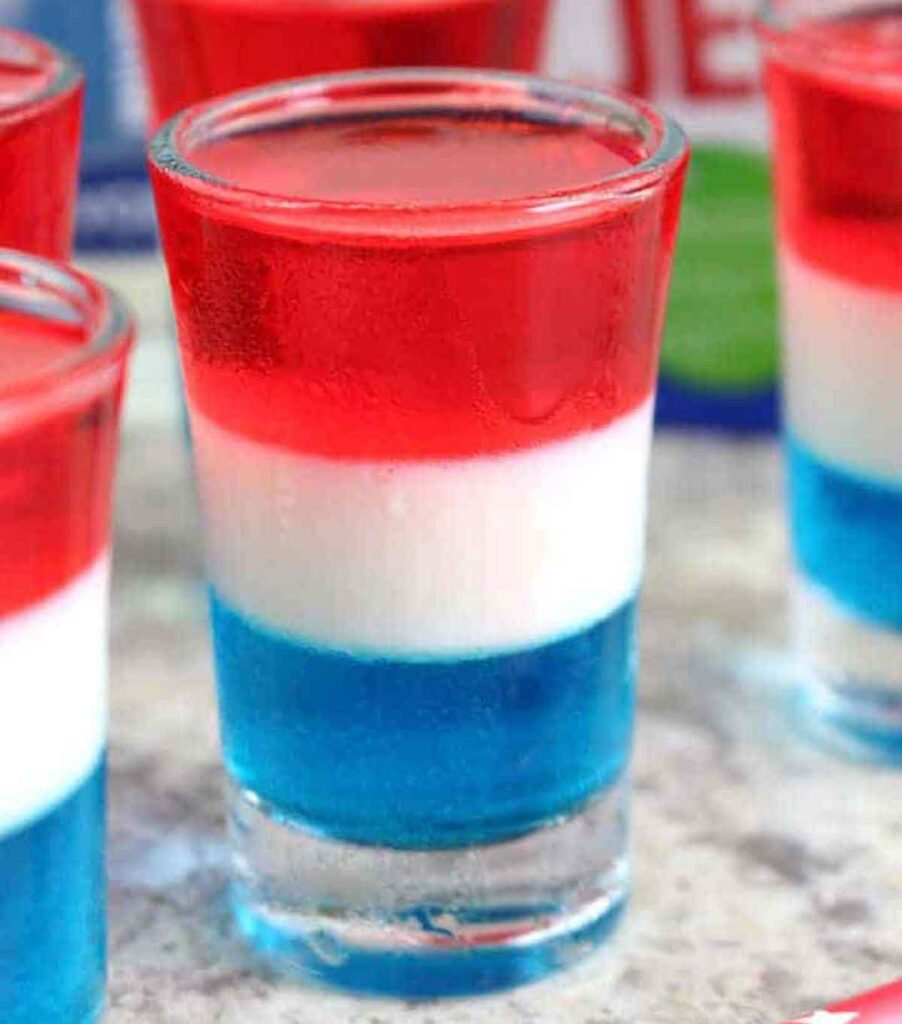 Firecracker Jell-O shots are super festive! Princess Pinky Girl explains how to make them.
---
Berry Moscato Sangria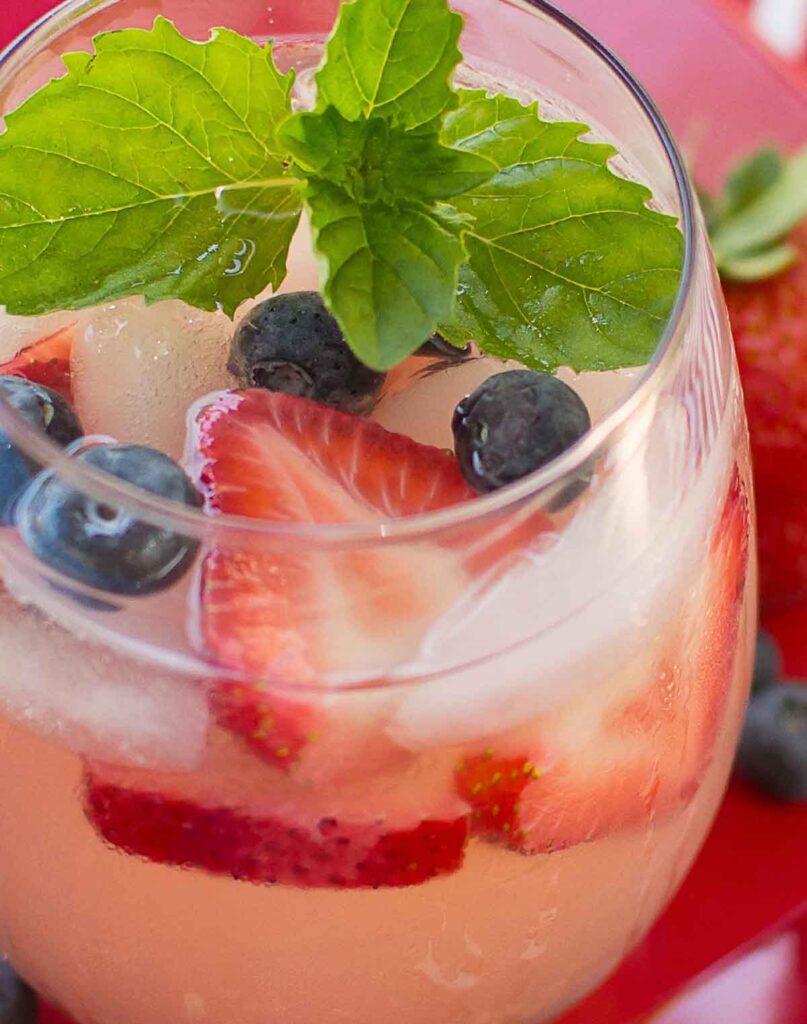 This one is just for adult patriots. California Published shares a tasty recipe for berry Moscato sangria.
---
The 1776 Cocktail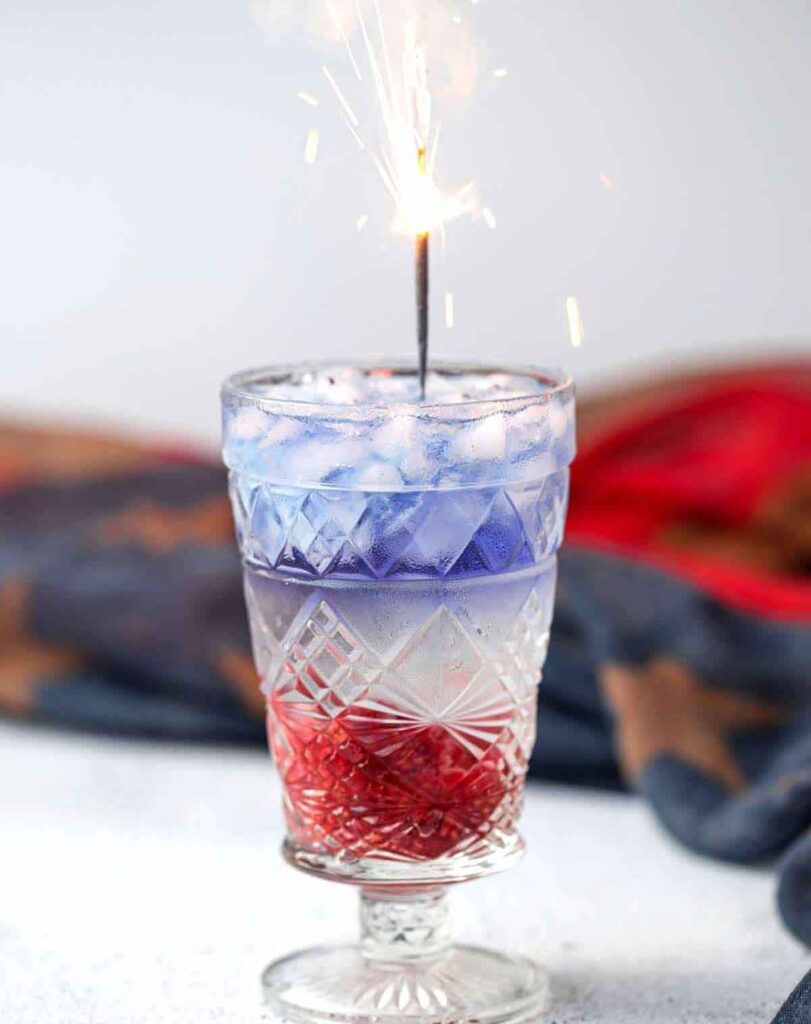 Here's a cocktail our founding fathers would be proud of. Fresh and Flavorful incorporates fresh fruits, coconut water, and gin for The 1776 Cocktail.
---
Layered Berry Piña Colada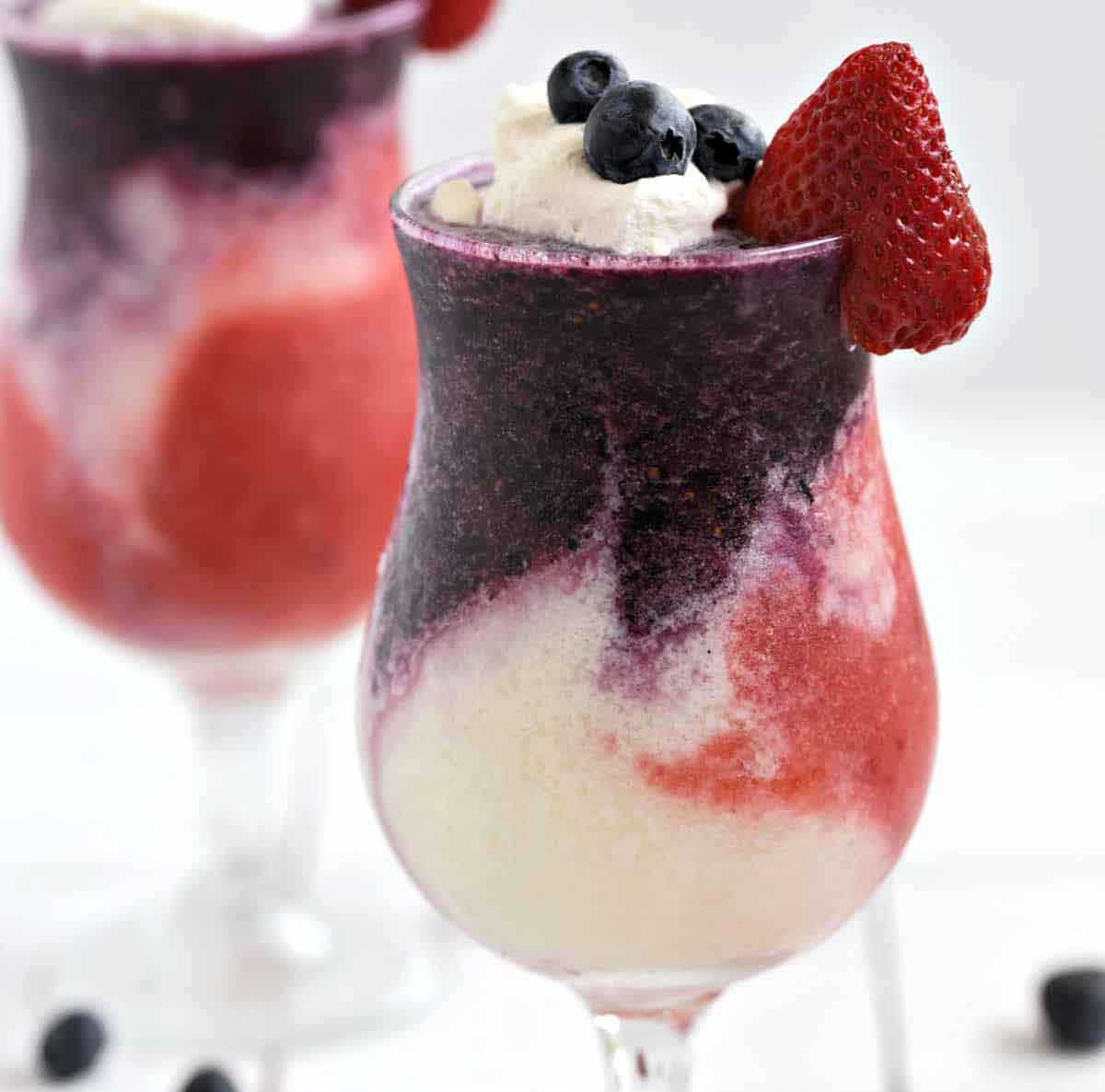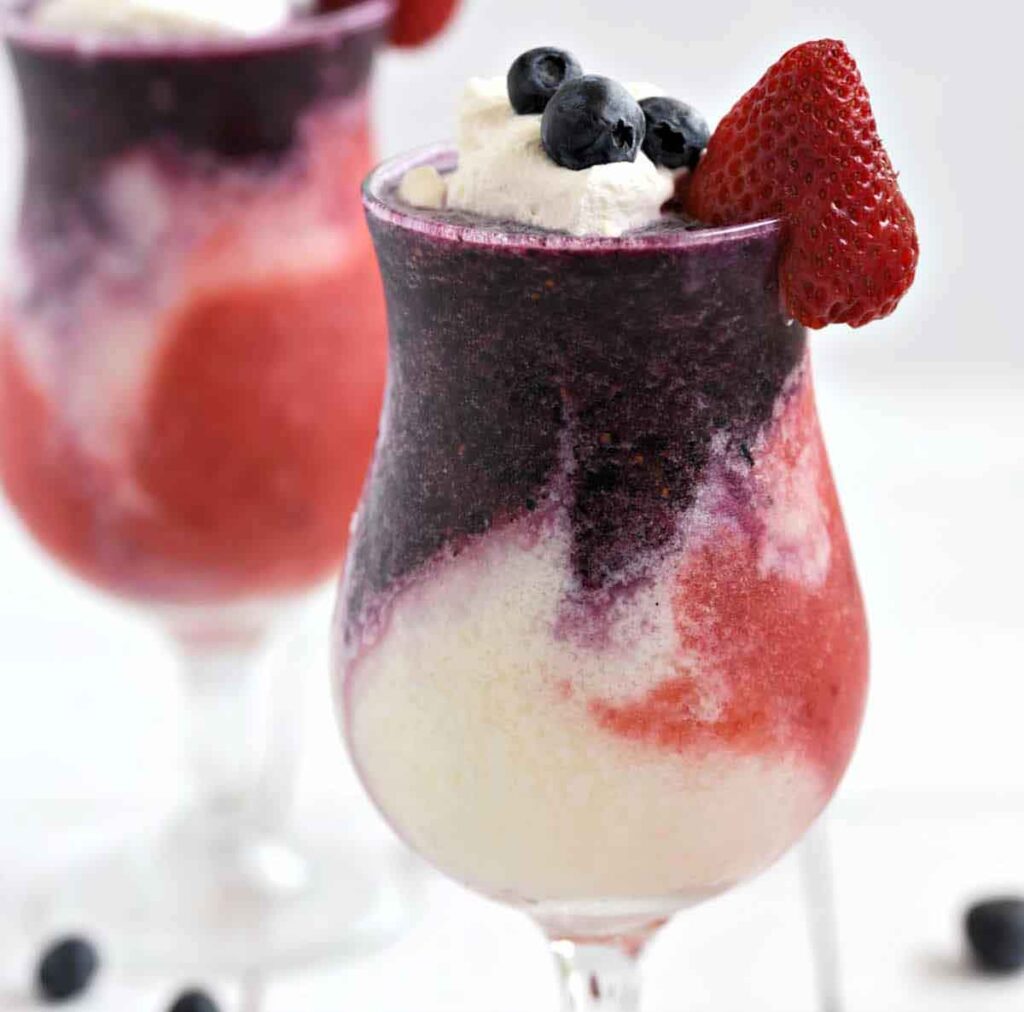 This recipe is really just an adult milkshake if we are being honest. Check out this delicious 4th of July piña colada from Cooking with Curls.
---
Bomb Pop Drink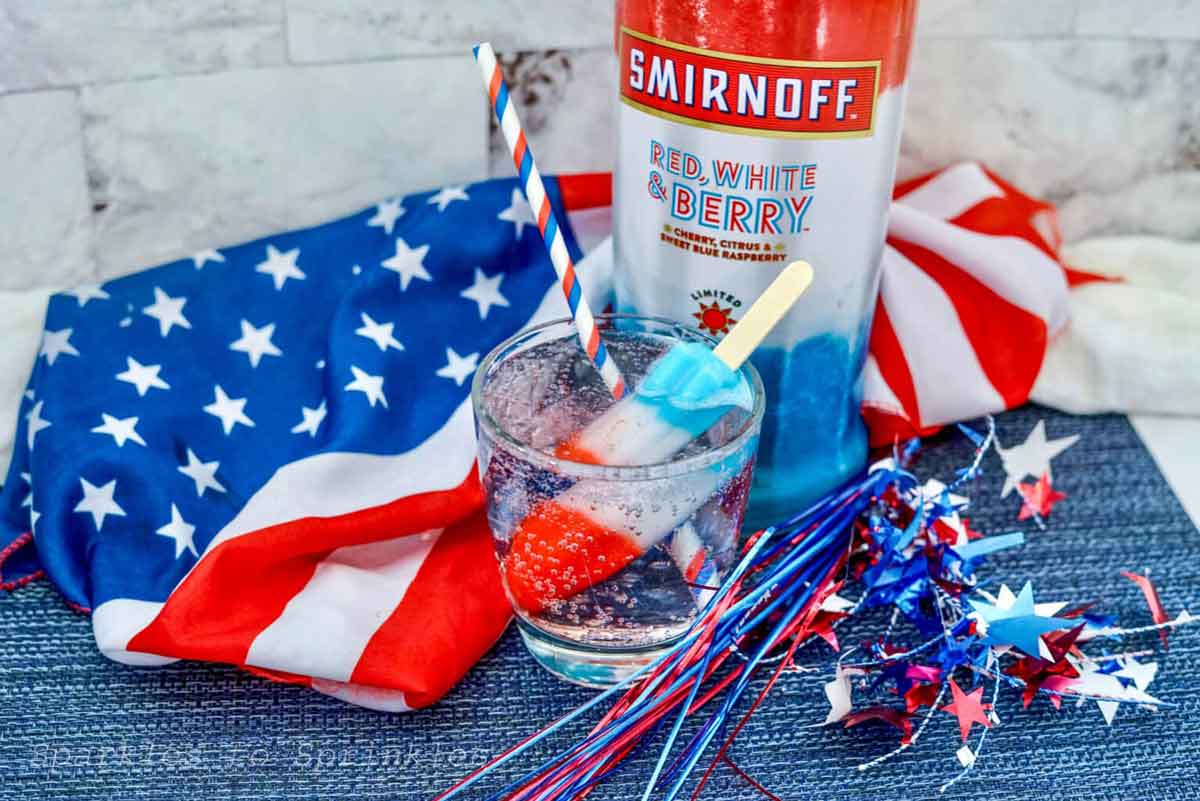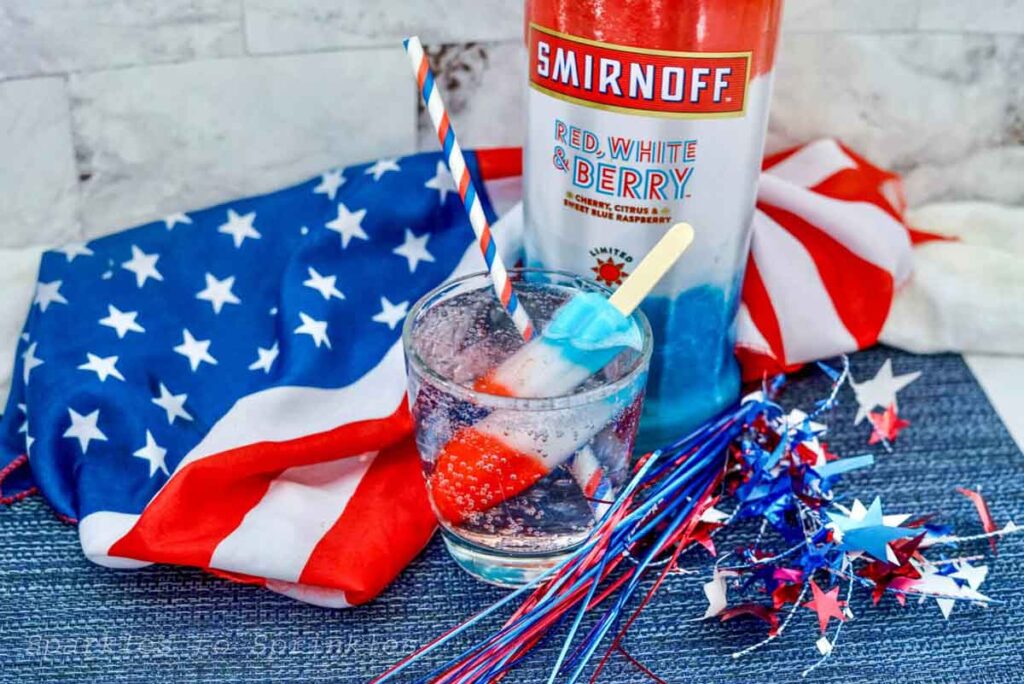 This Fourth of July drink is as easy as it gets. Sparkle to Sprinkles mixes Red, white and berry vodka, lemon-lime soda, and bomb pops for a fun and festive adult beverage.
---
Patriotic Pudding Shots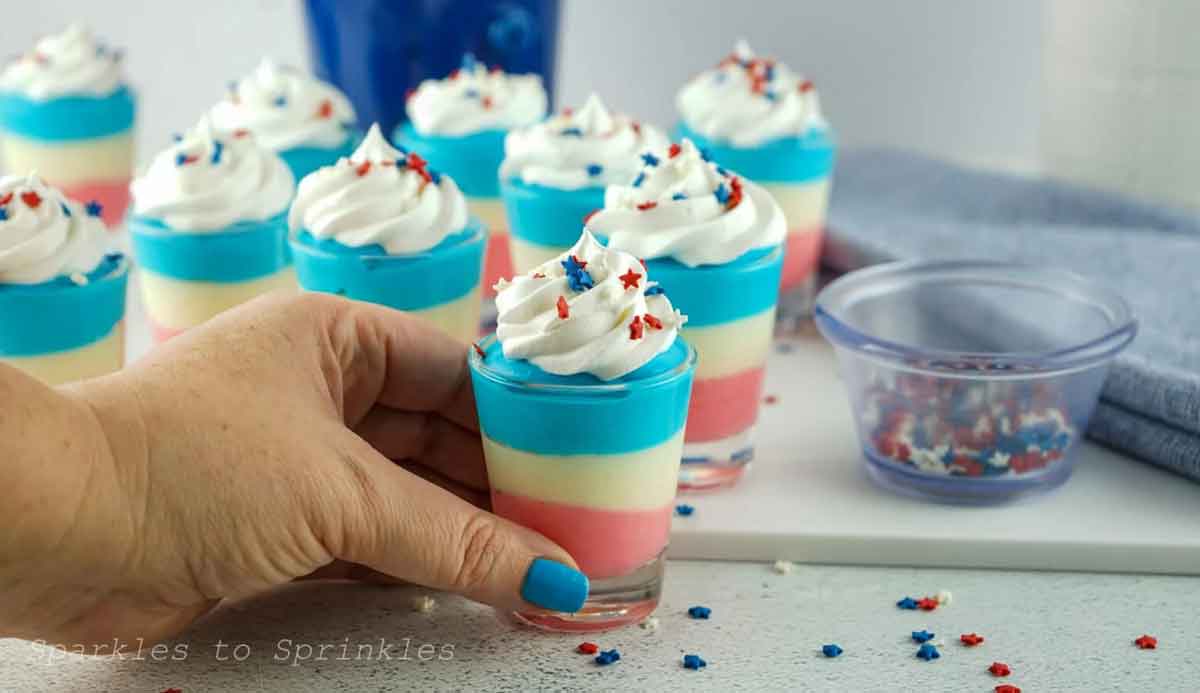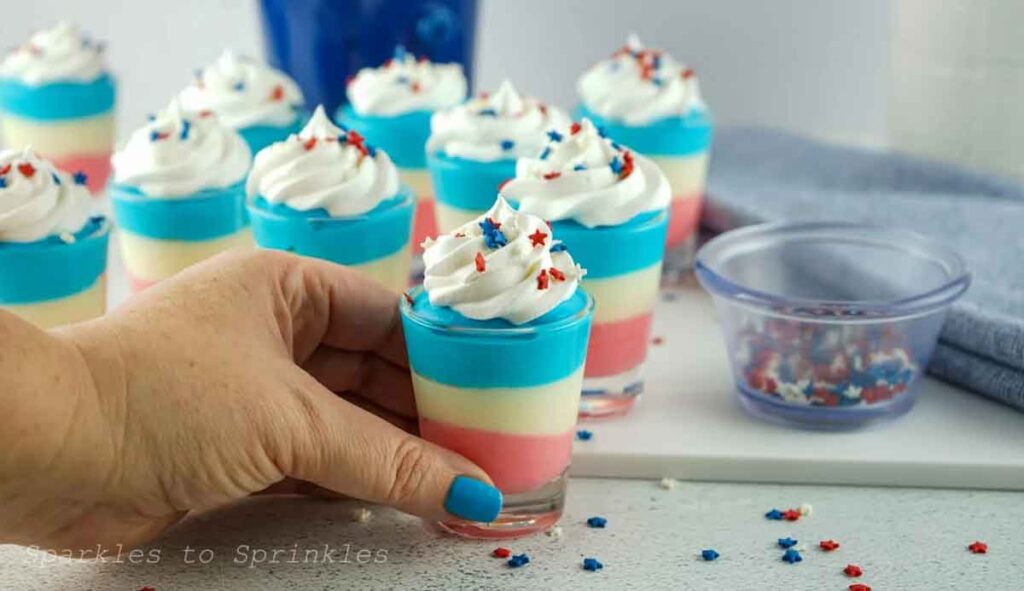 Sparkles to Sprinkles shares another recipe for delicious patriotic pudding shots! If you love pudding, you will definitely enjoy this!
---
Firecracker Margarita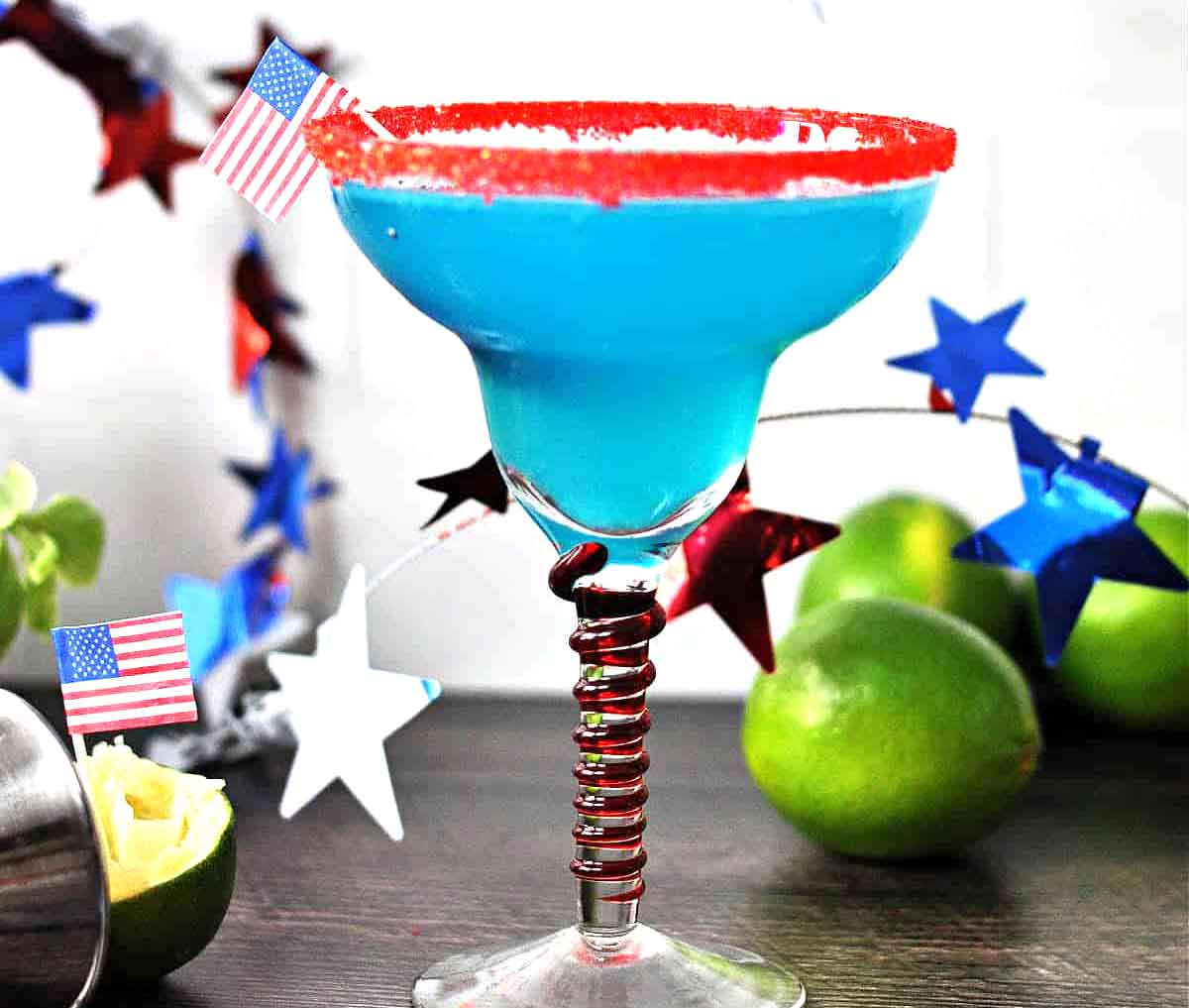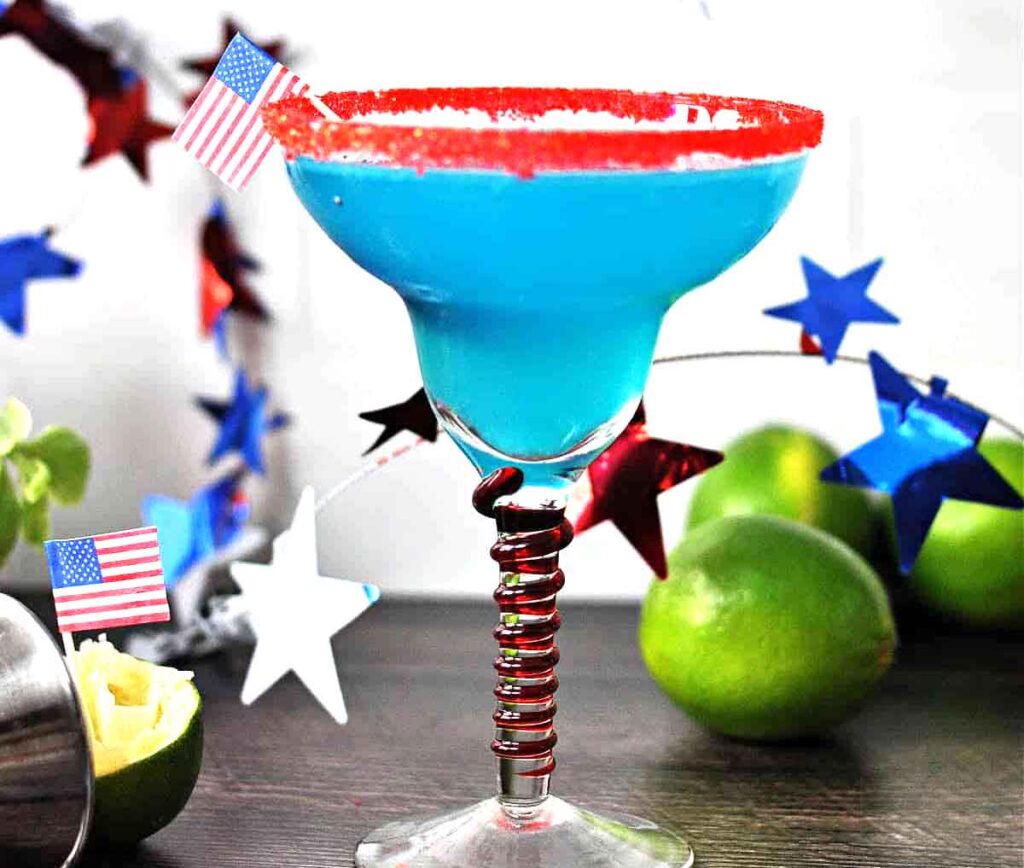 This recipe by Sula and Spice only requires four ingredients! Enjoy the fireworks show with a firecracker margarita in your hand.
---
Red White and Blue Appetizers
Fourth of July Fruit Skewers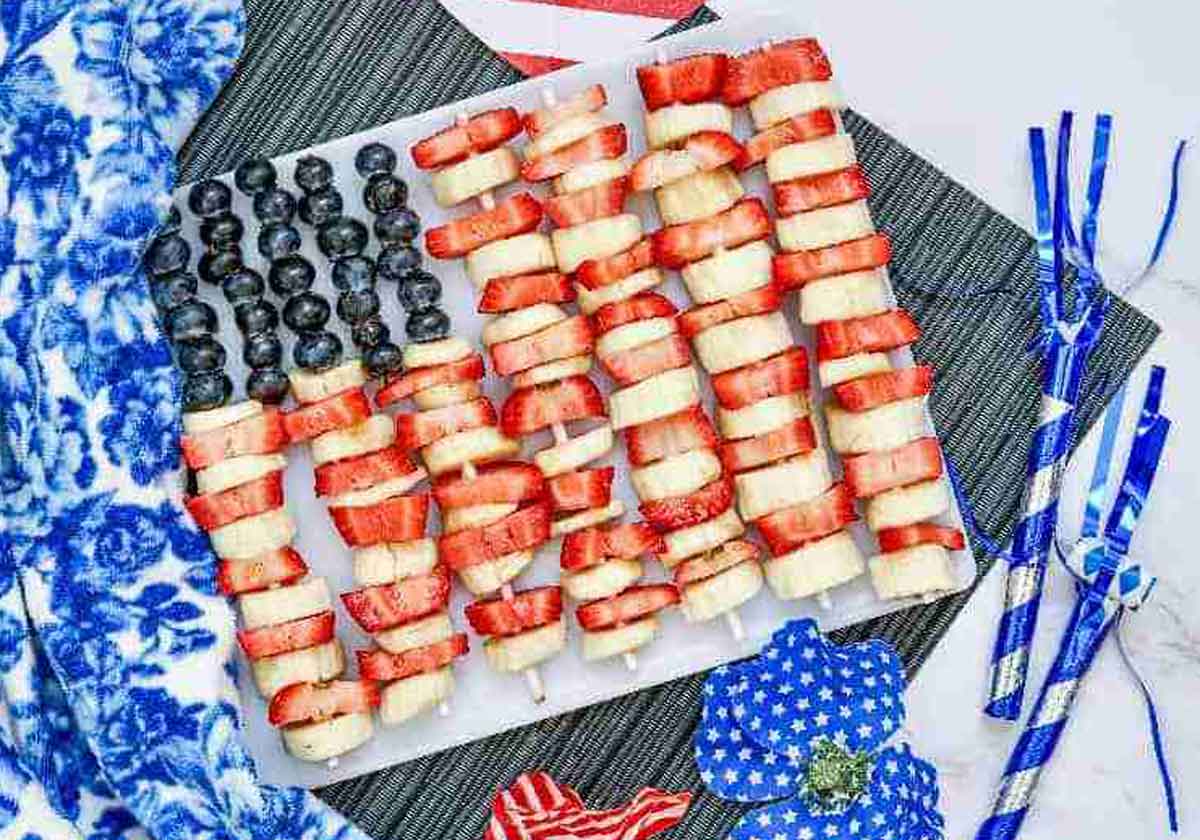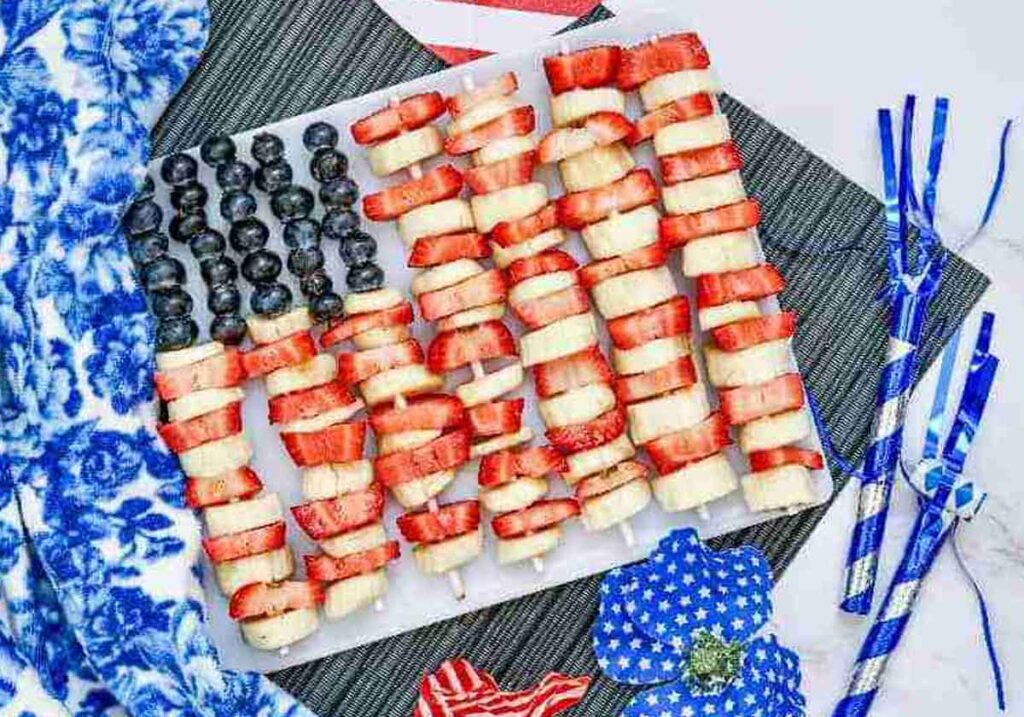 While these fruit skewers by Two Kids and a Coupon aren't super complicated to make, they look ornate. And when arranged properly, they make an American flag design that is perfect for the 4th.
---
Triple Berry Cheesecake Fruit Salad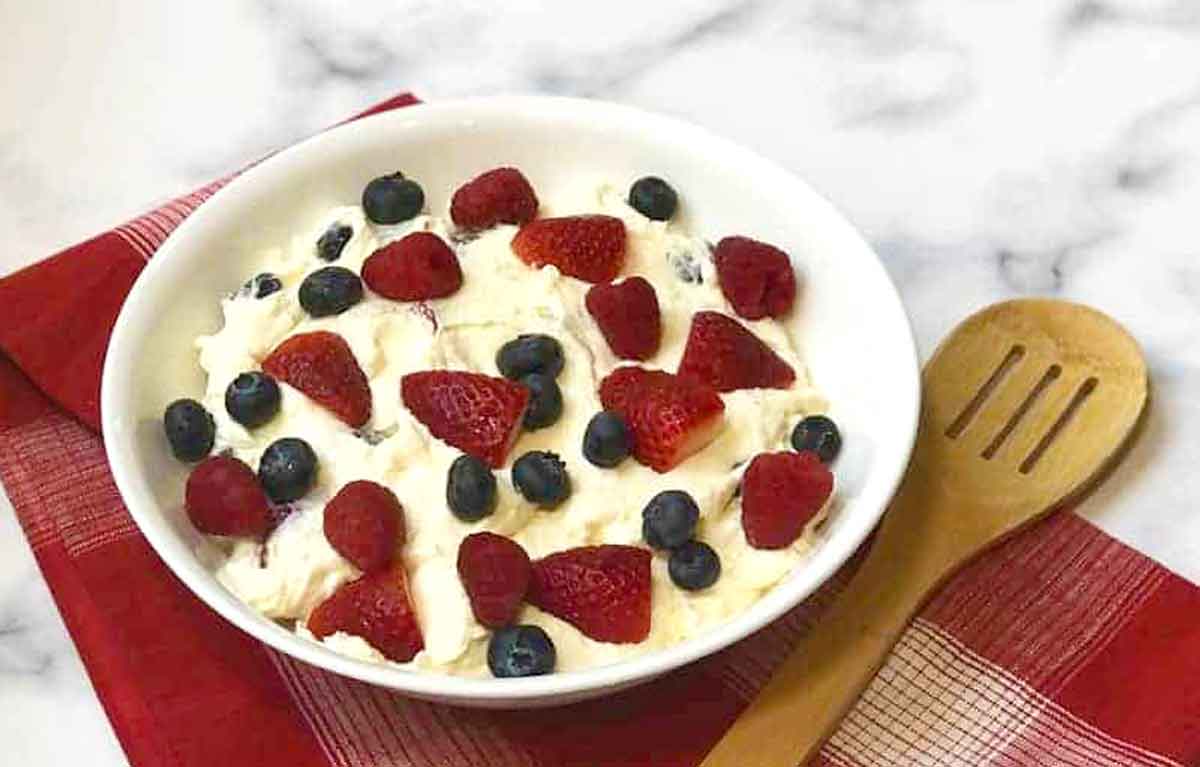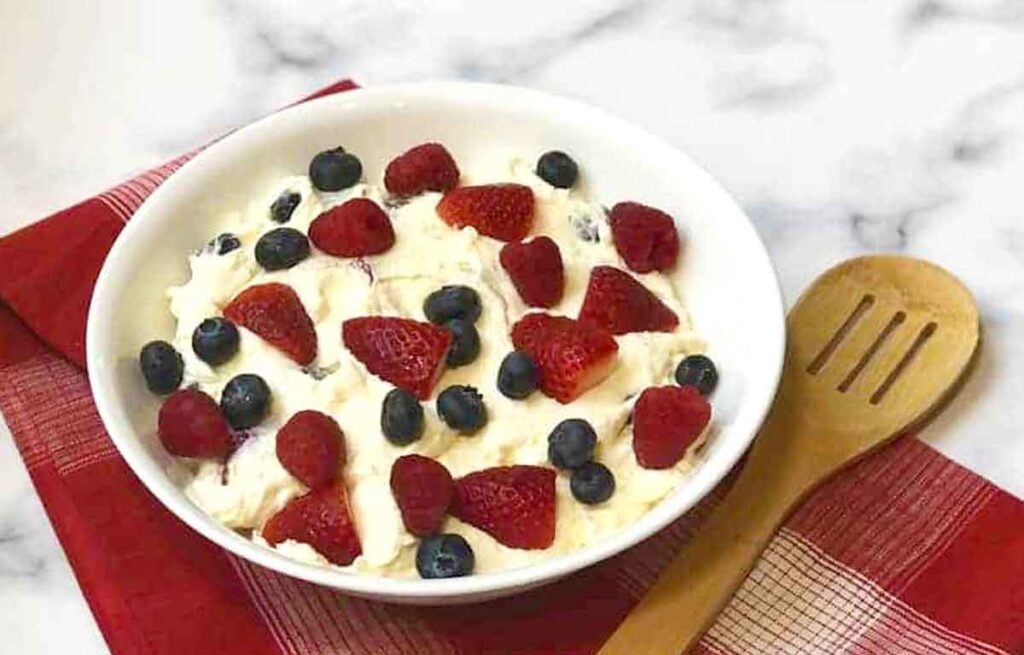 Two Pink Peonies offers an inventive cheesecake fruit salad. A few select fruits turn this into the perfect patriotic fruit salad and dessert for early July.
---
Red, White, and Blue Patriotic Salad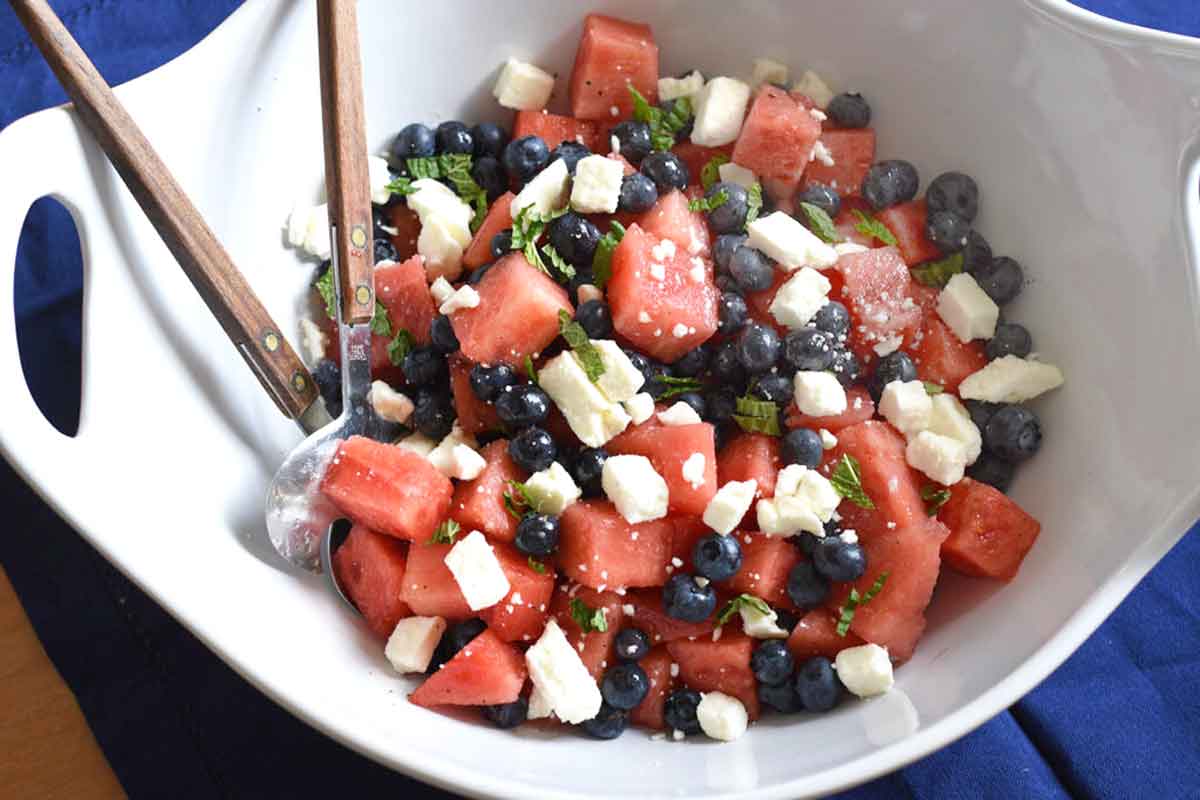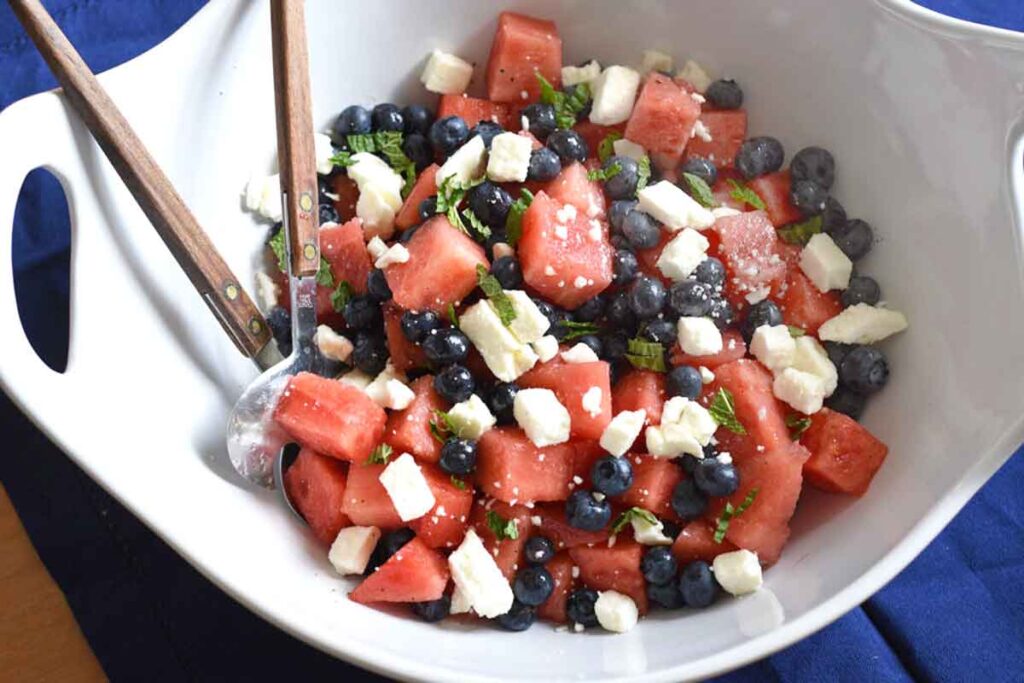 This patriotic salad by Clan Kitchen combines several sweet and savory ingredients together to make a light, tasty treat that is perfect for summer. Plus, these same ingredients give it that red, white, and blue color scheme.
---
Red White and Blue Salad (Arugula, Mozzarella, and Berries)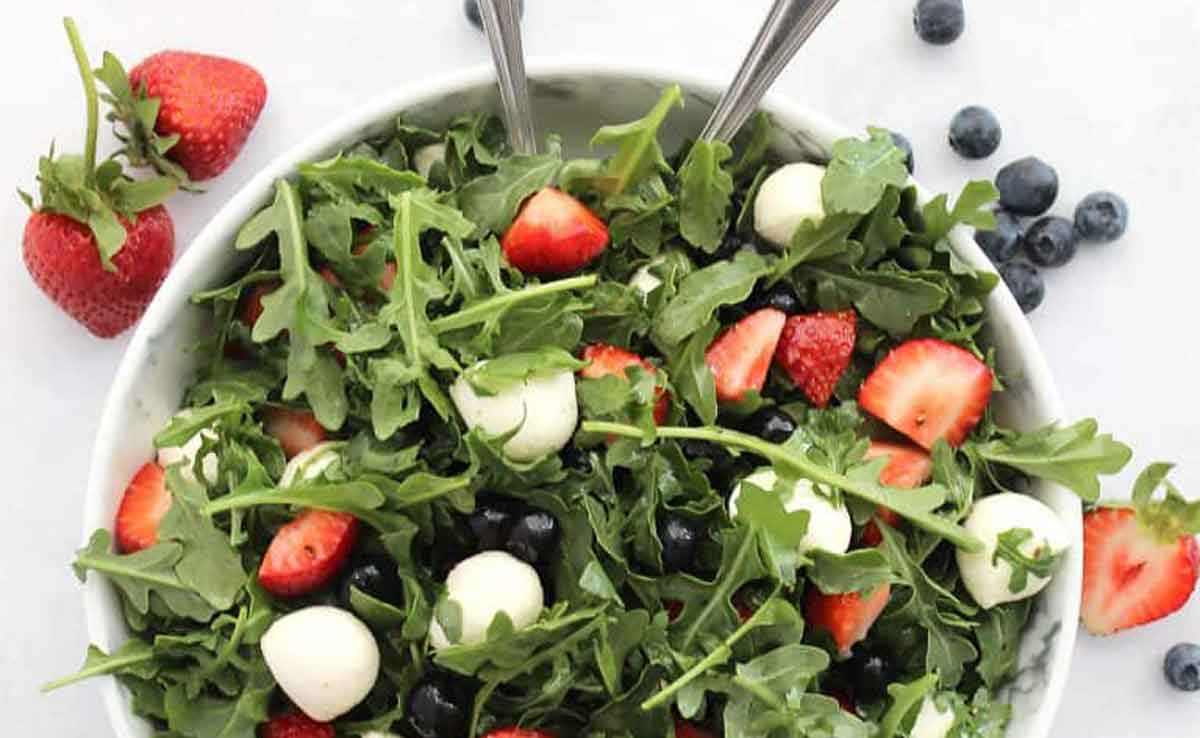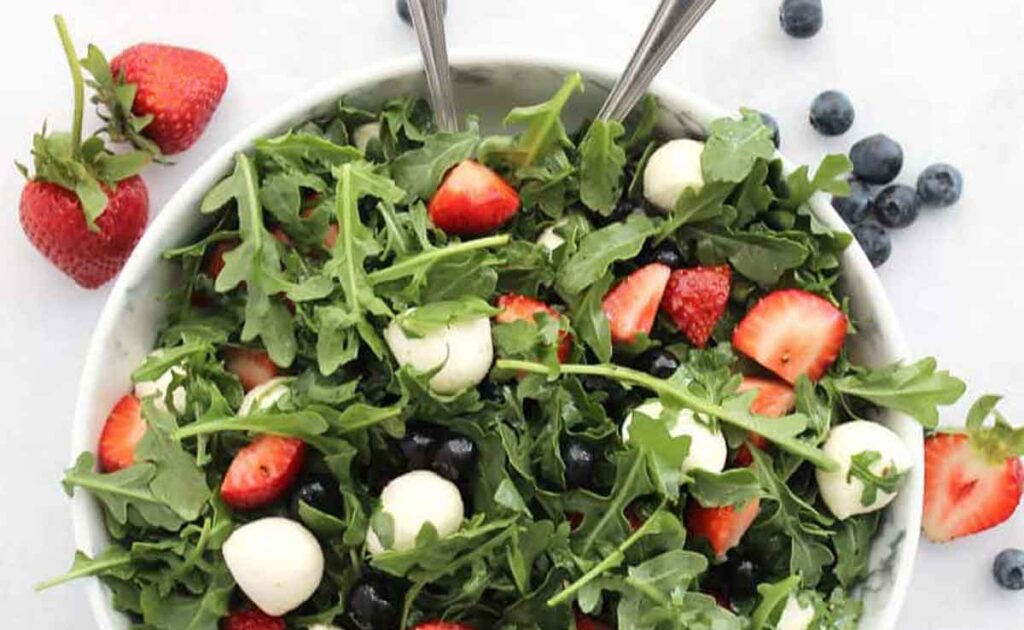 This red, white, and blue salad is a departure from the sweeter fare found on this list. Bite on the Side uses arugula, mozzarella cheese, and berries to craft a tasty RWB appetizer.
---
Very Berry Fruit Salad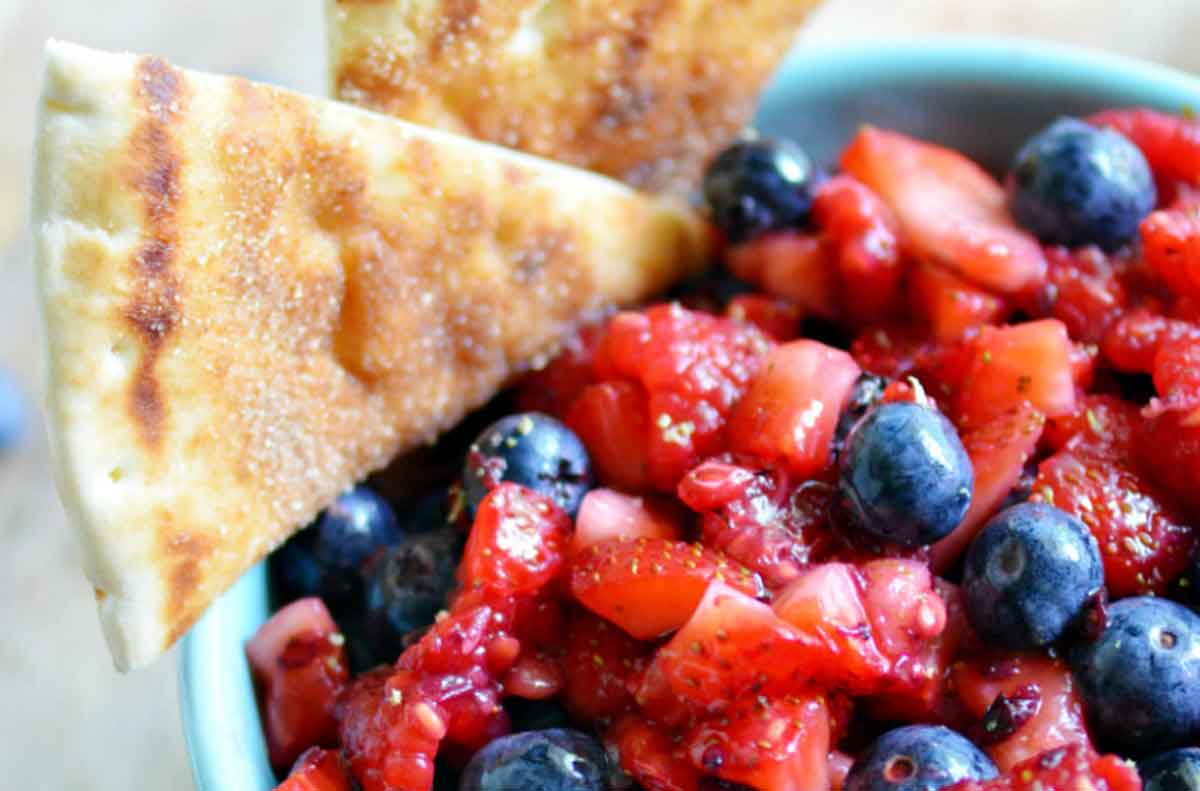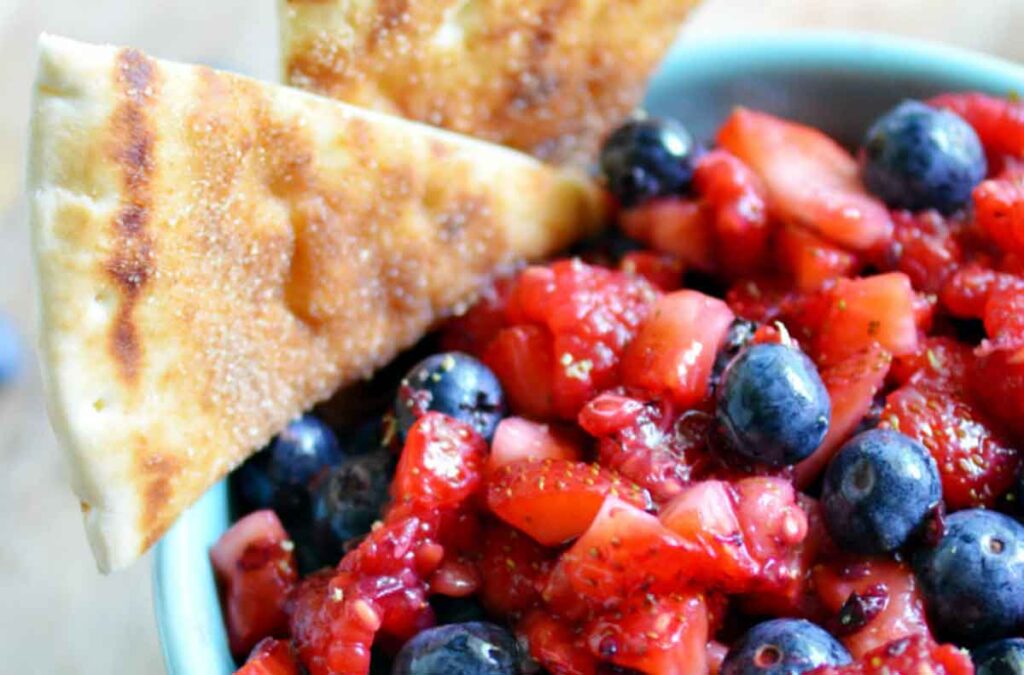 Fresh blueberries, strawberries, and cinnamon tortilla chips make this appetizer by Finding Zest a homerun. You need to visit the page to at least see the adorable photos from their Mini Chef Monday series where the chef's little boy makes the very berry fruit salad.
---
Whether you were looking for 4th of July ideas, Memorial Day recipes, or just food for a patriotic celebration, I hope you were able to find a few recipes you love for your upcoming patriotic parties for the summer holidays.
Stop by my 30 Free 4th of July Printables for Your Party Before you go!