My girls have always loved the tradition to give (and receive) a whole bunch of kids' Valentines cards with little gifts on Valentine's day.
This is usually done at school and I love how the teacher often had them decorate a box with their name on it. That box also makes it easy to carry all their loot back home.
This post may contain affiliate links.
This post includes all the kids' Valentine's day card ideas that use printables that I've created over the years. As I make more I'll add them to this list too.
Some are free in the downloads library and some are available in the shop. In any case, they're all available as an instant download on this site.
Of course, you could just pick up generic kids Valentine's cards at the store. But these printables make an easy personalized homemade gift for school friends for Valentine's day.
Whether you are looking for a Valentine for a girl, a boy, a non-candy Valentine, or something clever, I think you'll love how creative all of these kids' Valentine cards are.
---
---
You're the Bomb Valentine!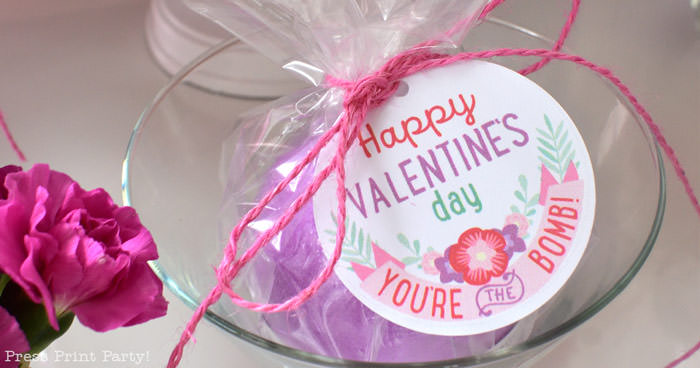 These free bath bombs Valentine's day tags are super cute for older kids to give. They'd make a great gift from a teen or tween girl who also can make the bath bombs herself.
---
---
---
---
---
---
---
You can go check out each free Valentine's day card post for instructions on how to use them and lots more ideas. Or you can go check out the Valentine's day printable shop where I have lots more items like Valentine's day coupons and fun coffee bar printables.
If you need more ideas for your kid's Valentine's day cards I also have a great round-up post of no-candy Valentines from around the web.