Princess, mermaid, and unicorn birthday party themes.
Every little girl will ask for at least one of these before they're 10. Maybe even all 3!
Well, if a unicorn theme party is her choice this year you're in luck. Because I can show you how to create a truly magical unicorn birthday party as easy as pie and totally doable at home!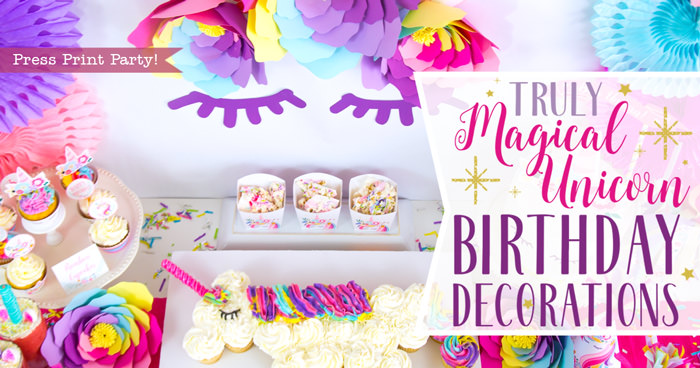 I had so much fun creating this unicorn party!
Everything is so bright and "unicorny" as my daughter would say. This post is the first in a series of posts with all the unicorn birthday party ideas you need to recreate this party!
See the bottom of this post for a full list and a video of this beautiful party table.

---
Start with the Unicorn Party Colors
What I teach in my Ultimate Birthday Party Planner is that once you have your theme, the first thing is to choose the color palette of the party.
I started with the bright colors from the hair on my unicorn printables.
Pink and Purple being the dominant colors with a little bit of blue, green, and yellow mixed in. Not quite a full rainbow unicorn but so much more girly.
If you're looking for a complete set of unicorn themed party supplies and don't want to set foot in a store, this is the set for you!

---
Rock the Matching Unicorn Decorations
To make a bold statement on the wall behind the dessert table, I bought some matching paper fans in unicorn colors and fanned them around the large printable unicorn horn from my collection.

Complete with ears, sleepy eyes, and stars, just print, cut, and use some glue dots to place them on the wall.
The amazing flowers were adapted from the unicorn paper flowers from Abbi Kirsten Collections. I used her fantastic template but only used 6 colors. I go into detail about how I made the rainbow paper flowers and the unicorn backdrop in another post.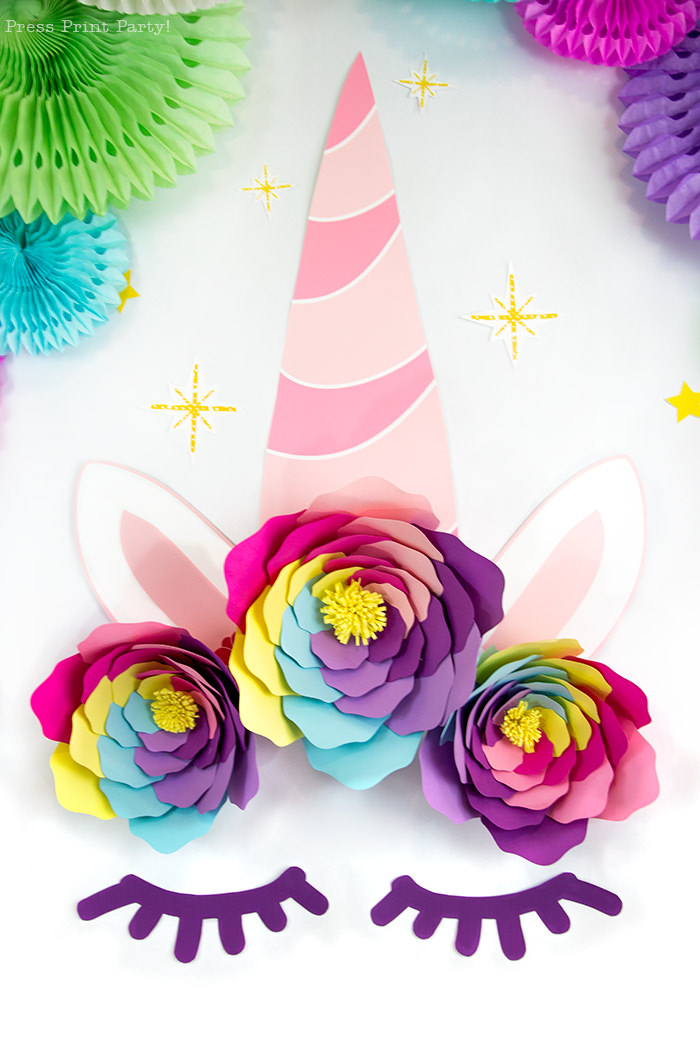 I made a table skirt out of tulle and ribbons and made fun multicolored tassels with tissue paper. I have a paper tassels DIY post and another post showing you how to make them multicolored.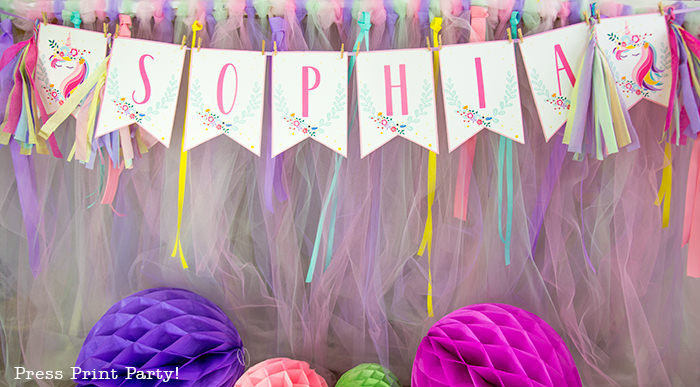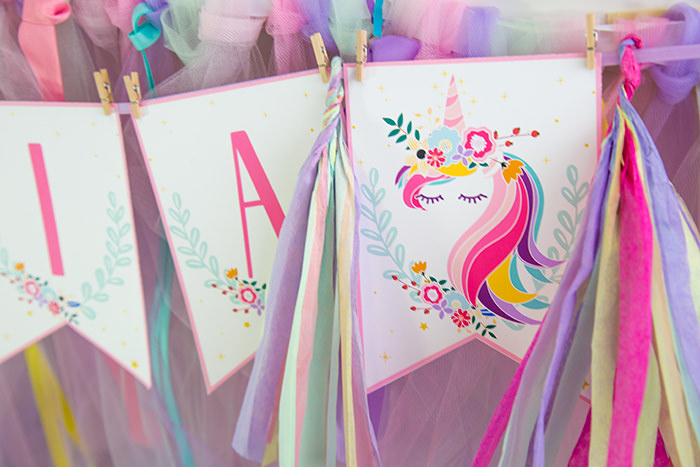 I added tassels to the custom banner and to the tops of the party hats to make them even more festive!

---
Sweet Unicorn Treats
There are a lot of options out there for unicorn treats. I went a little overboard with the cakes here but I wanted to show you 3 very easy DIY ideas that won't leave you pulling your hair out.
A unicorn cupcake cake is the perfect DIY option. It has the wow effect, it's easy to make, and it does not require a lot of piping skill. It is sure to be the hit of the party.
(I can pipe a swirl but not a whole lot else and I was able to make it).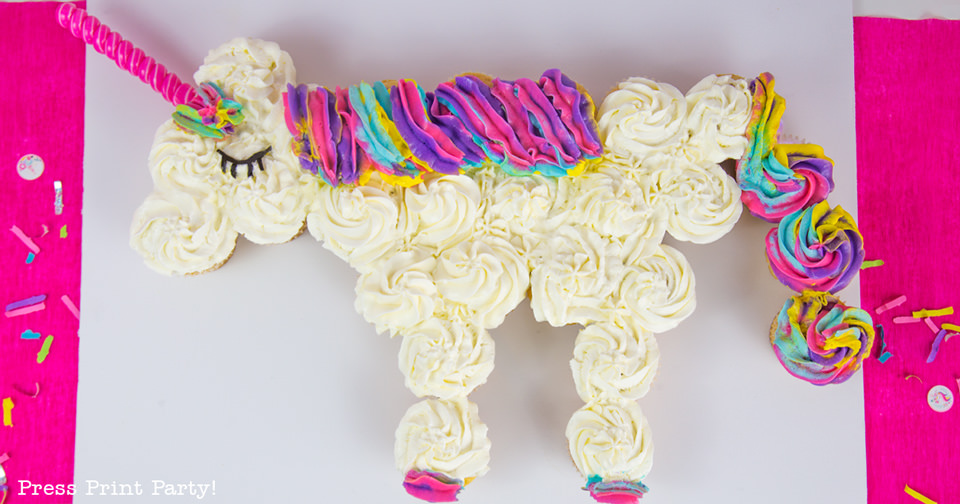 Some of you might recognize my horse cupcake cake template in there. And yes! This is just my horse cupcake cake with a lollipop horn and multicolored frosting. (go grab the template)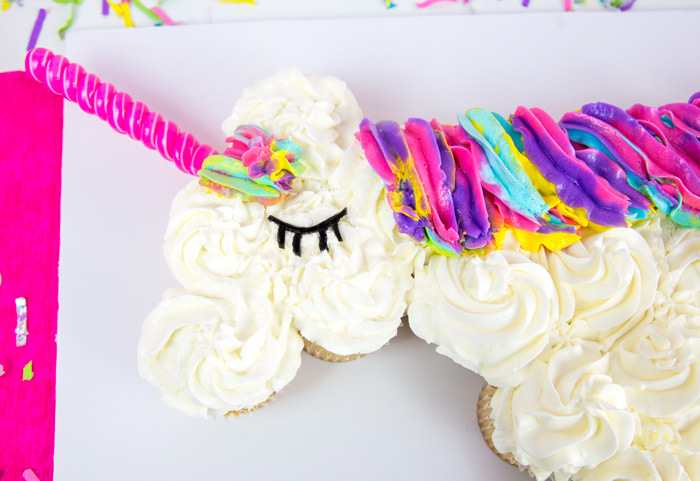 Of course, the multicolored swirl frosting was a little bit time consuming but not too hard to master. I even made a video tutorial for you.
You can also add extra cupcakes on the side with cute little wrappers and toppers with little unicorn horns available in my unicorn set of course.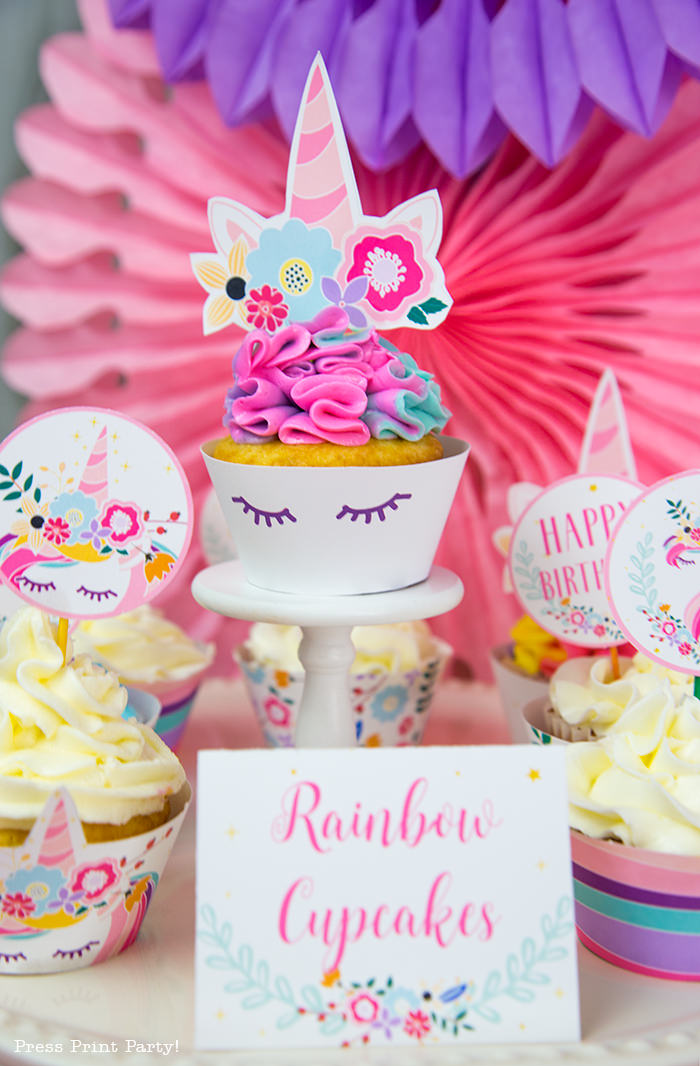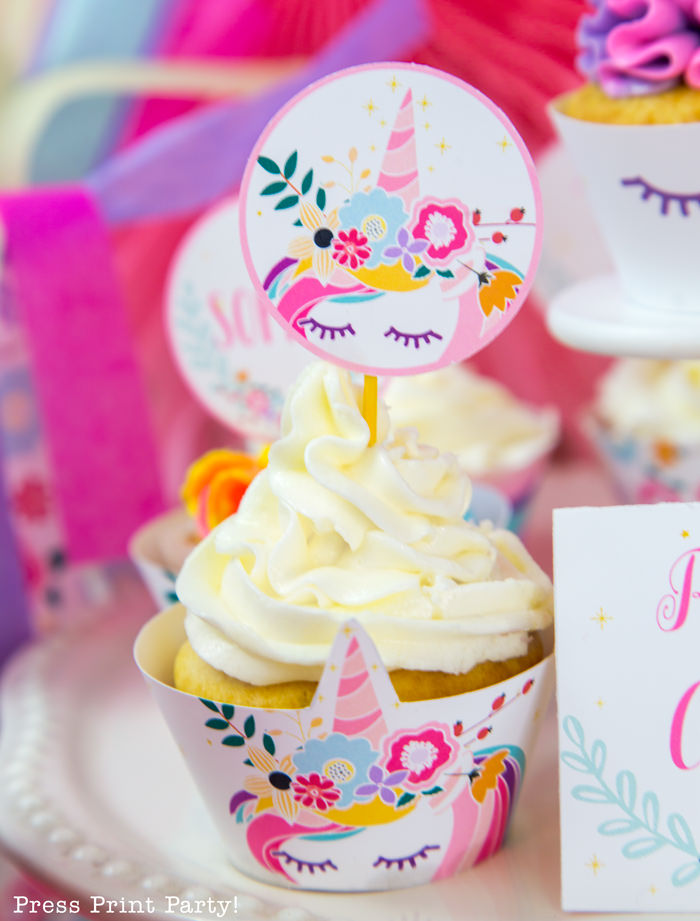 If pipping is just not for you, or you insist on a regular cake, you could just grab a white cake from the store and add the printables toppers from my unicorn collection to transform it into a pretty unicorn cake. So EASY!
I could've piped some hair, but I just got lazy and the cake looks great as is. (Remember my pipping skills are just not that good.)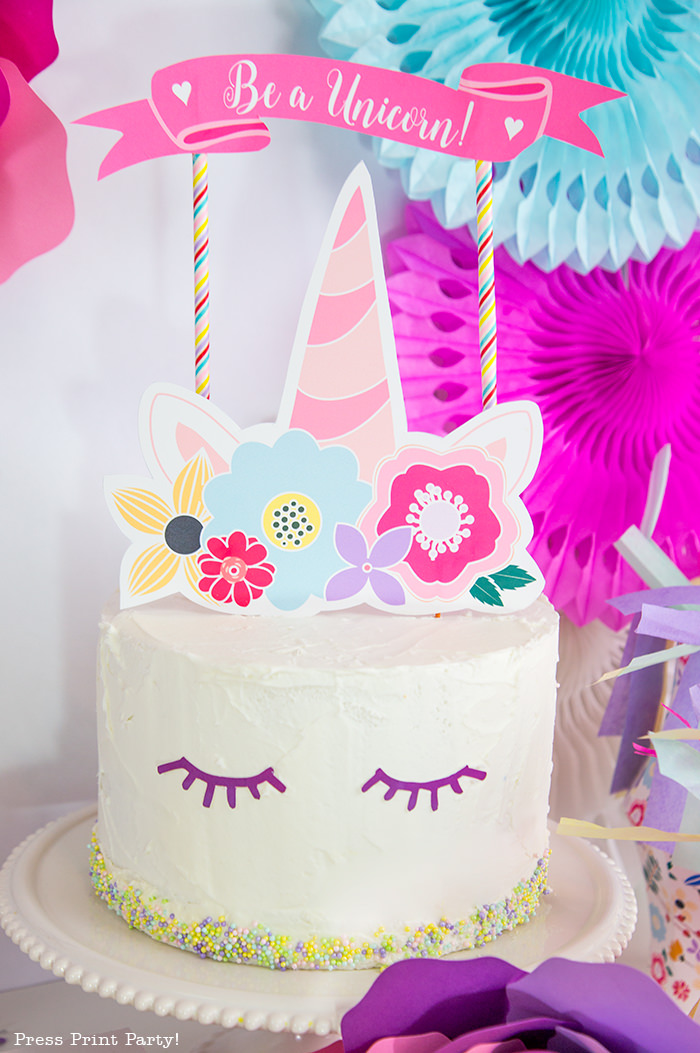 I also made some unicorn bark at my daughter's request. This sweet treat ended up being really simple and delicious. It's just white candy melts with some food coloring, popcorn, and sprinkles.
The only healthy treat was the delicious unicorn smoothie.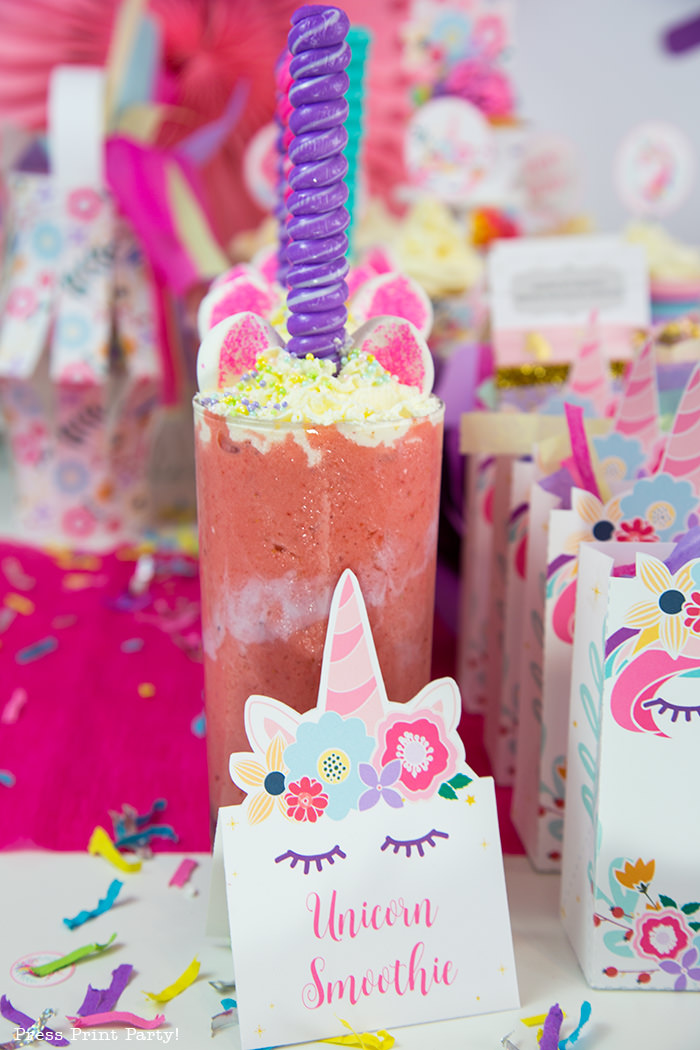 I adapted a trick from "What's up mom's" unicorn smoothie to make the swirl in the glass. It's just blueberry yogurt that I swirled and froze before adding the strawberry smoothie. With a lollipop horn, marshmallow ears, and some sprinkles this delicious treat was surprisingly easy to make.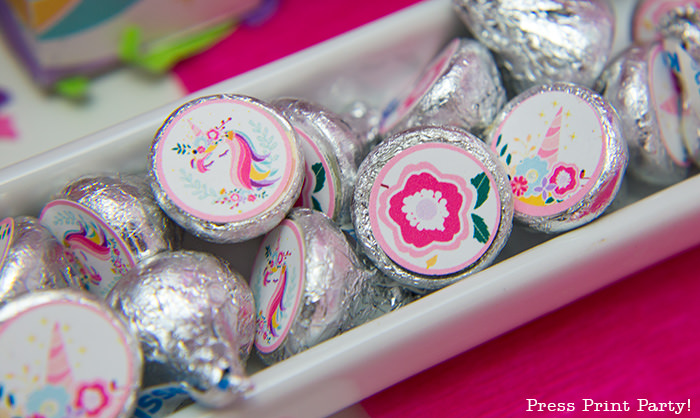 Of course, it's always a requirement to have some chocolate available for that inevitable craving.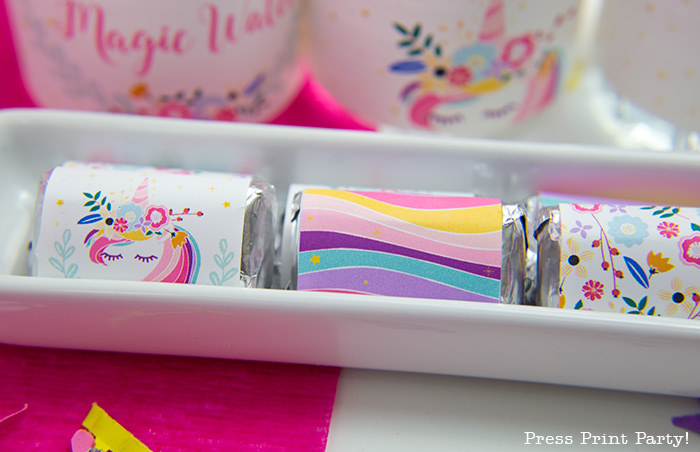 Labeling regular water "Magic Water" somehow makes it more appealing too, don't you think?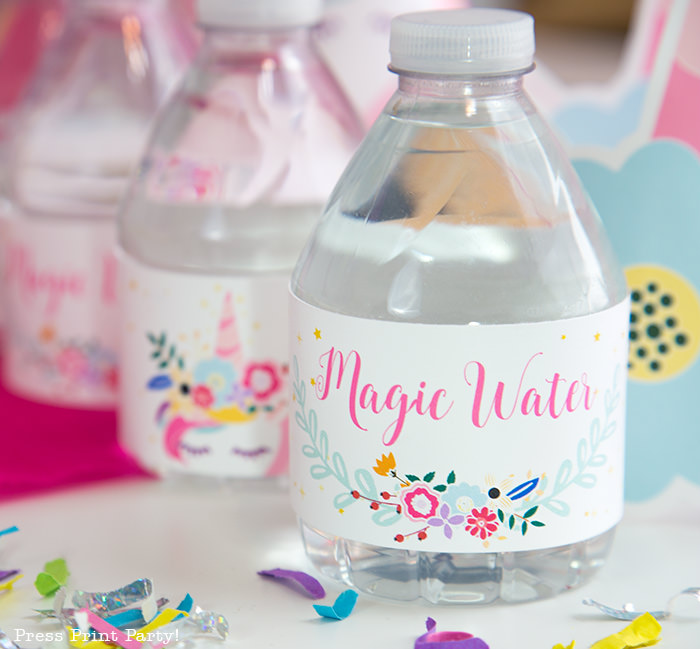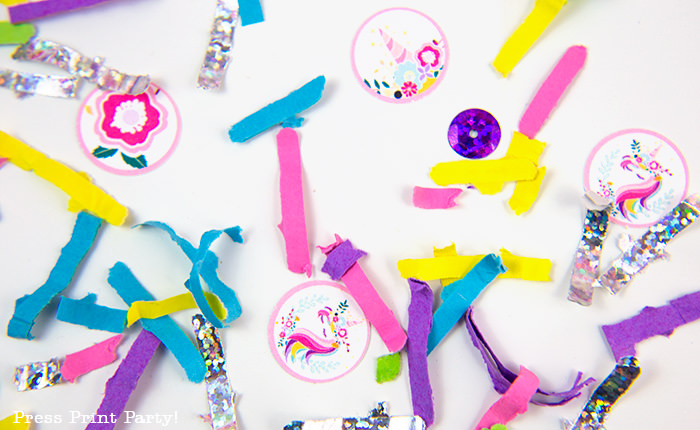 Matching unicorn confetti from Festivefetti with some punched confetti from my unicorn set, quickly cheered up the whole table.
---
Fun Unicorn Birthday Party Favors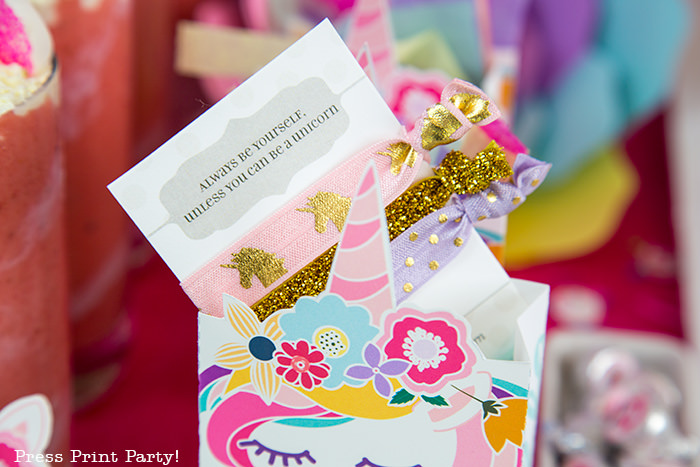 The girls really enjoyed these unicorn hair ties from Plum Polka Dots as their party favors in their goodie bags. AND they fit perfectly in this little unicorn favor box.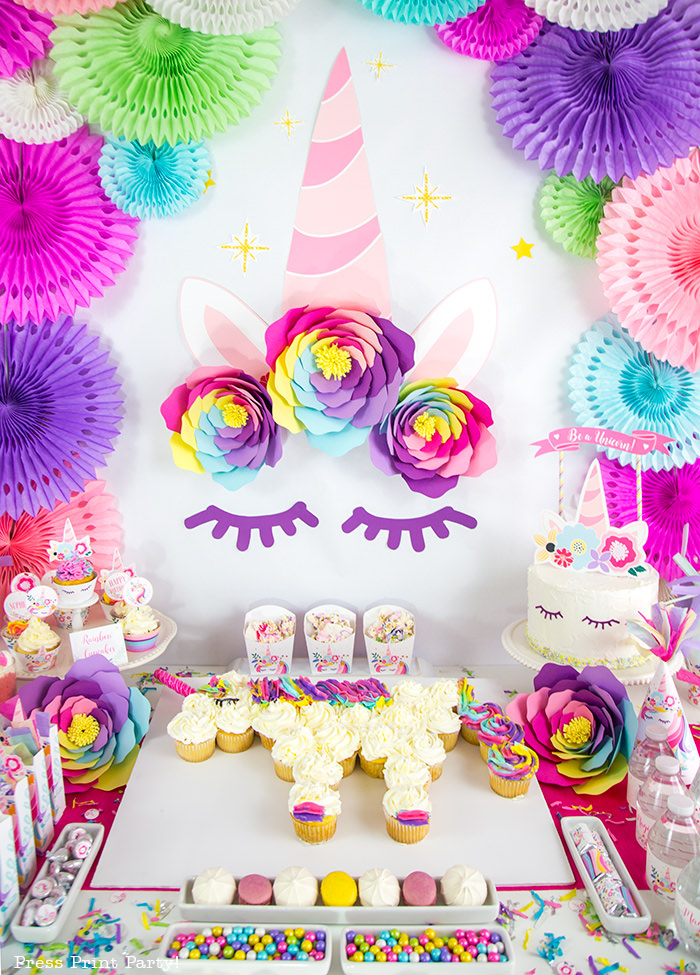 All in all, a super cheery DIY unicorn party theme that will have little party guests squealing in delight!
Buy all the unicorn party printables you need to make this amazing and easy party.
Check out the video for another look:
Here are all the unicorn party ideas DIY posts:
Share the joy! Pin all these unicorn party decorations ideas for later!: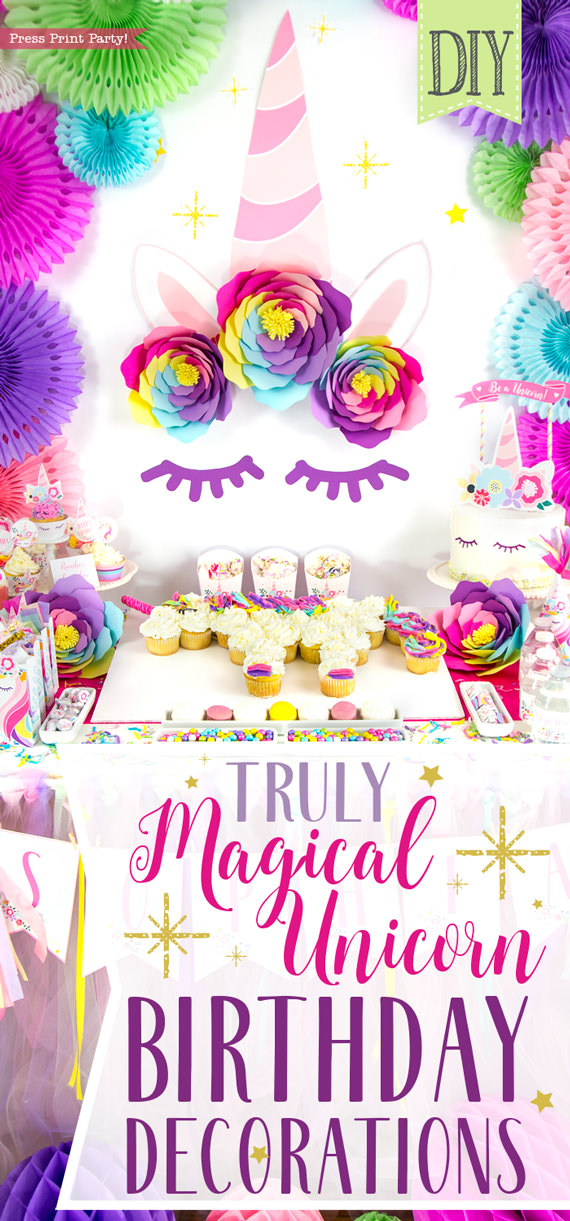 Check out the unicorn printables