Sunday school teachers and parents alike are invited to instantly download and print my free religious coloring pages for Easter. These great Easter coloring pages are a helpful tool for guiding conversations about Jesus among kids of all ages and show that Easter is not just about bunnies, eggs, and chocolates.
I hope your kids can enjoy these pages whether they are at home or in children's church. After all, conversations about the Bible should be happening more often at home than at Sunday School.
Some of the designs are simpler and give younger kids a chance to practice their eye-to-hand coordination. But a few are a bit more complex, great for exercising older kid's fine motor skills while enjoying some fun activities on Easter.
I'm especially excited to offer these free printable Easter coloring pages for small churches that may not have the budget for bigger Easter crafts.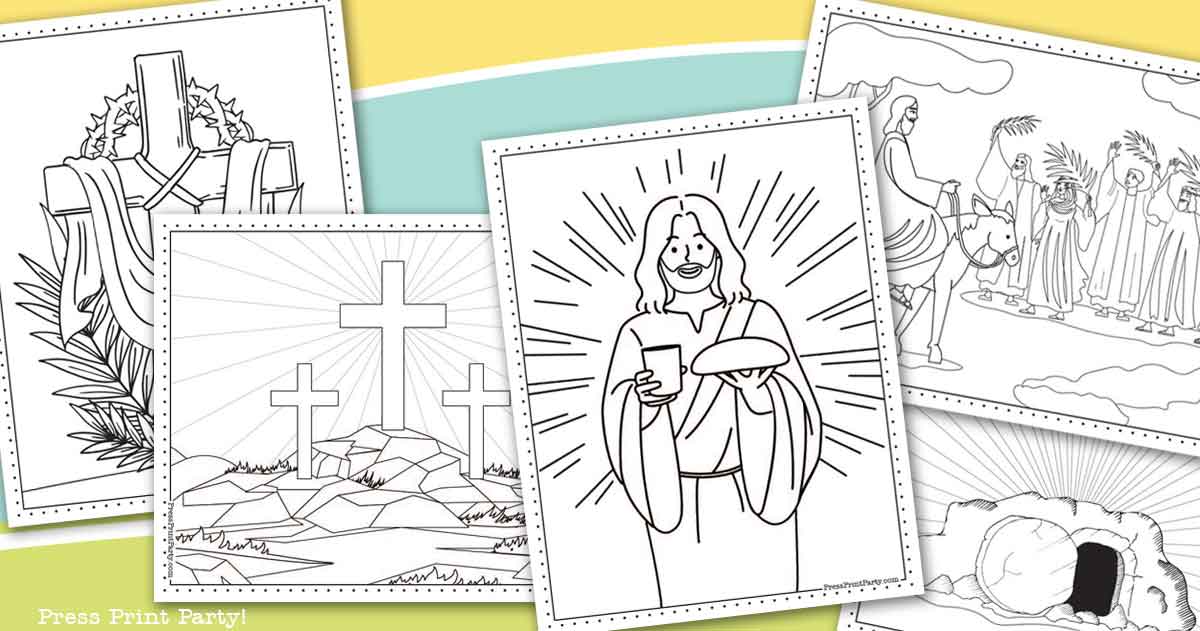 This post may contain affiliate links.
I've done a lot of coloring sheets with my girls through the years because I love adding a special activity to each holiday. It is always fun spending quality time with them and creating new family memories.
Easter Bible coloring sheets can be especially helpful for spurring biblical education and Bible focused conversations.
---
What is the Holy Week / Passion Week?
Holy Week, also known as Passion Week, is the week between Palm Sunday and Easter Sunday. During that time, Christians consider the crucifixion and resurrection of Christ with extra intention. This often includes church services on Good Friday, which marks the day Jesus was put to death.
The actual Easter holiday is when people celebrate the fact that on the third day, the tomb was to be empty.
The shortened version of the story of Easter is that Jesus Christ died for the sins of mankind and rose from the dead.
Through the years, traditions like Easter egg hunts and the Easter bunny have been added to the celebrations to loop in symbols of new life and springtime.
I wanted to keep these coloring sheets focused on Jesus' resurrection and the true meaning of the Easter season so I didn't add bunnies or Easter eggs. But you can find Easter eggs on my free Easter Egg coloring pages.
---
Holy Week Coloring Pages
Here are all the different passion week coloring sheets that you'll find in the Holy Week coloring book pdf in the free library. As Easter approaches, be sure to save these for later!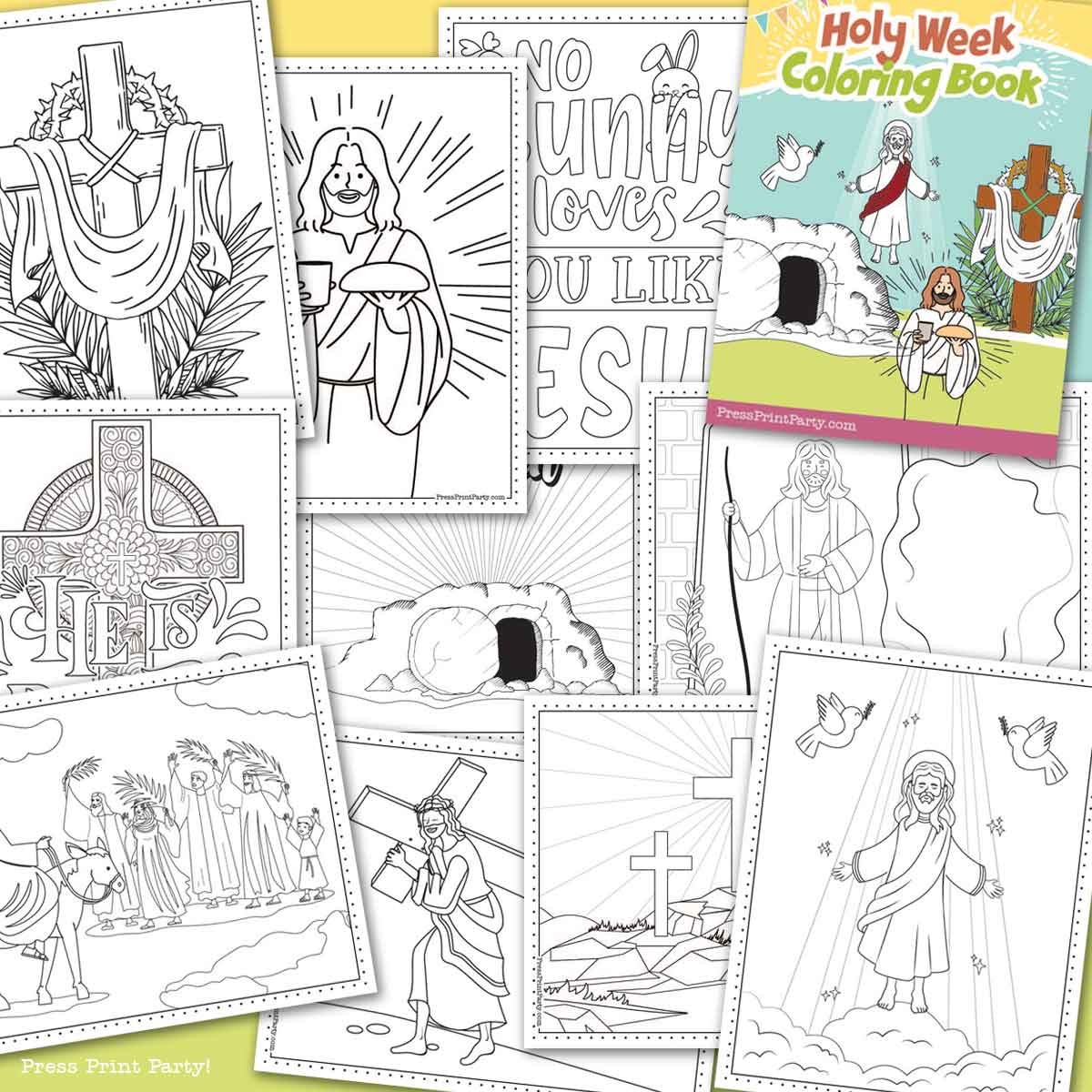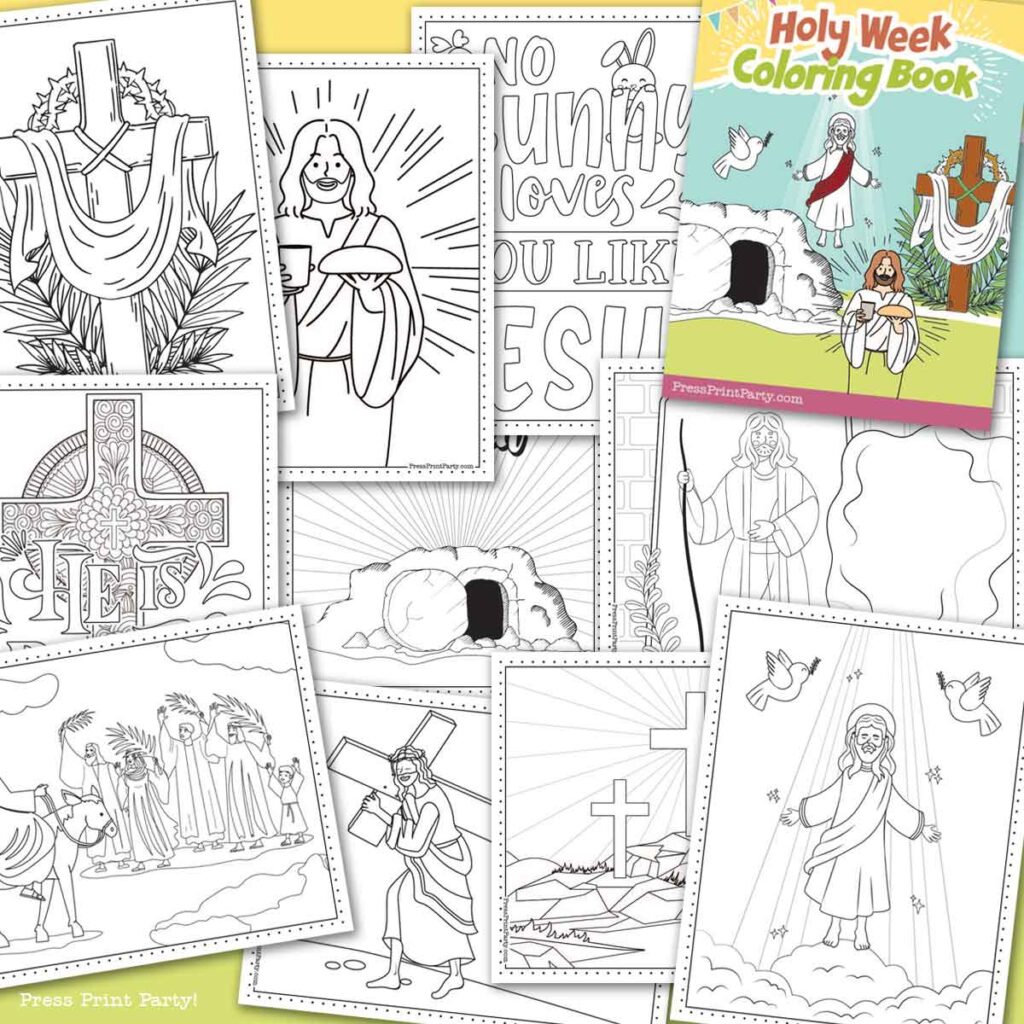 | | |
| --- | --- |
| | This coloring sheet is a great opportunity to talk about a very important Easter Bible verse: Romans 5:8 "But God shows his love for us in that while we were still sinners, Christ died for us"(ESV). |
| | |
| --- | --- |
| | The ascension of Jesus (Acts 1:9) actually happened 40 days after his resurrection on Easter Sunday. |
This is a great time to talk to your kids
about the empty tomb and to help them understand the meaning.
| | |
| --- | --- |
| | This page and many of the other great Easter coloring pages would also be useful for Ash Wednesday. |
| | |
| --- | --- |
| | Before Jesus' death, he told his followers to take communion. He explained that his body would be broken for them like the bread, and his blood would be poured out for them like the wine. |
| | |
| --- | --- |
| | Here's a cheerful design with more intricate details that will inspire minds young and old. |
| | |
| --- | --- |
| | I guess a bunny managed to sneak into one of my pages after all! Hoppy Easter! |
| | |
| --- | --- |
| | He is risen indeed! This is the most important component of Easter. If Jesus hadn't risen from the dead, he would have been like any other ordinary person. |
| | |
| --- | --- |
| | This page is helpful to depict Palm Sunday and explain the meaning of Holy Week or Passion Week. |
| | |
| --- | --- |
| | Matthew 16:24 "Then Jesus told his disciples, 'If anyone would come after me, let him deny himself and take up his cross and follow me.'" |
---
Don't miss the Easter Story snack mix post with the free printable bag topper. It's a great way to spread the good news around Easter.
If you're looking for some candy-free fun for Easter, you'll love my list of 5 non-candies Easter egg filler ideas and my bunny footprints free printables.
If you enjoyed these religious Easter coloring sheets and would like more free printable coloring pages, go check out these posts for more:
Don't forget to pin these free religious coloring Pages for Easter Holy Week: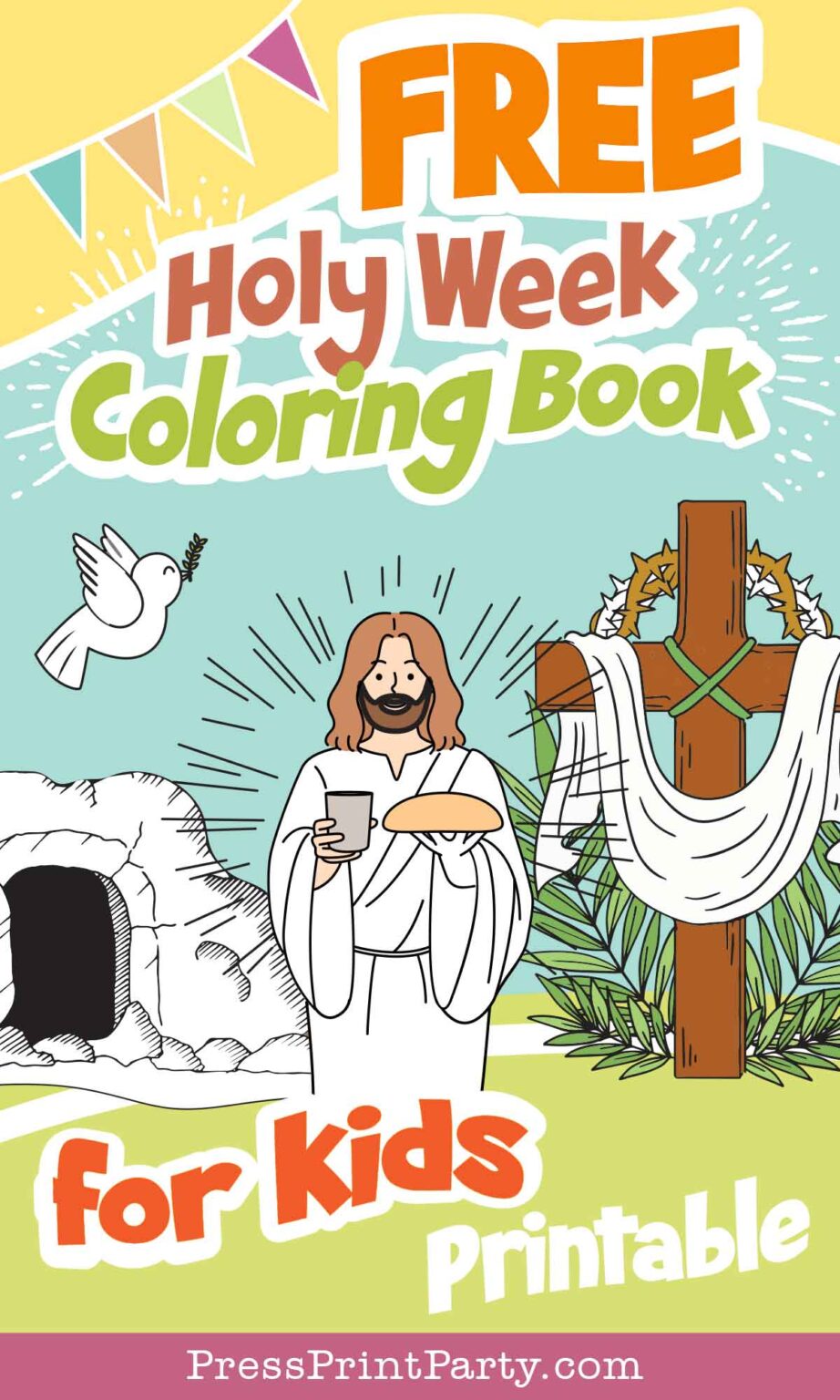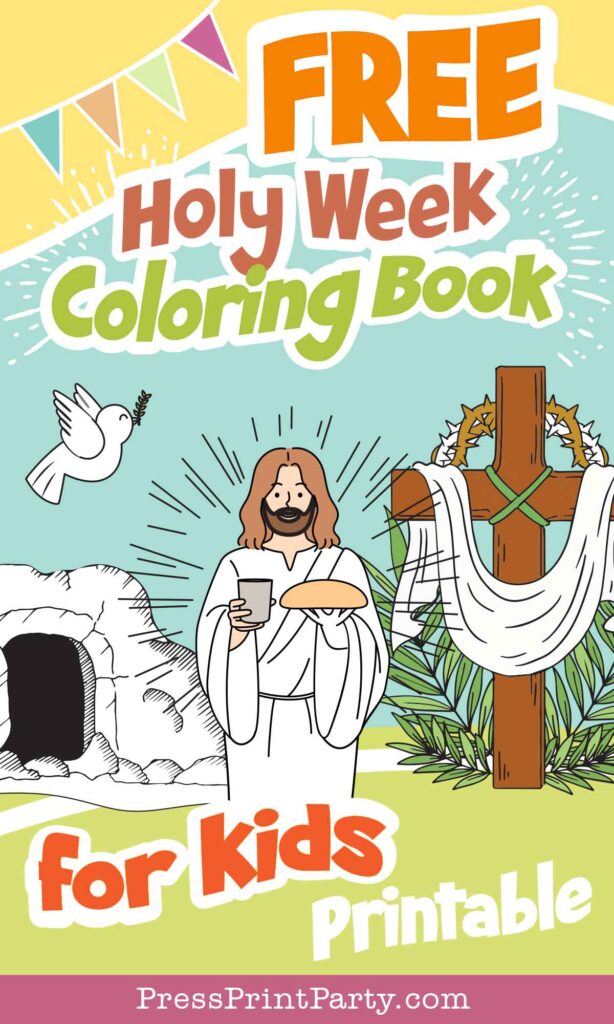 ---
Get Your Freebie:
If you've already subscribed, you can get the password from the bottom of any email I send and go directly to the Free Downloads Library.
Check out our Easter printables