I was curious and Googled "How to throw a party" and "What makes a great party?", and I discovered you get enticing results like "How to throw amazing parties every time". But when you actually read the articles, most of the blog posts from major websites are a jumbled mess of little hosting tips and tricks written by elite party planners.
They tell you how to make the best drink, or find the perfect location. Or they go deep into an event planning checklist, never really letting you know how to truly create the foundation of a successful party.
Leaving you more confused and stressed than you were before.
You love to entertain and throw parties but only armed with a generic checklist and a bunch of disorganized tips you're left stressing out, wondering if your party will be a success.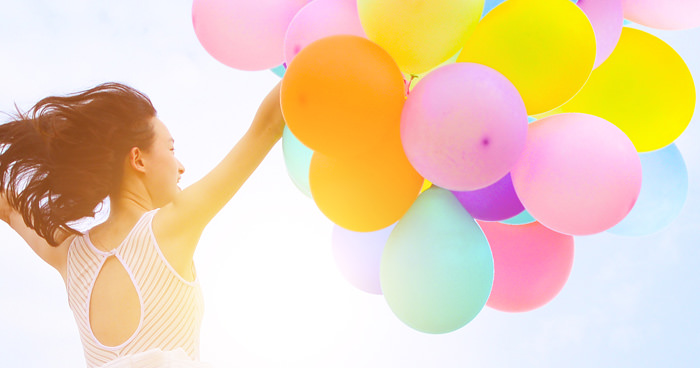 This post may contain affiliate links.
So, I got to wondering what makes the parties that we throw successful? Why do our guests talk about some of our parties months or years after they've passed? (Even our wedding 20 years ago). Why is it that I can be confident that our parties will go well?
How to Throw a party in 3 easy steps
As I thought about it, I came up with my own perfect party planning formula. I call it the "Best Party EVER!" formula because after each one of our birthday bashes my kids always exclaim: "Mom! That was the Best Party EVER!"
So, rest assured, you can have an amazing party without spending thousands of dollars, without serving the trendiest drink and without the perfect mind-blowing location. Any location and a tight budget will do as long as you have my secret 3-part party formula.
Although my area of expertise is kids' birthday parties, baby showers, and holiday parties, (with the occasional wedding), this "How to throw a party" formula will also work for big adult events, like a fancy gala or a work party. Even small, less formal gatherings can benefit from this formula.
So, what makes one party amazing and another ho-hum?
Usually, they're missing something. But what? They're missing one part of my perfect how to throw a party formula:
Theme + Stations + Activities = Best Party EVER!
You may have said "Duh!", it sounds so simple. But that's what so genius about it. It's easy to remember and anyone can do it! You don't need to be an event planning pro, you just need the formula.
A theme makes a party memorable, stations make a party flow, and the activities make the party fun.
This formula will work for ANY party. I'll unpack the 3 sections here and you'll be a party planning master in no time.
---
1- Pick a theme for an epic party
This is the first thing you should do in your party planning. It will unite the aspects of your party and give it a clear purpose. Choosing a theme will be a massive time saver because it will guide many of your decisions. It will also make your party memorable.
A theme is a unifying element that helps connect individuals to the event and each other. Ask the guests to dress up and they're immediately participating in the event even before it starts. When all the elements match up, the brain recognizes patterns and boosts recall.
My kids can remember and rattle off the themes of their parties from the time they turned 4. (Actually 2 but they don't remember the first 2 parties, they've seen pictures). Why? Because each party had its own elements and feel. They remember how the cakes looked, what colors the decorations were, and what games they played.
A theme doesn't need to be lavish; it can be as simple as a favorite item or a seasonal color. The goal is not over the top perfection.
I love how Kate Hudson puts it in her book "Pretty Fun": "A color-coordinated party looks great, but it also has a more significant impact on our guests. It transforms your space into a place where guests feel welcome, like a subconscious reminder that they're exactly where they should be. Bottom line: The stronger the connection you have with your party, the stronger the connection your guests will have with one another."
Any theme will do but it should resonate with the guest of honor. You're not going for perfect, you're going for happy. Choose a theme that will make your guest of honor happy.

If your guest of honor loves reading maybe you include characters from their favorite books. If your guest of honor is a six-year-old girl and loves the beach maybe you go with a mermaid party. If instead, your guest of honor is a 40-year-old guy who loves travel maybe you decorate with model aircraft, postcards from far-flung destinations, tickets, and passport stamps.
And that's why I love printables so much. First, they're a great way to brainstorm theme ideas. And once you've found a printable set in the theme you'd like you now have a great invitation that will set the tone for your party. Now all you need to do is color match the rest of your decorations. I explain how party printables can be the perfect starting element to your party in my Are Party Printables Right for you? (How to use them and why they're awesome) post.
Once you have your theme, plan all your decorations and your food through the lens of that theme. Also, plan your music selection well in advance to match the ambiance you're looking for.
You want your guests, when they come in, to understand they're in the right place. You want everything they see, hear, and eat to be cohesive.
---
2- Plan stations for a stress-free party
Yes! You need good food. But a party also needs to have a flow. And setting up stations helps with that.
Avoid crowding by setting up the drink area a bit away from the snack area. You don't want kids (or adults) having fun with the photo booth and knocking over the drinks. Give folks a little space.
Spreading things out will encourage people to move around and mingle while they get their goodies. You need to plan your space.
Especially when throwing a large party, it's essential to minimize traffic jams – You can even set some tables a bit away from the wall so that guests can have access from both sides.

For any party, I usually set up 5-6 stations from the following. The type of party you're throwing will help you to choose which stations are appropriate for your event.
This is where the cake and main desserts will take center stage. That's your major decoration area. It should reflect your theme. For a kids' birthday party I like to put the favors on the dessert table too.
This is where all your appetizers or snacks will go. It will be a very popular station so make sure it's in an open area.
Some parties, like weddings, need them, some don't. I usually don't set up a sit-down table at a kid's party. I let them sit and eat their cake on a chair or in the grass. Kids typically get bored with sitting and will tend to eat and run anyways so a big table does little except take up space. I did make an exception for our tea party though.
Also a popular station that can get overcrowded and should be in an open area.
A table for crafts at a kid's party or baby shower should have enough seating for all and have all the required items set out ahead of time.
Don't make the guests ask where to put the gifts. Either make a banner clearly marking the gift table or "seed" the gift area with your own gifts. Set the gift area towards the entrance so your guests can relieve themselves of their package quickly and not walk aimlessly around with their arms full.
Photo booths are very popular and so much fun. They're a great place to take pics with the guest of honor, have fun and create memories of the party. Both adults and kids love them, especially when you offer fun props.
Game area (or dancing area)
Depending on your party this will be an area where your guests will either play some scheduled games (kids party) or where self-directed games are set up (Showers, wedding)
Parent snack and seating station if the parents are staying at a kids' party
The parents love me! I always set up a small comfortable area for the parents who are staying and I set them up with their OWN snacks, (Usually veggies with dip and chips). You don't want the parents to be awkwardly standing around not knowing where to put themselves.
Gathering areas are great for adult parties where there are no sit-down tables. Create a little 3-5 chair gathering areas with a little end table if you can. Guests will congregate there and can have fun, intimate conversations and can easily move around from one area to the other.
So walk around your house or party space and decide where things will go. Draw it out if you need to. Feel free to move furniture around to create the right flow.
To give you an idea, here's a drawing I made for the woodland baby shower on the sketching page of my birthday party planner.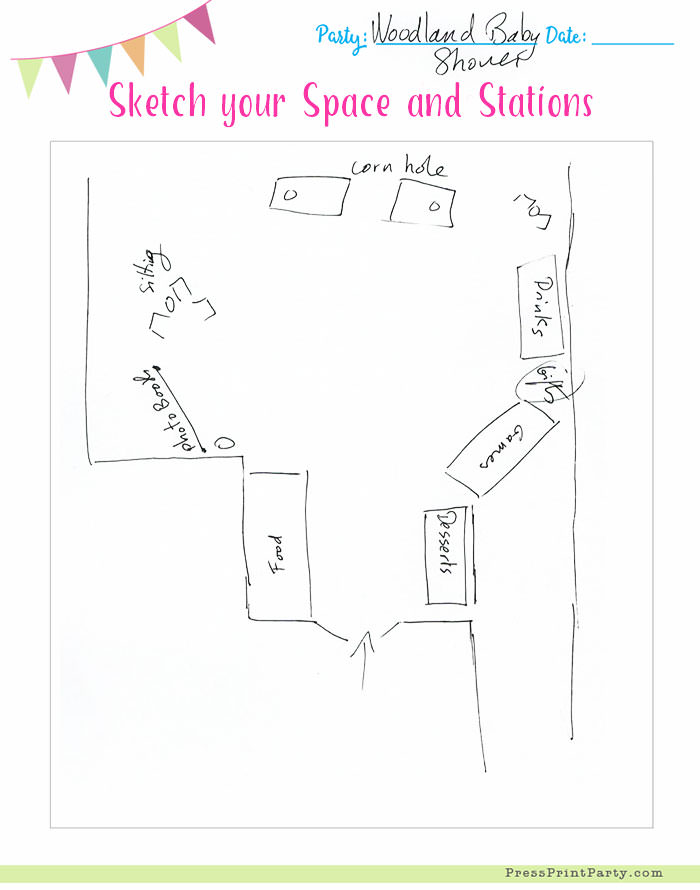 *This is a digital product. No physical product will be mailed.
---
3- Plan fun activities and games for your guests
The key to any party is for your guests to have FUN! You want them to enjoy themselves, laugh, and hopefully forget the real world for a little bit.
But just having people over is not enough. If you want to learn how to throw a party your guests will remember you need to have something for them to do.
There are tons of options to entertain your guests, but they will mostly fall into one of those 2 categories:
Scheduled activities

Self-directed activities

Scheduled activities are the games you play at a kids' birthday party, a baby shower, or any party if you know your guests are up for it.
These games will keep your guests entertained for a finite period of time, before and after which, they're free to mingle or play.
You can plan any type of kids' game for a birthday party but don't be afraid to fall back on the classics. Classic party games are classic for a reason. They're usually great fun, you can add some easy twists to them, and kids love them.
For a shower, you can use fun printable games or minute-to-win-it games depending on your crowd. I have tons of fun, printable baby shower games in the shop for you to check out.
Crafts are also a great scheduled activity. The guests have fun and they get to go home with something they made.
Self-directed activities are games and activities that are available for your guests to do at any time.
Especially if your gathering is a more serious adult crowd, you can plan a whole party with just self-directed activities.
For example, for a BBQ or even a wedding, you can set up a game of Corn Hole or a giant Jenga set in the yard that anyone can use. Having a bounce house or trampoline available for kids is also a self-directed activity. Although I don't think bounce houses are the best for birthday parties they work well for holiday parties when you need to keep the kids occupied.
At a baby shower, you can set up a game table with a bunch of games and activities. Like a "How big is mommy's belly" game or a diaper raffle. We provided a game table at our Woodland baby shower and the guests loved it. We even had small plastic babies in 3 cupcakes and whoever got the cupcake with the baby won a prize. Other options would be a "How many candies are in the jar" contest or filling out a fun mad libs advice card.
Another great addition is to provide a table with coloring sheets for the kids. Most kids love to color and they can be kept occupied for hours with set coloring sheets. The parents who are trying to have a good time at your gathering will love you for it.
A photo booth is also a fun self-directed activity. People love to take selfies and pictures at a party. Provide some fun props and a hashtag for people to share their pics on social media and you'll have tons of fun pictures of your party!
That's it. That's really it! If you spend some time planning these 3 elements your party is a guaranteed success. And I have great party planning checklists available to keep you on track. My ultimate birthday party planner is the closest way I have to hold your hand through the process.
*This is a digital product. No physical product will be mailed.
Sometimes hosts focus too much on the food and rely way too much on the guests finding ways to entertain themselves. The activities are often forgotten. Or they put all the snacks and drinks on one table in a corner and you find yourself elbowing people just to get a little something to eat.
Next time you go to a party ask yourself: Did I have a good time? Did the party I went to have all 3 of these elements? What was missing? What made it great?
Let me know in the comments if this party formula resonated with you. What do you think are the elements of a great party? Did I miss anything?

Learn more about party planning, go check out my 5 Major Money-Saving Tips for Any Party On a Budget and my secrets on how to get RSVPs.
Don't forget to pin it: